Here's a checklist of all the Hallmark original romance movies from 2023 along with my comments on those I've seen.
Special movies of note are marked Favorite, Good, Okay, and BAD.
Hallmark Channel Originals 2023

✓ The Dog Lover's Guide to Dating (New Year New Me • Rebecca Dalton and Corey Sevier • January 1, 2023)
Way to start the year, Hallmark. I watched this to the bitter end, and at almost every turn I kept getting distracted by how horrible the female lead is. Not the actor... the character. It's like she sets out to be hostile from the start, and doesn't change. It's so bad that I was honestly hoping that Corey Sevier would stick with his existing girlfriend because he seems too nice to be dragged into that nightmare. No joke... this could have been a nice flick because the idea behind it was good, but it needed to be drastically reworked.

✓ Okay The Wedding Veil Expectations (New Year New Me • Lacey Chabert and Kevin McGarry • January 7, 2023)
I was not a fan of the first trilogy of "Veil" movies because they just went too absurd too often. And while there's still a bit of that (the three friends jet off to see each other at the drop of a hat), this movie wasn't terrible (EXCEPT FOR KEVIN McGARRY'S ABSURD ATTEMPT AT A BOSTON ACCENT! LORD!). Not a bad movie at all... and there's a few laugh-out-loud moments that had me actually enjoying it (CLAP-ON! CLAP-OFF! THE CLAPPER!)... but I still feel that there's a better concept for a movie franchise.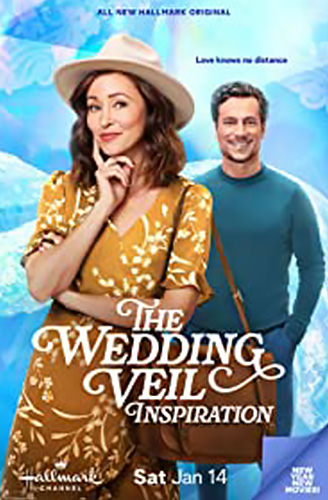 ✓ Okay The Wedding Veil Inspiration (New Year New Me • Autumn Reeser and Paolo Bernardini • January 14, 2023)
Probably the best "Veil" movie yet, all things considered. Autumn Reeser is facing off with a life crisis that threatens to derail her five-year plan when her husband has to rush back to Italy to cover the business due to his ailing father. Trying to balance her plans, her passions, her marriage, and her career may end up to be too much for her but, of course, Lacey Chabert and Alison Sweeney are never far away to make things better. No, really, they show up at random for an overnighter just when Autumn Reeser needs them most! There's a few moments in this one that are darn clever and, like the previous film, has me almost changing my mind about the trilogy (sextology?).

✓ Good The Wedding Veil Journey (New Year New Me • Alison Sweeney and Victor Webster • January 21, 2023)
Look, suspension of belief is just part of the game with Hallmark. You can either ignore all sense of logic and go with it or you don't and have a miserable time. But this one? This one?!? I guess I'm posting a spoiler here, so avert your eyes if you want to enjoy this fresh. Anyway... Alison Sweeney and Victor Webster are finally having that honeymoon they've been

✓ Love in Glacier National: A National Park Romance (New Year New Me • Ashley Newbrough and Stephen Huszar • January 28, 2023)
Sigh. I am a huge fan of Stephen Huszar, and he's given us some fantastic character moments in some good (and not so good) movies (seriously, watch him in the background in My One & Only from 2019). I was anticipating that finally he would be in a leading role with this film... only to be bored out of my mind. She's a weather forecast expert who shows up to Glacier National Park and ends up in a slumber-inducing beef with a local rescue ranger that seriously went nowhere. When... when... will we get the movie Stephen Hussar deserves?

✓ Favorite Sweeter Than Chocolate (Loveuary • Eloise Mumford and Dan Jeannotte • February 4, 2023)
No matter how ridiculous the movie, Eloise Mumford always manages to elevate it into something watchable. And when you add Brenda Strong to the mix, I was anticipating greatness. And while not quite living up to my impossible expectations, it's still pretty great. A struggling chocolate shop owner reluctantly agrees to be interviewed in the hopes that her business will survive a rent increase. Unfortunately the interviewer is skeptical of her ability to make chocolates that help people find their true love on Valentine's Day (Hallmark, never once to miss a marketing opportunity, actually paired with Bissinger's to create the "Cupid Chocolates" seen in the movie @ $15 a box). A sweet investigation into the diverse lives impacted by the chocolates follows. Eloise Mumford's last Hallmark movie was the sublimely perfect Presence of Love, my favorite Hallmark movie of all time. Her follow-up was probably never going to compare. But by keeping my expectations in check, I was able to thoroughly enjoy this one... mainly because the idea of somebody falling in love with Eloise Mumford is 100% believable as fact, not fiction. AND THEN they kinda stole the most romantic moment from a movie ever made (it's from Doc Hollywood)... AND THEN there's an obstacle that's actually not based on a stupid, overused trope... AND THEN they toss in a really cool match that you were hoping would happen... and somebody knew what they were doing here.

✓ Okay A Paris Proposal (Loveuary • Alexa PenaVega and Nicholas Bishop • February 11, 2023)
Maybe it's because I have a background in advertising that I think this movie's concept was kinda tough to swallow. An American flies to Paris to land a Paris diamond company's American advertising campaign. Unfortunately, her uptight ways clash with her Parisian co-worker who prefers to fly by the seat of his pants. Then... oh noes... a misunderstanding leads to them having to pretend that they are a couple. Complete with sharing a hotel room. One thing I can say wasn't hard to swallow was the cinematography, which was great. Even interior scenes had a French "glow" to them, and everything looked fantastic. And that's enough to elevate the show from mundane to okay.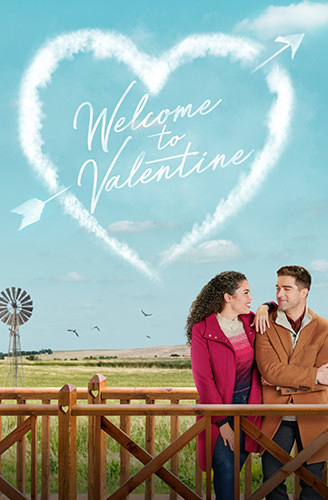 ✓ Welcome to Valentine (Loveuary • Kathryn Davis and Markian Tarasiuk • February 18, 2023)
Man ruins a woman's life and he makes it up to her by driving her back to her home of Valentine, Nebraska. Where his car breaks and he gets stuck in the middle of nowhere. Then everything happens exactly as you'd expect it to happen with zero surprises and nothing interesting makes it worthwhile. Right up to the OH NOES! THE PARADE FINALE FLOAT! Moment.

✓ Made for Each Other (Loveuary • Alexandra Turshen and Matt Cohen • February 25, 2023)
I don't even know what I'm doing anymore. At least this movie tries to do something different. And it's got Illeana Douglas, so there's that. But otherwise? It's just so absurd... a statue that comes to life based on a necklace that just happens to be in Illeana Douglas's purse? A sculptor's studio with no dust? Or anything else that would represent a studio accurately? A statue that's obviously a painted mannequin where the necklace "clicks" against his chest instead of sounds like its hitting stone? This riff on the movie Mannequin didn't even have a great story to it so that all the nonsense was forgivable. Oh well. points for trying, I guess.

✓ Game of Love (Kimberley Sustad and Brooks Darnell • March 11, 2023)
This movie begs a question... do major Hallmark players like Kimberly Sustad get to pick and choose their movies? Because... yeesh. Both the leads are talented and deserved so much better than this. Game designer must team up with a guy from the marketing department to create a "love" game. The result is so groan-inducing that I was fast-forwarding just a little too long through commercials in order to speed this along. I never noticed what might have been missing. Hallmark needs to desperately start focusing on quality instead of quantity.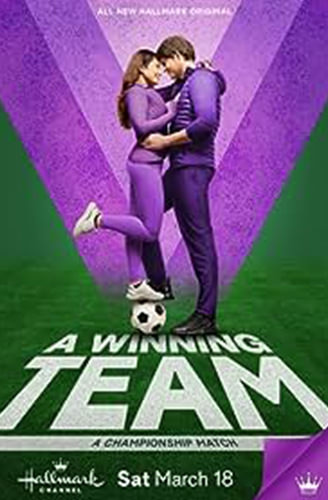 ✓ A Winning Team (Nadia Hatta and Kristoffer Polaha • March 18, 2023)
A woman is an angry professional soccer player. She gets into trouble because she's always fighting the refs on the field. She gets suspended and ends up going back home where her younger sister is in a school play. She falls in love with a local girl's soccer coach. Her attitude adjustment gets her welcomed back to play soccer. But oh noes! She'll miss her sister's school play and the big game! Or whatever. Suffice to ay that everything she wanted gets tossed out the window yet again, because Hallmark simply can't abide in a woman choosing her career over a guy she's known for five damn minutes. I am so very, very tired.

✓ A Picture of Her (Spring Into Love • Kimberley Sustad and Rhiannon Fish and Tyler Hynes • March 25, 2023)
Tyler Hynes (one of the most consistently good Hallmark players) can only do so much. Sure there are times he's made a bad movie okay. But he can't make a bad movie great. Which is how I explain kinda liking this film. Tyler Hynes is a failed fine-art photographer who now shoots photos of the stars in L.A. while hating it. One day he snaps a photo of a pretty woman at a flower market and accidentally submits it. This ends up being a magazine cover, and the girl's small life is turned up-side-down. Who is this photographer that would do this to her? It surely couldn't be this random guy she met at the dog park who happens to be a photographer! Ugh. In the end, this movie annoyed me entirely too much despite having a great performance by Tyler Hynes and some cool supporting characters. Oh well.

✓ Love in the Maldives (Spring Into Love • Jocelyn Hudon and Jake Manley • April 1, 2023)
This is a sad re-hash of Chasing Waterfalls and heaven only knows how many other Hallmark movies where a travel writer goes after some rare experience, gets told that it's not something for tourists, manages to BS her way into it anyway under the condition she never reveal it, then accidentally reveal the location to their editor so it gets published (or nearly published, as the case may be), all while some guy is being all YOU BETRAYED ME! over something that they should have never revealed to a frickin' reporter in the first place. At first I was going to give this movie a pass because the Maldives location shoots were just so beautiful... but Good Lord... GET A NEW STORY! I have no clue if Hallmark insists their writers only use the same damn story over and over... or if writers only write the same thing over and over because they know that's all Hallmark will purchase... or what. But this is so tired. It's gotten to the point where taking chances would be more valuable to me than having the same damn thing rehashed for the hundredth time. Hallmark desperately needs to grow some balls and break free of this infinite loop of reruns.

✓ Good The Professional Bridesmaid (Spring Into Love • Hunter King and Chandler Massey • April 8, 2023)
The guy from last Christmas's disastrous A Tale of Two Christmases is back in a decidedly better movie. He's paired with the lead from last Christmas's entirely forgettable A Royal Corgi Christmas. Both of them fare much, much better here. Although it took a minute to get going. Casey Manderson, appearing in what must be his 100th Hallmark film, kinda acted as a slap on the face to wake me up. A "professional bridesmaid" is hired to secretly keep the mayor's daughter's wedding on track, but ends up tasked with keeping a nosy reporter guy away from the mayor. What so strange is how her kooky job is made to seem perfectly normal (and necessary) because Hunter King just sells it all so well. Add to that the fact that Chandler Massey is able to come across as charming enough to sell his character, and the movie actually... works? Thanks to the casting.

✓ The Wedding Cottage (Spring Into Love • Erin Krakow and Brendan Penny • April 15, 2023)
Lord. Hallmark Channel really knows how to take a great cast with a good concept... and then completely run it into the ground with stupid. Erin Krakow is trying to use a leaf blower and it's like she is from an alien planet and is completely confused by the way of the earthlings. This was written by Judith and Sara Berg... who apparently have zero problem portraying women as incompetent dipshits. Krakow's character is giving off serious "ZOMG! AIR IS BLOWING OUT THE FRONT OF THIS! IS THIS A GIANT HAIR DRYER?!? AND I HAVE NEVER HEARD OF NEWTON'S THIRD LAW WHICH STATES THAT FOR EACH ACTION THERE IS AN EQUAL AND OPPOSITE REACTION BECAUSE ICKY SCIENCE IS FOR BOYS!!!" Meanwhile... Brandan Penny is a sculptor who instinctually know how to do plumbing repairs when OH NOES! THERE'S A WATER LEAK AND POOR ERIN KRAKOW HAS NO IDEA WHAT TO DOOOOOOO!!! Maybe it's time I take a break from Hallmark. These dated tropes are getting really old, and you'd think that Erin Krakow would be beyond doing this crap.

✓ Okay A Pinch of Portugal (Spring Into Love • Heather Hemmens and Luke Mitchell • April 22, 2023)
Portugal is a wonderful, beautiful country that I loved visiting. Any opportunity to revisit it... even in a movie... is a trip worth taking. Alas, glimpses of pretty scenery and flashes of Portuguese culture are about the only thing that makes this movie worth your valuable time. Which is surprising, because the actors are all top-notch. Basically, a famous television chef's assistant... WHOOPS!... prep cook is forced into the television spotlight when the temperamental chef walks off the show as some kind of power play move. She is, of course, a natural. Along for the ride is an Australian transplant cameraman who was a crush that never happened, and a handsome Portuguese guy named Lucas who runs the local produce market where she shops. It's not spoiling anything to say that the romance with Lucas doesn't pan out and she ends up with the cameraman. It's obvious. Because it's Hallmark. But it's the reason that the relationship with the Portuguese guy doesn't go anywhere that feels forced and unearned. Yes, manipulative guys like this who work a woman to get something they want are a dime a dozen in Real Life, but using him as a misdirect in a Hallmark film was a bizarre choice. It kinda undercuts her story to have her go running to the cameraman after finding out that the market manager was using her. Because her life is incomplete without a man, I guess? What sad is that they could have worked on the story a little more to have the cameraman be an empowered choice instead of the lesser of two evils. And the fact that it came after she started having some success makes it seem like he's chasing fame or something. I dunno. This could have been so much better with only a few shifts in story.

✓ Okay Hearts in the Game (Spring Into Love • Erin Cahill and Marco Grazzini • April 29, 2023)
It was easy to get invested in this one, The actors have serious chemistry right from the start, and the story was a pretty good one. Kinda-sorta unique. Well, for Hallmark anyway. But the massive gaps in logic paired with an end-scene reconciliation that was gag-inducingly horrible made it a tough movie to end up liking. But I digress. One of the so-called best publicists in New York is hired to revitalize the career of a star baseball pitcher after he chokes and loses a critical game for his previous team. But now he's being considered by The New York Mets, and the only way to clinch him getting signed is for him to do a story explaining why he choked. But... UH OH! He refuses to talk about what happened. But... UH OH! HE JUST HAPPENS TO BE HER HIGH SCHOOL FLAME! The journey to the baseball player giving up the story of what happened is good. But the journalist involved... WHO IS BRILLIANT AT HER JOB AND CAN TRACK DOWN ANY INFORMATION AT ALL wasn't able to uncover the painfully obvious answer as to what happened. And the publicist who, let's recap... IS ONE OF THE BEST PUBLICISTS IN THE WORLD AND HAS TONS OF POPULAR CLIENTS... absolutely MUST get the baseball player to spill his secret or else she is RUINED! She will lose her apartment! She will lose EVERYTHING! What kind of damn sense is that? How can she be the best as what she does AND have loads of popular clients, but also be one story away from financial ruin? It's Hallmark. I am not expecting air-tight logic and can overlook a lot... but this was expecting way too much. And the publicist's awful eye-rolling, groan-inducing declaration of love at the end was SO bad. Who is at the wheel at Hallmark? All it would take is a story editor to flag some EASILY-FIXED, obvious problems, and this could have been a much, much better film.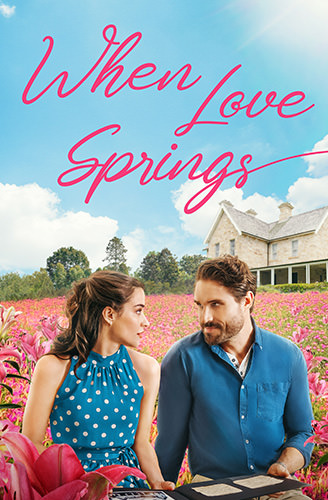 ✓ When Love Springs (Spring Into Love • Rhiannon Fish and James William O'Halloran • May 6, 2023)
While the PLEASE PRETEND TO BE MY BOYFRIEND BECAUSE MY EX IS HERE! trope has been done to death, this one doesn't have much to add to the formula to make it worthwhile. One the contrary, parts of it are so cringe that it's painful to watch. Though James William O'Halloran does have pretty good comedic timing and does a pretty good job with the stuff he's been handed, so there's that. Otherwise? Hallmark is asking a heck of a lot.

✓ BAD! Love in Zion: A National Park Romance (Spring Into Love • Cindy Busby and David Gridleyn • May 20, 2023)
Yeah, no. Just no. I stopped watching once the stupid became too overwhelming. I thought that I could put aside what a horrific mess of a movie this is and focus on the scenery to have something to enjoy about it... but there was no way. Cindy Busby is a white woman who's an expert on the Anasazi Native American culture receives some vases that were donated to her museum after a woman dies. BUT ONE VASE IS MISSING IN THE SET OF FOUR! And since her colonizer intuition is tingling, she decides to head to Zion National Park so she can be the white savior the Anasazi People and their culture by solving the mystery of the vase! It's like... holy shit. Haven't we had enough of this nonsense? I don't even care if ultimately she returned the three vases to their rightful owners after she found the fourth one... I couldn't stomach another minute of this hot garbage. And do you know how RARE it is that I dump out of a Hallmark movie?!?
Hallmark Channel Originals 2023

A Nashville Legacy (Mahogany • Andrea Lewis and Pooch Hall • February 26, 2023)
Haven't seen yet.