Here's a checklist of all the Hallmark original romance movies from 2021 along with my comments on those I've seen.
Special movies of note are marked Favorite, Good, Okay, and BAD.
Hallmark Channel Originals 2021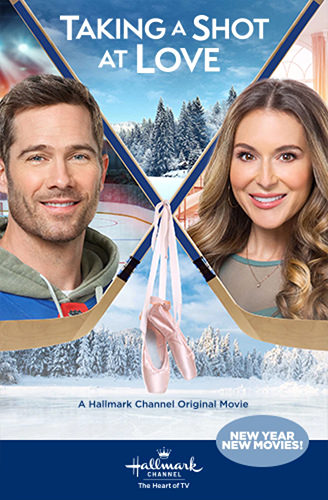 ✓ Taking a Shot at Love (Winterfest • Alexa PenaVega and Luke Macfarlane • January 2, 2021)
Oh noes! Luke Macfarlane is a hockey player with an injury! Oh noes! Alexa PenaVega is a ballet teacher with diminishing students and rising rent. Lucky for everybody, the ballet teacher is also an expert at helping athletes recovering from injury... but she hates it. HATES IT! But when you need money, you do what you gotta do. And so now she's training him. I hope they don't fall in love! This is a mediocre effort to start out the year because there's just not much there. Thin story. Even thinner chemistry. Oh well. At least it wasn't yet another "snowed-in-at-the-lodge-that's-going-to-be-closed" movies.

✓ Good A New Year's Resolution (Winterfest • Aimee Teegarden and Michael Rady • January 9, 2021)
I'm just going to say it... some actors can salvage a terrible movie and make it bearable to watch. Historically, Michael Rady is not one of those actors. But when he has a good story to work with? A good cast to play off of? He's one of my favorite Hallmark actors. This time he gets both. Aimee Teegarden is adorably sweet and the plot for A New Year's Resolution perfectly plays to his strengths. She's a television producer who keeps missing out in life, so she decides to say "yes" to every social invitation she receives for a month. While at a party she explains this to a marketing guy and likes him enough to slip her number into his pocket. This is something that happens a lot in Real Life, but I can't remember seeing it in a Hallmark movie (can't have the ladies being too forward!). From there on out it's a fairly original, funny, and realistic story (for Hallmark), which was a pleasant surprise. Kinda a missed opportunity to not have this be the first movie of the year.

✓ Two for the Win (Winterfest • Charlotte Sullivan and Trevor Donovan • January 16, 2021)
You've got to be kidding me. YOU HAVE GOT TO BE KIDDING ME. Look two movies above this. Replace skating with skiing, hockey with downhill, and Luke Macfarlane with Trevor Donovan. That's pretty much what this movie is. Competetive downhill skier has an injury. He recovers physically, but is having trouble mentally. He goes back home where he ends up getting trained by his old flame. It's like Hallmark isn't even trying to have unique stories. Now they're even copying movies within the same year! Or, in this case, within the same month. Lazy and sad.

✓ Favorite A Winter Getaway (Winterfest • Nazneen Contractor and Brooks Darnell • January 23, 2021)
It's not as if the whole "mistaken for a billionaire" trope hasn't been done before... but it doesn't usually happen with this kind of charm. All too often the "regular guy" who gets thrust into a world with a price tag way above his comfort zone plays it as if he's stupid. Like he couldn't possibly understand how "rich people stuff" works. And, in the beginning, I was afraid that was going to be the case (I mean, how long can you play with an airline seat before it becomes idiotic?)... but Brooks Darnell is fantastic. He's not stupid... he's just amazed by it all. And it's actually fun to watch. Combine that with his effortless chemistry with Nazneen Contractor, and this one was a treat. But anyway... she works for a personal concierge company for the rich and famous, and Brooks Darnell has been gifted an all-expenses paid skiing vacation to Banff under her care. She is puzzled because all the luxurious foods and experiences are lost on him... he'd rather have a cheeseburger than a six course meal. Ultimately this one ends exactly as you'd expect, but that's not necessarily a bad thing. It looks like Hallmark shot this movie and Snowkissed (below) in the same trip to Banff save resources, which is pretty darn smart. But a weird to have back-to-back Banff. Thankfully they are different enough in story and tone that it's not too weird. And we get some really beautiful scenery. Alas, the music is BLASTING OVER THE DAMN DIALOGUE AND YOU CAN BARELY HEAR THEM SPEAKING DURING THEIR BIG SCENE AT THE END! HOLY CRAP! DOES ANYBODY AT HALLMARK OVERSEE THIS?!??

✓ Good Snowkissed (Winterfest • Jen Lilley and Chris McNally • January 30, 2021)
Jen Lilley, whom I've enjoyed in way too many Hallmark movies plays a neurotic New York City writer who has to go to Banff, Canada to land an interview with a lifestyle guru she admires. Chris McNally plays the charmingly smart-assed co-owner of the B&B where Jen Lilley and her photographer sidekick are staying. But he's also a wannabe tour guide who is trying to make new business for his B&B by offering a service that other B&B's don't have. Problem is, he's really bad at it, and it's up to Jen Lilley to fix him. At first glance, this is a solid start. But, in reality, Jen Liley plays the character way too erratic and irritating, and I fail to understand why she couldn't have been more of a match for Chris McNally instead of having to come across as borderline psychotic. Heaven only knows she's capable of it! But the worst offense is that you have to believe that all four characters fall madly in love with each other when they barely know each other after three days. Jen Lilley does a 180° so outrageous that you are left seriously questioning her mental stability. And then there's the photography stupidity that Hallmark propogates over and over and over again. Jen Lilley's photographer friend character (that absolutely nobody bothered to make even remotely realistic) is a heinous joke. She's taking scenic photos and selfies with a telephoto zoom that's fully extended, which makes her look like an idiot. This (along with people drinking out of cups that have nothing in them) is a huge pet peeve of mine. JUST LOOK THROUGH THE DAMN CAMERA AND YOU'LL SEE THAT YOU'VE TOTALLY SCREWED UP! IS IT REALLY THAT HARD?!? What saves this from being merely "okay" to actually being "good" boils down to Chris McNally totally nailing his character... and the gorgeous Banff scenery. It's more than a little sad that they're wasted in what could have been something great, but that's the Hallmark crapshoot we always seem to endure.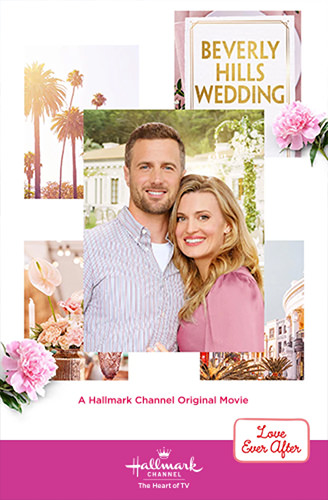 ✓ Beverly Hills Wedding (Love Ever After • Brooke D'Orsay and Brendan Penny • February 6, 2021)
Newly engaged couple on a budget turns to the bride's wedding photographer sister (and newly-minted maid of honor) for the planning. On a lark, she enters them in a contest for a fully-paid wedding in Beverly Hills... and wins it! Problem is that the photographer's ex-boyfriend is the groom's brother (and best man) which means they're going to be spending time together. This is going to be awkward because he ditched her in their small Oregon town in order to pursue his dreams in Seattle! Until it isn't awkward. At which time she realizes that the wedding she's planning for her sister isn't actually for her sister at all. Shocker, I know. This is a perfectly serviceable movie with a good cast and decent story. But that's about all it is... aside from the Beverly Hills location shoot and the fact that the wedding planner character has a husband... coming from notoriously homophobic Hallmark who shoots everything in Canada, this is kinda a big deal.

✓ Good Playing Cupid (Love Ever After • Laura Vandervoort and Nicholas Gonzalez • February 13, 2021)
A teacher has her students create businesses to raise money for their school. One of the students decides to create a matchmaking business and match up her fellow students for Valentine's Day. But the most inspired match may be between the teacher and her divorced dad! This movie started out really good... but then didn't seem to know where to go with the story. Still, it's something new and different and has some clever moments. Most importantly, the teen angst was nonexistent, as there was no "I HATE YOU, DAD!" moment that I was 100% expecting. It's a crutch that has been used so many times in so many movies. That counts for something. As does a steamy tortilla-making kitchen scene and a song by Marvin Gaye!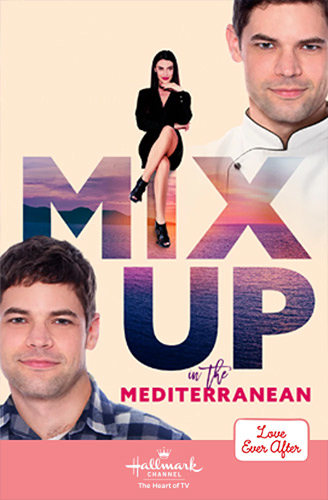 ✓ Good Mix Up in the Mediterranean (Love Ever After • Jessica Lowndes and Jeremy Jordan • February 20, 2021)
Wow. Hallmark filmed this one in actual Malta. Not Canada pretending to be Malta... but MALTA, Malta. Real Valletta and everything! What I don't understand is how Jessica Lowndes gets top billing over Jeremy Jordan when he's playing his own gay twin brother! What's funny is that they're using all the old body-double tricks and split-screen camera illusions to make it work... not CGI. Even more interesting is that Callum Blue was tapped to play the gay brother's husband. I loved him in Dead Like Me and haven't seen him forever. But anyway... a deli cook in Alaska gets convinced by his twin chef brother to go to Malta and watch him compete in an international culinary competition. Alas, the chef brother throws his back out and cook brother decides to impersonate him for registration. What he doesn't know is that contestants are given a permanent wrist-band for the duration, so now he has to compete in his brother's place. So now he has to not only pretend to be a chef, he has to also pretend he's gay... which is darn inconvenient when he starts falling in love with the event coordinator. Jeremy Jordan totally makes this work, and really should have gotten top billing.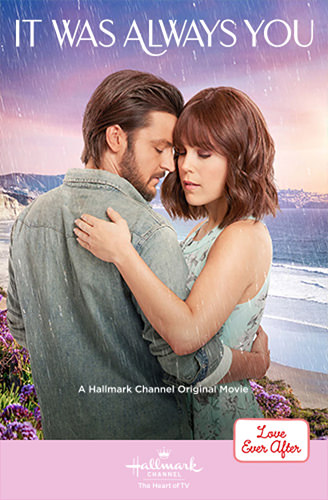 ✓ It Was Always You (Love Ever After • Tyler Hynes and Erin Krakow • February 27, 2021)
I gotta say... Tyler Hynes is one heck of an actor. Because how he managed to act like he was falling in love with Erin Krakow and her tragic haircut is a mystery. But he is the best thing about this movie, using his trademark wit to sell his character even if the story doesn't. In this mediocre effort Erin Krakow is getting married, but when her fiance can't make it home for the wedding planning... and the fiance's brother Tyler Hynes can... well, you get the picture. And that's it. There's nothing more to it than that.
Hallmark Movies and Mysteries 2021
Netflix Originals 2021
Others 2021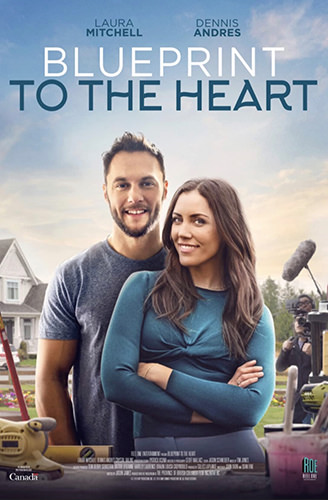 ✓ Favorite Blueprint to the Heart (Laura Mitchell and Dennis Andres • January 10, 2021)
The simple truth about most of these "Hallmark-Style Rom-Coms" is that the parts are fully interchangeable. You could swap actors and the movie may be better or may be worse, but it's still going to be pretty much the same. There are exceptions, of course... like Paul Campbell in Surprised by Love (2015) where he's pretty much irreplaceable in that character. And here we are again with Dennis Andres in Blueprint to the Heart. This movie 100% relies on his goofy charm to work, and he totally delivers. I cannot fathom another actor stepping into this role and completely nailing it like he did. But I digress. A woman with a home restoration television show is threatened with cancelation if she doesn't shake things up for the new season. The solution is to do a "lifestyle makeover" on a quirky carpenter who blundered into filming for the season finale. As she works to change the carpenter, his home, and his life for ratings gold, she finds that there are some lines she won't cross to achieve success. But some she's happy to stand by and watched be crossed by others? This movie is so close to being great... and could have been if only UpTV had taken another pass on the scenes which take place outside the filming of the restoration show. These interludes drag and detract, which causes the flick to screech to a halt each time. But even so, I liked this one quite a lot, and was completely blown away by Dennis Andres and his easy chemistry with Laura Mitchell. If Hallmark doesn't nab him for one of their films, they are failing at their mission.