Here's a checklist of all the Hallmark original romance movies from 2019 along with my comments on those I've seen.
Special movies of note are marked Favorite, Good, Okay, and BAD.
Hallmark Channel Originals 2019

✓ Winter Castle (Winterfest • Emilie Ullerup and Kevin McGarry • January 5, 2019)
Oh blech. Yet another widowed dad with a whiny kid to be fawned over by the female lead. As if that weren't enough, he's got a girlfriend to boot. Anyway... a children's storybook editor (who wants to be a writer, of course) is maid of honor for her sister getting married at an ice hotel. She arrives and instantly falls in love with the best man, who has a daughter with whom she immediately bonds (unlike the guy's current girlfriend). During the day she entertains the overenthusiastic kid with crappy children's stories, and during the evening she works on writing a crappy book. The guy in this one is heinous... leading on a woman for years AND inviting her to a romantic ice hotel... only to dump her when he meets somebody his whiny daughter likes better. Ugh.

✓ One Winter Proposal (Winterfest • Taylor Cole and Jack Turner • January 12, 2019)
Blerg. I always hate it when a movie features leads I like but even they can't save it from mediocrity. This is a poor sequel to an okay Hallmark entry, One Winter Weekend... and don't ask me how it was deemed worthy of a sequel. The two sets of couples are back and running into roadblocks on the road of romance... or, in the case of Cara and Ben, to marriage. This is a lot of boring talk talk talk talk, and there's no payoff to any of it. On top of that, the subplots for Cara's dumb book and Ben's dumb snowboard were just... um... dumb.

✓ Favorite A Winter Princess (Winterfest • Natalie Hall and Chris McNally • January 18, 2019)
Natalie Hall is absolutely breathtaking. Along with Chris McNally, they make one of the most beautiful Hallmark couples ever. SHE is a princess from yet another fictional European country who works at a ski resort in the US to prove that she can make it on her own, but nobody knows she is a princess. HE is the brother of the owner of the resort. When they come together to plan the annual Snow Ball, he learns her secret... just as her twin brother and childhood crush arrive. What makes this movie so great is how much of a departure it is from routine Hallmark movies... instead of finding out at the very end that she's a princess, the guy finds out almost immediately. It changes the whole dynamic, and makes for a far more interesting story. I really liked this one, and couldn't have been happier to be surprised about it.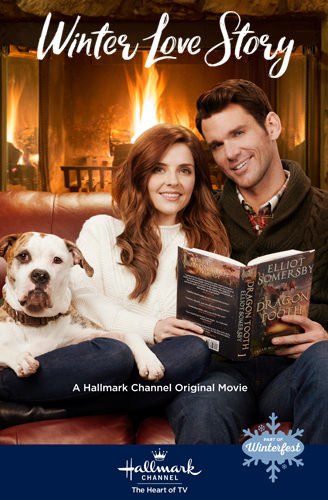 ✓ Winter Love Story (Winterfest • Jen Lilley and Kevin McGarry • January 19, 2019)
Cassie wrote her first novel about recovering from a bad breakup. Elliot is the author of best-selling dragon books and divorced. When Cassie needs to drum up sales of her book, she's teamed up with Elliot for a press tour... BECAUSE FEMALE EMPOWERMENT NOVELS AND FANTASY FICTION ARE TOTALLY THE SAME AUDIENCE! What follows is Elliot being a nonstop-woman's-ultimate-perfect-wet-dream-fantasy-man come to life. So of course she falls in love with him. He was designed that way! This is the very definition of Point A to Point B tedium that bored me to death. Fortunately, Bungee the dog was there to inject some life into an otherwise dull outing.

✓ SnowComing (Winterfest • Lindy Booth and Trevor Donovan • January 26, 2019)
Groooooan. This was a painful film to wade through. I didn't like the story, I didn't like the leads, and the only thing I found myself anticipating was either the movie ending... or the sweet release of death. Some generic woman returns home for her generic hometown's winter carnival where her generic dad is retiring. Then, SURPRISE, her generic high school sweetheart (who is now an NFL quarterback, natch!) is also there because her father has always been like a father to him. A generic romance ensues. So boring. No not worth anybody's time. This one is generic crap even by Hallmark standards, and I don't understand why it was ever greenlit.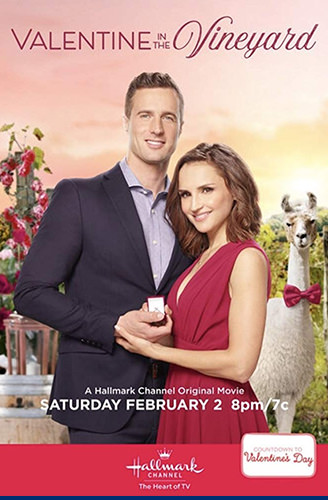 ✓ Valentine in the Vineyard (Countdown to Valentine's Day • Rachael Leigh Cook and Brendan Penny • February 2, 2019)
The third in a series (following Autumn in the Vineyard and Summer in the Vineyard), this one is marginally better than the previous iteration, but not by much. Nate is still kind of an ass in the relationship, but at least he seems like he's trying now. Rachael Leigh Cook (♥) and Brendan Penny are charming and funny as usual, but Hallmark decides to push things over the top with idiotic clichés like self-assembled furniture falling apart (HA HA HA HA!). But anyway... love is in the air as Valentine's Day approaches and a wedding may be in the cards for the DeLuca and Baldwin families... maybe even a double wedding! Interesting to note... while Hallmark has had a few "maybe they are, maybe they aren't" same-sex couples hinted at in previous movies, this is the first time you actually see a same-sex couple acknowledged as a same-sex couple (they are at the compatibility test seminar). Who knows. Maybe one of these days a same sex couple will actually get their own damn movie. That would sure be preferable to yet another "WE HAVE TO SAVE THE VINEYARD WITH A COMBINATION OF OUR DIFFERENT METHODS" movie in this series.

✓ The Story of Us (Countdown to Valentine's Day • Maggie Lawson and Sam Page • February 9, 2019)
It's hard to watch a movie with Maggie Lawson because I end up spending most of the time she's on screen hopping for more Psych. When an architect returns to his home town to present a plan to demolish a neighborhood so he can build a new development, he's surprised to find that his childhood sweetheart will be his biggest obstacle as she tries to save her bookshop. It's a good movie, but the surprise was how much better a background plot of another couple getting together was a more interesting story.

✓ Love, Romance & Chocolate (Countdown to Valentine's Day • Lacey Chabert and Will Kemp • February 16, 2019)
Fresh off a breakup, Lacey Chabret is in Belgium on vacation. There she runs across a struggling chocolate shop where she volunteers to help out the guy whose family has owned it for generations. Bringing her ability to add something "a little unexpected" to a recipe, soon she's helping him come up with something new for a royal chocolate competition for Valentine's Day... AND FALLING IN LOVE! How unexpected! And a bit boring. Just a lot of walking around hoping that love will inspire them into creating a sensational new confection. Then hanging out in the kitchen trying to make it happen. Alas, a rival chocolatier has his sights set on Lacey Chabert, so it might not be such a sweet road to romance. Fortunately the lovely scenes of Bruges as a backdrop make this a worthwhile flick.

✓ Love on the Menu (Autumn Reeser and Kavan Smith • February 23, 2019)
I'm so sick and tired of the "Single dad with annoying kid" trope that I'd rather take a staple gun to my head than watch another one. But this one has Autumn Reeser, so how can I say no? Amazing how you can put her with absolutely anybody and get instant chemistry. I guess she's just that good. That being said... blergh. Yet another "restaurant" Hallmark movie. But this time things Just. Got. Interesting. Usually it's the WOMAN with the awesome food but her restaurant is struggling and she needs a big strong handsome wealthy man to save her. But this time it's the MAN with the struggling restaurant! And then I found out why. The actor playing the man is named Kavan Smith. HE WROTE THE MOVIE TOO! Sweet! Kinda. I guess.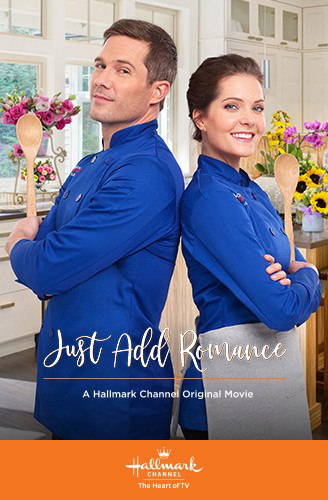 ✓ Just Add Romance (Meghann Fahy and Luke Macfarlane • March 2, 2019)
If I could just post a bunch of eyerolls, I would. This is one of the cheesiest and inane Hallmark movies ever. Two chefs with two different styles of cooking who met at culinary school end up competing on a cooking reality show. And of course they both win in a tie... because Hallmark. And if that wasn't enough to sink this movie, the laughable reaction of the judges every time would do it. Yeah, all Hallmark movies can be ridiculous, but this one is way over the top.

✓ BAD Love Under the Rainbow (Jodie Sweetin and David Haydn-Jones • March 9, 2019)
Widower for seven years (groan) and single dad (GROAN) has a weepy daughter who thinks that she'll find her dead mom at the end of a rainbow (GRRRRROAN!). But what they find instead is a potential love interest for dad in the girl's new teacher... Jodie Sweetin! Categorically awful in just about every possible way, this movie tries to tug at heartstrings, but instead shovels so much overly-dramatic bullshit for two hours that had me saying "Kill me. Kill me now." Hallmark movies are manipulative, but it rarely gets this bad. Horrific dialogue just drives it all home. Easily in the very rock bottom of Hallmark movie rankings.

✓ Good Flip That Romance (Spring Fever • Julie Gonzalo and Tyler Hynes • March 16, 2019)
This movie is genius. IT'S GENIUS! I've been anxiously waiting seeing Flip That Romance since the moment I found out it exists. The film combines two of my favorite things... home renovation shows and Hallmark movies! And it's good! Good story. Good cast. Good humor. Worth a watch, especially if you like the concept.

✓ Okay Love to the Rescue (Spring Fever • Nikki DeLoach and Michael Rady • March 23, 2019)
When two single parents have kids with their hearts set on adopting the same dog, however will they resolve it? Turns out it's shared custody until they find out where the dog is happiest. But she's a creative free spirit and he's a Type-A rigid personality, so how's that going to work? I'll let you guess. I usually don't care much for movies with kids as major characters, but these weren't awful. The story is semi-original and charming, so I found it more watchable than usual.

✓ A Brush with Love (Spring Fever • Arielle Kebbel and Nick Bateman • March 30, 2019)
This is one of those Hallmark movies that has me convinced that I've probably reached my brain's breaking point. When it came up in the TV program grid, I knew... knew that I had seen it before. But couldn't recall anything about it. Then I started watching and was positive I had seen it because the opening encounter was playing out exactly as I remembered. But I couldn't remember the ending. And so I kept watching... and watching... and eventually it all came back to me. Jamie has given up on relationships and her painting just as a childhood acquaintance whom she loathes floats back into her life. She starts painting a vision of what she hopes for the future only to have it all start coming true... but not in the way she expected! And the man she was dreaming of? =gasp= ALSO NOT WHAT SHE EXPECTED! (But totally what we were all expecting). This one had a slightly dark turn before the ending (true darkness would be slashing the painting... Hallmark darkness is painting over the painting) but don't worry, all's well that ends Hallmark.

✓ Good True Love Blooms (Spring Fever • Sara Rue and Jordan Bridges • April 6, 2019)
"Look up. I like that." And here's Jordan Bridges, saving yet another predictable story from the bottom of the Hallmark barrel. In this one, Bridges plays an evil developer wanting to raze a community garden for his condos. Oh... no... wait a minute... he's not evil. He's actually not a bad guy at all. Can Sara Rue convince him to spare the garden? Maybe... over time... a long time... a long, long time. Like... an entire movie. And, lucky for us, Bridges is talented enough and subtle enough to show his walls falling bit-by-bit instead of going hard-ass for 80 minutes and just falling apart for the final 10. I also like how his "minimalist" office is used to reinforce what's happening in the story, which is darn clever. The ultimate solution at the end of the movie isn't a surprise, but the fact that the writer doesn't know how to use pronouns or replacement nouns so they repeat the name "Chase Devine" over and over and over and over and over and over and over and over and over and over and over and over and over and over and over and over and over and over and over and over and over and over and over and over and over and over and over is a huge surprise. Still, a sweet movie with a moving romantic slant, which is pretty much what you want in a Hallmark movie isn't it?

✓ Bottled with Love (Spring Fever • Bethany Joy Lenz and Andrew Walker • April 13, 2019)
After pouring her heart out in a letter, putting it in a bottle, and launching it into the sea, a woman is shocked when some guy gets it and starts emailing her. An online relationship ensues. And then, IN ONE OF THE BIGGEST COINCIDENCES OF ALL TIME, the guy JUST HAPPENS to end up being the estranged son of her boss who JUST HAPPENS to be called back to help his dad with the business and JUST HAPPENS to end up working with her. What are the odds? A billion to one? A million billion to one? Doesn't matter. This is Hallmark where things like that happen all the time! Of course he finds out that she's the woman from the bottle, which sends us hurtling into You've Got Mail territory. Again. And yet... Bethany Joy Lentz and Andrew Walker are darn entertaining, so it's not such a bad thing after all.

✓ Easter Under Wraps (Spring Fever • Fiona Gubelmann and Brendan Penny • April 20, 2019)
Just once Woman works for her father's chocolate company, but stays anonymous to most everybody. Dad wants her to take her anonymity and go all "Undercover Boss" in the main production facility to figure out why the company is losing ground in the market. There she works with the head chocolatier to reimagine a legendary "giant chocolate egg" and save the company. Of course she falls for the chocolatier widow and his delightfully annoying little girl along the way. And of COURSE he figures out that she's not who she says she is. That brings us to the inevitably idiotic moment where the guy is all "YOU LIED TO ME!" Which makes absolutely zero sense. Most people would be "Holy cow! You're the boss's daughter? How cool that the company sent you undercover to see what's really happening here so they can make things better! And since you're the same person on the inside I've always known and have fallen in love with, it's a win for everybody!" But that would be too realistic. Instead we have the same old tired, stupid, stupid, STUPID faux confrontation that ultimately gets ignored for true love. I guess that's why I like movies like A Winter Princess which dispenses with this moronic crap and is just sensible about it. How is it that Hallmark isn't as tired of it as we all are?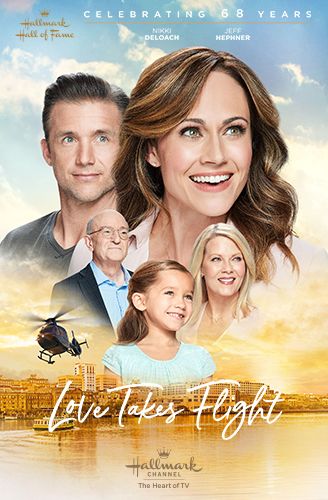 ✓ BAD Love Takes Flight (Hallmark Hall of Fame • Nikki DeLoach and Jeff Hephner • April 27, 2019)
If I had to sum up this steaming pile in one word, it would have to be "insufferable." I mean, I will be the first to admit that I usually don't like stories when they revolve around kids (though there are notable exceptions like Love at the Shore which have great kids in a great story, so it's not an automatic deal-breaker)... but this sets a new low. Pathetically manipulative in every conceivable way, the whiny, cloying little girl made this literally one of the worst Hallmark movies I've ever seen... AND IT'S A HALLMARK HALL OF FAME FILM! Anyway... a hospital administrator and single mom has a daughter with some kind of diabetic disorder and has built them a boring life because she's a structure-is-life kinda gal. But when a new hotshot EMS pilot at the hospital drops into their lives, that might just change! Adding another level of awful to this already horrific movie is a random encounter with an old man WHO JUST HAPPENS TO END UP BEING THE EMS PILOT'S DAD! WHAT A SURPRISE! Lord, I ended up scrubbing the toilet and cleaning the bathroom while listening to it play because that was a more entertaining use of my time.

✓ Paris, Wine & Romance (Countdown to Summer • Jen Lilley and Dan Jeannotte • May 4, 2019)
Well, it's got Jen Lilley trying her level best to conceal a pregnancy (hat tip to her stylist and the prop master)... and it actually filmed a few scenes in Paris (just before the Notre Dame fire, making it probably the last movie to have the pre-fire cathedral in it)... but holy crap. The pregnancy was obvious, as was the fact that it was mostly filmed in Bulgaria. So the whole "SAVE OUR WINERY!" trope of a girl from Oregon flying to Paris to enter her wine in a contest had to rely on story alone to keep us invested. But relying on story is not how Hallmark movies work, which is why this one didn't.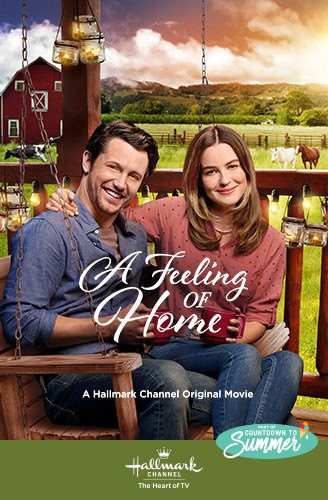 ✓ Okay A Feeling of Home (Countdown to Summer • Jonna Walsh and Nathan Parsons • May 11, 2019)
The host of the web series New England, My Way gets an offer to become the face of a global brand because of her authenticity and deep roots to the Northeast. But, oops, she's originally from Texas. And when her dad is injured and need help back home, she heads back to the ranch. Where, of course, her old flame is now the ranch manager. Torn between her old boyfriend back home and a chance for fame back in New England, somebody has a decision to make. But this is Hallmark, so the solution may be a combination of old and new. While I wasn't blown away by the story, the leads, or the chemistry (though they were all fine)... I was pretty impressed with the scenery! A nice enough movie that gels just enough to be entertaining.

✓ Okay Sailing into Love (Countdown to Summer • Leah Renee and Chris McNally • May 18, 2019)
Oh boy! Another "always the bridesmaid never the bride" plot! I think that makes like... ten?... this year? The twist being that it's also yet another "save the ranch/store/nature/park" story (Save the Island!). Leah Renee feels like she's trying too hard to be genuine, which is an odd contrast with Chris McNally who makes genuine characters seem so effortless.

✓ Okay From Friend to Fiancé (Countdown to Summer • Jocelyn Hudon and Ryan Paevey • May 25, 2019)
Welp, the spoiler is right there in the title. After getting dumped by her boyfriend, Jess goes to her best friend since childhood, Ted, for emotional support. That's when a bombshell is dropped on her... Ted is marrying the "mean girl" from high school. Now charged with planning the wedding, Jess starts to realize that she has feelings for Ted that go beyond friendship. This movie could have gone from "okay" to "good" if only it was a brisk 60 minutes instead of a drawn-out and boring 90 minute slog. But Jocelyn Hudon is great and the ending is not quite what you'd expect from a Hallmark movie.

✓ Love in the Sun (Countdown to Summer • Emeraude Toubia and Tom Maden • May 27, 2019)
An app developer discovers (much to her horror) that her dating app may not be able to accurately make the love connections it was designed for after she runs across her high school sweetheart. Emeraude Toubia is somebody I've never seen before... after seeing how great she was in this, I sure hope she does more Hallmark.

✓ Wedding at Graceland (June Weddings • Kellie Pickler and Wes Brown • June 1, 2019)
An obvious attempt to shoe-horn Kellie Pickler into yet another Hallmark movie, Christmas in Graceland was an okay but not a great movie. Not surprisingly, the sequel is not that great either. Still, Kellie Pickler and Wes Brown know how to sell their characters, so the race to the altar wasn't nearly as bad as it could have been.

✓ My Boyfriend's Back: Wedding March 5 (June Weddings • Cindy Busby and Tyler Hynes • June 8, 2019)
The "Wedding March" series has been an exercise in diminishing returns, with each new entry being worse than the one that came before. At least last year they supplemented the tired pairing of Jack Wagner and Josie Bissett with Andrew Walker. This year? Meh. I really like Cindy Busby and Tyler Hynes, but I actually ended up fast-forwarding through the anniversary subplot with Wagner/Bissett. The main plot revolves around a woman starting her own wedding planning business only to find out the best man on her first wedding is her ex-boyfriend. And of course they hate each other. AT FIRST! The result is actually a pretty good story... which would have been good if it stood on its own... but the constant distractions drag the whole thing down. I really hope this is the end of this series.

✓ Love, Take Two (June Weddings • Heather Hemmens and Cornelius Smith Jr. • June 15, 2019)
I don't know if you can honestly say that Hallmark is "making progress in diversity" when we're only getting one or two movies a year with non-white leads... but I guess it's better than no movies? What's so insane is that it's such an easy way to make the same old, tired stories be something new (this time it's the "Oh no! My old flame is getting married but I still have feelings for them!"). Alas this one was a bit of a misfire, because there wasn't much chemistry between the leads (despite both being good actors).

✓ Good The Last Bridesmaid (June Weddings • Rachel Boston and Paul Campbell • June 22, 2019)
Always the bridesmaid, never the bride! When a terminal bridesmaid runs into a videographer who doesn't believe in love, what could possibly happen? This is kind of baseline for me when it comes to Hallmark movies. The story is familiar, but doesn't feel like something you've already seen a hundred times. The leads have chemistry and are really good at making cheesy dialogue seem effortless and natural. And the supporting characters drift in and out without being obnoxious barriers to the main story. What's left is just a solid movie from start to finish. The thing that elevates this above the norm is the two leads. Rachel Boston is her usual breezy, beautiful self. And Paul Campbell is probably one of the most underrated of all the Hallmark actors. He's handsome, but not the obvious eye candy that usually gets trotted out for these things, so his talent and charm makes him more relatable for any guys who might watch this stuff.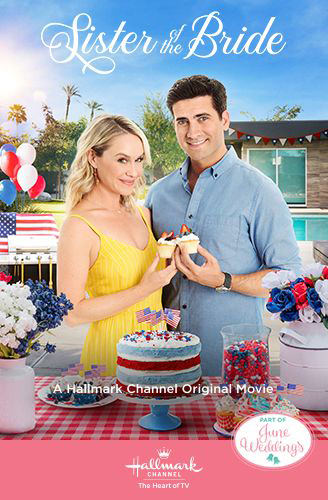 ✓ Sister of the Bride (June Weddings • Becca Tobin, Ryan Rottman, Beth Broderick, and Michael Gross • June 29, 2019)
One of the most bizarre Hallmark movies ever. The movie follows the same couple from start to finish and there's not really any obstacles thrown in their way. Her ex boyfriend is dismissed as quickly as he appears. There's some lingering drama concerning him having a job offer in England, but it's never a serious issue, so the resolution is anti-climactic. In many ways, this Point A to Point B film should be pointless and boring... but it's just... not? Somehow? The cast, by-and-large, are very good, so maybe that's enough.

✓ Love Unleashed (Jen Lilley and Christopher Russell • July 6, 2019)
Let's have a puppy party! Yet another single dad with an annoying kid romance flick that I loathe. If not for Jen Lilley, I might have skipped it. But, hey, it's got puppies!

✓ Rome in Love (Summer Nights • Italia Ricci and Peter Porte • July 27, 2019)
The concept is that they are remaking Roman Holiday and they find an unknown to play Audrey Hepburn's part. Which is absurd, of course. But aren't the plots for most of these things? Anyway... unknown actress heads to Rome where her life is about to change forever. But then a young writer/journalist comes along and her life won't be the same in more ways than one. I always groan at the whole "THEY LIED TO ME!" plot twist because it always seems like such a stupid obstacle for people who are actually in love... but this one is particularly petty and stupid.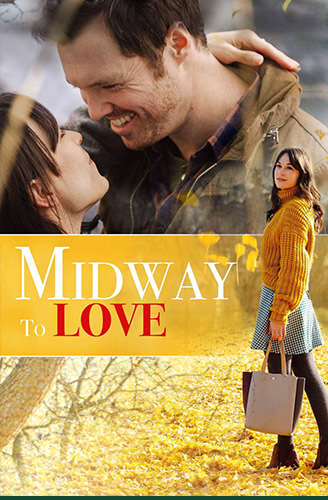 ✓ Midway to Love (Rachel Hendrix and Daniel Stine • August 1, 2019)
A doctor whose flailing therapy television show gets new station owners who are insisting on a format change. Distraught that her prim-and-proper show is going to get a millenial update and a new co-host, she heads back home to take a break before everything changes. While visiting she runs into her high school sweetheart and, SURPRISE, starts falling in love with him all over again. She also finds an outlet for her therapy skills because of course she does. This is a big-ol' mess of a movie that offers zero chemistry between leads and an even heavier concentration of ditzy cliches than usual.

✓ Good Love and Sunshine (Summer Nights • Danica McKellar and Mark Deklin • August 3, 2019)
I like it when Hallmark acknowledges military service in their stories, so I was anticipating good things with this one. The story is sweet, heartfelt, and genuine... and has a dog... but also kinda meandering at times. Some stories would work better with a shorter runtime if only Hallmark would acknowledge that. But anyway... when a woman with a broken heart fosters a military dog until her owner returns, there's a chance for romance when the owner comes back. But will it just result in more heartbreak? Only the photo montage at the end knows for sure! Have Kleenex handy.

✓ A Taste of Summer (Summer Nights) • Roselyn Sanchez and Eric Winter • August 10, 2019)
One of those rare Hallmark movies which has a non-white lead (the jaw-dropping Roselyn Sanchez from Grand Hotel), which is a good thing considering it's yet another take on "restaurant wars." Eric Winter, whom I can usually leave or take, is actually really good this time around (despite playing yet another Hallmark single father).

✓ A Summer Romance (Summer Nights • Erin Krakow and Ryan Paevey • August 17, 2019)
Yet another "how can we save the ranch" movie, but so bland and annoying (PRECOCIOUS KID ALERT!) you have to ask why they bothered. You know you're in trouble when even Erin Krakow (from all those Hallmark "Father Christmas" movies) can't save it. But anyway... city slicker idiot shows up at a Montana ranch with the intent of buying it so he can build a shopping mall (or whatever). The ranch owner doesn't want to sell, but she falls in love with him anyway, just as he's falling in love with ranch life. At least the scenery is pretty.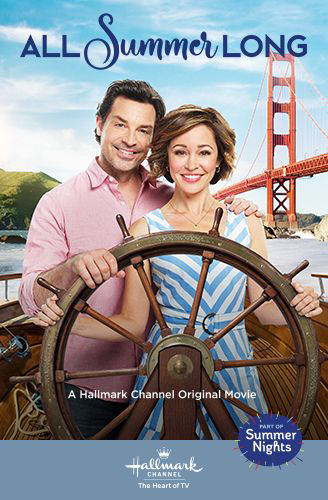 ✓ All Summer Long (Summer Nights • Autumn Reeser and Brennan Elliott • August 24, 2019)
Hallmark movies are a dumping ground for actors from yesteryear, which is part of the fun. Peter DeLuise, my favorite character from 21 Jumpstreet and Stargate SG-1, popped up, which is no surprise since he seems to direct half of the stuff Hallmark airs. Gilding the lily for All Summer Long is Autumn Reeser, whom I would be happy to watch All Year Long. She's a lawyer who happens to be a boat captain (the odds!) and signs on as captain of her aunt and uncle's boat restaurant where, ZOMG, her ex-boyfriend (whom she hates) is the chef! Sacre Bleu! It's a decent flick, even though I'm not a big Brennan Elliott fan.

✓ Favorite My One & Only (Summer Nights • Pascale Hutton and Sam Page • August 31, 2019)
The concept for this would would be absurd if not for the fact that women actually do go on reality television shows expecting to find a husband. But... oh wait... who is this guy that's not on the show who's caught her eye? Why it's Sam Page! Which is a bonus, because nobody can project smart-ass quite like Sam Page in these things. And the other guy in the love triangle (played by Stephen Huszar) is actually pretty funny in his own right (look at him in the backgrounds... especially in the bird watching scene!). But what makes this work is Pascale Hutton, who somehow manages to keep the story grounded as the absurdity of it all feels like we're going off the rails. And then there's her showing up in that red dress at the end...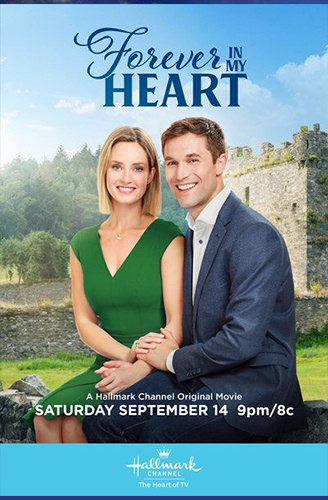 ✓ Good Forever in My Heart (Merritt Patterson and Jack Turner • September 14, 2019)
Most all of the leading ladies of Hallmark movies are great. They have a real knack for coming across natural and, dare I say... realistic... in ridiculous and decidedly unrealistic situations. The same cannot be said about the guys. Most are good... some are great... but a lot of times I have a tough time "buying" their performance. Jack Turner is an exception. He's ridiculously grounded in these things. And yet... when I saw previews for Forever in My Heart, I was mortified that he was going to be saddled with an Irish accent instead of his normal English accent. Fortunately, he manages to pull it off just fine and is his usual awesome self. Anyway... this is a girl meets boy. Boy wants to ask girl to marry him. Girl leaves for five years and gets engaged to somebody else. Girl comes back and calls off the engagement. Boy and girl fall back in love again. And the guy runs a struggling hotel, of course. What makes this one different is that is was actually shot on location in gorgeous Ireland. Oh... and I'm totally in love with Merritt Patterson, of course.

✓ BAD Over the Moon in Love (Fall Harvest • Jessica Lowndes and Wes Brown • October 5, 2019)
When Brooklyn, a professional matchmaker, has a business which needs a boost, she decides to take a shot at getting a cover story in a high-end magazine. Unfortunately this involves setting up the magazine owner's daughter with a high school friend who just wandered into her life after 12 years. Alas he has feelings for Brooklyn, but agrees to go out with the woman to make her happy. The date is a dud, but the magazine owner's daughter wants more, so Brooklyn has to put her business over her friend and talk him into another date. I was rooting for the guy to run far, far away from both of these women... Brooklyn, who is a psychotic liar intent on screwing him over to make a buck... and the magazine owner's daughter who is a complete nut-case and stupid as hell for wanting a guy who has nothing in common with her. I'm guessing this is supposed to be a modern take on Cyrano de Bergerac, but comes across as just plain awful and mean. Jessica Lowndes wrote this total disaster of a movie to star in, and I can only guess that Hallmark wants to keep her happy for them to green light this mess. I cannot believe that Wes Brown agreed to play a guy who would put up with this kind of lying and abuse.

✓ Love, Fall & Order (Fall Harvest • Erin Cahill and Trevor Donovan • October 12, 2019)
I rather liked this story of a lawyer who has to go back to her family farm in order to help her dad fight off a lawsuit which is going to take a chunk of his land... and, oh noes, it's the same land which hosts the annual Harvest Festival! But when opposing council ends up being a guy she competed with in high school, will the trial end up bringing her more than a legal rival? Oh let's hope so! This is one of those Hallmark movies where there really isn't a "bad guy" to root against, which leaves the feel-good ending feeling a bit bland. But, oh well, it turned out better than it had a right to... all things considered.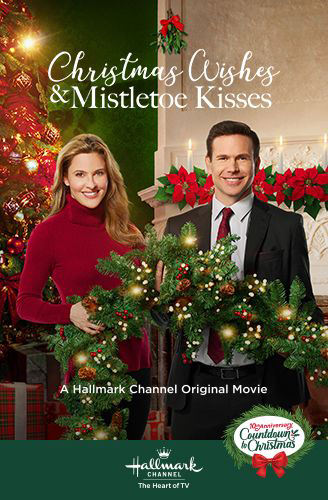 ✓ Christmas Wishes & Mistletoe Kisses (Countdown to Christmas • Jill Wagner and Matthew Davis • October 26, 2019)
Being the first movie out of the gate for Countdown to Christmas is a daunting prospect. It can't be too big of a flick or else it's all downhill from there and sets up unrealistic expectations for the rest of the season. But it can't be the worst of the lot or you're setting a terrible precedent for what's to come. It has to land somewhere in the middle and, with that in mind, this one fits that bill perfectly. It's good, not great or terrible. No real surprises. Well, except the fact that it took me half the movie to recognize Warner from Legally Blonde as the male lead. Anyway... single mom comes back from hiatus to reignite her interior decorator career now that her young son is old enough. She wins the first big job she goes after, decorating the estate of a successful businessman and a Christmas party being held there. But will she end up winning his heart as well? Oh probably. Good enough to watch, but will undoubtedly be forgotten by December 25th.

✓ Merry & Bright (Countdown to Christmas • Jodie Sweetin and Andrew Walker • November 2, 2019)
Well wasn't this a big steaming cup of meh. Cate inherited the Merry & Bright Candy Cane company from her grandmother but is struggling to keep it running as markets change. Enter financial fixer and consultant Andrew Walker who steps up to take a look at the company finances and make the business more profitable. But when his solutions clash with what Jodie Sweetin wants the company to be, will he give up... ON LOVE?!? The main plot is boring, and nothing is saved by the eye-rolling Sharon Lawrence dog-bonding sub-plot... nor the hotel receptionist is afraid to propose sub-plot. Add the whole "Our candy canes taste better because they're made with love!" Idiocy at the end, and this isn't worth the two hour investment.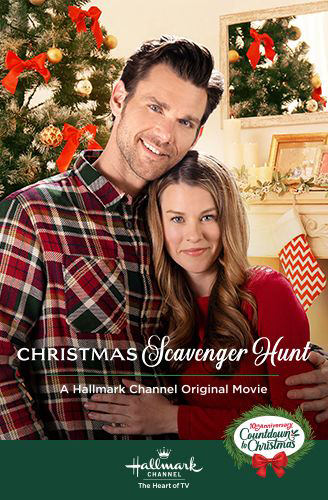 ✓ A Christmas Scavenger Hunt (Countdown to Christmas • Kevin McGarry and Kim Shaw • November 3, 2019)
Welp. They tried. But between a boring story, leads with no chemistry, Tom Arnold playing Tom Arnold (yet again), and predictability taken to the next level... I was counting the minutes until this was over. Still, the idea of a scavenger hunt was new, clever, and refreshing so I suppose that counts for something? Pretty basic otherwise... woman returns to her hometown, ends up on a Christmas scavenger hunt with her ex, Hallmark ensues, the end. A shame they didn't do a better job with the story and the casting around the concept, because this could have been a good flick.

✓ Good Picture a Perfect Christmas (Countdown to Christmas • Merritt Patterson and Jon Cor • November 9, 2019)
When her grandma busts her foot, a photographer heads to Bainbridge Island so she can help out with a Christmas pageant. But when she gets tangled up in the lives of grandma's handsome neighbor and his nephew, her life may take a drastic turn. The two leads are great, but what makes this one work is that they got a kid that's not laughably fake and annoying. What doesn't work is the overused plot twist that a photo shoot is moved up from after the New Year to RIGHT BEFORE CHRISTMAS! OH NOES! NOW SHE WILL MISS THE NEPHEW'S CHRISTMAS PLAY WHERE HE'S PLAYING FIFTH REINDEER! Why do they keep relying on the tired, and embarrassingly implausible twist of something being moved RIGHT BEFORE CHRISTMAS... like advertising campaigns aren't planned MONTHS in advance and some ADVERTISING EMERGENCY could possibly come up to necessitate a photoshoot AT CHRISTMAS?!? Fortunately, they compensated for this misstep by having a movie where, FINALLY, the woman doesn't have to give up her career and dreams to get the guy at the end. Refreshing!

✓ Good The Mistletoe Secret (Countdown to Christmas • Kellie Pickler and Tyler Hynes • November 10, 2019)
When the town of Midway, Utah is going through tough times due to a drop in visitors, a feature by celebrity travel influencer Sterling Masters could be just the ticket to putting the city on the tourist map. But when Sterling Masters ends up being two people... both a face on television and his best-friend and ghostwriter, Tyler Hynes... Kellie Pickler has a decision to make. This movie is cute. And clever. And funny. And completely salvaged by Tyler Hynes, who plays his every role in a casual-comical manner which makes him that much more believable. I think most actors would have sunk under a role like this, but casting Hynes was a brilliant move. Pickler manages just fine, but falters a bit in the quieter moments. Still, it's an enjoyable Christmastime distraction despite an ending that feels a bit rushed.

✓ Christmas Under the Stars (Countdown to Christmas • Autumn Reeser and Jesse Metcalf • November 16, 2019)
Autumn Reeser is an astronomy teacher who is struggling to manage her deceased father's medical bills. Jesse Metcalf is a self-absorbed investment banker fired just before the holidays who takes a job at a Christmas tree lot. When the two of them meet and start falling in love, they end up rediscovering the magic of Christmas together. UNLESS SOME WILD COINCIDENCE AND MISUNDERSTANDING HAPPENS! Given how Autumn Reeser is one of my favorite Hallmark players, I was really looking forward to this one. Unfortunately, it was just kinda... bland. Add that to the nonsense around the medical bills not having any basis in reality (if they were actually paid, the notices wouldn't mean a dang thing), and this one didn't grab me at all.

✓ Good Write Before Christmas (Countdown to Christmas • Torrey DeVitto and Chad Michael Murray • November 17, 2019)
Newly single for the holidays, a woman sends the five Hallmark Christmas cards she bought for her boyfriend to some of the people who mean the most to her. The movie then meanders between all the different relationships and interrelationships of all these people like a clunky imitation of Love Actually. What's surprising about this movie is how it dragged on and on given how many stories were running at the same time. That being said, it is a bit more complex and interesting than half the Hallmark flicks I've seen... and the acting is all top-notch, so there's that. Alas the obvious hard-sell on Hallmark Christmas cards is just so laughably embarrassing that it was hard to get terribly invested in what was essentially a 90 minute advertisement. Still, good stuff. And the story with the younger brother in the military could have made for a sweet movie all on its own.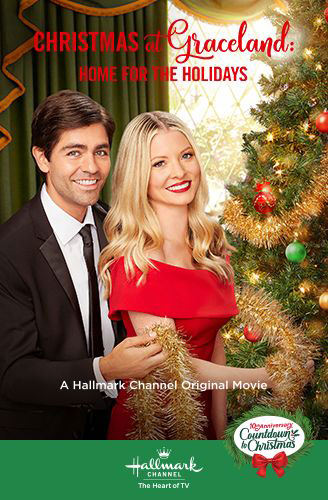 ✓ Christmas at Graceland: Home for the Holidays (Countdown to Christmas • Kaitlin Doubleday and Adrian Grenier • November 23, 2019)
This sequel is followed by another sequel tomorrow night. The second sequel is one I'm very much looking forward to (and hoping they don't blow it)... this one, however? Not so much. These 2-hour Hallmark promotional videos for Graceland are reeeeeally starting to wear thin, and having them find another way to shoehorn in yet another tired story revolving around Elvis's old home is kinda pathetic. This time around a woman waiting to hear back on a curator job in London is visiting family in Memphis when a wealthy businessman wants a private tour of Graceland for his three kids. Since she used to give tours there, she volunteers to show them around. Afterwards she hit it off with the kids so well that she is asked to become a nanny for the businessman's kids, but is resistant to the idea. UNTIL SHE ENDS UP SLEEPING ON THE COUCH AT HER FAMILY'S HOUSE BECAUSE THERE'S NO BEDROOM AVAILABLE! Then a temp nanny job with free room and board sounds pretty good! Or does it? Because the dad is a tight-ass who expects his kids to be kept on a strict schedule... and that's not her style. Since the Hallmark-mandated requisite three years has passed since the wealthy businessman's wife died, can you guess what happens between the nanny and the dad? Ugh. The temp nanny story has been done far better than this in previous Hallmark movies (October Kiss said about all that needed to be said on this tired trope) and this take was pretty uneventful. Plus the chemistry was wildly off (I never felt the dad was falling in love with her... it just seemed like he wanted to keep her on as a nanny). About the only plus was getting to hear Elvis sing Christmas in a way that only he can. Unfortunately that was sabotaged by a truly horrific song at the end with the nanny and those three irritating kids (helpful hint to child actors... try holding the microphone up to your mouth to add credibility to your bad lip-syncing). Please, Hallmark, I'm begging you... find another location for your movies. Graceland has worn out its welcome.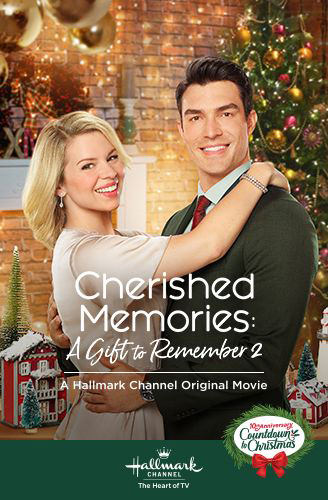 ✓ Cherished Memories: A Gift to Remember 2 (Countdown to Christmas • Ali Liebert and Peter Porte • November 24, 2019)
Well, poop. One of my favorite Hallmark Christmas movies, A Gift to Remember (from 2017), has been given a sequel... and it's pretty awful. Yet another "SAVE THE REC CENTER!" movie, but offering absolutely nothing new. Here I was looking forward to seeing these characters again, only to regret it almost immediately. Darcy the book shop manager and Aiden the schoolteacher have settled into being girlfriend and boyfriend in the year since she ran over him with her bicycle and he temporarily lost his memory. AND THAT'S IT! THAT'S THE MOVIE! Darcy is upset because the local rec center is being sold by its owner. Aiden struggles to make the perfect Christmas present for Darcy. And Mrs. Henley is still obsessed with decorating for Christmas... but also having to watch over her nephew. It's a snooze-fest that illustrates why Hallmark so rarely creates sequels... the stories always fall short. Because seriously? A stupid "SAVE THE REC CENTER!" plot is what they felt was a worthy follow-up to the sweet and clever identity mystery that drove the first one? Shaking my darn head. And since they didn't get married, I can only guess they are saving that for A Gift to Remember 3? Blergh.

✓ Good A Christmas Duet (Countdown to Christmas • Chaley Rose and Rome Flynn • November 25, 2019)
I could have sworn that I had seen this movie before. SWORN IT! A singing duo that drifted apart ends up coming back together by chance... and have to sing together just like the old days? I mean, that describes a dozen Hallmark movies, I know... but this one felt terribly familiar. At least it did until you see Chaley Rose and Rome Flynn actually perform together. Wow. Such an attractive couple... and they can actually sing! I really, really liked their duet song Wouldn't Be Christmas, and this was a darn good take on the same old story. Of course we have a bit of a slog as the couple dances around falling into love, but it's definitely a journey worth taking. The only thing that felt played out was the whole "Will they play at the Yuletide Christmas Festival?" nonsense, which felt more disingenuous than usual... and yet... worrrrrrth it.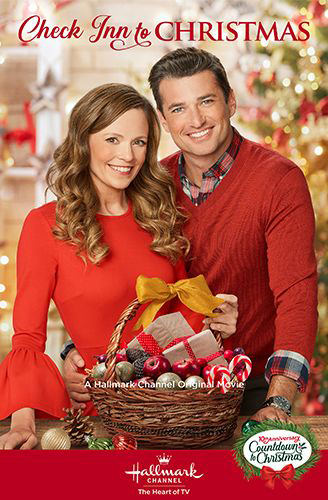 ✓ Good Check Inn to Christmas (Countdown to Christmas • Rachel Boston and Wes Brown • November 26, 2019)
Rachel Boston and Wes Brown have a family rivalry that goes back 100 years. Their respective family inns have been in competition since day one, and nothing is going to change that! Except... when a mega-developer blows into town and wants to open up a modern hotel with all the amenities, they may have to set competition aside to survive. And as Rachel Boston and Wes Brown start working together... they may have something else to team up on. LIKE FALLING IN LOVE! Wes Brown is so great in these movies, and this one is no exception. The story is also pretty great, offering a welcome spin on the whole "SAVE THE INN!" trope that bores me to death.

✓ The Christmas Club (Countdown to Christmas • Elizabeth Mitchell and Cameron Mathison • November 27, 2019)
Despite the story being full of stupid, Elizabeth Mitchell and Cameron Mathison are sweet enough (and the IDEA is good enough) to make this slightly better than horrific. That being said... these people are 50 years old playing people in their 20's or 30's which is just silly. SURELY there are good stories for these actors that is closer to their age? But whatever. Widow who is a dance instructor with an overbearingly annoying young daughter is thrown together by chance with a guy who's in town temporarily for work. An elderly woman loses the $80 she's been saving all year to buy Christmas gifts for her grandkids when it blows away. Rather than let her Christmas be ruined, Elizabeth Mitchell and Cameron Mathison "find" the money (in their wallets) and give it to her. Then they keep running into each other and hearing about where the windswept money ends up, which must be fate putting them together, right? But when the owner of the dance studio decides to sell the property IMMEDIATELY RIGHT NOW WITHOUT DELAY just before the Christmas Dance Recital, maybe Cameron Mathison was brought into her life for a reason? This is SO F#@&ING STUPID! The studio owner woman couldn't have retired at the end of the year? It just HAD to be DECEMBER 13th?!? I wish to God that these Hallmark writers would apply even THE TINIEST AMOUNT OF COMMON SENSE rather than hinge their crazy-implausible story on something SO IDIOTIC that I feel dumber for having watched it. Because the only way this one would work would be if the studio owner is a total bitch who hates everything and everybody and doesn't care that she's ruining a huge event for kids who have been working their guts out all year to dance... but since she's not, NOTHING made sense here.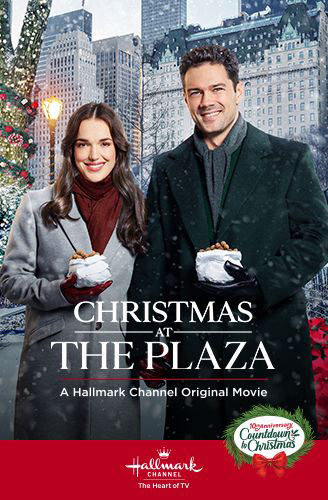 ✓ Christmas at the Plaza (Countdown to Christmas • Elizabeth Henstridge and Ryan Paevy • November 28, 2019)
Woman gets a job to create a historical exhibit for The Plaza Hotel. Drama. Drama. Drama. She doesn't know what to do and is going to quit. Drama. Drama. Drama. She comes up with the idea of doing an exhibit of every Christmas tree topper that has been on every Plaza Christmas tree. Drama. Drama. Drama. ZOMG! THE TREE TOPPER FOR 1969 IS MISSING! AND ZOMG! THE WORLD IS GOING TO END! WILL THE MYSTERY EVER BE SOLVED AT TO WHAT HAPPENED?!? Maybe she can enlist the help of the Ryan Paevy who's there decorating the hotel for the Hollidays? Or perhaps BRUCE DAVISON will know? This is just a heinously boring... heinously bad... heinously tired movie. The dialogue is SO weak. I am surprised that Ryan Paevy didn't take a big ol' pass on starring in this thing. Surely by now he can take his pick of which Hallmark movies to star in?

✓ Christmas in Evergreen: Tidings of Joy (Countdown to Christmas • Maggie Lawson and Paul Greene • November 29, 2019)
Sigh. Another Christmas in Evergreen movie with a huge missed opportunity. Holly Robinson has been in the previous two movies, but they can't give her the lead in the third one? I guess I'm not surprised. Persons of Color really get shafted in this movie. Don't get me wrong, Maggie Lawson and Paul Greene are great here, but nothing in their story even compares to that minute when friends Hannah and Elliot realize they love each other after they hug when a ring is found. Why didn't they get the leads? Instead? Hannah is the one who is holding the famous Evergreen Snow Globe when it breaks. Anyway... this time the plot revolves around a secret Christmas Time Capsule that's somewhere in Evergreen and a reporter that shows up for vacation... but she ends up starting a story about the city and its "exploitation" of Christmas. And falling in love, natch. The continuation of the whole "Evergreen Saga" seems like a silly boat anchor tied to the writers when they could just as easily come up with something original. What will the new town secret be next year? Does anybody care?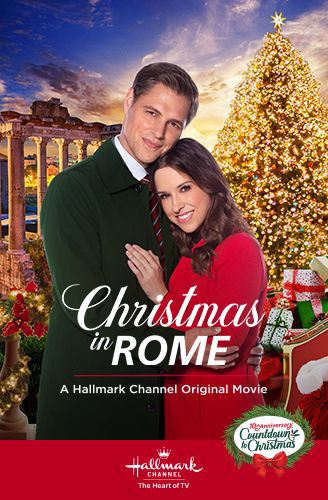 ✓ Christmas in Rome (Countdown to Christmas • Lacey Chabert and Sam Page • November 30, 2019)
Hallmark spent the money to go to Rome, and they took advantage of the location to decent effect. Alas they fell into the "WORK NEEDS YOU TO WORK THE DAY AFTER CHRISTMAS!" idiocy that plagues so many of these films. Work between Christmas and New Years grinds to a halt in the business world, and it's just crazy that an "emergency meeting" with an ad agency would come up in all but the most extreme circumstances. Ad campaigns are planned months in advance. Minimum. But whatever. An American tour guide in Rome gets fired for trying to provide experiences "off the script" for her boss's clients. She just happens to run into an American businessman in town to buy a company who desperately needs some cultural advice so as not to rub his client the wrong way. The Eternal City works its magic on them and, as you'd expect, they fall for each other. But what happens when his work is done and he has to head back to New York? That's a good question! With Lacey Chabert and Sam Page onboard in a location like Rome, I was expecting something special. I didn't get it. Pity.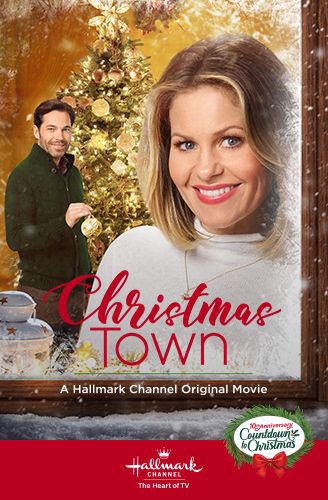 ✓ Favorite Christmas Town (Countdown to Christmas • Candace Cameron Bure and Tim Rozon • December 1, 2019)
HOLY CRAP! IT'S MUTT SCHITT FROM SCHITT'S CREEK! My guess is that Candace Cameron gets sent every single Hallmark movie script so she can pick the one she wants each year. Because Candace Cameron is always in the cream of the crop. I don't know yet that this will be the best Christmas Movie of 2019, but it's sure in the running. Candace Cameron is leaving her old life and old boyfriend behind in Boston to move to a new city and a new job as a schoolteacher. Alas, along the way her train is snowed in and she has to take refuge in "Christmas Town," the city of Grandon Falls. As a former foster kid, she can't help but be touched by a foster kid in town who keeps giving away his jackets to kids in more need. His foster dad, MUTT SCHITT FROM SCHITT'S CREEK takes an instant liking to her (as does the entire town... this is Candace Cameron, after all). This is a sweet film with great holiday spirit and features a kid that's not a whiny unrealistic psycho nightmare. Sure the wild coincidences pile up to insane levels... and sure it's unrealistic that any mortal human would demure when MUTT SCHITT FROM SCHITT'S CREEK goes to kiss you... but I liked it quite a lot just the same.

✓ Okay A Christmas Love Story (Hallmark Hall of Fame • Countdown to Christmas • Kristin Chenoweth and Scott Wolf • December 7, 2019)
And here we go. This year's Hallmark Hall of Fame Christmas movie starring KRISTIN CHENOWETH! How Hallmark managed to make that happen is a mystery. Kristin Chenoweth is an ex-Broadway star who is now a teacher. In the middle of preparing for a fundraiser concert, the famous musician who was writing an original Christmas song for the performance had to drop out, leaving the choir without a finale! One of their best singers is sick! And now Kristin Chenoweth has to write the song! But she hasn't written in years! And she doesn't have love to inspire her! OH NOES! Luckily she meets widower architect Scott Wolf in a random ride share and he takes a liking to her. Except he turns out to not be so random... his son magically showed up to make props for the concert, but ends up having a magical voice to replace the guy who got sick! But Scott Wolf doesn't want him singing in a choir! WHAT COULD POSSIBLY HAPPEN AS KRISTEN CHENOWETH TRIES TO CONVINCE SCOTT WOLF TO LET HIS SON SING! Eric Close, whom I loved in Now and Again has a small role, which was perplexing until I saw that he directed this. I was really looking forward to A Christmas Love Story but ended up disappointed. It felt like a waste of all the talents involved. Since Kristin Chenoweth is starring, it had to be a music-centric story... but music teacher? So tired. This is the same thing they did with Debbie Gibson. And of course the big adoption twist at the end was telegraphed miles ahead. And yet... the performances were compelling enough to make this watchable.

✓ Christmas at Dollywood (Countdown to Christmas • Danica McKellar and Niall Matter • December 8, 2019)
Okay... Danica McKellar and Niall Matter were fine, as expected. But how they can title the movie Christmas in Dollywood and have so little Dollywood? You barely see any of it... just bits and pieces. No rides or anything. And there's even less of Dolly. Danica McKellar is an event planner in New York City who heads to Tennessee (where she raised) so she can plan the annual Christmas party at Dollywood. There she's paired up with Niall Matter, the park operations guy, who wanted to plan everything by himself as a stepping stone to general manager. I'm guessing this movie probably plays better if you've been to Dollywood and are familiar with it so you can fill in the blanks of what's missing. Since that's not me, I found it less than thrilling.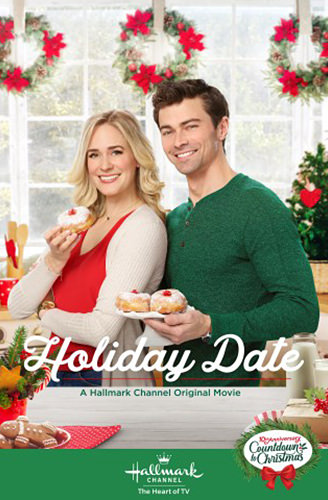 ✓ Holiday Date (Countdown to Christmas • Brittany Bristow and Matt Cohen • December 14, 2019)
Oh noes! A fashion designer gets dumped just before Christmas! However will she explain this to family and friends? Probably best to just have a random guy play her boyfriend... somebody she had described as "Mr. Christmas"... to make the holidays go smoothly. Alas, the guy she gets to play boyfriend is Jewish, which means he doesn't know much about Christmas! Lucky for everybody involved, the family is happy to incorporate Hanukkah into their festivities. So bring on the hate groups boycotting Hallmark for saying that any other holiday exists except Christmas! Hanukkah is a minor holiday for Jews, so this movie is kinda weird to go all-in like this... but I still appreciated that Hallmark is willing to do something. Too bad this is a retread of a tired Hallmark trope (which was done way better in Holiday Engagement). I would have been more impressed if they had come up with something fresher for such an important first step.

✓ A Cheerful Christmas (Countdown to Christmas • Erica Deutschman and Chad Connell • December 15, 2019)
Oh joy. Yet another party planner romance flick. Alas this one brings absolutely nothing new or worthwhile to the table. Even the Pretty Woman style business side-story rings hollow. I just don't get it. When you start out with a story which you've already done EXACTLY THE SAME in a previous movie, add nothing new, and saddle it with actors that don't really expand or elevate it in any way... are people really supposed to get excited? Awfulsauce.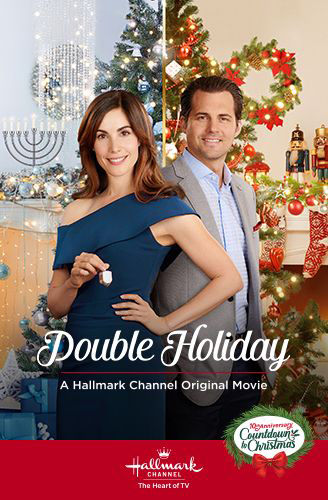 ✓ Double Holiday (Countdown to Christmas • Carly Pope and Kristoffer Polaha • December 21, 2019)
A woman is paired with her business rival (and biggest competition for a promotion) to plan the company Christmas party. Alas, she's Jewish, so planning this critical party for their firm is not high on her list of favorite things. Along the way HE discovers more about Hanukkah and her traditions... and SHE discovers more about Christmas and his traditions! So much fun! Oh noes... I hope they don't fall in love! But of course they do. BUT WHAT ABOUT THAT PROMOTION COMPETITION?!? WHAT WILL HAPPEN THERE? While a lot of these movies start out with the romance blossoming from conflict, this one just seems oddly ambitious. Yeah, it's nice how they learn to appreciate each other over things they never knew, but romance? I just wasn't seeing it. And yet... kinda nice that Hallmark is acknowledging that HOLIDAYS OTHER THAN CHRISTMAS EXIST! But this is kinda an awkward attempt. Hopefully they will get better at it.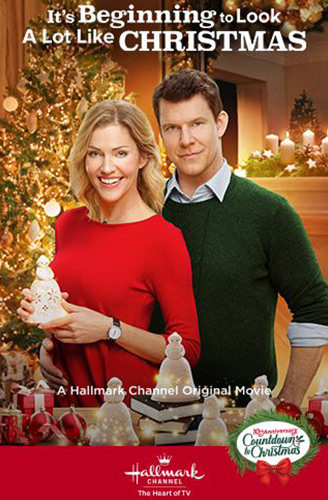 ✓ It's Beginning to Look a Lot Like Christmas (Countdown to Christmas • Tricia Helfer and Eric Mabius • December 22, 2019)
In an expositional opening montage, we learn that the city of Riverton split into East Riverton and West Riverton because they hate each other. HE'S the mayor of West Riverton. SHE'S the mayor of East Riverton. SHE is also Tricia Helfer! Their towns are competing for the New Hampshire town with the most Christmas spirit. I wonder if they're going to fall in love as they compete? That would be a huge surprise. In fact, it would be such a huge surprise that I might faint from how surprising it is! And here we... oh... oh my... =faints= There are clever things here... like the ridiculous coffee shop that straddles both city limits along the split... and... and... and... oh. I guess that's it. Talk about ending Countdown to Christmas with a whimper. AND, ZOMG, STOP WITH THE FAKE DRINKING FROM EMPTY CUPS! DO YOU NOT SEE HOW DAMN STUPID THIS LOOKS? NOBODY IS BUYING IT AND IT'S INCREDIBLY DISTRACTING! FILL THE DAMN CUPS OR DON'T HAVE THEM!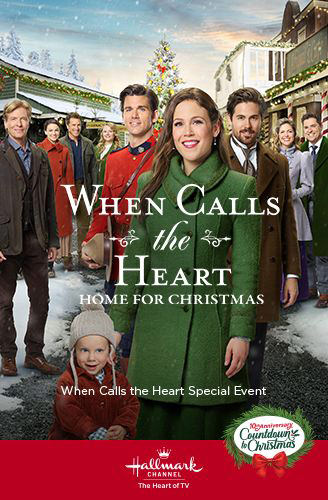 ✓ When Calls the Heart: Home for Christmas (Countdown to Christmas • Erin Krakow and Jack Wagner • December 25, 2019)
Yeah... no. When Calls the Heart has not been the same since Jack died and Abigail and Cody "left" the show (thanks, Lori Loughlin!). This was incredibly boring. Kind of like the show has become. Even worse... is it just me, or does this show totally look like it's the year 2019 shot in a pioneer village theme park? It looks and feels nothing like an early 1900's period show. Has it ever? I dunno. Seems like it used to, but now it doesn't. Anyway... it's Little Jack's first Christmas. Nathan and Lucas want to bone Elizabeth (go, Lucas, go!). Much whining ensues over Clara and Jesse. And Rosemary and Lee are as boring as ever. This entire special was a pile of "why bother" that closed out Christmas 2019 with a non-event. Well, except when Little Jack says "mama!" at the end. And that tells you all you need to know.
Hallmark Movies & Mysteries Channel Originals 2019

✓ A Merry Christmas Match (Miracles of Christmas • Ashley Newbrough and Kyle Dean Massey • October 25, 2019)
Yeesh! THIS was the movie that Hallmark Movies & Mysteries picked to lead off their season? Woman gives up her dreams of being a director to work in her mom's antique shop in a charming ski village "in the middle of nowhere." But when she gets a visit from her famous childhood best friend (a famous actress) along with her geek boyfriend and his best friend, a famous real estate tycoon heir named (get this) Ryder Donnelly... all that famous makes her wonder if she made the wrong choice to stay in town. I like the "small world" concept that kicks things off, I like the cast, and the chemistry, while not dazzling, was decent. But good Lord is this a mundane flick. It's kinda sad, because I'm guessing it could have been something special had they only spent a little more time putting the pieces together and adding some kind of obstacle other than the contrived drama we got.

✓ Nostalgic Christmas (Miracles of Christmas • Brooke D'Orsay and Trevor Donovan • October 31, 2019)
Widower single dad with a precocious daughter singing in a Christmas pageant (CHECK). Big city business woman heading back to her hometown (CHECK). A "Save the Restaurant!" Or "Save the Lodge!" Or "Save the Ranch!" Or "Save the Whatever!" plot (CHECK). Blah blah blah blah BLAH! (CHECK!) This is a 100% missable Hallmark Christmas movie where the ONLY thing I can remember is the beautiful hand-carved wood Santas at the center of this boring, tired, story. If you can't come up with at least one thing... just one thing... unique or interesting for your Christmas movie, please spare us from wasting two hours of our lives and move on to something else.

✓ BAD Two Turtle Doves (Miracles of Christmas • Nikki DeLoach and Michael Rady • November 1, 2019)
"THIS IS SO HARD! WHY IS SHE MAKING ME DO THIS?" Nikki DeLoach, whom I normally enjoy, plays her character so overly dramatic at every turn and it's exhausting. Michael Rady, whom I normally enjoy, was okay... but when forced to compete with all that drama went overboard as well. Between the two of them, they completely sunk this awful, awful film. I looked up the director on IMDB to see if all her other movies were overly-sappy, insanely-dramatic pap... only to discover that this is her first feature-length film. So I dunno. The story is sappy to the point of nausea, has a kid character so fake and annoying you want her to fall off a cliff, and dialogue so flat it dies on the screen... so maybe she just went with what she had to work with? Whatever the case. This movie is just terrible. Woman heads back to her home town after the grandmother who raised her dies. In order to inherit grandma's house, she has to complete 12 Christmas traditions for the 12 Days of Christmas... which is honored by hanging special ornaments on a display. BUT, OH NOES! THE TWO TURTLE DOVES ORNAMENT IS MISSING! Will the ENTIRE TOWN help her find it in time for Day 11? Will the widowed attorney and his annoying-ass daughter next door steal her heart? Will she sell grandma's house or abandon her dreams and stay there? Will the massively stupid artificial drama drive me to drink? Let's find out, shall we? (=dies of alcoholism=)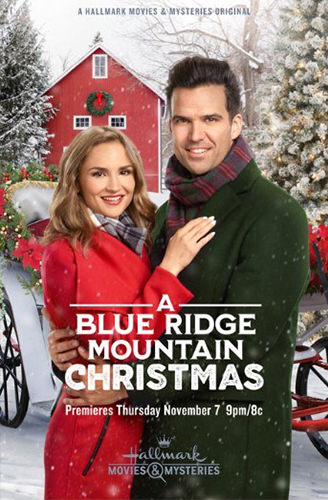 ✓ A Blue Ridge Mountain Christmas (Miracles of Christmas • Rachael Leigh Cook and Benjamin Ayres • November 7, 2019)
A hotel executive can't put down roots because her company moves her every two years. But when she returns to Virginia to help her sister with her wedding... where her family once owned an inn... and the wedding venue has to be cancelled... and she has to convince the widowed single father /slash/ best man owner of the inn to let them have the wedding there... she may end up with roots she didn't expect! Rachael Leigh Cook adds humor to all her roles, and it's really appreciated here because wedding planning stories are boring. Coming home for Christmas stories are usually boring. Widowed father with annoying, laughably fake kid stories are totally boring. And this one is all three. Pretty standard fare for a Christmas movie, which is not a good thing.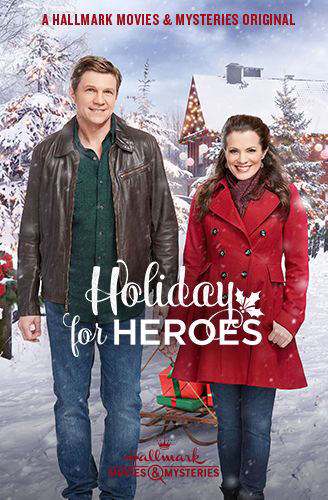 ✓ Okay Holiday for Heroes (Miracles of Christmas • Melissa Claire Egan and Marc Blucas • November 8, 2019)
Maybe because it felt like a mash-up of military movies past, this one didn't hit me as expected. It feels like a pale imitation of Operation Christmas (also starring Marc Blucas). When the owner of a coffee shop sends care packages to her brother serving abroad, he shares a bag of her coffee with a fellow soldier. The soldier becomes pen-pals with the coffee shop woman, happy to have somebody to write to since his family is gone. Then, miracle of Christmas miracles, he gets sent back the The States where he is stationed... IN THE SAME CITY AS THE COFFEE SHOP! Imagine the odds! After the city cancels the annual "Holiday for Heroes" event, the pen-pals work together to hold the event anyway. If you're guessing they become more than pen-pals by the end of the movie, you could be right! This was an okay movie... a great ending helped there... I just wish they had spent a little effort to make it more unique.

✓ A Christmas Miracle (Miracles of Christmas • Brooks Darnell and Barry Bostwick • November 14, 2019)
Apparently the "miracle" in A Christmas Miracle is that Hallmark would have Persons of Color as the leads in one of their movies. I mean, yeah, this isn't the first time, but it's still an all-too-rare event. Anyway... divorced woman moves from Georgia back to the big city (of Denver!) with her son and decides to buy everybody in the office a mini Christmas tree on her first day at Daily Lifestyle Magazine. She's an over-qualified executive assistant to a woman in charge of "bringing the Christmas" to the holiday issue. But when she gives a tree to the photographer who's not a "Ho Ho Ho Guy," he gives it back and says that after a week of working for her new boss, she'll be answering the phone with "Ba Humbug!" Not one to pass on an opportunity, she submits an idea for the feature story to her boss... only to be told that the editor refused it. Fortunately, her boss had an idea that the editor liked. Can you guess where the boss got it from? Maybe if she teams up with the photographer and comes up with an idea that's even better than her idea that got stolen, she can leapfrog the evil boss and win Christmas! Romance, predictability, and annoying mother-son moments ensue.

✓ A Godwink Christmas: Meant For Love (Miracles of Christmas • Cindy Busby and Ben Hollingsworth • November 17, 2019)
"There is so much Godwinking going on right now!"Kathy Lee Gifford is back in a sequel... but didn't bring Paul Campbell and Kimberley Sustad with her. A "Godwink" is apparently some kind of coincidence that's not actually a coincidence, but some divine plan where God is winking at you. I dunno about all that... because aren't most Hallmark movies built on crazy coincidences? In this case, Jack and Alice meet through one coincidence... end up going to the same wedding in another... then keep getting steered together by even more coincidences (and some bad news). The drama is so bloated and over-angsty that it's hard to take anything seriously. Whatever the case, it's probably a better movie than the original which spawned it, but that's not saying a lot. Apparently the idea for this was based on a real couple... though I can only imagine it's a very loose adaptation of actual events.

✓ Holiday Hearts (Miracles of Christmas • Ashley Williams and Paul Campbell • November 23, 2019)
Blergh. Paul Campbell is easily one of my favorite Hallmark actors because he's so much more relatable than the usual cast of buff model dudes... so what a waste that he got stuck in this tired flick. SHE is an event planner gearing up for a big Christmas party event, but can't think of a theme. HE is a doctor who is on the brink of landing a job in Honduras. When they are brought together by fate after years apart... then brought together again when caring for a friend's little girl while her father recovers from surgery... one might think that love would be inevitable. And since this is Hallmark, you'd be right. But it's such a long, slow, boring journey. As they blow through the little girl's Christmas traditions list, I kept waiting for something remotely interesting to happen. It never did. This one was a total dud.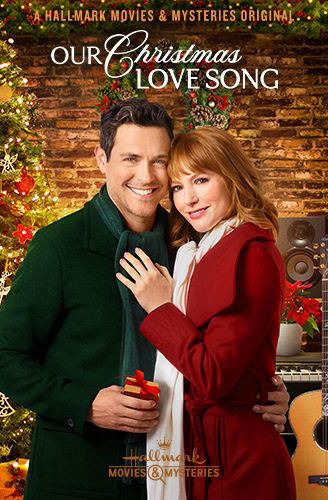 ✓ Good Our Christmas Love Song (Miracles of Christmas • Alicia Witt and Brendan Hines • November 24, 2019)
"I CAME TO NASHVILLE WITH NOTHING BUT A GUITAR AND A DREAM" —Eyeroll-inducing moment No. 157. But despite all those eyerolls, I still rather liked this one (once I fast-forwarded through the awful, awful, gut-wrenchingly awful choir performances... and the even worse performances by her little niece. Anyway... Alia of The Knife is a famous country-western singer who debuts the song Heart of Christmas at the Grand Ole Opry. Almost immediately she is contacted by a woman she sang with when she first got to Nashville who claims that she stole the song from her! And she wants to get paid! That's right, Alia Atreides is a plagiarizing plagiarizer! Except she's not, because she wrote the song with her now-deceased father before she even got to Nashville. Wanting to prove her claim to the song, she heads back home to find the original sheet music. Alas, she only has until Christmas before the lawsuit is dropped, and she's not finding her proof anywhere. What she does find is her ex-boyfriend and former collaborator (played by the dreamy and capable Brendan Hines... and, ZOMG! HE'S GIDEON WALLACE from Scandal!). If there's a misstep, it was casting Alicia Witt. I generally like her performances, but she felt weirdly miscast here. Her fake laugh and bizarre mannerisms didn't fit with the rest of the cast, who seemed considerably more "natural." And, oh, then there's the idiocy about finding the sheet music. Everybody in her whole town remembers her singing the song, that's not enough proof? Still... pretty good for Hallmark Christmas.

✓ Sense, Sensibility & Snowmen (Miracles of Christmas • Erin Krakow and Luke Macfarlane • November 30, 2019)
Party planner has an annoying run-in with a corporate bigwig. Said bigwig foolishly promises a Christmas party in nine days, then needs a planner to make it happen. Any guesses? You'd think a movie starring two talents like Erin Krakow and Luke Macfarlane would at least have that much going for it. Alas, Luke Macfarlane insisted on playing his character with this bizarre macho baritone voice with an upperclass clipped accent that drove me insane. Soooo... what could have been a nice holiday outing was kinda lost on me, and the story never landed either. Especially once they did the stupid "WHAT YOU WITNESSED BETWEEN ME AND MY EX WAS A HUGE MISUNDERSTANDING!" trope. Ugh.

✓ A Homecoming for the Holidays (Miracles of Christmas • Laura Osnes and Stephen Huszar • December 7, 2019)
This is a weird union of holiday military drama with country music star drama, and the result is not something that works terribly well. Unlike other military-infused Hallmark films, which I love, this felt like it was shoe-horned in at the last minute. Country singer heads home for the holidays and ends up roped into a Christmas concert with her ex. While there, she falls for an ex-military friend of her brother who is working to build a home for a family, among other holiday-related activities for charity. Probably could have been salvaged if they would have jettisoned the music angle and focused on creating a cohesive romance.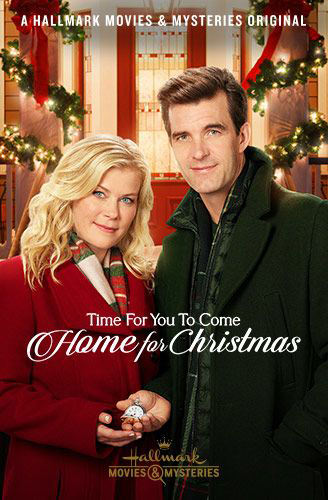 ✓ Good Time for You to Come Home for Christmas (Miracles of Christmas • Alison Sweeney and Lucas Bryant • December 8, 2019)
A widowed mom can't bear the thought of returning home for Christmas, but her son's disappointment at the news changes her mind. On the train-ride home they meet a man who ends up being more than just a random stranger. And he may just be what the Christmas miracle ordered. This is a touching story with just the right amount of magic and a kid who's not aggressively whiny or bratty. In other words, exactly what you want out of these things. The ending is not entirely unexpected, but it is pretty good... which is why the less said about it the better. I WILL say keep an eye on the jam jar when she's making thumbprint cookies. There's an Easter egg which ties back to Time for Me to Come Home for Christmas, which puts this in the same universe. And makes this a sequel?

✓ Christmas in Montana (Miracles of Christmas • Kellie Martin and Colin Ferguson • December 14, 2019)
Kellie Martin does a Hallmark Christmas movie... and they give her a tired SAVE THE RANCH! story? Seriously... not enough eyerolls here. Kellie Martin drags her daughter to Montana to help a guy make enough changes to the way he runs things to qualify for a second bank loan. If he can't get the loan, he loses the ranch. The same story you've seen a million times before (plus a Christmas miracle) ensues. Kellie Martin is her usual charming self. Colin Ferguson is his usual charming self. They did a great job with what little they had to work with. And that's the problem. It was just so littleto work with.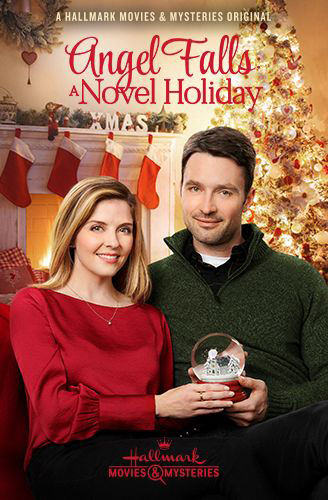 ✓ Angel Falls: A Novel Holiday (Miracles of Christmas • Jen Lilley and Carlo Marks • December 15, 2019)
Jen Lilley... WITH BLONDE HAIR?!? Okay! — "Since you'll be here longer than expected..." HOW DID SHE KNOW THIS?!? HE JUST FOUND OUT HIMSELF!! Man do these lapses in logic drive me insane. This big of a hole in the first ten minutes is pretty sad. And so... a book editor has to work with a family friend she doesn't trust who was hired by her boss-mom as a consultant to help improve business. Their task ends up being to inspire a famous author to find her words again after the loss of her husband. They're not alone though, a magical guardian angel (played by Eric Close?!?) is in town to help make sure everything unfolds as it should. This is a kinda long, drawn-out affair that wasn't terribly exciting despite an excellent cast. I guess these "guardian angel" flicks just aren't for me, because this is another in a long string of them that I haven't enjoyed.

✓ Okay Christmas on My Mind (Miracles of Christmas • Ashley Greene and Andrew Walker • December 21, 2019)
A woman has a bad fall on an icy street but wakes up in short order. Grabbing her wedding dress, she's a bit confused as to why she's in Portland when she's getting married in Bedford Harbor on the weekend. She rushes back to Bedford Harbor and her fiancé... only to find that they broke up two years ago and she has retrograde amnesia. With no idea what's happened over the past two years, she's surprised to learn that she's engaged to a man she doesn't remember. Stuck in the past, she has trouble reconciling her feelings for her old fiancé with the reality that they're broken up, so she heads back to Bedford Harbor to try and understand what went wrong. But is what she finds there going to clear things up... or make things even murkier? Andrew Walker excels at these things, and he turns in yet another terrific performance. Ashley Greene (whom I don't recognize from anything) also does a good job, selling her amnesia while staying charming and sweet. The movie is a bit of a slog to get through but the performances carry you through.

✓ A Family Christmas Gift (Miracles of Christmas • Holly Robinson Peete and Dion Johnstone • December 22, 2019)
I'm just going to get this out of the way... Harmony Beat Magazine?!? When is Hallmark going to get the news that print is dead, and even the biggest magazines now-a-days are mere pamphlets run on a skeleton crew. Anyway... Holly Robinson was expecting to be promoted to senior editor, but a guy named Charlie got it. Frustrated with being passed over, she heads home to her Aunt Patti LaBelle's place for the holidays. She gets off to a bad start when she thinks that the guy picking her up is a driver... but he's actually a single-father music director helping out her aunt. Uh oh. Now there's a fundraiser concert where Holly Robinson has to work with the music director for her Aunt's school music fundraiser. Double uh oh. I hope they don't fall in love! But of course they do. And of course there's singing by Miss Patti LaBelle at the end, which makes it all worthwhile.
Hallmark Movies NOW Originals 2019

✓ In the Key of Love (Laura Osnes and Scott Michael Foster • June 29, 2019)
It's kinda crappy that Hallmark produces original exclusives for their paid streaming service, but why should they be any different from all the other channels? Oh well. I guess I'll just subscribe for a month each year to see what's up. In this mediocre effort, a woman who broke up with her singing partner AND LOVER is lured back to Piedmont Island, Washington to photograph a wedding... which just happens to be her ex-singing partner's sister! Oooooh! Problem is... where in the heck is Piedmont Island, Washington?!? We have a Piedmont, but it's on a lake on the peninsula. Why can't they just say "Hey, it's Vancouver?" But then all the Hallmark movies would be set in Vancouver, so that's probably bad. Needless to say the singing duo is orchestrated into singing at the wedding, which causes them to fall in love all over again. The truly interesting thing about this movie is not the main couple, however. They are lily-white and that same thing we've seen over and over and over again from Hallmark. But the guy's sister who is getting married? She's marrying a Black guy. This is pretty radical for Hallmark... so it only goes to reason that they would put an interracial couple on the pay channel instead of the main channel where everybody would see it. And that's really a shame. With the exception of the PenaVega's, Hallmark has a real representation problem. How much longer before they understand that the sameness that plagues all their films has such an easy solution?
Netflix Originals 2019

✓ Good Falling Inn Love (Christina Milian and Adam Demos • August 29, 2019)
It's fairly obvious what happened here. Netflix went to MarVista Entertainment, the studio for many of the Hallmark movies, and said "We will give you a budget big enough to out-Hallmark the Hallmark." In their infinite wisdom, MarVista didn't hire famous writers or top-shelf actors... instead they merely took the same old movie they always make and relocated it to New Zealand. Genius! I mean, come on, if it ain't broke, don't fix it... just give it an expensive change of scenery! So far as "Hallmark" movies go, it was pretty good. A woman in San Francisco loses her boyfriend and her job but wins an inn in New Zealand. Alas it is in need of repairs, so she has to hire a local carpenter to restore it. Hallmark ensues. The actors were all pretty great. But since it's for Netflix, there are some big changes from what you see on everybody's favorite greeting card network. First of all, there's a gay couple who own the local coffee shop. Not "hinted at" gay... but two men who are full-on married and refer to each other as "husbands." Second of all... he's white, she's African Cuban, which is something you rarely see on lily-white Hallmark... and certainly not as the leads. So, from that perspective, Netflix actually has out-Hallmarked Hallmark. Good on them.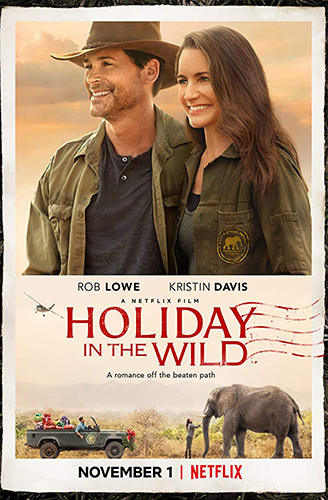 ✓ Good Holiday in the Wild (Kristin Davis and Rob Lowe • November 1, 2019
After becoming an empty-nester, Charlotte York Goldenblatt wants to go on an African Luxury Safari with her husband for a second honeymoon in Zambia. What her husband wants is to leave her and her luxury penthouse behind, completely blindsiding her. Soon after arriving in Lusaka, she's hit on by Rob Lowe who, surprise, ends up being her pilot to the luxury safari camp the next morning. On the way he spots a baby elephant who has been left abandoned after his mother was shot by poachers. Charlotte is immediately transfixed by the adorable baby (and Rob Lowe's white elephant savior complex) and derails her luxury vacation for something less refined. Miracle of miracles, this was actually shot in Zambia and South Africa, so the scenery is amazing even if the story has more than its share of weak spots. Rob Lowe is his usual easy-going self which is what makes this movie worth watching. Kristin Davis is borderline insufferable at times, but it's tough to blame her when she's just following the script. If you look at this as an educational movie on the horrors that come from poaching and the efforts to save these magnificent animals... which is constantly being interrupted by bouts of idiocy... it's actually a pretty good flick. Definitely makes me want to go back to Africa, which is about the best endorsement I can give it.

✓ Okay Let it Snow (Isabela Merced and Shameik Moore • November 8, 2019
This seems like the type of film I would like... but the story of a bunch of young adults getting trapped by a snowstorm where they discover life and love at Christmastime left me not really knowing what to do with what I saw. They were striving for a kind of Empire Records meets Love Actually vibe, but didn't get there. Still... this is a sweet movie with plenty of moments that have holiday charm, so there's that. Apparently this is based on a best-selling book. I'd like to read that book in the hopes it would clear up some of the disjointed, meandering, boring weirdness that's woven into the movie. I dunno. Maybe if I watched it again sometime? I do love the soundtrack.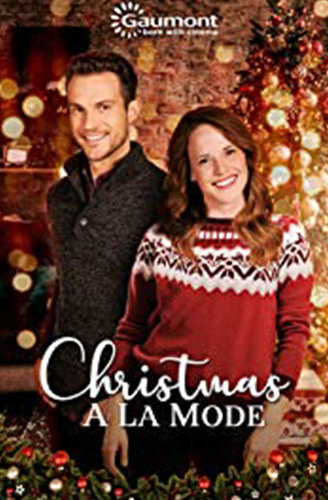 ✓ Christmas a la Mode (Katie Leclerc and Ryan Cooper • November 15, 2019
WON'T SOMEBODY PLEASE SAVE THE FARM! AGAIN! Just when you think that a plot device has been run into the ground beyond all reason, along comes yet another SAVE THE FARM SAVE THE RANCH SAVE THE RESTAURANT trope to make you question just why you watch these things. This time it's a dairy farm left to two daughters... one who works hard to keep things running but has run out of money... and another awful one who wants to sell it. Fortunately the awful daughter arrives with a representative for the sale who ends up wanting to help. The answer? ICE CREEEEEEEAM FOR CHRISTMAS!!! This is beyond predictable and nothing fantastic, but I anticipated so much worse. I guess that's something.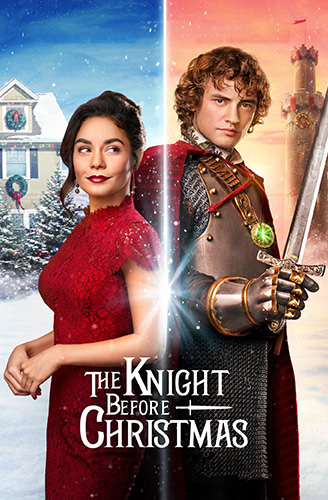 ✓ Favorite The Knight Before Christmas (Vanessa Hudgens and Josh Whitehouse • November 21, 2019
Well this was completely unexpected. I tuned in expecting the absolute worst... only to find sweet and charming holiday fare. Didn't hurt that Vanessa Hudgens and Josh Whitehouse somehow managed to make this absurd story about a knight from the 1300's transported to 2019 actually work. Kinda strange that the most unbelievable part of the entire movie is not the time travel... but that Vanessa Hudgens is a single school teacher who owns a huge home with a guest house out back.

✓ A Christmas Prince: The Royal Baby (Rose McIver and Ben Lamb • December 5, 2019
Guess we're riding this baby carriage right into the ground. I honestly thought that things couldn't help but improve after the heinously boring sequel. I was wrong. This sequel-sequel has none of the charm of the original and none of the residual charm that splashed on the sequel. It's just an obligatory paint-by-the-numbers sequel that buys into the trope that what follows marriage simply has to be a baby. And because that isn't enough to fill out a 90 minute movie, they've added treaty drama with a neighboring kingdom that nobody could possibly care about. Except to say that the neighboring country is presided over by Queen Ming... assumably descended from Emperor Ming the Merciless from Flash Gordon. Anyway... Queen Amber wants to sign the treaty renewal with the King, Queen Lin is aghast at the intrusion on tradition. =yawn= And then there's faux Simon drama because there has to be, I suppose. All-in-all a complete waste of time with occasional glimpses of the stunning Romanian countryside and Peleș Castle. Please, Lord. No more.

✓ Favorite Mistletoe & Menorahs (Kelley Jakle and Jake Epstein • December 7, 2019
I really, really wanted to hate this because the concept is just so ridiculous. SHE is a toy company exec trying to land a big account with a Jewish customer and has to learn all about Hanukkah in a hurry. HE is a Jewish guy trying to impress his girlfriend's father who is a Christmas fanatic. A mutual friend puts them together to learn from each other... BECAUSE APPARENTLY THE INTERNET DOESN'T EXIST! And being so woefully ignorant that you could completely ignore other cultures or basic common sense is apparently a thing (OH NOES! WHAT'S A CHRISTMAS WREATH AND WHERE DO I GET ONE? WHAT'S A MENORAH AND HOW DO I LIGHT A CANDLE? HOW DO I WRAP A PRESENT?!??). But... I loved the leads so much. Kelley Jakle and Jake Epstein are totes charming together, and I honestly can't fault the show for how it came up with an idea to educate people about Hanukkah (which, let's face it, is the whole point here). Don't let the fact that she has a boyfriend and he has a girlfriend worry you... their significant others are not that invested and really don't care, which makes it okay that they get together. And fortunately they both apparently have unlimited funds to buy all the "stuff" you need to celebrate properly. Despite some klutzy and silly moments surrounding her job (and some genuinely stupid moments surrounding both their relationships), this is far better than the other Hanukkah offerings this year, and has me hopeful that they'll just keep getting more imaginative and more inclusive in the future. Fingers crossed.

✓ Timeless Love (Rachel Skarsten and Brant Daugherty • December 26, 2019)
A woman has it all... a loving husband, two great kids, and the life she's always wanted. Too bad it was all a dream from when she was in a coma. Devastated at what she lost that she never really had, she starts over with a new life and a new job. Only to find that her new boss is her fantasy husband! Despite never having met, she seems to know all about him... including how to make him fall in love with her. Except... HE HAS A GIRLFRIEND! Oh noes! Good thing that never seems to be a barrier in these movies. There's some truly bonkers problems going on in this film that seem unsurmountable if you stop and think about them. Don't do that and it's a decent flick with good performances that's actually sweet and charming.
Other Originals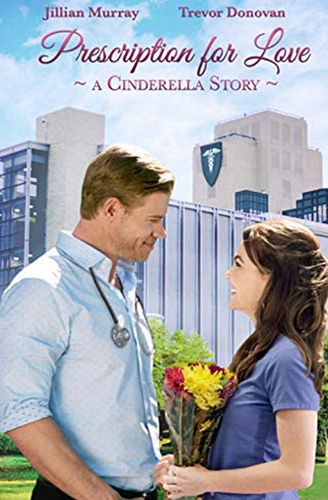 ✓ Okay Prescription for Love: A Cinderella Story (Jillian Murray and Trevor Donovan • January 2, 2019)
A nurse gets stuck in an elevator with a guy and they really hit it off. But afterwards they got separated, and a possibility of romance evaporates. AND THEN the nurse finds out that the guy is totally a new doctor at her hospital! Problem is, he doesn't recognize her because she had her hair down in the elevator! Tragedy! The rest of the movie is him trying to track her down without realizing she's right in front of him. Ordinarily this would make for a pretty bad movie, as it's just a waiting game... but between adorable Jillian Murray's charming take on her character and some good filler material before the inevitable happens, it wasn't awful. Though the "evil nurse" aspect was about as absurd as it sounds, and the doctor had some truly awful moments.

✓ Okay Love Alaska (Sarah Podemski and Victor Zinck Jr. • October 26, 2019)
Woman inherits her uncle's medical practice and heads back home to Love, Alaska where she runs into her childhood friend who is struggling to recover from personal trauma. ALL DURING THE ANNUAL LOVE ALASKA MATCHMAKER FESTIVAL! =sigh= The only thing more frustrating than fairly talented actors struggling to deliver sup-par material... is a movie which tries to do a good thing badly. And this movie has both. Some of the dialogue is so categorically awful as to be cringe-worthy, but the actors are giving it their best shot. And while I truly appreciate when a spotlight is shined on the very real trauma our veteran's face with PTSD, this felt more like a superficial plot device than an actual effort to treat the subject respectfully. Maybe the writer consulted with soldiers to try and understand their stories, but it sure doesn't seem like it. Despite it all, I think Sarah Podemski and Victor Zinck Jr. made it so I can't hate the movie. Plus? Joey Fatone!

✓ BAD! Romance Retreat (Amanda Schull and Morgan David Jones • August 24, 2019)
Always lovely when the lead character is so awful that you spend the first half of the movie wishing she would fall off a cliff. First she constantly ignores her boyfriend in favor of work and is disgusted that he's unhappy about this. She never listens to him, and is thus shocked that her tropical island vacation is actually in the Canadian wilderness. Not that she should have been going anyway considering it's all about yoga and spirituality and mindfulness... and she can't stop mocking all of those things. Fortunately, after she gets her stupid ass rightfully dumped, she gets the opportunity to ruin another guy's life... or does she? He has secrets of his own. Though his biggest secret is blown very early on if you're paying attention. Speaking of paying attention... was anybody paying attention who was working on this movie? There are some huge plot holes, insurmountable coincidences, and inexplicable moments of idiocy that just keep snowballing until you find yourself not caring about her or anybody else here. That they tried to wrap it all around an overly-vague take on privacy in our technology as a plot device... and the story fails miserably.

✓ BAD! Always and Forever Christmas (Lexi Lawson and Mark Ghanimé • November 3, 2019)
When her grandfather dies and leaves his "Forever Christmas" year 'round Christmas shop to Lexi Lawson, she decides to sell it. But first she has to sell off all the inventory by creating a website with Wix™® and sponging off the handsome diner owner's WiFi. Lucky for her, Beth Broderick shows up to help out (and bake cookies). Sadly, the only redeeming quality of this movie actually is Beth Broderick as Mrs. Claus (she adds magic to even the worst films). Everything else is so horribly artificial and forced, the story is weak, there's zero chemistry going on, and a half-hour into things they use a kid for random exposition that's just embarrassing. And that pretty much sums up this farce in a word: embarrassing.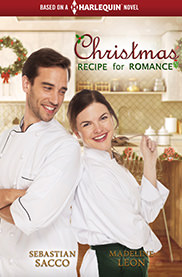 ✓ A Christmas Recipe for Romance (Madeline Leon and Sebastian Sacco • November 24, 2019)
Another Hallmark-style rom-com where a poor woman is constantly burning things in the kitchen of her struggling inn because apparently she doesn't know how to set a frickin' timer. Fortunately for her, a chef has blown into town... and I'll bet HE knows how to set a timer so shit doesn't burn to charcoal. Because he's a competent man (like all men are, of course). At some point you'd think that actors would refuse to be in movies which rely on lazy stereotypes as a plot, but here we are. The inn-owner (and tragic cook) wants a disgraced chef to teach her how to not burn stuff so she can enter a cooking competition and win enough money to save her business. Odds are you've seen this movie a dozen times before. This version doesn't have anything to make it worth watching over the others.

✓ A Christmas Wish (Hilarie Burton and Tyler Hilton • November 28, 2019)
A woman puts a wish into a magic wishing box wishing that her sister can finally experience true love's first kiss. The result is actually kinda funny as the wish goes awry and men from every direction start hitting on the sister. All men except her long-time best friend... until one day he confesses he actually has feelings for her. Too bad he gets rejected because she thinks it's just the malfunctioning wish again. Awwww. Where this movie goes completely off the rails is that they made her a school art teacher whose job gets cut, and you have to suffer through this annoying plot device where sad children have to spout the most idiotic and unrealistic dialogue you've ever heard. Over and over. It completely destroyed the movie... and things only get worse when you tack on the tired old "magical negro" trope... which of course they did. You would think that in 2019 Hallmark, Lifetime, and all the rest would stop this dumbassery and just give Persons of Color their own dang movies instead of making them an object for white saviors to rescue... or a prop to tell stories for white leads. Persons of Color ARE PEOPLE... NOT OBJECTS OR PROPS. And they have stories to tell. Stories more interesting than this mess of a movie.

✓ BAD! Mistletoe Magic (Jessica Sipos and Stephen Huszar • December 1, 2019)
TV weathergirl (weatherwoman? meteorologist?) who is the biggest bah-humbug scrooge ever, will tell you that she hates Christmas and doesn't believe in Christmas magic at any opportunity (seriously... it's her ONE attribute). But after seeing Santa after a weather report (where she ONCE AGAIN has to explain that she doesn't believe in Christmas), she goes home for Christmas so she can remind her family that she (surprise) hates Christmas and doesn't believe in Christmas magic. But her sister is adamant that the family's herloom mistletoe decoration is magical and will guarantee a successful marriage when her boyfriend proposes on Christmas. Or whatever. So now she has to track down the magical mistletoe she borrowed for a news report while hating Christmas and not believing in Christmas magic... all with the help of her annoying-as-hell neighbor and her childhood friend that she doesn't remember (to whom she has to explain that she hates Christmas and doesn't believe in Christmas magic). Ugh. Hamfisted idiocy like this drives me insane. It's like it's written by children to be seen by children. What's most disappointing is that Stephen Huszar, whom is forever playing background characters for Hallmark movies, finally gets a lead role and it's with this disaster. The guy is scene-stealing talented and deserves much, much better (seriously, watch him in the background of My One & Only above... the guy is hilarious... or, if you watch this abomination, look at his reaction to seeing Santa). AND FOR THE LAST DANG TIME... WE GET IT... YOU HATE CHRISTMAS AND DON'T BELIEVE IN CHRISTMAS MAGIC! Does she really have to repeat it LITERALLY dozens of times? Stupid, stupid, STUPID!!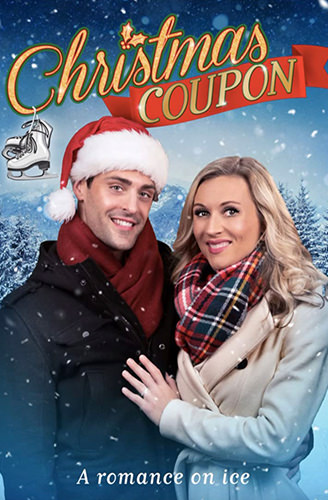 ✓ BAD! Christmas Coupon (Courtney Mathews and Aaron Noble • December 2, 2019)
Unbelievably, gut-wrenchingly awful in every way. I fully admit to watching just for the hilariousness of it all after the first twenty minutes. But after the first forty minutes it went from funny to sad. So very, very sad. The story (ex-figure-skater runs into her ex-boyfriend who's an ex-hockey-player and the almost immediately fall back in love with each other) sounds terribly Hallmark. But it's all over the place, makes no sense, and features some of the most horrific "acting" you will ever endure.

✓ Twinkle All the Way (Sarah Drew and Ryan McPartlin • December 9, 2019)
Will two single parents of precocious daughters blunder their way into love? Will you be able to stop your eye-rolling long enough to care? I sure didn't. People living in areas that get tons of snow... but don't know how to act when it snows? Did somebody in Florida write this? I dunno. I was mostly annoyed trying to get through this because there were way too may nutty and entirely unrealistic moments cluttering things up. At least with Lifetime they don't freak out over the idea of having a same-sex couple kiss on-screen... even if it's just the supporting cast.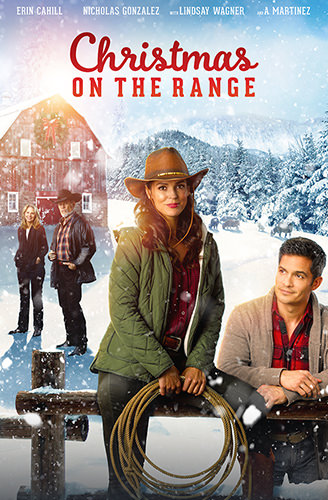 ✓ BAD! Christmas on the Range (Erin Cahill and Nicholas Gonzalez • December 9, 2019)
Holy crap. I usually watch through these things no matter how bad. But I absolutely could not suffer through this. Ten minutes in and you're treated to the villain of the film, who is so hilariously overblown as to be eye-roll inducing idiotic. The only thing missing was a big mustache to twirl as he lashed a damsel in distress to the railroad track. How they got Lindsay Wagner to appear in this nonsense is beyond me. Anyway... Erin Cahill has inherited her family farm and is converting it to an organic ranch. Alas, the EVIL, TERRIBLE neighbor is doing everything he can to sabotage her. But then the EVIL, TERRIBLE neighbor's son comes back and Erin Cahill falls for him. But is he only there to help sabotage her? Or are his feelings true? I fast-forwarded to the end to find out (I may die of un-shock) even though I honestly didn't care. What a waste.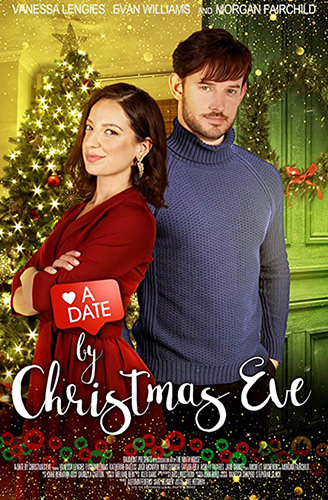 ✓ A Date by Christmas Eve (Vanessa Lengies and Evan Williams • December 22, 2019)
Well this is odd. This movie is practically a sequel to eCupid... Morgan Fairchild, love app, and all? Hmmmm. Anyway... what drives me insane about these movies... even more than injecting inane and annoying kids into them... is when they come up with a comic book villain to add unnecessary drama. And this may very well be the worst one yet. She even comes with an equally evil henchman, and it's just so pathetic. Couple that with an annoying roommate which might as well be a kid, and this movie is sabotaged before it even begins (never mind that I don't like "literal magic" in my holiday rom-coms). Which is a real shame. I love Even Williams's character, and he has great chemistry with Vanessa Lengies. There was simply no cause to take the characters to stupid extremes like this (even with Vanessa Lengies and Evan Williams). Maybe if this movie had a strong director which could reign the actors in and let leads be as charming as they are obviously capable of being... then this movie would have has a shot with me. As it is. Not so much. Even with Morgan Fairchild making an appearance as the literal Mrs. Kringle(?).

✓ The Baby Proposal (Alexandra Chando and Mike Merrill • December 20, 2019)
What could have been a clever movie about two cohosts of a morning show being left to care for a baby by a fan... falls into absolute IDIOCY with some of the stupidest, most moronic dumbassery that sabotages everything. OH NOES! I AM SO STUPID THAT I CAN'T OPERATE A BLENDER AND JUST SPRAYED FOOD OVER MY ENTIRE KITCHEN! ISN'T THAT HILARIOUS?!? No. No it's not. And why writers think that this dumbassery should be a part of a movie is mind-boggling. Every damn time crap like this happens I completely check out. With so many movies like this wasting my time, I should just start dumping them immediately. But... I do like the co-stars, so I guess there's that.

✓ BAD! Christmas at the Castle (AKA Christmas in the Highlands) (Dan Jeannotte and Brooke Burfitt • December 23, 2019)
I honestly do not understand how writers keep acting like manufacturing, advertising, and planning don't exist and they can make idiotic statements like "I WANT THAT PRODUCT ON MY SHELVES BY CHRISTMAS!" when Christmas is a week away. Do some frickin' research and stop writing such stupid crap. And speaking of stupid... Self-centered brat in New York is ordered by her boss to find the secret of some perfume that was gifted to her. And so she jets off to the Scottish Highlands and runs roughshot over the locals while lying to the owner of the perfumery about being a documentary filmmaker so she can steal his secrets. She of course falls in love with him, which is no surprise considering he's an Earl and a nice guy with his own castle. What's inexplicable is that he somehow falls for her despite her being absolutely horrific. And speaking of horrific... why do all the Scottish characters sound English? I guess putting guys in kilts and serving haggis at dinner is supposed to be enough? Ultimately this is an inauthentic, unrealistic movie featuring a horrible, horrible gold-digging woman who is a liar and a thief. In what universe did anybody think this trash worth airing?