Here's a checklist of all the Hallmark original romance movies from 2017 along with my comments on those I've seen.
Special movies of note are marked Favorite, Good, Okay, and BAD.
Hallmark Channel Originals 2017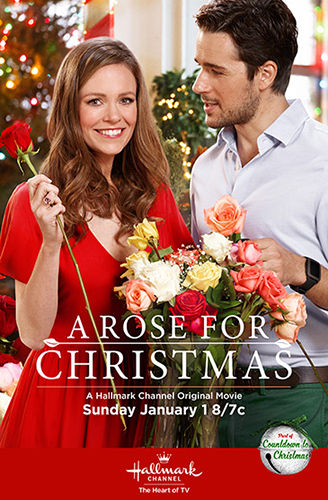 ✓ Okay A Rose for Christmas (Rachel Boston and Marc Bendavid • January 1, 2017)
A guy is desperately hoping to get the assignment of heading up an office in Shanghai at work. Instead he's put in charge of supervising the company's float for the Rose Parade. This puts him at odds with a woman who was forced to take over for her Dad's float company when he gets sick. HE wants to stick to a schedule and do things by the book. SHE is an artistic free spirit who thrives on chaos. Oh noes. I hope they don't fall in love! The idea is a little senseless... if you hire a company to build your float, wouldn't you just let them build the float? And the whole "ragtag team of volunteers" idiocy makes even less sense. If this company has been building floats for such a long time, wouldn't they have regulars? And then there's the mishaps along the way. All of them pretty stupid seeing as how you would hire experts for things like plumbing and electricity. Oh well. I was just happy to have an original plot for once. Even if the resulting float was pretty ugly.

✓ Okay Love on Ice (Winterfest • Julie Berman and Andrew Walker • January 7, 2017)
When Andrew Walker gets a job in Michigan as a coach for a promising young figure skater, he is surprised to run across a former world champion skater working at a local diner. She's considered past her prime, and there's a real mystery as to why she walked away from figure skating in the first place. As the two team up to help coach the young skater (and deal with her heinous bitch of a mother) Andrew Walker comes to realize that the ex-champion may not be done with skating after all because she's still a fantastic talent on the ice. Now wanting to coach her as well, they may be teaming up on more than just skating! It's so refreshing when Hallmark comes up with a new storyline to sprinkle amongst the tried-and-true (tired-and-true?) stories. Guess it's a good thing all these Canadian actors can skate! This was never going to be epic filmmaking, and the romance is definitely taking a back seat, but it's pretty darn good for Hallmark.

✓ A Royal Winter (Winterfest • Merritt Patterson and Jack Donnelly • January 14, 2017)
The ever-lovely Merritt Patterson accompanies a friend on a last-minute vacation to some random fictional European Hallmark country (aka Romania) only to fall for a handsome stranger who ran over her hat with his motorcycle. BUT LITTLE DOES SHE KNOW THAT HANDSOME STRANGER IS ACTUALLY THE PRINCE WHO IS ABOUT TO BECOME KING! Even more shocking? THE PRINCE'S MOTHER WILL NOT ALLOW HER SON AND FUTURE KING TO HAVE A TOURIST COMMONER AS A GIRLFRIEND! However will this one turn out? WE JUST DON'T KNOW! But... of course we do know. Nothing new here, but at least we get some pretty winter background scenery from time to time.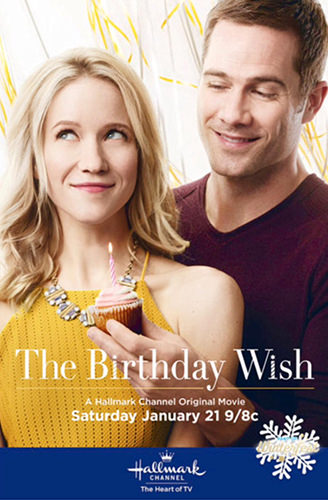 ✓ The Birthday Wish (Winterfest • Jessy Schram and Luke Macfarlane • January 21, 2017)
Wait... is one of the third-tier characters at this gathering... WITH HIS BOYFRIEND?!? They kinda sorta maybe look like they might be a couple. Didn't think I'd see this in a Hallmark movie! How many decades until we get a legit same-sex couple as the leads in a Hallmark? Anyway... this was a departure for a Hallmark movie in that it entails a bit of science fiction. A woman wishes to see the future and her wish is granted. It's way different than she was planning, but will it make her happy? Well, this is Hallmark, and so...

✓ Love Locks (Hallmark Hall Of Fame • Rebecca Romijn and Jerry O'Connell • January 28, 2017)
Since this is a "Hallmark Hall of Fame" presentation, there was a big enough budget to shoot a goodly chunk of the film in Paris. This means that, if nothing else, you've got great scenery and atmosphere to watch. Rebecca Romijn seems perfect for these flicks, but I'm less a fan of her real-life husband (Jerry O'Connell) here. He seems completely outside of the picture whenever he's on-screen. Anyway... when they were young and in love, a couple goes to place a lock on the "Love Locks Bridge" (likely the Pont des Arts bridge, given the timeframe)... only for the lock to fall into the River Seine. 20 years later the woman is back in Paris with her college-aged daughter so she can spend a semester at school there when, SURPRISE! the same guy just happens to own the hotel she's staying at. Hallmark ensues. What's funny is that in 2017, Paris had removed all the locks from all the bridges in Paris (the weight was deteriorating them) except the Pont Neuf... a trivia factoid which Jerry O'Connell had to work into the film. As of 2018, even the Pont Neuf is bare of "love locks," which means Hallmark filmed this just in time. This was a good film... not a great film... mostly thanks to the location more than anything else.

✓ Walking the Dog (Countdown to Valentine's Day • Jennifer Finnigan and Samuel Page • February 4, 2017)
Two lawyers are battling it out in court... but their dogs are FALLING IN LOVE?!? What kind of weirdness is this? Of course the dog owners end up falling for each other too... as inexplicable as that may sound. Poor actor Peter Benson once again plays the hapless boyfriend who gets dumped when something better comes along, which is kinda funny. They really should have him play the same guy who is continuously getting screwed by Hallmark movies. Sam Page is his usual snarky-cool self, but I wasn't feeling any chemistry between him and his co-lead. An okay story which ultimately falls flat, this was a weird choice for a Countdown to Valentine's Day flick.

✓ Favorite Once Upon a Winter's Date (Nicky Whelan and Greg Vaughan • 2017)
In my mission to see every Marina Sirtis movie ever made, I came across Valentine's Again, which is apparently the original title for this somewhat awkward movie. Anyway... Nicky Whelan has a disastrous Valentine's Day date and, thanks to Marina Sirtis casting a spell, gets to go all Groundhog Day where she relives Valentine's Day over and over and over again until she lands the man of her... dreams... err... needs? Hallmark did this concept better with I Do, I Do, I Do, and yet I still liked this take. Mostly because I think I'm hopelessly in love with Marina Sirtis... partly because I love the movie Groundhog Day... but that's okay. Nicky Whelan is as adorable and lovely as you'd expect and there's some really sweet moments to keep things moving. What's bizarre is that there are bits from this film which pull from Valentine's Day (flower delivery date) and Love, Actually (watching loved ones meet at airports), not just Groundhog Day. Somehow it still works.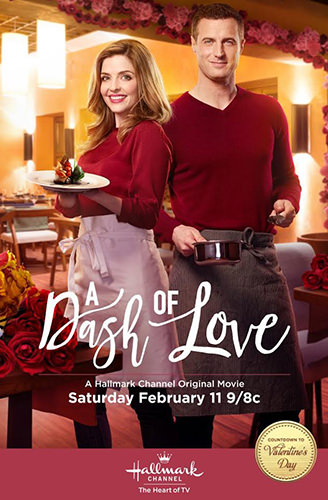 ✓ Good A Dash of Love (Countdown to Valentine's Day • Jen Lilley and Brendan Penny • February 11, 2017)
The infinitely sweet and charming Jen Lilley is lush with watchability... and this movie is a perfect showcase for her talents. Then there's Brendan Penny, who is finally stepping out of those Hallmark "Vineyard" movies to do something different. And lastly there's Peri Gilpin, who is once again channeling Frasier's Roz. The result is about what you'd expect. Wanna be cook gal falls for the executive chef guy of a restaurant chafing under a demanding, horrible boss who is stuck in her ways. But when the horrible boss steals her recipes and fires the both of them to cover her tracks, a beautiful revenge... and romance... ensues. What I really liked about this one is that the lead turns out to be anything but passive when wronged, which is the opposite of what you'd expect. Refeshing!

✓ While You Were Dating (Countdown to Valentine's Day • Billy Baldwin and Stefanie von Pfetten • February 12, 2017)
Holy crap. BILLY? BALDWIN?!? And yet... he didn't end up sucking nearly as much as I expected he would. Billy Baldwin is divorced from Stefanie von Pfetten. When they unknowingly fall for each other on a photography sharing site, the blind date meet-up is understandably awkward. But then... a slow... so very slow... reunion ends up brewing. This really should have been far, far worse than it ended up being. I didn't love it by any means, but I did watch it to the last frame, which is about all I have to say about that. No surprises... but I'm not sure you'd want them in a film like this?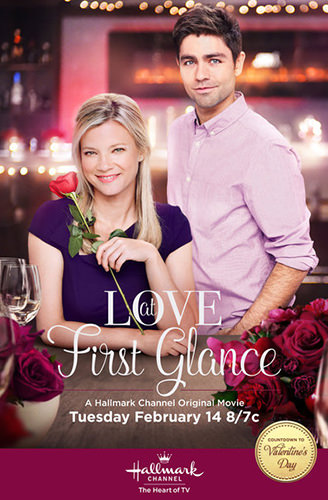 ✓ Love at First Glance (Countdown to Valentine's Day • Amy Smart and Adrian Grenier • February 14, 2017)
You would think that after watching so many Hallmark movies I would have a high tolerance for bad television. But this is the single worst Hallmark movie I've ever seen. Unbearable to watch. And so... I'm doing something I've only ever done ONCE before... fast-forwarding to the end. BECAUSE OH MY GAWD. SO BAD. CATASTROPHICALLY AWFUL. CRINGE-INDUCING, GAG-INDUCING, NEVER-WATCH-HALLMARK-AGAIN-INDUCING HORRIFIC. I mean, ALL Hallmark movies are practically implausible. This one is just downright impossible. I feel like I am stupider for having watched even part of it.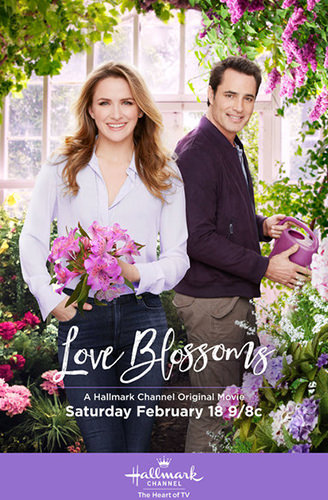 ✓ Okay Love Blossoms (Shantel VanSanten and Victor Webster • February 18, 2017)
When a woman comes back to her family's perfume company in order to finish her late father's magnum opus scent, she is dismayed to find that she doesn't have access to his formula notes and can't reproduce his work. Lucky for her, she runs into (literally, alas, =groan=) a botanist guy with a "nose for scents" and is the perfect person to help her save her father's legacy. Lucky for her, she's pretty, and the guy decides to help even though he doesn't want to because she's hot. Maybe it's because I loved the thought of not having to sit through yet another "save the restaurant" movie that I was a little excited to get a "save the perfume company" movie instead... but I enjoyed this one despite the story being a bit thin. Victor Webster is his usual great self, though Shantel VanSanten's clumsy awkwardness got to be trying.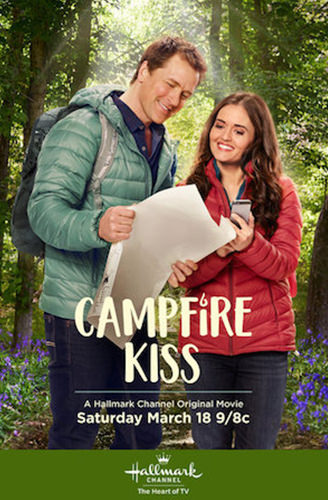 ✓ Okay Campfire Kiss (Danica McKellar and Paul Greene • March 18, 2017)
When the dreamy Danica McKellar wants to bond with her teen son, she decides to rent a tent at a campground and be all outdoorsy with him even though she hasn't the first clue. Alas the neighboring tent has a guy who is actually outdoorsy and there trying to bond with his teen daughter. After an earlier run-in that was not at all pleasant, they naturally hate each other from the start. But once they realize that they could help each other out with their respective kids, their relationship changes... TO LOVE! Thank heavens they found kids that were not overly-annoying, because this was actually a pretty good flick. Danica McKellar is buckets full of adorable as always, and manages to build decent chemistry with Paul Greene. On top of that the story is sweet and made an effort to inject some humor into things, which is always a plus. Where it falls short is Danica McKellar being over-protective helicopter parent one minute... then goes off and leaves her kid the next minute. Her on-again-off-again irrational anger is mystifying as well. It's like the figured they needed conflict and this was their (poor) solution. I little more creativity would have side-stepped this nicely.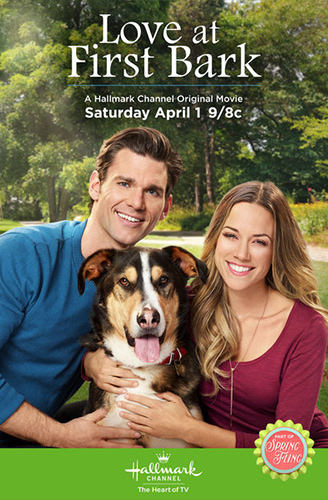 ✓ Love at First Bark (Spring Fling • Jana Kramer and Kevin McGarry • April 1, 2017)
An interior designer who just started her own firm decides she wants a dog. Because the perfect time to get a new pet is when you have to devote all your time to your work! And yet she doesn't want to start a relationship with her new dog trainer because it's too much of a distraction? Blergh. Right out of the gate I thought this was a stupid story because of the illogical idiocy of it all. By the time she got around to designing for dogs, I was checked out. By the time she got to her unwarranted and unhinged jealousy, I was over. On the other hand, you don't see sexual tension like this in a Hallmark movie very often, and that's not nothing.

✓ Good Moonlight in Vermont (Spring Fling • Lacey Chabert and Carlo Marks • April 8, 2017)
I'll watch anything with Lacey Chabert, even when the male lead is somebody I don't know. This is another one of those "I'm going to pretend that this guy I hate is my boyfriend so my ex-boyfriend will be jealous and want me back" movies. What makes it so good is unknown Carlo Marks, who manages to hold is own in the funny and sweet department against Lacey Chabert, which is no easy feat. On top of that, Hallmark managed to make Vancouver, BC feel a lot like Vermont, which is also no easy feat! Predictable and sweet, just like a good Hallmark movie should be.

✓ Favorite Like Cats and Dogs (Spring Fling • Cassidy Gifford and Wyatt Nash • April 15, 2017)
When a cat guy and a dog gal end up in the same vacation rental due to a reservation mixup... the fur is sure to start flying... not just because they have their pets with them, but because they couldn't be more different. Alas, there are no other rentals available and none of the hotels take pets, so they're stuck with each other. I'm just going to say that I love Mozart the Cat and Frank the Dog, so I was going to enjoy this regardless of how the romance turned out. And yet... it was actually pretty great! They somehow manage to steer clear of any expected idiocy that a situation like this would usually demand (though the baby shower fiasco got really close). Sure there's a bitchy girlfriend that has to be tossed aside, but that never seems to be a bother to Hallmark writers. The leads are particularly good at projecting their character's respective quirks and traits without falling too deep into stupid, which is just a bonus. And that ending... perfect. Probably one of the sweeter movies to come out of Crown Broadcasting, and an easy favorite.

✓ The Perfect Catch (Spring Fling • Nikki Deloach and Andrew Walker • April 22, 2017)
I used to wonder if Hallmark is running out of single-mom/single-dad scenarios, but now I know better. Those scenarios will never run out! A baseball player past his prime who is struggling to get a new team visits his home town where he happens to run into his high-school sweetheart at her struggling diner who has a son struggling with... baseball. What are the odds? All this struggling works itself out exactly as you'd expect, which made this a bit of a dull outing. But Andrew Walker and Nikki DeLoach have decent chemistry, so there's that. I ended up enjoying this far more than I thought I would on that alone.

✓ Good The Art of Us (Taylor Cole and Steve Lund • May 20, 2017)
It's Jake from Schitt's Creek! Well, actually, it's Steve Lund who plays Jake, but I'm a big fan of him. In The Art of Us he plays a dog walker who paints beautiful works of art in his spare time. But then his latest client, an art history professor who also teaches art, finds out about his talent. He needs money to repair his houseboat, she needs an artist to fill in at a show to score points with her boss. It's a match made in heaven... until a lie starts taking over both their lives. The leads are both good, but it's Steve Lund's charm and winning personality that makes this one worth watching.

✓ All for Love (Sara Rue and Steve Bacic • May 27, 2017)
Well this is unintentionally hilarious. Clueless romance author was trashed for lack of research on her last book. So this time around her publisher gets her a consultant for the Navy Seal scenes in her latest book... a gruff Seal trainer. Private Benjamin ensues. But in the stupidest way possible. And of course the guy has unexpected depth, because that's how the leads will relate to each other! The eye-rolling opportunities are limitless here, so pace yourself.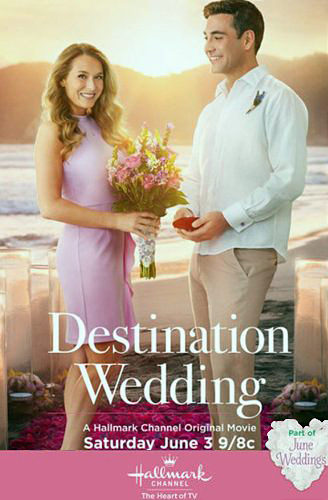 ✓ Destination Wedding (June Weddings • Alexa PenaVega and Jeremy Guilbaut • June 3, 2017)
Like most Hallmark movies, this story is entirely predicable. Unlike most Hallmark movies, I felt terrible for the current boyfriend who gets dumped so the girl can go back to her old flame. Most times they have the current boyfriend do something implausible and awful which makes it okay that she dumps him. This time they tried to do that, but they were unsuccessful. He did nothing wrong. He seems like a standup guy who was completely open and honest about their relationship. Because of that, this movie, while fun, has a really downer note to it. If you have any empathy at all, you'll be sad by the time the credits roll. And yet... for a Hallmark film, it's still pretty good.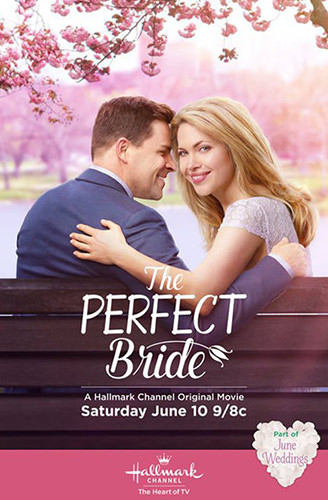 ✓ The Perfect Bride (June Weddings • Pascale Hutton and Kavan Smith • June 10, 2017)
Some ideas for a movie are so absurdly stupid that they should have been discarded. This is one of those ideas. When a fitness instructor who runs a "Bridal Bootcamp" (told you) falls for a photographer she dances with at a wedding, she falls fast and hard. So imagine her surprise when the guy shows up with his fiancé so she can register for the camp! I cannot for the life of me understand why Pascale Hutton agreed to play a character that's this stupid and flighty. I kept hoping that one of her character's friends or co-workers would slap some sense into her so she'd stop being so lame. I ended up fast-forwarding through big chunks of the movie when it strayed too far into stupidville. Which was too often.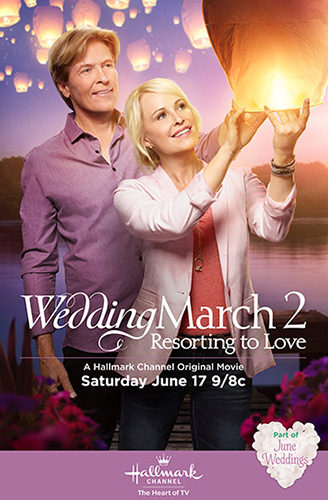 ✓ Wedding March 2: Resorting to Love (June Weddings • Josie Bissett and Jack Wagner • June 17, 2017)
This is the first in many sequels to a crap movie which should have never gotten any sequels. And I just don't get it. Josie Bissett and Jack Wagner have got to be the most boring couple on earth... and the fact that they went to college together makes no sense when Jack Wagner looks like he's 20 years older than Josie Bissett. This time they are running a wedding resort together so their not-so-epic romance can continue. A pity that they clash at every opportunity. We also get Jack Wagner being a disgusting ass toward's his daughter's boyfriend for no reason at all. He doesn't even try to be subtle about it. And then there's the overly-dramatic couple who is getting married at the resort. Good Lord. This whole movie is just so tiring. I was exhausted by the time I finally slogged through it all.

✓ Good My Favorite Wedding (June Weddings • Maggie Lawson and Paul Greene • June 24, 2017)
I love Maggie Lawson. I wonder if we're getting a new Psych movie any time soon? Anyway... successful doctor and hopeless romantic Tess is planning her best friend's wedding when she runs across the groom's best man... a divorce lawyer who doesn't have faith in marriage! They fight like cats and dogs because that's what happens in these things before the romance begins. What makes this one particularly good is the writing. This is a funny movie... and the chemistry between the leads is great. The scene where they first meet is laugh-out-loud funny... and the banter that runs through the rest of the movie is classic. One of the few Hallmark movies that I really want to see have a sequel. Michael and Tess are just too good to let be.

✓ Good Bad Date Chronicles (Merritt Patterson and Justin Kelly • July 1, 2017)
Bloggers chronicle their bad dating experiences on competing websites. When one particular date blows up viewer counts on both sites due to misunderstandings on both sides, the respective site-owners want them to go on three more dates to rack up more views. With their careers in the balance, the couple has no choice. Little do they know that their bosses are doing their best to sabotage the dates so they can get more mileage out of the posts. The result is a movie that has more genuine laughs than your typical Hallmark fare (which isn't saying much, but there it is). The side-stories are slightly more involved as well, even if they are wildly predictable (like the movie, if I'm being honest). I liked this one far more than I thought I would, largely because of Merritt Patterson. She is adorable and talented, which makes her perfect for these things. If there's a down-side, it's the absurdly over-the-top antics of the two bosses trying to make the date go bad, which are juvenile and stupid (but not in a good way). If they had reigned it in, this could have been a better film.

✓ The Christmas Cure (Brooke Nevin and Steve Byers • July 15, 2017)
Workaholic doctor receives a Christmas miracle in the form of heading home for Christmas. She is surprised to be picked up by her ex-boyfriend... but even more surprised to find that she's falling for him all over again. The bigger surprise though? Finding out her doctor father Patrick Duffy is wanting to retire and shut down his practice. YOU DON'T THINK THAT SHE'LL TAKE OVER HIS PRACTICE SO SHE CAN STAY WITH HER NEW OLD BOYFRIEND, DO YOU?!? That would just be silly! I mean, she worked so hard to build a life across the country and has just made head of trauma, so why would she do that? BECAUSE IT'S HALLMARK, THAT'S WHY! Slow, not terribly eventful, and lacking chemistry, this one really didn't grab me. Especially since she just jumps in an starts practicing medicine in a state where she may not even have a license to practice?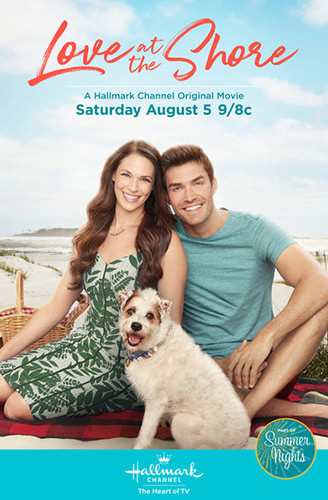 ✓ Favorite Love at the Shore (Summer Nights • Amanda Righetti and Peter Porte • August 5, 2017)
The movie features music by The Beach Boys, so you know it's not going to be all bad. Jenna is a successful teen novel author and single mom with two kids who is prim and proper and needing to get away to write a sequel to her first book. Unfortunately for her, the next door neighbor at the Georgia beach summer house where she's staying is anything but prim and proper! He's a free-spirited surfer dude named Lucas who plays loud music at night, has a crazy dog named Tank that gets into everything, and (obviously) gets on Jenna's last nerve! But things start to change when Lucas finds himself falling in love with Jenna's kids... and Jenna starts falling in love with Lucas! Oh the drama! There are enough funny moments to make this worth watching... and the kids are shockingly not too annoying which is always a bonus (and the boy is a fantastic swimmer!). Peter Porte, who I haven't thought much about in his other Hallmark movies, is actually pretty fantastic in this one (and impossibly good looking). But the MVP here is obviously Tank the dog.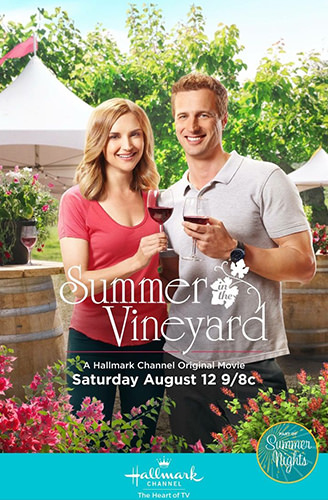 ✓ Summer in the Vineyard (Summer Nights • Rachael Leigh Cook and Brendan Penny • August 12, 2017)
A rare Hallmark sequel... this time to last year's Autumn in the Vineyard. Sadly, while the original was a pretty good flick, this one is boring and kinda a mess. On top of that, Nate is a stupid ass, so the romance does't even work much of the time (who sprays fertilizer on the LEAVES of the vines?!?). I don't understand why he keeps making decisions for both of them even though he knows it upsets her. It makes for a pretty crappy one-way relationship. From what I understand, these movies are based on books, and this one deviates wildly from the text... shifting the focus from Marco and Lexi to Nate and Frankie so as to keep Rachael Leigh Cook as the romantic lead. It's a marketing decision that isn't a good artistic choice, but I get it. Anyway... Nate and Frankie finally got together after their embattled relationship, but all is not perfect when their Summerfest plans go awry.

✓ Eat, Play, Love (Summer Nights • Jen Lilley and Jason Cermak • August 19, 2017)
ZOMG! Lindsay Wagner and Lee Majors guest star?!? Sign me up! This is another adorably charming performance by Jen Lilley, who excels at Hallmark schmaltz like nobody's business. Jen the veterinarian has been in love with "Dan the Dog Man" who owns a local animal shelter since they were in grade school together. Unfortunately for her, he's engaged to a total asshole news reporter who just got a job offer in New York... AND SHE DOESN'T LIKE DOGS! So not only is Jen losing the guy she likes to a horrible puppy-kicking woman, he's going to move away to boot! THE TRAGEDY! Lucky for all of us, Dan's sister decides to intervene so true love can prevail. OR DOES IT?!? Well, this is Hallmark, so I think we all know the answer to that. All it takes is Jen switching from comically-large glasses to contact lenses for "Dan the Dog Man" to start seeing clearly. In other news... Jason Cermak has got to be the whitest guy ever to appear in a Hallmark movie. And that's saying something. Oh... and one last thing... NOTE TO HALLMARK: DOGS ARE NOT MORE SPECIAL THAN CATS!

✓ At Home in Mitford (Summer Nights • Andie MacDowell and Cameron Mathison • August 20, 2017)
Andie McDowell is a children's author with writer's block. To get away from distractions, she packs up her cat and heads to Mitford, where her late uncle's cottage is. Within seconds of pulling into town, she nearly runs over Cameron Mathison on his scooter. That was three minutes into the movie and I was just done. And yet I stuck it out because my life is just that exciting. Anyway... Cameron Mathison is a priest whose life is made complicated when he takes in a massive stray dog. And made even more complicated because Andie McDowell is staying next door! Eventually they have to team up to help some kid who lost his family. Yes. It's one of those movies, and I think it's very telling that my favorite character is a giant dog named Barnabas. Sure the movie is sweet and well-acted, but it also came up lacking in the story department. I had a really tough time getting invested in any of it.

✓ Sun, Sand, and Romance (Summer Nights • Tricia Helfer and Paul Campbell • August 26, 2017)
Stars the ever-so-dreamy TRICIAL HELFER, which is pretty much all you need to know. As if that's wasn't good enough, Paul Campbell, her co-star from Battlestar Galactica, is also in it. He's one of my favorite Hallmark actors, and produced Sun, Sand, & Romance as well as stared in it (I believe he also came up with the idea). Basically, Paul Campbell and Trcia Helfer were childhood friends. So when Tricia shows up with her boyfriend at the resort where Paul works... and the boyfriend keeps getting pulled away for work... well, nature takes its course. Predictable as always, sure, but the cast makes it a fun ride, assuming you can ignore the groan-inducing Peg the Platypus crap.

✓ Falling for Vermont (Fall Harvest • Julie Gonzalo and Benjamin Ayres • September 23, 2017)
Surprisingly, Hallmark doesn't use the whole "AMNESIA!" trope as often as you'd think. Not surprisingly, Hallmark beats the "SINGLE DAD!" trope into the damn ground, and this movie exploits both to good (certainly not great) effect. When a best-selling author wants to escape from her hectic life with a retreat to Vermont, she wasn't expecting to crash her sister's car and get amnesia! Oh noes! Lucky for her, the handsome town doctor is single (with child, natch) and willing to help her out. Blergh.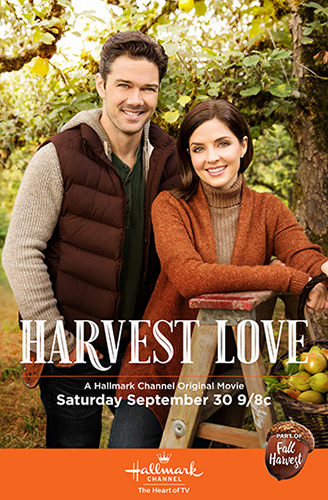 ✓ Harvest Love (Fall Harvest • Jen Lilley and Ryan Paevey • September 30, 2017)
This movie has me 100% perplexed. I love Jen Lilley and have liked Ryan Paevey in previous films, but the acting in this one is horrifically bad. Everybody seems so artificial and stiff... like they're robots or something. Maybe they are taking their cue from the child actors, who are also artificial, unnatural, and stiff. I hesitate to put any blame on director Christie Will Wolf, as her track record with Hallmark is solid, so what's the deal? Maybe it's the snooze-fest of a story. Busy Seattle doctor Jen Lilley is worried that she's losing her young son because of long hours at the hospital, so she takes him to her family's pear farm a couple hours away (ZOMG! THE FARM IS SUPPOSED TO BE LOCATED ACROSS THE MOUNTAINS IN ORCHARD COUNTRY WHERE I LIVE!... except it was filmed in Vancouver, BC, so whatever). Anyway... her parents are working abroad and want to sell the pear farm. Just as she falls in love with the farm manager who has A REALLY BIG SECRET THAT HE'S HIDING IN THE SHED! Ooh, the intrigue! Anyway, they make it clear that the pear farm happens to be IN A TOWN THAT JUST HAPPENS TO NEED A FAMILY DOCTOR, which telegraphs the ending from miles away. I could not get into this one at all despite it having all the elements I usually like... and my ignoring the gross idiocy of how the film handled a pear harvest (eyeroll).

✓ Good All of My Heart: Inn Love (Fall Harvest • Lacey Chabert & Brennan Elliott • October 7, 2017)
Despite being a direct sequel to the original, Inn Love has an entirely different inn, different goats, and different town. The only thing that hasn't changed is the cast, thankfully, since that's what's most important. The non-stop parade of disasters at Emily's money-pit gets so very tired but, fortunately, there are some secondary distractions to keep things moving... a B&B critic falling for Tommy... Brian struggling with a Wall Street job... Jenny trying to get new distribution for her baked goods... and even a new love for Alice. The nice thing about Hallmark movies getting sequels is that supporting characters get story arcs. And, in this case, it's actually the film's saving grace, and what makes it good.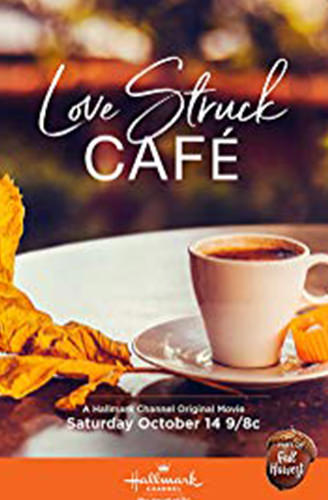 ✓ BAD Love Struck Cafe (Fall Harvest • Sarah Jane Morris and Andrew Walker • October 14, 2017)
Wannabe architect gets a shot at her dream job with one condition... she has to go back to her home town and convince a stubborn woman to sell her land to a new industrial development. While there she has to deal with her father and running into an old flame (literally, har dee har har)... all while deciding what to do about her douchey boyfriend back in the big city. Andrew Walker delivers another winning performance, but has zero chemistry with Sarah Jane Morris (who is playing a character that's kinda awful). And don't get me started on the old boyfriend's heinous Children of the Corn daughter who's irritating AF. The story is just plain idiotic, which also doesn't help. Hallmark rarely gets any worse than this.

✓ Okay A Harvest Wedding (Fall Harvest • Jill Wagner and Victor Webster • October 21, 2017)
IMAGINE THE ODDS! A New York City wedding planner gets a new client that only has two weeks to plan a wedding. The client JUST HAPPENS to want her wedding in the wedding planner's small home town. The groom JUST HAPPENS to be the brother of her ex-boyfriend. And a prestigious wedding magazine JUST HAPPENS to want to cover THE wedding of the year. The rest is just formula Hallmark from start to finish. But not necessarily in a bad way. There aren't a lot of obstacles here, but it never seems boring or slide into idiocy (aside from the obligatory "THE WEDDING'S OFF!" moment). It's a decent distraction before going all Christmas all the time, but could have been better if the plot had a shift or two.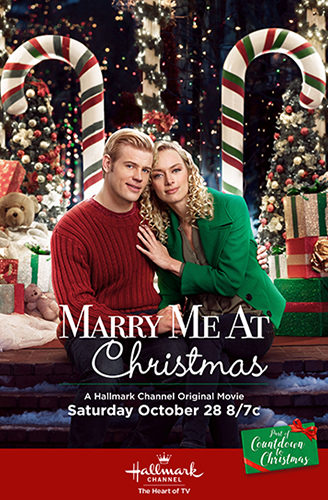 ✓ Marry Me at Christmas (Countdown to Christmas • Rachel Skarsten and Trevor Donovan • October 28, 2017)
When a bride and groom are wanting to get married before a job takes them to London, it falls on a wedding dress boutique owner to not only get a dress ready in mere weeks... but to plan everything as well! Meanwhile, famous movie star Johnny Blake is spotted in town and, SURPRISE!, it's the bride's brother! Wanting to make sure every detail of his sister's wedding is perfect, the movie star begins hanging out with the wedding dress shop owner... AND YOU WILL NEVER GUESS WHAT HAPPENS! Unless you've never seen a Hallmark movie before. Plodding and predictable in all the boring ways you'd expect (and some you won't) It took like forever to get anywhere, and none of the romantic build-up was even remotely entertaining. As if that weren't bad enough, the chemistry was lacking too. Pretty much a flop all the way around for me.

✓ Christmas Festival of Ice (Countdown to Christmas • Taylor Cole and Damon Runyan • November 4, 2017)
FOR THE LOVE OF GOD, DISPLAY TYPEFACES ARE NOT MEANT TO BE USED IN ALL-CAPS! WHENEVER YOU USE THEM IN ALL-CAPS IN YOUR CREDITS, YOU LOOK LIKE A COMPLETE MORON! This time a woman is dismayed to learn that the annual Christmas Ice Sculpting Competition in her town's Festival of Ice has been CANCELLED. Never mind that this makes zero sense... how can bricks of ice cost $20,000?... but that's the plot device we're handed. And when she runs across a fellow ice sculptor who is hesitant to get involved, she is intent on winning him over. AND WINNING HIS HEART! This is a nice enough story, but the only thing pushing it outside the Hallmark box is the beautiful ice sculptures we get to look at. Otherwise? Meh.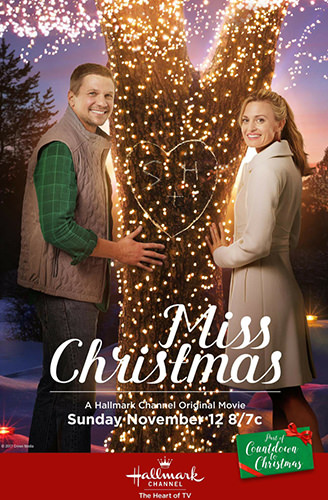 ✓ Miss Christmas (Countdown to Christmas • Brooke D'Orsay and Marc Blucas • November 5, 2017)
"Miss Christmas" has the responsibility of finding the Christmas tree for Chicago's annual tree-lighting ceremony. But when the tree she found is ruined ten days before, she has to find a replacement pronto. Fortunately, a boy from Klaus, Wisconsin has the perfect tree, so she flies to procure it. Only to be told that the kid's dad doesn't want to part with it! Oh noes! As she works overtime to convince him to change his mind, I hope they don't fall in love! This particular outing was charming in spots, but otherwise unremarkable, even by Hallmark standards. The back-and-forth and inevitable misunderstanding was a bit of a chore, and there are films which do it better this year.

✓ Good The Sweetest Christmas (Countdown to Christmas • Lacey Chabert and Lea Coco • November 11, 2017)
Lacey Chabert is a struggling pastry chef (IN THE HALLMARK UNIVERSE, IS THERE ANY OTHER KIND?!?) who is trying to win a gingerbread house competition so she can use the prize money to buy some desperately needed equipment. That way she can quit her receptionist job and go into baking full time. But when her oven breaks down RIGHT BEFORE THE COMPETITION, she has to ask her single-dad ex-boyfriend to use his pizza oven. They met in culinary school, you see, and he had to give up his dream of being a pastry chef, you see, so he could take over the family pizza parlor, you see, and well... you see. I kept watching... and watching... and watching... waiting for things to jump into high gear. But they never did. And I'm not sure that's a bad thing. I liked the chemistry between the dad and Lacey Chabert. I loved the chemistry between the dad and his kid. This is a sweet movie despite the illogical premise (plus some genuine weirdness with Lacey Chabert's ex), and I liked it quite a lot.

✓ Enchanted Christmas (Countdown to Christmas • Alexa PenaVega and Carlos PenaVega • November 12, 2017)
I dunno. Maybe if you want to watch the PenaVegas flirt and dance in a Christmas setting this is the movie for you. But it's just so boring. Interior designer is given the assignment to return to her home town with her daughter to take over a renovation of a hotel famous for its Christmas show. LITTLE DOES SHE KNOW that her former dance partner (and ex-boyfriend) is in charge of the show! And when the lead dancer drops out, the interior designer will have to put on her dance shoes once again to save the day! Alas her boyfriend is not happy about that, and turns into a total ass so that we are okay with the designer dumping him to hook up with her old flame. Yay? This is just so painfully average. It's like they aimed for the middle and that's what they got. No surprises. No clever twists. Just straightforward Hallmark that has dance tossed in to the mix.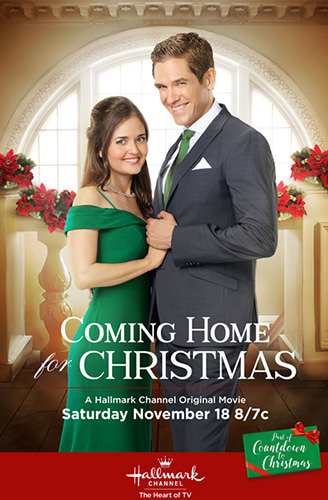 ✓ Coming Home For Christmas (Countdown to Christmas • Danica McKellar and Neal Bledsoe • November 18, 2017)
Poor Danica McKellar is having a terrible year... with breaking up with her boyfriend and losing her job and all. When she takes a job managing a massive estate and prepping it for sale just before the holidays, her luck just might change as she gets involved with the wealthy estate owners. And two specific brother owners in particular! Might she end up with a new job and a new love for the New Year? And, if so, which will she choose? Ooooooh... wouldn't you like to know! Danica McKellar is adorable and charming as expected, but there's not much else here. Dysfunctional wealthy family finds their holiday spirit thanks to a plucky outsider and becomes not so dysfunctional in the process. Maybe if they found somebody who was a better chemistry match with Danica McKellar this could have risen above? Because I didn't like either brother. As it is though, it's not horrible but could have been so much better.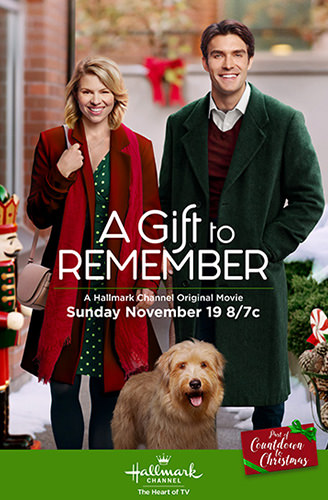 ✓ Favorite A Gift to Remember (Countdown to Christmas • Ali Liebert and Peter Porte • November 19, 2017)
The amnesia trope is surprisingly underutilized by Hallmark and, when it is used, it's usually used badly. Except in this case. When a woman runs into a guy with her bike and he ends up with amnesia, she becomes Nancy Drew to find out who he is. The answer ends up being not quite as straight-forward as it seems, and the real story is a good one. While Ali Liebert's flighty act gets really, really tired really, really fast, this is still one of my favorite Hallmark Christmas movies because the mystery of it all is so well done.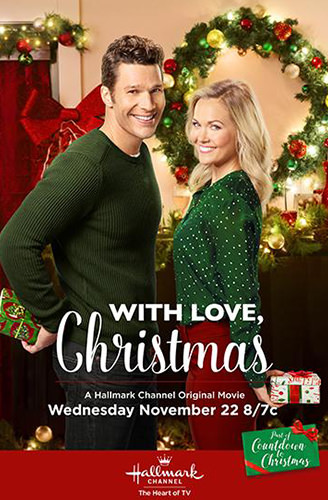 ✓ With Love, Christmas (Countdown to Christmas • Emilie Ullerup and Aaron O'Connell • November 22, 2017)
SHE just loves Christmas. HE is a grumpasaurus who just doesn't. So when they are paired up to create a Christmas ad for a new mobile phone, conflict is in the air! And, WHAT ARE THE ODDS, she draws him for a Secret Santa gift exchange! As she probes to find the perfect gift for him, she finds out there's a lot more to him than she first thought. Despite a hilariously stupid premise (WHO WORKS ON A CHRISTMAS AD CAMPAIGN DAYS BEFORE CHRISTMAS?), a forced attempt at random humor, an overabundance of Christmas mirth, AND A TWIST YOU SIMPLY WILL NOT BELIEVE (but totally believe), this isn't as terrible as it sounds.

✓ The Mistletoe Inn (Countdown to Christmas • Alicia Witt and David Alpay • November 23, 2017)
I think I literally felt my brain melting as I tried to get through this. It's so boring. Woman gets dumped by her writer boyfriend when he gets published because she's a writer who "isn't on his level." Recommitting herself to writing, she goes to a writer conference in the hopes she can get the tools she needs to finally finish her first novel. While there she's paired with a guy she clashes with and is frustrated that their writing process is so different. But the more they work together the more she finds to write about... and the more she finds herself falling for him. But a bigger surprise than falling in love may await her before the conference is over. Will she win the writing contest at the conference and meet her anonymous writing idol so she can get to the next level and get published? Lord I hope so. This movie would really suck if you had to sit through all this otherwise. If you're a writer or a wannabe writer, maybe all the dry writer talk will appeal to you, but I didn't find it the least bit entertaining.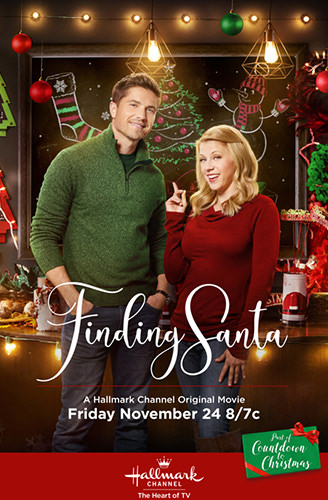 ✓ Finding Santa (Countdown to Christmas • Jodie Sweetin and Eric Winter • November 24, 2017)
Yay! Jodie Sweetin is in charge of her town's Christmas parade! Boo! The guy playing Santa has broken his arm! Yay! The parade is going to be broadcast of television! Boo! The guy Jodie Sweetin wants to play Santa refuses. Yay! He's the town Santa's son, so he can be talked into it! Or can he? He can't. He can! He can't. He can! He can't. He can! He can't. He can! He can't. He can! He can't. He can! He can't. He can! He can't. He can! He can't. He can! He can't. He can! He can't. He can! The end. The entire premise of this movie is so outrageously stupid as to be comical. Dozens upon dozens of guys could easily play a good enough Santa to ride on a parade float for crying out loud. But the way they carried on, you'd think that it was completely impossible for mortal men to be able to say "Ho! Ho! Ho!" Like Santa. And, as if that wasn't bad enough, the way they tried to pass off photos as paintings was even funnier. LAME!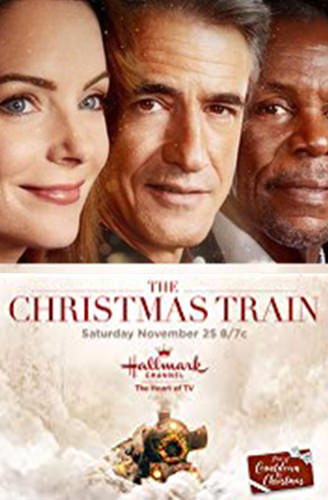 ✓ The Christmas Train (Countdown to Christmas • Dermot Mulroney and Kimberly Williams-Paisley • November 25, 2017)
I'm watching the credits roll by as the movie is starting... and there's David Baldacci?!? Really? Apparently he wrote the book upon which this movie is based. And I sure hope that it's better than the movie adaptation turned out. Because despite some credible acting talent (including Danny Glover and Joan Cusack) this one just didn't work for me. It's cheesy and over-the-top in the weirdest of ways. Dermot Mulroney is a reporter who has been all over the world. But for some reason when it's time to go across the country to be with his girlfriend for the holidays, he decides against flying and takes "The Christmas Train" so he can write about it. There he runs into an old flame from a relationship which ended badly, so of course they hate each other. But four days on a train with wacky characters just might change that, right? But of course! There's a twist at the end which I didn't see coming. I guess it's logical, but since it pretty much sabotages the entire movie, it was a pretty dumb twist. It's just so bizarre, and doesn't fit the Hallmark Christmas movie "mold" at all... which is something that I'd probably like under normal circumstances, but only if it works. — Oh yeah, and one last thing... you might be interested in knowing that the Eric Gustafsson in this movie is not the guy who plays defense for the Blackhawks. Apparently there's an actor named "Eric Gustafsson" as well. The more you know...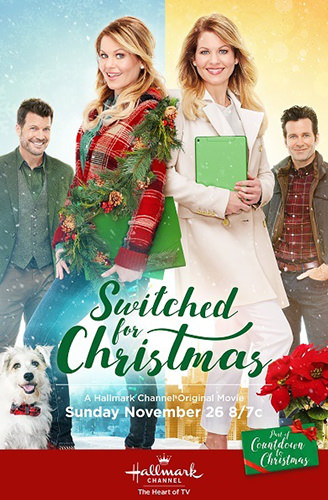 ✓ Favorite Switched for Christmas (Countdown to Christmas • Candace Cameron Bure, Eion Bailey, and Mark Deklin • November 26, 2017)
Estranged twins Kate and Chris haven't seen each other since their mother died the previous year. But now they're both meeting up for a pre-Christmas brunch just like their mom would have wanted. After catching up and deciding that the other sister has it easier than they do, they decide to SWITCH PLACES FOR CHRISTMAS! So shocking. The "Queen of Christmas," Candace Cameron, proves her mettle once again... somehow excelling at just this kinda thing. So far as Hallmark Christmas movies go, this one is pretty great, even though there are absolutely no surprises along the way. The story is sweet, the "twins" special effects are seamless, and it's perfectly balanced. Not "punch you in the face with Christmas" as usual... but "It happens to be Christmastime," which is such a nice surprise. Really well-done all the way around and one of my favorites.

✓ Christmas in Evergreen (Countdown to Christmas • Ashley Williams, Teddy Sears, Holly Robinson-Peete, and Barbara Niven • December 2, 2017)
A veterinarian is leaving her hometown of Evergreen to move to Washington DC to be with her boyfriend. Alas, the airport is snowed in, and she keeps running into a doctor and his annoying daughter over and over. And, yes, I know that most times I say that the kids in these things are annoying... but this time really takes the cake. Between her gag-inducing forced delivery of unrealistic dialogue and her bizarre fixation with a town that she spent all of 5 minutes in, I spent most of the movie hoping for the entire town to be wiped off the face of the earth by a nuclear blast. Then you've got the whole woman is so in love with her boyfriend that she's willing to drop her entire life and move to Washington DC to be with him... but not so much in love that she doesn't dump is ass when something else comes along.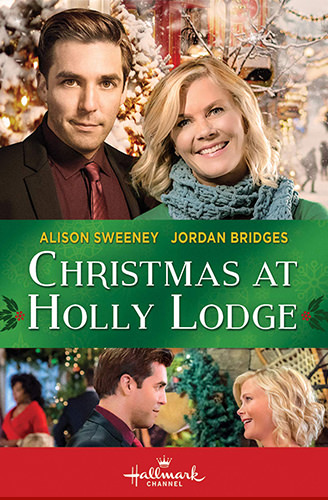 ✓ Favorite Christmas at Holly Lodge (Countdown to Christmas • Alison Sweeney and Jordan Bridges • December 3, 2017)
Watching this movie I've come to the conclusion that Jordan Bridges doesn't do enough Hallmark. Not that I'm saying that Murder She Baked's Alison Sweeney is a slouch here... she's definitely not. But Jordan Bridges can take the most ordinary, pedestrian, tired movies and turn them into something special (ever see Holiday Engagement?). Kick in the incomparable Sheryl Lee Ralph (who looks more unbelievably amazing as she ever has) plus William Shatner(?) and this movie is Hallmark gold! When a crazy-wealthy guy dispatches his lackey to buy a financially-troubled lodge, he has a love-at-first-sight moment with the owner. But just as she's starting to like him, she discovers that he's there to acquire her family legacy: The Holly Lodge. Love turns to hate as she and her staff do everything they can to secretly convince the lackey that the lodge is a terrible investment. Hallmark hilarity ensues! But there's only so long Alison Sweeney can hold out against Jordan Bridges' considerable charm... ZOMG! I HOPE SHE DOESN'T FALL IN LOVE! This is the second "Save the Lodge!" Movie this year, and both of them were immediate favorites. Two last takeaways... 1) Give Sheryl Lee Ralph her own Hallmark movie, and 2) Give Toby Levins, who has played background characters at Hallmark exceptionally well, his own Hallmark movie too! So many actors are getting drastically overused at Hallmark, and it would be nice to get some fresh blood.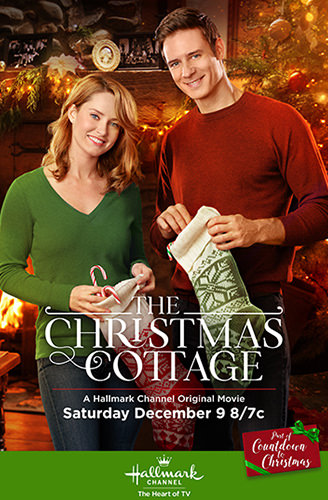 ✓ Good The Christmas Cottage (Countdown to Christmas • Merritt Patterson and Steve Lund • December 9, 2017)
Accomplished high-tec interior designer has given up on love, but when she heads to a mountain lodge for her maid of honor duties and gets snowed in at a magical cottage with the bride's brother (AND HER OLD FLAME!)... all that may change. Because, oh wow, any couple who spends the night together in the cabin over Christmas will fall in love forever! Bad news for the designer's boyfriend back in the big city. Look, I'm just going to come out and say it... this is a painfully average Christmas movie that's totally elevated above the pack due to the addition of Steve Lund (Jake from Schitt's Creek!). He is my favorite Hallmark actor, and I wish he made more of these because his movies always turn out good regardless of how lame the story is. He somehow has the ability to build chemistry with anybody he's paired with, and this time is no exception.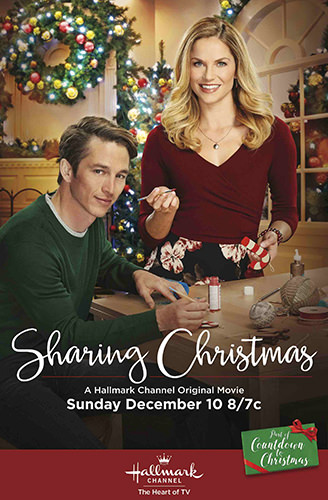 ✓ Sharing Christmas (Countdown to Christmas • Ellen Hollman and Bobby Campo • December 10, 2017)
Stop me if you've heard this story before... a real estate developer has the PERFECT LOCATION for a massive new development... but there's s stubborn shop owner derailing his plans. I hope they don't fall in love! =sigh= This time it's a Christmas Shop that's been around for 40 years and, what a coincidence, the owners' daughter has just taken over the store when the notice arrives. Blergh. I suppose it could have amounted to something if I was even remotely invested in the leads but, alas...

✓ Christmas Next Door (Countdown to Christmas • Jesse Metcalfe and Fiona Gubelmann • December 16, 2017)
SHE is an offensively perky, Christmas-loving violinist. HE is a self-absorbed, Christmas-hating author who writes about how to excel at the bachelor-lifestyle. And they're neighbors! But when he ends up having to watch his sister's kids over the holidays, he has to rely on her to help him find some Christmas spirit so his niece and nephew have happy holidays. There's so much idiocy going on here that it's tough to know where to start. First of all... do these people live in houses with paper-thin walls? Because they are bothered by noise from each other despite the fact that they are in separate houses... not adjoining apartments. Second of all... could the actress playing the female lead have taken ten minutes to learn how to at least look like she might actually play the violin? And third of all... how awful is it that they can't leave the guy alone because he doesn't want to decorate? MAYBE HE DOESN'T CELEBRATE CHRISTMAS?!? This was most definitely not what I'm looking for in a Hallmark movie. The only plus was that the kids were only mildly annoying instead of overtly infuriatingly annoying as usual, which meant I didn't have to fast-forward through half of it.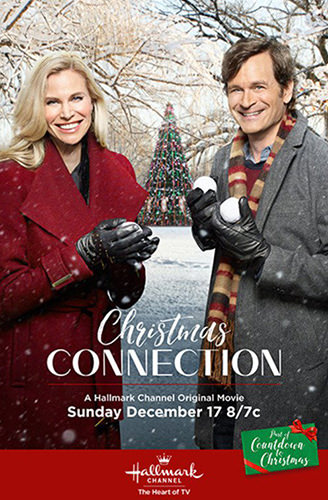 ✓ Christmas Connection (Countdown to Christmas • Brooke Burns and Tom Everett Scott • December 17, 2017)
I wonder when scriptwriters write unrealistic dialogue for children if they realize that it's going to make them look fake as hell? Something to think about when approving these scripts, Hallmark. Anyway... when a flight attendant who's indifferent to Christmas has to watch over an unaccompanied minor from Seattle to Chicago during the holidays, she ends up missing her flight to Bali. And when the little girl's Christmas present for her single reporter dad ends up in her bag... the flight attendant makes a home delivery and ends up stuck in Chicago. At which point the reporter dad helps her unlock her dead parent's mysterious past... and discover a new love of Christmas. There's nothing horrible about this movie, but it's so sappy and fake. It's like everybody turned up their absurdity levels to eleven. And then there's the little girl, which has an entirely too big a role to overlook. Yeesh.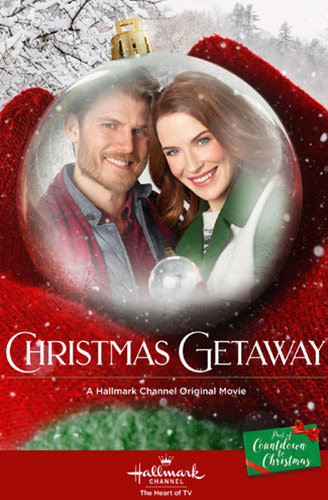 ✓ Christmas Getaway (Countdown to Christmas • Bridget Regan and Travis Van Winkle • December 23, 2017)
A travel writer gets a holiday assignment just before her Christmas vacation, which is fine by her because her boyfriend just broke up with her. Off she goes to Pine Grove where her editor gave her a cabin rental in the woods. Too bad it was double-booked with a young widower and his daughter! UH OH! YOU DON'T THINK THEY'LL FALL IN LOVE, DO YOU?!? Painfully predictable and tired due to the whole "double booking" trope, it's just stupid how the guy who rents the place didn't find anything strange when a person shows up to check into the SAME CABIN that he just checked out to another person minutes before (how many sets of keys does he have?). But what bothered me most about this film is that the travel writer WILL NOT SHUT THE F#@% UP ABOUT THE FACT THAT SHE'S TRAVELED A LOT! SHE JAMS IT INTO EVERY DAMN CONVERSATION SHE EVER HAS! If I did that, I'd fully expect people to punch me in the face... and so should she.

When Calls The Heart: The Christmas Wishing Tree (Countdown to Christmas • Erin Krakow, Daniel Lissing, and Lori Loughlin • December 25, 2017)
Not seen yet.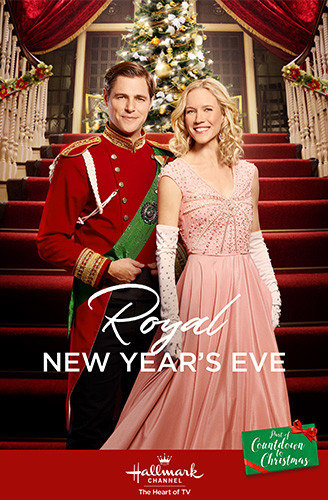 ✓ Royal New Year's Eve (Countdown to Christmas • Jessy Schram and Samuel Page • December 30, 2017)
Oh dear! Jessy Schram is an executive assistant who dreams of becoming a fashion designer. She gets her shot when Prince Samuel Page's prospective fiancé hires her to design a dress for the New Year's Eve ball. Alas, her horrible boss Cheryl Ladd is trying to sabotage her AND SHE'S FALLING IN LOVE WITH PRINCE SAM PAGE! Oh noes! This movie is SO bad. The idea for the story is perfectly Hallmark. But the story is borderline bad. The fake English accents are beyond bad. So even though there are charming and clever elements, they are completely overshadowed by the bad, bad, horrendously bad accents. Oh... and there's zero chemistry going on here. Anywhere.
Hallmark Movies & Mysteries Channel Originals 2017

✓ Okay Home for Christmas Day (Catherine Bell and Victor Webster • July 16, 2017)
When a young woman meets a soldier at the diner where she works, it's love at first sight, and she begins a long-distance relationship with him while he's deployed. Her mom (Catherine Bell!) wants to save her from the potential heartache that comes from dating a guy in active military service because her husband... the girl's dad... was killed in action. This is a sweet movie that came out of left-field for some kind of "Christmas in July" thing, and was a pleasant surprise from start to finish. The cast is great and the story well-done... for Christmas, or any time.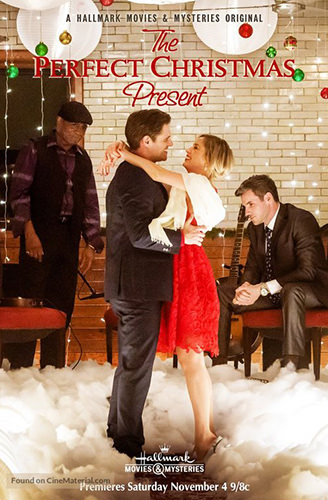 ✓ The Perfect Christmas Present (Tara Holt and Sam Page • November 4, 2017
Rich people pay Sam Page big money to find the perfect gift for people. He's particularly good at finding perfect Christmas presents, which is why people call him "Mr. Christmas" (=groan=). When a bro from his former frat house wants to hire him to find a gift for the girlfriend he ignores, Sam Page refuses at first... but is talked into it when he is shown a photo of how pretty she is. After getting back a practically blank questionnaire because the idiot frat bro doesn't know a thing about the woman he's supposedly crazy about, Sam Page has to do research by Googling everything there is to know about her... AND STALKING HER?!? And then the frat bro invites him to dinner where the woman he's "researching" asks him to help plan a charity event. Since they have to now spend every waking moment together planning her big party, Sam Page has an excellent opportunity to learn all about her. And... oh... I dunno... FALL IN LOVE WITH HER?!? This has to be one of the most disturbing Hallmark story concepts I've seen. Ultimately, it's kinda sweet, I guess... but still... disturbing. About 1/3 of the way into the movie after frat bro's girlfriend invites Sam Page up to her place for hot chocolate, you already know what her "perfect Christmas present" is going to be. And Sam Page already knows he's in love with her. And the viewer knows that the frat bro is going to end up with Sam Page's lady-friend... and Sam Page is going to end up the frat bro's girlfriend. Which means the back-end 2/3 of the film is pointless meandering where Sam Page and the frat bro's girlfriend try to deny their growing attraction. Then, of course, she finds out about what's going on and is rightfully furious. But ends up with Sam Page anyway... because... well, I have no idea why. This is such an awful movie, and it's heartbreaking that Sam Page was wasted in it. He is so much better than anything you'll find here. Bad, disturbing story, bad acting, bad everything. Avoid! Avoid! Avoid!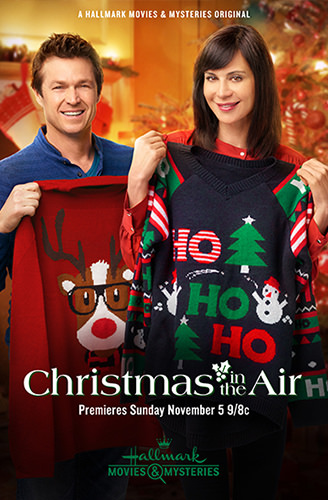 ✓ Christmas in the Air (Catherine Bell and Eric Close • November 5, 2017
Shades of Marie Kondo! Catherine Bell is a professional organizer hired by a toy inventor and (groan) widowed single father of two kids to get his life in order before a critical visit from his company's biggest customer. SHE is going to show him that organization makes for a sweeter life. HE is going to show her that sometimes life is better when it's a disorganized mess. Oh noes... I hope they don't fall in love! Sappy and boring in all the wrong ways, this one was a dud for me... despite my liking Catherine Bell and Eric Close... AND the fact that this supposedly takes place at Lake Chelan in my neck of the woods (But actually shot in Vancouver, BC). Absolutely no obstacles or interesting asides. Just a lame Point A to Point B story with no magic and no surprises.

A Song for Christmas (Becca Tobin and Kevin McGarry • November 11, 2017
Country super-star gets stranded at a struggling Christmas tree farm. While hunkered down there she struggles to come to terms with losing control of her career under a domineering manager. She decides to write a song of her own for Christmas and, wouldn't you know it, the guy on the farm just happens to write music! WHAT COULD POSSIBLY HAPPEN? This is classic cheesy Hallmark that doesn't offer much more beyond what you've seen a hundred times before.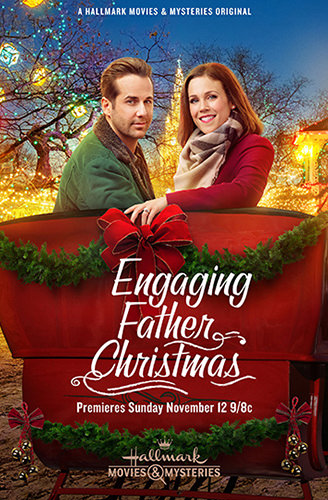 ✓ Okay Engaging Father Christmas (Erin Krakow and Niall Matter • November 12, 2017
The first movie was about a woman who follows clues to Carton Heath, Vermont in search of who her father was. While there she falls in love with Niall Matter. In this sequel, she heads back to Carlton Heath to spend the holidays with her new family, the Whitcombs, and the guy she loves there. But along the way she has a layover where she runs into her gross old boyfriend... who then proceeds to stalker-follow her to Vermont. And then there's the mysterious text messages that Erin Krakow keeps getting... which may jeopardize her relationship with the Whitcombs, who may only like her because she has agreed to keep her parentage a secret. This is one of those rare Hallmark sequels that's actually a good watch. Granted that's mostly because Erin Krakow and Niall Matter are just so good in their sappy roles... but also because they managed to build on the first film in a way that doesn't seem forced or manipulative (even if the "mystery" is a bit lame). Funtime holiday fare at a slow pace for everyone!

✓ Favorite Christmas Homecoming (Julie Benz and Michael Shanks • November 18, 2017
I went to IMDB to find out where I recognized "Craig" from only to find out that the same actor was a minor character on the premiere of Stumptown. While there I was shocked to see that this movie only held a 6.3 rating. Apparently it's due to two things. Some people thought the leads were too old (older people can't have military careers or fall in love?) and some people thought the film glorified war and the military (I didn't get any of that). Well, whatever. I found this to be a very sweet film with moving performances and a good story. When a military widow needs money to get by, she rents out a room above her garage to a soldier on medical leave while his leg heals. Then Hallmark happens. Maybe it's because I have such a soft spot for movies like this which spotlight the sacrifices our soldiers and their families make (especially during the holidays) that I liked this one so much. I dunno. But it's a darn good movie and one of my favorite Hallmark holiday flicks.

✓ Okay A Bramble House Christmas (Autumn Reeser and David Haydn-Jones • November 19, 2017
When a famous children's book illustrator finds out that his recently-deceased father left $100,000 to his caregiver, then gave her an all-expense-paid Christmas vacation to Bramble House, he suspects foul play. Determined to foil this evil plot to steal his family's money, he has to get the truth out of the caregiver before the end of the year or else the money is gone! Turns out the caregiver is a single mom with an adorable little boy named Scout. Once the author finds out that Scout is a fan of his books, he decides to exploit this to get to the truth without revealing that his father was the one who left her the money. But the truth he's looking for is far from the actual truth, and before he knows it he's involved in their lives... and hearts... in a way he never expected. Fortunately, the little kid is only half-annoying, the acting is relatively decent, and the story charming enough for Hallmark Christmas. What keeps this from being one of the better holiday flicks is the absurd actions of the author's sister, who is a heinous ass for no reason whatsoever. Everything from her motivations to her urgency in being awful is so outlandishly lazy that it very nearly sabotages everything near the end.
✓ A Joyous Christmas (Natalie Knepp and Michael Rady • November 26, 2017
When a self-help guru returns to her hometown and gets rescued from being run over, she decides to pay it forward... and ends up reevaluating her life (and Christmas) in the process. And that just might mean falling in love! I didn't like the premise for the romantic setup, but it ended up being a decent (if somewhat forced) story thanks to Bonnie Bedelia being all magical and inspirational and stuff. And while the plot twist is not exactly shocking, it was a nice turn of events.

✓ Christmas in Angel Falls (Rachel Boston and Paul Greene • December 2, 2017
Usually in these "angel comes to earth to save Christmas" movies they make the angel so unfathomably naive, trusting, and brain-dead that one has to wonder if Hallmark thinks God is a moron since He keeps sending total idiots to do His work (the benchmark being Debbie Macomber's Mister Miracle where Rob Morrow is so criminally stupid that I think I lost 10% of my brain cells suffering through it). But, lo and behold, here's a movie where the angel doesn't make me want to reach through the television and slap them because they don't know how a spoon works (or whatever). In this one Gabby the Angel is sent to the town of Angel Falls to discover why they lost their Christmas spirit and help them get it back. As she wanders through the lives of the residents, she slowly uncovers secrets long buried... WHILE BENDING GOD'S RULES AND FALLING IN LOVE WITH THE FIRE CHIEF THEN DECIDING SHE DOESN'T WANT TO BE AN ANGEL ANY MORE?!? Um. That's not how angels work! Heavy on sap, low on theology and brains, this one is 100% avoidable... unless you're into that kind of thing.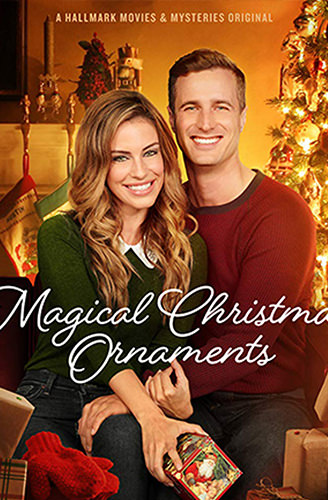 ✓ Magical Christmas Ornaments (Jessica Lowndes, Jessica Lowndes's Black Eyeliner, and Brendan Penny • December 3, 2017
"You better be careful! Even the sweetest things can burn you." When a woman has lost her Christmas spirit due to her relationship falling apart, her mom starts sending her beloved Christmas ornaments from her past to get it back. Then, in order to advance her career as a book editor, she has to work with the guy who ruined Christmas and broke her heart! OH NOES! Lucky for her, Brenden Penny lives next door and might help her mend her Christmas heart. Or will he? He does. But only after she burns down the relationship first. Ugh. This is essentially a big, long ad for Hallmark Christmas Ornaments, and is a pretty poor one at that. There is zero chemistry between the leads. There is zero Christmas charm to the story. There are zero reasons to tune into this weirdly self-destructive idea for a movie. Zero.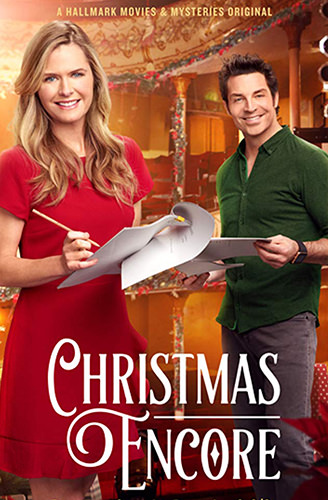 ✓ Christmas Encore (Maggie Lawson and Brennan Elliott • December 9, 2017
After failing to make a go of her dream job as an actress, Maggie Lawson decides to give up and move to Chicago for a "real job." But then it finally happens... she's cast in a lead role in a production of A Christmas Carol. Good news? This could be her big break! Bad news? It's being directed by a former acting school classmate (and television star) she doesn't like. Good news? Now she doesn't have to move to Chicago. Bad news? The theater loses its lease before the show ever has a chance to debut. It would take a Christmas miracle for everything to work out! In theater... AND ROMANCE! Or maybe just an old photo. Blergh. Boring and forced. Maggie Lawson (loved her in Psych), is wasted here, and can't seem to muster a single watt of chemistry with Brennan Elliott (of whom I'm not a big fan).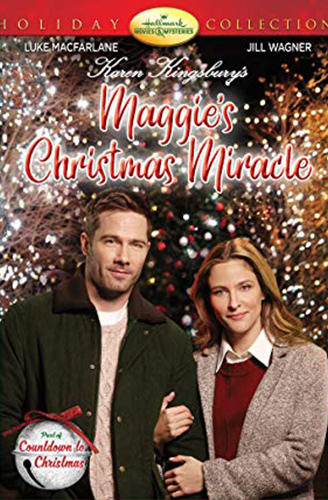 ✓ Good Karen Kingsbury's Maggie's Christmas Miracle (Jill Wagner and Luke Macfarlane • December 10, 2017
Maggie had Christmas forever ruined when her father left just before Christmas. Decades later she is a single mom with a young son who needs math tutoring help. Luckily the local diner is owned by a guy who also does tutoring! The kid and the guy get along famously right from the start. And so does the mom and the guy! Which may be due to divine intervention since the kid is writing to God asking Him to make his mom like Christmas again... and for her and the diner owner to fall in love (natch). This story is nothing special, being almost painfully by-the-numbers predictable (TELL ME THAT YOU DIDN'T KNOW WHO THE BOY WAS THAT MAGGIE MET WHEN SHE WAS A KID JUST BEFORE HER DAD LEFT! TELL ME!) and borderline trite. But Jill Wagner and Luke Macfarlane are so flawless in it that I enjoyed it just the same.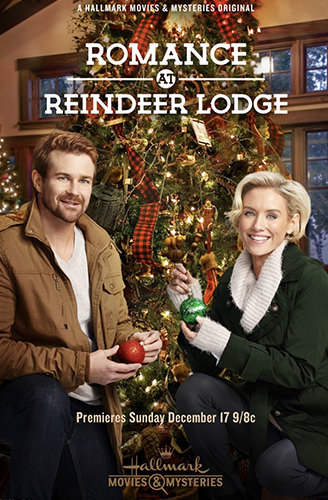 ✓ Favorite Romance at Reindeer Lodge (Nicky Whelan and Josh Kelly • December 17, 2017
A woman who hates Christmas wins a radio contest for a holiday trip to Jamaica. A stranger who irritates her because he loves Christmas ends up on the same flight. But... oh noes... IT'S JAMAICA, VERMONT! Once she realizes the misunderstanding, she wants to leave as soon as possible. But... oh noes... there's no flight to be had! With no other choice, she takes the suite she won at the Reindeer Lodge... only to find that... oh noes... the guy from the plane is staying there too! What are the odds? Alas... oh noes... the guy's job is to foreclose on the Lodge on Christmas Eve, even though he feels terrible about it. Looks like it's time to SAVE THE LODGE! Luckily the Christmas spirit starts working its magic on everybody, so there's hope... and romance to be had. This one is sweet without being overly sappy and the actors are all pretty great. It's good, wholesome, holiday fun!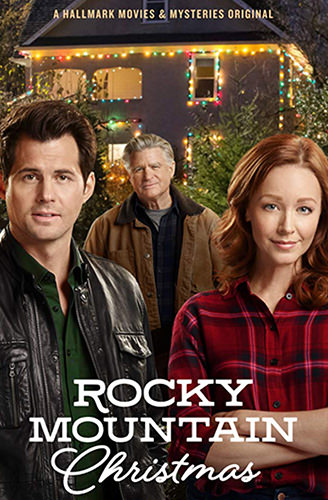 ✓ Okay Rocky Mountain Christmas (Lindy Booth and Kristoffer Polaha • December 22, 2017
"Ooh! They have French toast! — Here's yet another SAVE THE RANCH! movie, just in case you haven't had your fill. Lindy Booth always feels like such an odd fit for Hallmark (she was Night Bitch in Kick-Ass 2!), but here she is again. This time she is a hotel decorator who returns to her uncle's ranch after six years away. When her aunt died, she left for the city and never came back... UNTIL NOW! And, by coincidence, a big-time movie star drops bye to "research a role as a cowboy" (or whatever), and of course romance ensues. Because all those high profile break-ups back in Hollywood go right out the window whenever a famous person sees a pretty country girl, apparently. Still... there's Kristoffer Polaha, who is awesome in these things... plus Treat Williams and Hallmark favorite Chris McNally in minor roles. Plus pretty scenery and a half-way decent story.
Netflix Originals 2017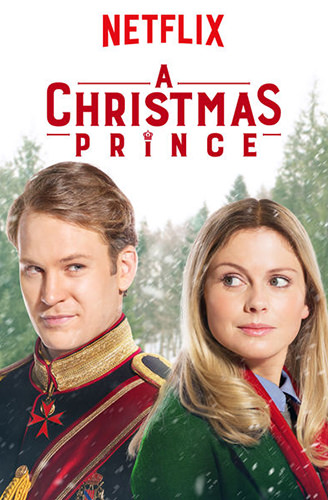 ✓ Okay A Christmas Prince (Rose McIver and Ben Lamb • November 17, 2017
Apparently Hallmark doesn't have the exclusive rights to fictional European countries... because Netlix has... ALDOVIA! An aspiring journalist is tasked with flying to Aldovia to cover a press conference by their playboy prince who is expected to abdicate so he can carry on with his reckless lifestyle. Once there she is mistaken for the new American tutor for the disabled princess... a lie she is happy to play along with in the hopes of getting a scoop on the prince. The princess initially rebuffs her "new teacher," but she changes her mind when she isn't treated as disabled. While investigating, the reporter finds out that the prince is far from a reckless playboy... he's just nervous about taking the throne. From there we spin through a lot of complicated twists... the evil cousin who wants the throne... a scheming ex-girlfriend... the prince is adopted... the journalist falls in love. This complexity actually makes this a more interesting story than you'd expect, but the initial clumsiness of the American reporter is such a tired cliché and the story has been done so many times that it's tough to get too invested. Still... it's nice that Netflix is investing some money here, as their effort definitely looks more expensive than your average Hallmark flick.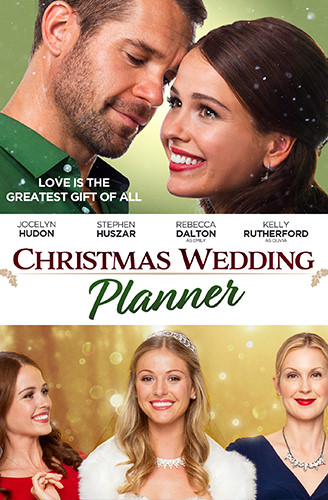 ✓ BAD Christmas Wedding Planner (Jocelyn Hudon and Stephen Huszar • Nov 28, 2017
Oh gawd. This is profoundly bad. Offensively bad. A wedding planner is commandeered by a private detective who is trying to sabotage the wedding. They get the dirt. The bride is blindsided. Wedding planner and private eye fall in love and commandeer a wedding. Inexplicable idiocy prevails. No clue what anybody involved with this total disaster was thinking. Avoid at all costs.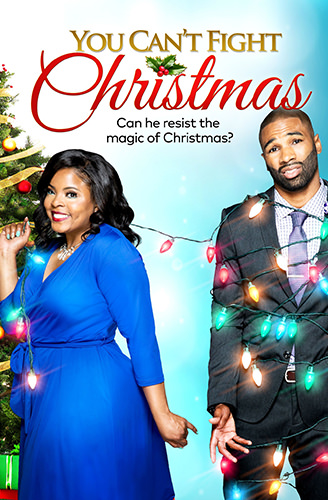 ✓ You Can't Fight Christmas (Brely Evans and Andra Fuller • December 10, 2017
Turns out that you actually can fight Christmas. And this movie beats it to a bloody pulp. Christmas decorator runs afoul of a guy who wants to end the tradition of hiring her to decorate his hotel. Will the Christmas spirit prevail and change his cold dead heart? Do you even care? Lord knows that I didn't.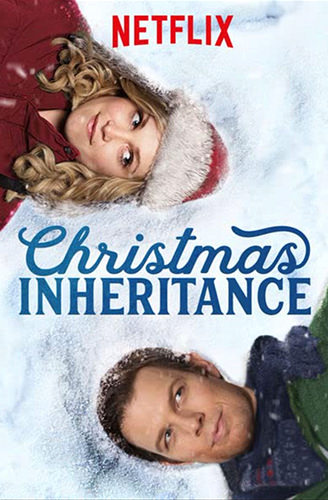 ✓ Good Christmas Inheritance (Eliza Taylor and Jake Lacy • December 15, 2017
Party girl heiress keeps disappointing her father just as he's set to retire and leave her in charge of the company. In hopes that she can be taught some humility and humbleness, he tasks her with a bus ride to the town of Snow Falls with nothing but $100 to her name and a letter she is to deliver to the co-founder of the company she's inheriting... all while staying incognito. Problems start stacking up when a snowstorm traps her in the town and she can't even find the guy she's supposed to deliver the letter to. Making matters worse, her self-centered fiancé shows up just as things start heating up with the local taxi driver /slash/ inn owner. Oh noes! Absolutely everything happens exactly as you expect it to with zero surprises. Which, in itself, is yet another non-surprise. But it is sweet and well-done.
Other Originals 2017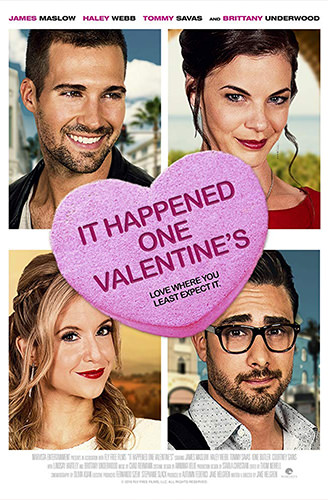 ✓ It Happened One Valentine's (James Maslow and Haley Webb • February 7, 2017)
Sleazy tabloid reporter with regrets would rather expose the horrible underbelly of Hollywood than exploit it for headlines. Unless it helps her land her childhood crush who is now a famous singer. Along with her childhood friend who is now also a famous singer who is recording with her childhood crush. And then there's the childhood's friend's manager who wants her to put the two singers together for reals. Or whatever. It's a convoluted mess of coincidences that falls apart when you look at it too closely. Alas, it's riddled with so many absurd moments that it was a real slog to get through (a professional photographer is using a flash outside in full daylight? WTF?). And, despite the reporter constantly talking about wanting to do the right thing, she does a lot of nasty moves before getting there, so whatever. The whole movie needed a far better story than what ended up on-screen, because what was there was mediocre, at best.

✓ Okay An Hour Behind (Emily Rose and Barry Watson • 2017)
STUPID DAYLIGHT SAVING TIME! The owner of "Cupcake Palace" is set up on a blind date. Unfortunately a glass of water spills on her phone so her alarm doesn't go off and the time change has screwed up her internal clock so she oversleeps. When she gets to the restaurant an hour late, her blind date is gone... but she mistakes another guy for him. He tries to tell her he's not who she thinks he is, but keeps getting interrupted. Not surprisingly they have an incredible date. Alas, once she finds out that Barry Watson was not the right guy, she's furious and he has to win her back. Fortunately, he's Barry Watson, and is able to charm her into giving him a second chance. A relatively uneventful movie unfolds. As it is with most movies in this genre, there's a horrible assumption made with causes things to erode... and the movie would have been better if she hadn't overreacted so absurdly, but it was still okay.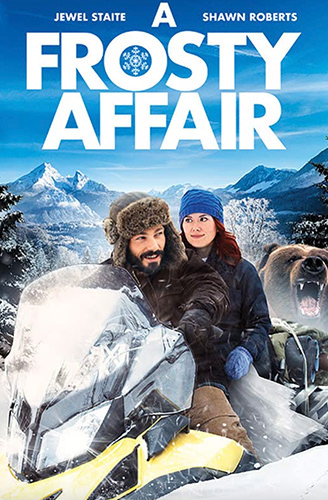 ✓ Favorite A Frosty Affair (Jewel Staite and Shawn Roberts • November, 2017)
Okay... okay... a big part of the reason that I like this movie so much is that I'm a massive Jewel Staite fan. But it's actually pretty good on top of that. Jewel Staite is a teacher on her final day in a small town in Northern Canada. She's headed back home to get married! But, alas, a winter storm has closed the airport and she's stuck! Enter Shawn Roberts, who was also trying to catch the same flight. Thrown together by circumstance, three days of snow-filled adventure ensues! But will Jewel Staite still want to get married to her fiancé at the end of it? Hmmmmmm. Make no mistake, this is one silly movie, but it's more charming than absurd, and I ended up liking it quite a lot. I do have questions though. Did they or didn't they hook up along the way? Jewel Staite seems to indicate that to her mom even though we never saw it. What exactly was the situation between Shawn Roberts and his ex? And is the little girl his or his ex's husband? With a couple extra lines of dialogue, this could have been made clear and it's frustrating that you kinda have to make a guess.

✓ Do I Say I Do? (Becca Tobin and Ryan Kelley • Nov 4, 2017)
Relationship author Becca Tobin is finishing her book commitment with her ex-boyfriend's publishing company and is anxious to move on. But in order to get some working capital to move his company into the big leagues, he has to keep his best-selling authors onboard... including his ex. To do this, he invokes a publicity clause in her contract to keep her hanging around. This ends up being a series of videos where their bickering gets massive publicity for her book... even though she feels it's not taking her work seriously. Unrealistic story about how publishing works aside (A CONTRACT THAT SAYS YOU HAVE TO DO WHATEVER PUBLICITY YOUR PUBLISHER ASKS YOU TO DO? WHO WOULD BE STUPID ENOUGH TO SIGN THAT?)... the leads just don't have any chemistry with Becca Tobin's character not being the least bit likeable. The secondary story of a woman helping a tech nerd win the heart of a beautiful lady at the office (even though she's secretly in love with the guy) is dopey, but at least you are rooting for them to get together. I never thought that once about the leads.

✓ A Royal Christmas Bar (Tara Reid and Ingo Rademacher • Nov 10, 2017)
Wow. Just when you think that things couldn't possibly get worse... THEY DO. Over and over again. King of some fictional European country pines after his American college sweetheart whom he was forced to leave 17 years ago when he was a prince because the evil nanny said mommy and daddy wouldn't approve. He looks her up... only to discover it's Tara Reid. And he has a daughter. A web of lies from the past is dismantled and the king has his queen. This was a categorically awful movie in every way and entirely missable.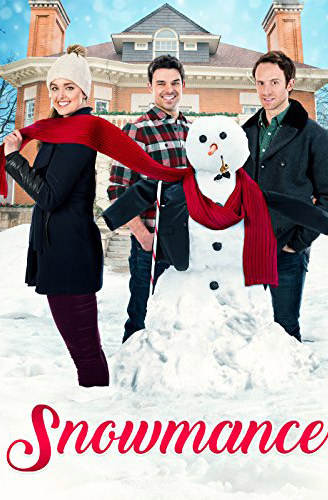 ✓ Snowmance (Ashley Newbrough and Jesse Hutch • Nov 20, 2017)
For the past several years, a woman has been making herself a "snow beau" snowman called "Cole" with her best friend. Then one day, her snowman Cole comes to life! The perfect boyfriend in every way, she has a choice to make... take the magical guy who has fallen into her lap, or the best friend who has been there in front of her all along. This was... weird. I think. I mean, not terribly more weird than any of these things given the unreality of it all, but weird. And a bit slow. Still liked it thought. Everybody involved has done quite a few Hallmark movies, so they're old pros at making the insane seem not so crazy. And the cartoon illustrations are cream.

✓ Wedding Wonderland (Andrea Bowen and Nick Bateman • Dec 25, 2017)
You know you're in trouble when a movie has not one, but two previous titles. First it was A Family for the Holidays, then Winter Wedding, and then Wedding Wonderland. Well, you can try and disguise it all you want, but an overly-dramatic mess is an overly-dramatic no matter what you call it. When a young couple's wedding plans can't seem to come together, and the bride's mom is a total asshole, will the drama between figuring out a winter wedding or a beach wedding drive them apart? No. But at least that would have been interesting. Instead we got a ridiculous game of back-and-forth over crap that's so awful that I felt my brain melting. When you put more emphasis on a stupid ceremony instead of your relationship together, you deserve to break up. I kept screaming "RUN LUCAS! RUN FAR, FAR AWAY!" at my television. And, yeah, they "fixed" everything at the end, but by then it was too late and I didn't care. Lame and pointless from start to finish, I regret wasting 90 minutes of my life on this garbage.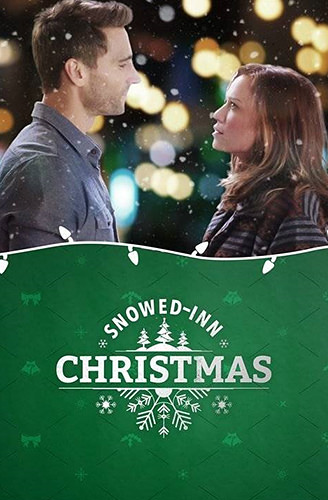 ✓ Good Snowed-Inn Christmas (Bethany Joy Lenz and Andrew Walker • Dec 17, 2017)
Andrew Walker is a laid-back writer and Bethany Joy Lenz is an uptight writer... both working for the same magazine. Since he is trying to avoid his family after his father died and she has no plans, they volunteer for a writing assignment in Aspen. After some genuine idiocy on the plane ride (she's afraid to fly) they are diverted to the town of Santa Claus, Indiana. Snowed in with no flights to Aspen, they are taken in by a kindly couple who run an inn. And inn that's GOING TO BE SHUT DOWN! Making this yet another SAVE THE INN movies. Except... thanks to Andrew Walker in his absolute best performance yet... this was a great movie.