Here's a checklist of all the Hallmark original romance movies from 2015 along with my comments on those I've seen.
Special movies of note are marked Favorite, Good, Okay, and BAD.
Hallmark Channel Originals 2015

✓ Good Surprised by Love (Hilarie Burton, Paul Campbell, and Malcolm Stewart • January 3, 2015)
This is one of those "My parents don't like my boyfriend so I'll pretend to be dating my ex-boyfriend who they REALLY hated so they will think my current boyfriend is great by comparison" movies that you'd think would be more common than it is. Paul Campbell being cast as the hated ex-boyfriend was about the smartest move they could have made because he excels at this kind of stuff. Icing on the cake? TIM CONWAY in a terrific background role.

✓ Okay A Novel Romance (Amy Acker and Dylan Bruce • January 10, 2015)
When a romance novelist with a massively successful first novel is convinced to step out from behind his alias and reveal himself to the world, things become complicated when a chance meeting on a plane derails his plans. It's a sweet enough movie, I suppose, but has one of those bizarre "YOU LIED TO ME!" twists that makes no sense at all. At least this time they actually bothered to try and explain it.

✓ Favorite Bridal Wave (Arielle Kebbel and Andrew Walker • January 17, 2015)
Ever since I started really getting into Hallmark films, there's been a short list of movies that I've been desperate to see. High on that list was Bridal Wave, which has Andrew Walker (one of my long-time Hallmark faves in just his second Hallmark film), Arielle Kebbel (whom I've loved in everything she's done), AND JACLYN FRICKIN' SMITH! But I wasn't desperate enough to spend $10 to buy it on iTunes and risk being disappointed. Turns out I should have spent the cash, because this one is fantastic. It's a fun story, Walker and Kebbel are 100% golden, and it's everything you could want in a Hallmark movie. When a nurse is marrying the famous plastic surgeon she works for, things go a bit off the rails when she runs into a guy whose free-spirit lifestyle has her reevaluating her loveless relationship. This entire movie hinges on the viewer buying into the instant chemistry between the leads, and it is all there on-screen. This became a favorite within the first ten minutes.

✓ Love by the Book (Leah Renee and Kristopher Turner • January 24, 2015)
A book store owner is so utterly brain dead that she doesn't seem to care about selling anything... so, surprise, her business is failing! John Schneider(!) who invested in her business is, needless to say, upset and his son heads to the store to figure out how to turn things around. She, of course, hates him immediately... because why wouldn't she hate somebody who is trying to help her save her business? In the meanwhile, her fairytale romance dreams seem to come true when she meets her handsome prince, but John Schneider's son bets her it will be over before it begins. Of course they fall in love. Blergh. The performances (outside of John Schneider and... STEFANIE POWERS?!?) are really weak, which makes this a total slog to get through. There are far better Hallmark movies to spend your time on... like Bridal Wave just one movie up on this list!

✓ Away and Back (Hallmark Hall of Fame • Jason Lee and Minka Kelly • January 25, 2015)
A fictional movie about birds isn't really my cup of tea, but it's a Hallmark Hall of Famer and it has Jason Lee and Minka Kelly in it... so I guess that's something. After nursing a goose back to health, Minka Kelley releases is back to the wild where it takes up residence on a pond with its mate in back of Jason Lee's house. His kids become obsessed with them after they discover they have laid eggs. Things go sideways when the mom swan runs into some power lines and dies. Since the kids lost their mom, they decide to save the eggs and see if they can get them to hatch. Jason Lee is not happy about this change of events. But then... Minka Kelly to the rescue! Kinda. Her character is pretty awful. At first. Of course everybody comes together in the end, but it's a bit of a chore to get there... even though the baby swans are cute.

✓ A Wish Come True (Countdown to Valentine's Day • Megan Park and Benjamin Hollingsworth • January 31, 2015)
Lindsey has been keeping a list of all her birthday wishes since she was five. On her 30th birthday she makes a wish for all her previous wishes to come true... and they do!. Alas, this isn't particularly a good thing, because getting what you dreamed about isn't always what's best for you and often times good things come with bad things attached. This was a fairly decent concept for a movie, and the idea that everything you want out of life is often right in front of you is a good one to build a story around. Alas it felt kind of meandering and pointless in stretches and I wasn't terribly invested in any of the characters because every clever moment seemed to be followed by an eye-rolling moment. But worst of all is just how badly the lead treats her so-called best friend. That should have been re-worked, because the guy seems a glutton for punishment to just stick around through that.

✓ Favorite I Do, I Do, I Do (Countdown to Valentine's Day • Autumn Reeser and Shawn Roberts • February 6, 2015)
It's Groundhog Day but on a wedding day! Autumn Reeser gets proposed to a week before Valentine's Day and the guy wants to get married ON Valentine's Day! With no time at all to plan and get ready, Autumn Reeser's future-mother-in-law does the planning. Alas, the small, peaceful wedding she was hoping for ends up so awful that she wishes for an "I do" do-over. And she gets it. Over and over and over and over. Yeah, it's a knock-off of Groundhog Day... near the end it's painfully obvious because even the dialogue is lifted. But that doesn't make it any less of a movie. And, so far as Hallmark goes, it's just so wonderful to have something different for a change. And, of course, it's got Autumn Reeser in it.

✓ So You Said Yes (Countdown to Valentine's Day • Kellie Martin and Chad Willett • February 7, 2015)
A woman who owns a boutique vintage wedding shop falls for the son of her competition at a more contemporary shop... and his mother is not happy. Can the happy couple keep their relationship together when they decide to marry while his mom is doing her best to break them up? Only Hallmark knows for sure! This is a combination of two Hallmark tropes that come together in unspectacular fashion, and I was pretty bored throughout. Kellie Martin is cute verging on quirky, but everybody else is pretty forgettable.

✓ Cloudy with a Chance of Love (Countdown to Valentine's Day • Katie Leclerc and Michael Rady • February 8, 2015)
A television executive is in a jam when his meteorologist quits. With no options available, he reaches out to meteorological student at the local college for help. She ends up being a surprise hit with viewers and, before she knows it, she's a weather girl on the news! As things progress with her new temp job, they also progress romantically with the executive. Now she's in quite a pickle... should she give up her dream of a PHD so she can have money and romance? Or will love find a way after all? The overly dramatic ending was almost as bad as that horrible rooftop special effect shot they kept using. Overall a big miss for me.

✓ All of My Heart (Countdown to Valentine's Day • Lacey Chabert and Brennan Elliott • February 14, 2015)
When super-sweet aspiring chef Lacey Chabert inherits half a house, she convinces her co-owner to let her (eventually) buy him out so she can open a B&B. But once the co-owner loses his job, he decides to move in. Too bad they can't stand each other. You can guess the rest... they fall in love and open the B&B together. The end. At least until the sequels. This wasn't terrible, but it was terribly annoying. Lacey is way too sweet and the guy is way too slapstick and stupid. But the residents (including Ed Asner) make it worthwhile. Plus? Goats.

✓ Portrait of Love (Jason Dohring and Bree Williamson • March 14, 2015)
A boring slogfest of a movie with an annoying kid getting in the middle of a reunion between old lovers when a woman heads back to her hometown after becoming a successful photographer. A complete waste of time.

Romantically Speaking (Heather Morris, Jonathan Bennett, and Teri Polo • April 9, 2015)
Not seen yet.

✓ Just the Way You Are (Candace Cameron Bure and Ty Olsson • May 9, 2015)
It's Hallmark's favorite star, Candace Cameron, in yet another movie set in Seattle but filmed in Vancouver! This time she's a "relationship expert" who finds that, after 15 years of marriage, her own relationship has grown stale. Her solution? They start dating again... starting with a blind date where they pretend they aren't married and don't know each other. Since this is Hallmark, you know it all works out in the end, so the reward is the journey. And this one wasn't much of a reward.

✓ Perfect Match (June Weddings • Danica McKellar and Paul Greene • June 20, 2015)
"You look like a princess! — Not a princess... the best you that you can be!" Barrrrrfff! Just when you think that new plots for Hallmark movies couldn't get any thinner... here it is. A couple can't agree on what they want for their wedding, so the mother of the groom hires both a wedding planner and an event planner to hash things out. Problem is... they've met before and THEY LOATHE EACH OTHER! But when forced to mesh their very different personalities to create the perfect wedding, they find themselves... AND DO NOT BE TOO SHOCKED HERE... falling for each other! The leads are okay (I like Danica McKellar quite a lot), but the supporting cast is a bit weak and the movie is a snooze. What's so absurd is that you're supposed to buy into the fact that the event planner guy could be this stupid and insensitive to what the bride wants... or that the groom-to-be could be so awful to his future wife. But oh well. They can't all be good... I just wish they would have found something better for Danica McKellar to do, as she's whip-smart and on the top of her game even when the movie isn't that great.

✓ Love, Again (June Weddings Teri Polo and Paul Johansson • June 21, 2015)
Couple decides to divorce... but don't want to spoil their daughter's pending marriage in a week... so they agree to put aside their problems and work together until after the wedding. CAN THEY FIND LOVE, AGAIN, BEFORE THE DIVORCE?! My guess is that the answer is in the movie's title. Annnnnd... oh yeah... there it is.

✓ A Country Wedding (June Weddings • Autumn Reeser and Jesse Metcalfe • June 27, 2015)
A famous country singer returns home to dispose of his childhood home... and runs across his childhood love who still lives next door. Inspired by being home again, he convinces his celebrity fiancé to get married there. Luckily his childhood girlfriend has reluctantly agreed to help him plan the wedding! ASSUMING HER HORSE RANCH DOESN'T GET FORECLOSED ON FIRST! Autumn Reeser is my favorite Hallmark actress and she has decent chemistry with Jesse Metcalfe... I just wish this had something, anything, to set it apart from something we've seen a dozen times before.

✓ Good Family for Christmas (Lacey Chabert and Tyron Leitso • July 11, 2015)
Okay... first of all, TYRON LEITSO?!? Oh man. He played Eric on Wonderfalls, one of my favorite shows of all time that was canceled after just one season. It was very difficult to watch this movie without saying "I MISS YOU, WONDERFALLS!" Every time Tyron appears on screen. But anyway... Lacey Chabert is a successful news reporter with a hectic, busy life who has no time for Christmas. But then she makes a Christmas wish when she wonders what her life would be like if she had gone back to the guy she left for her career ten years ago... TYRON LEITSO... and it comes true! What follows is a funny left turn into suburbia where Lacey Chabert has been married to Tyron Leitso for ten years and has two kids. Yes, it's a Sliding Doors knock-off taking place at Christmastime, but it's a pretty good one. The ending is a given, of course, but it's the journey that's worth watching. Mostly for the cast... because what more could you want than Lacey Chabert and TYRON LEITSO!

✓ Lead With Your Heart (William Baldwin and Kari Matchett • September 19, 2015)
Happily married couple have kids who are away at college. Wife gets a temp job assignment in another city. While living apart, they realize they're different people. Now they have to decide if they want the marriage to even continue. This was mostly boring from start to finish and I didn't find myself caring whether or not they stayed together or where they ended up. The end wasn't exactly what I expected, but was still somehow entirely predictable. There's not much more I can say about this film to illustrate how pointless the 90 minutes was for me.

✓ Love on the Air (Alison Sweeney and Jonathan Scarfe • September 26, 2015)
Look, there's a lot of places in Canada which can double for cities in the USA. But Vancouver for Chicago? Hilarious. But anyway... a woman in a toxic relationship is given an opportunity to fill in on a radio talk show which airs right after some guy's popular "Man Cave" show. Thanks to advice he heard from the "Man Cave," the woman's fiancé calls up and breaks up with her on-air. Her response catapults her into popularity and her fill-in spot results in her getting an offer for a show... WITH THE GUY. From then on, the woman and the guy battle it out on their programs which causes a surge in listeners and a battle of the sexes throughout Chicago. I sure hope they don't spoil everything by falling in love! But this is Hallmark, and so... blergh. This felt like a low-budget remake of one of dozens of similar battle-of-the-sexes movies that results in romance... AKA, the plot which Hallmark uses in the majority of their movies. Alas, this one wasn't even remotely charming enough to make me happy I suffered through it.

✓ Okay Autumn Dreams (Fall Harvest • Jill Wagner and Colin Egglesfield • October 3, 2015)
HOLY SWEET HOME ALABAMA IN REVERSE, BATMAN! Two crazy kids from the country get married at 18 years old only to have their parents annul it immediately after because they're too young. Fifteen years later they are each engaged to be married to different people when... OH NOES!... their annulment was never processed and they're still married! So now the girl has to head to New York City to meet up with her now-successful-soon-to-be-ex so they can get an annulment. AGAIN! But there was a reason they were in love when they were teenagers, those feelings haven't gone away completely, and so... KABLAM! Love ensues. This is wholly unoriginal and even a little awful considering they both have to break up with their fiancé in order to be together (twisted!), but I really like the two leads in this one. UPDATE: After a second watching, am I the only one who wishes there was an alternate-reality movie where Young Ben and Young Annie told their parents to stuff it, then went on with their plans? I'd watch it! Oh, and one more thing... when Jill Wagner is trying on wedding dresses, the one she ends up with is not the dress for her. The lacey capped sleeves distract from her stunning beauty and she should have gone with one of the earlier sleeveless/capless dresses, which were perfect for her.

✓ Okay Harvest Moon (Fall Harvest • Jessy Schram and Jesse Hutch • October 10, 2015)
=sigh= Yet another "Spoiled-Rich-Girl-Loses-Her-Money-And-Has-To-Earn-A-Real-Living-For-The-First-Time-In-Her-Life" movie. Which would be fine if they weren't so lazy about it all. Every possible stereotype that's been done to DEATH is here... you can essentially check them off a list. Though this time it's not a restaurant or a flower shop, it's a pumpkin farm her daddy bought her ages ago that was forgotten about (shades of Schitt's Creek!). Jessy Schram (Hannah from Veronica Mars!) makes the requisite number of stupid mistakes before she starts settling into life on the farm... and falling for the guy who has been running it. But because there's not enough cliches already, the guy is a widowed dad (=eyeroll). The acting is better than expected, which is what pushes this into "better than usual" territory.

✓ Okay October Kiss (Fall Harvest • Ashley Williams and Sam Jaeger • October 17, 2015)
Poor Poppy can't catch a break... she can't hold a job, can't find a decent guy, and can't figure out a direction in life. But when she's hired as a temporary nanny for a widowed businessman, her luck might start to change. Ashley Williams (♥) is a total natural in these things and Sam Jaeger is great, but I couldn't get over the kids (WE DON'T WANT HER TO BE OUR MOMMY, WE WANT YOU TO MARRY OUR DAD!). They improve by the end, of course, but never so much that I was able to fully invest in this flick.

✓ 'Tis the Season for Love (Countdown to Christmas • Sarah Lancaster and Brendan Penny • November 1, 2015)
So. Boring. Struggling actress in New York City heads back to her small-town home to spend Christmas with her mom. While there she finds that the love she left behind has moved on, is married, and has a family, which causes her to doubt her life choices. But then a visit to Santa sends her in a new direction... and a shot at a new love! But when her big break finally arrives, will she grab the brass ring in NYC or give up her dreams for a man? If you have to wonder what happens, you've never seen a Hallmark film before! Yes, it's formula, but it drops below average because of the snooze-inducing, boring story. Characters? Also boring. Don't watch this one too close to bedtime.

Ice Sculpture Christmas (Countdown to Christmas • Rachel Boston, David Alpay, and Brenda Strong • November 7, 2015)
Not seen yet.

✓ Charming Christmas (Countdown to Christmas • Julie Benz and David Sutcliffe • November 8, 2015)
This is a genuinely bizarre Hallmark movie. Or rather... three stories which are intertwined into a single Hallmark movie. The main story is the woman who is heir to the Rossman's Department Store who has to assume the role of Mrs. Clause for the Official Store Santa, the mysterious "Nick," when her parents retire. The second story is a woman having custody issues over her son. The third story is a woman who wants to resume dancing after an injury, but her body... and husband... may have other plans. Sadly, as much as I like Julie Benz and love David Sutcliffe, I was bored by their story. It would be okay if the two other stories were worth the price of admission, but they really aren't. Maybe it's because you don't get the time needed to get invested, I dunno. What's odd is that the idea behind the movie is such a good one.

✓ I'm Not Ready for Christmas (Countdown to Christmas • Alicia Witt and George Stults • November 14, 2015)
Because Jim Carrey's Liar Liar was way back in 1997, it must be time to remake it, right? But instead of getting somebody who can make it crazy-fun when a Christmas wish to Santa comes true and they can't lie... let's get Alicia Witt! Deja vu ensues. What a waste of George Stults. I wish when they remake an old story that they'd put at least a little effort to make it interesting.

✓ Favorite Christmas Incorporated (Countdown to Christmas • Shenae Grimes and Steve Lund • November 15, 2015)
Degrassi alum Shenae Grimes is out of work and having a tough time finding a new job. Following an overheard tip, she ends up applying for a job as assistant to the ovary-scorching Steve Lund (IT'S JAKE FROM SCHITT'S CREEK!). Thanks to a case of mistaken identity (and Shenae Grimes being entirely overqualified), she impresses everybody and wins the position. BUT WILL SHE ALSO WIN STEVE LUND'S CHRISTMAS-HATING HEART?!? Lord, I should certainly hope so, because he is ever so dreamy! Their first assignment? Head to a small town and evaluate a toy factory to see if he can get away with closing it and putting everybody out of work to save a buck. Such a Scrooge! Can Shenae Grimes change his mind and save Christmas for an entire town? Can she infuse Steve Lund with the Christmas spirit and melt his cold, cold heart? Oh probably. The leads are flawless, the chemistry perfect, the story fun (and funny!). Everything about this movie just works, and it became a Hallmark favorite within the first 30 minutes.

Northpole: Open for Christmas (Countdown to Christmas • Lori Loughlin, Bailee Madison, and Dermot Mulroney • November 21, 2015)
Not seen yet.

✓ Merry Matrimony (Countdown to Christmas • Jessica Lowndes and Christopher Russell • November 22, 2015)
An ad exec (and "Christmas Queen") has to organize a perfect Christmas wedding for a fashion magazine so she can become a partner at her firm. But, uh oh, the photographer on the assignment is her ex-boyfriend! HOW AWFUL! THEY BETTER NOT FALL IN LOVE! But of course they do. This film is wildly uneventful and chemistry-free. But, even worse, whomever wrote this has zero idea how advertising campaigns work. Just once I'd love it if people would research something before injecting it into their script. HOW DO YOU TEASE A CAMPAIGN THAT YOU DECIDE TO DO AN "EMERGENCY RESHOOT" FOR?!? BIG CAMPAIGNS ARE PLANNED OUT MONTHS IN ADVANCE JUST IN CASE YOU DO NEED TO RESHOOT! YET HERE THEY ARE, CREATING A CHRISTMAS WEDDING CAMPAIGN AT CHRISTMAS! AND THERE WERE NO TALENTED PHOTOGRAPHERS IN ALL OF NEW YORK CITY SO THEY HAD TO CALL A GUY... IN PARIS?!? How can an ONLINE magazine even afford that? And, lastly, this is supposed to be a high fashion magazine... but all the fashion in it is laughably basic? Did the people behind this even bother to look at the kind of clothes that are in a high-end fashion magazine? Ugh. The lapses in logic are so overwhelmingly stupid that I needed to be a lot drunker than I was to be able to stomach all of the idiocy.

✓ Good Once Upon a Holiday (Countdown to Christmas • Briana Evigan and Paul Campbell • November 25, 2015)
Here we go again with yet another "Princess-Goes-Slumming-To-See-How-The-Common-Folk-Live-And-Falls-In-Love" movies. =sigh= The difference being that all those other movies don't have Paul Campbell in them, who really has a knack from being a relatable male lead in these things. And so... Princess falls for a genuinely nice guy who helps out after a mugger takes her beloved camera and, shocker, he totally doesn't know she's a princess so he gives her a few bucks since she has no wallet and no phone. Yada yada yada... YOU LIED TO ME! Yada yada yada... I LOVE YOU ANYWAY! Yada yada yada... happily ever after. And along the way we get a visit from Greg Evigan, who is the co-lead's real-life dad! This is a middle-of-the-road movie that rises above because of the performances (except how the princess takes photos while walking... hope she likes a lot of blur). Good, wholesome, sweet holiday fun! And the ending is flawless.

✓ 12 Gifts of Christmas (Countdown to Christmas • Katrina Law and Aaron O'Connell • November 26, 2015)
A starving artist with a knack for picking out the perfect gift gets a job as a personal Christmas shopper for a busy executive who has no time for all this Christmas nonsense! But as she helps him to navigate holiday gift-giving, she shows him that gifts aren't important because of how much they cost... but the thought behind them. And, oh yeah, YOU MAY NOT BELIEVE THIS, BUT THEY FALL IN LOVE ALONG THE WAY! Yes, I'm totally serious! Try to hold in your disbelief. This movie was not bad. The leads were pretty good and the story wasn't awful. Would have been a little nice to get a few surprises, but I guess you can't have everything. One surprise I could have done without? That hideous necklace he gives her. Yikes.

✓ Good Crown for Christmas (Countdown to Christmas • Danica McKellar and Rupert Penry-Jones • November 27, 2015)
Ever-adorable Danica McKellar is a maid in a fancy hotel who gets fired just in time for the holidays. BOO! But she gets a temp job as a governess for a wealthy aristocratic family in Europe. YAY! But the girl she's in charge of is a royal princess and also a horrible royal pain. BOO! But her father the king is a handsome widower who takes a fancy to Danica McKellar. YAY! But he's betrothed to a countess. BOO! This is essentially The Sound of Music for one kid instead of a slew of them. Yes it's cheesy and painfully predictable because you've seen it a hundred times before, but Danica McKellar completely makes it work because she's just so darn lovable.

✓ A Christmas Detour (Countdown to Christmas • Candace Cameron Bure and Paul Greene • November 28, 2015)
While I don't usually mind Candace Cameron in these things, in this one she's irritating to the point of distraction. Fussy, grating, and totally self-absorbed, she makes you loathe her from the first moment she appears on screen. In this installment, she's a writer trying to get to The Hamptons so she can spend the holidays with her fiancé's family. Since she's the writer of a "finding the perfect husband" article, she's confident that he's her perfect match. Her plans are foiled when a storm forces her plane to land in Buffalo. Unwilling to wait for the storm to pass, she teams up with a laid-back guy and a couple married 20 years to drive there instead. Of course she's had run-ins with the guy already and they irritate each other horribly, because that's the way all these things start out don't they? Of course she ends up falling for the guy and decides to ditch her fiancé despite promising to marry him, all because she decides he doesn't make her laugh enough. Savage. And cruel. And not one of Hallmark's best.

✓ Angel of Christmas (Countdown to Christmas • Jennifer Finnigan and Jonathan Scarfe • November 29, 2015)
Poor Jennifer Finnigan wants nothing more than to be a writer for the newspaper she works for. Alas, she seems forever destined to be a copy editor because she can't seem to find a personal angle to create a story that the paper editor will like. And then... she gets one last chance to write an amazing Christmas story. Too bad she lost her Christmas spirit after getting dumped on Christmas two years ago. But then her mom gives her a Christmas angel carved by her great grandfather which has the magical ability to bring two people together and fall in love. Her editor flips over the idea... but now she has to actually write it. All the while running into an artist guy with perpetual paint smeared on his face who may very well be her destiny! Whats amazing is how much logic has to be ignored just to buy into this story. She has to take an entire month to write ONE puff piece story? She takes weeks to uncover the mystery of who inspired the angel? She lives in a fabulous apartment in New York City on a junior copy editor's salary? And what about the outlandish connection between the newspaper girl and artist guy from their shared history? Plus... that wooden angel was hideous. Not a horrible movie, but it's just so ridiculous.

Just in Time for Christmas (Countdown to Christmas • Eloise Mumford, Michael Stahl-David, and Christopher Lloyd • December 5, 2015)
Not seen yet.

✓ Karen Kingsbury's The Bridge (Countdown to Christmas • Katie Findlay and Wyatt Nash • December 6, 2015)
I put off watching this movie for like... forever... because it was a two=parter, and Hallmark book adaptations aren't really my thing. They rarely work that well. Anyway... I eventually relented after watching Wyatt Nash in Like Cats & Dogs (2017). He was really good in it (I remembered him from Survivor: Redemption Island), and I wanted to see if it was a fluke. It really wasn't. No, he's not the greatest actor in the world, but he really has a knack for this kind of film. Anyway... After Faith Ford(!) and Ted McGinley(!!) fall in love at a book store, get married, get pregnant, then lose the baby... they pack up and move for a fresh start. There they open a bookstore called "The Bridge." It's here that college student Wyatt Nash falls in love with another student, not knowing that her father is an evil incarnate billionaire. Three hours of drama ensues. This was a perfectly acceptable Hallmark movie, but it really should have been abbreviated down to two hours. Alas, Hallmark wants all their movies to be in 90 minute chunks so they can air them with 30 minutes of commercials in a 2-hour block, so here we are. Too much material for 90 minutes, but overly-dramatized and drawn-out for 180 minutes... so they'll pad it out with idiotic things like Ted McGinley trying to get Faith Ford to go to church with him. ZZZzzzzz. Oh well. It's Hallmark, so what can you do? And speaking of that... this two-part movie is infamous because Hallmark originally aired the first part for Christmas 2015... and the second part FOR CHRISTMAS 2016! That's right. Viewers had to wait an entire year find out what happens! Yikes. To wrap up: okay flick, good performance by Wyatt Nash, but a way too long, overly-dramatic, movie that SHOULD be edited down to two hours or less... centered around an amazing book store that I wish existed in my town. The end.

✓ On the Twelfth Day of Christmas (Countdown to Christmas • Brooke Nevin and Robin Dunne • December 12, 2015)
Two people working at a college radio station have their lives intertwined when the guy volunteers to drive the gal home for Christmas. Along the way, traffic is stalled and it looked like she wouldn't make it home... so the guy tried to give her the best Christmas ever by making snow angels outside his truck! But she makes it home after all, that's the end of it, and their lives go their separate ways. Until the guy comes back to her small town to work at their radio station! She's now a journalist working at the small-town paper which was just bought out by a mega-media-corp. Problem is... the guy has gone from loving Christmas to HATING Christmas! He won't even play Christmas music on his radio show! Can she play his Secret Santa and bring back his Christmas spirit by giving him gifts for tasks matching the Twelve Days of Christmas? Oh probably. Though it's kinda nuts how he couldn't figure out who was sending him the gifts... especially after she was tasked with writing a story about him. The story idea was good and the couple was cute enough, but it didn't feel like there was much here. And as the fervor grows over the story, it just seems that much more ridiculous.

✓ Okay A Christmas Melody (Countdown to Christmas • Lacey Chabert and Brennan Elliott • December 19, 2015)
This movie... AKA That Hallmark Christmas Movie with Mariah Carey... was clearly built around jamming a famous musician into a holiday story. What's weird is they jammed her into a movie with Lacey Chabert, who is a big enough draw all by herself. "But how did they convince a mega-star like Mariah Carey to even star in one of these things?" you may be asking yourself. Well, you let her direct it. Well, whatever. The story is fairly straightforward... Lacey Chabert is a widowed mother who has to give up her dream of running a fashion business in Los Angeles to return to her hometown of Silver Falls, Ohio, where she immediately runs afoul of Mariah Carey, the president of the PTA (and their daughters don't get off to a great start either). But she has a much better run-in with the music teacher (wink wink). And... is the school janitor actually... SANTA CLAUS!?! What's so funny here is that Mariah would want to play the "bad guy" in her directorial debut... or any movie, really. Surprisingly, this was not as awful as you might think. Lacey Chabert was her usual charming self. Mariah Carey did great (both in front of and behind the camera). The little girl's performance was pretty stellar. And the story may be straightforward but it's not bad. It's a Christmas miracle!

✓ Christmas Land (Countdown to Christmas • Nikki Deloach and Luke Macfarlane • December 20, 2015)
Marcia Marcia Marcia Brady is the owner of Christmas Land, a winter tourist attraction that has languished as she grew older. When she dies, her granddaughter Nikki Deloach inherits the place. Thanks to Luke Macfarlane telling everybody that she was going to reopen it, the whole town is excited for her to arrive. But, surprise, she has no intention of opening it back up... she wants to sell it. But then an annoying brat asks her if she's the "Christmas Angel" who's going to re-open Christmas Land, and she decides to go ahead and do it (HELLA-LAME!). Eventually she has to decide whether she is going to revitalize Christmas Land and live up to her grandmother's legacy... or sell it to Al from Tool Time. Her boyfriend back in New York City wants her to sell. Her grandmother's lawyer wants her to invest and re-open. Alas, her grandmother's lawyer is dreamy Luke Macfarlane, so I think we all know what happens there. Cute in spots, but ultimately forgettable, the only reason this one is even a blip on my radar is because of the leads, which are great.

When Calls the Heart: New Year's Wish (Countdown to Christmas • Erin Krakow, Daniel Lissing, and Lori Loughlin • December 26, 2015)
Not seen yet.
Hallmark Movies & Mysteries Channel Originals 2015

✓ A Gift of Miracles (Rachel Boston and Jesse Moss • February 15, 2015)
When a woman comes across some stuff her late mother left for other people, she decides to track them down and deliver everything... with the help of a college professor who has been helping her with her writing. But given that her mother died 20 years ago, that's a task easier said than done. But as the ball starts rolling, she quickly discovers that everything thing and every one is connected, and nothing in life is quite what it seems. Is this her mother guiding her life from beyond the grave... or just coincidences leading to romance? The story was fairly clichéd and one-note... but the cast managed to do a pretty good job with it, saving the film from disastrous unwatchability.

✓ Love Under the Stars (Ashley Newbrough and Wes Brown • August 16, 2015)
A woman with no direction and no drive meets a widower with an annoying, whiny kid... and that's apparently enough for her to turn her life around. Or something. Most Hallmark movies are predictable, lightweight fun. This one was cloying to the point of nauseam thanks to the little girl who seriously got on my nerves. The shame is that Ashley Newbrough was pretty good in this. She deserved a much more interesting story to make use of her talents. They can't all be winners, sure, but holy cats was this one a step down from the norm.

✓ Good Hello, It's Me (Kellie Martin and Kavan Smith • November 29, 2015)
After her husband dies in a boating accident, Kellie Martin doesn't think she will ever love again. But on the two-year anniversary of his death, she meets a rich guy who falls in like with her after he nearly runs her and her kids down while they are carrying boxes of cookies(!). Which, let's face it, she's Kellie Martin, so how could he not? And because she's Kellie Martin, this movie is pretty great. After she gets a message from her husband in the great beyond(!) on her glitchy iPhone(!) telling her it's time to move on, she might be ready to take a chance. This film is charming and sweet, mostly because they got the right couple to play the leads. You could put these two in a Clorox commercial and it would be watchable. There were annoying enough parts to suffer through, but overall a pretty good flick.

✓ The Christmas Note (The Most Wonderful Movies of Christmas • Jamie-Lynn Sigler and Leah Gibson • September 27, 2015)
Meadow Soprano moves back to her hometown with her young son (who immediately runs afoul of their neighbor just for trying to be friendly). Her husband is in the military overseas, so the holidays aren't going to be especially merry and bright. The very next day, a man shows up and asks Meadow Soprano to let her neighbor know that her mom is dead and she needs to clean out her place by the end of the week. Too nice to make her do it alone, Meadow Soprano goes with her. While cleaning out the apartment, they discover a note saying that the neighbor has a sibling that was given up for adoption that she never knew about. After the commercial break we learn that Meadow Soprano was adopted. OH MY! YOU DON'T THINK... NAH! IT COULDN'T BE! As the search for the mystery sibling wears on, the two women become friends... almost like... SISTERS?!?? It's kind of shameful just how blatantly they telegraph the ending, which means you're essentially just spinning your wheels the entire movie until what you know is going to happen actually happens. Still... the performances are good (the kid is actually kinda great) and the story is not terrible. The only thing that's gag-inducing is the freak-out which occurs when Meadow Soprano and the kid find out the dad can't come home until after Christmas. Lord. You'd think he had died. But then... a Christmas miracle! =sigh=

✓ Magic Stocking (The Most Wonderful Movies of Christmas • Bridget Regan and Victor Webster • December 6, 2015)
A single mom widow of three years doesn't even want to think of a new romance... especially around the holidays when her late husband took charge of the decorating. But when her daughter gets an old gaudy stocking as a freebie when buying some holiday crafts, things may start to change! The stocking keeps falling off the mantle, and each time some random item appears inside that guides their lives in a new direction. MAGIC! And one of those directions just might be into the arms of a handsome gazebo contractor! This is not the greatest Hallmark movie (it kind of drags and takes way too long to build up steam, then waffles way too long). AND it has an idiotic plot point at the end built around a lightbulb (every Christmas light in the ENTIRE town is strung together and plugged into a SINGLE outlet? Sure, Jan), but it does have the cutest possible puppies in it, so there's that.

✓ Debbie Macomber's Dashing Through the Snow (The Most Wonderful Movies of Christmas • Meghan Ory and Andrew Walker • December 13, 2015)
Yet another "Guy-Rents-The-Last-Car-So-Now-Woman-Can't-Get-Home-For-The-Holidays" movie. At least this time the woman actually questions the sanity of climbing into a car with a guy she doesn't know for a road trip. Andrew Walker is his usual awesome self, but Meghan Ory was a boat-load of neurotic crazy that left me wondering how in the heck we're supposed to believe that Andrew Walker would ever fall in love with her. Holy crap does this lazy stereotype get old. I spent most of the movie hoping that the FBI agents who mistook her for a terrorist eventually catch up to her so they can mow her down in a hail of bullets. Then maybe Andrew Walker could find a nice girl and settle down. I wish I would have known that they do a complete retrospective wrap-up at the very end, because that would have saved me from watching this clunker.
Netflix Originals 2015

✓ A Dogwalker's Christmas Tale (Lexi Giovagnoli, Jonathan Bennett, and Jonathan Bennett's teeth • November 10, 2015
When you're retelling the same old story, you need leading characters who can make it feel fresh and new. Annoying as hell Lexi Giovagnoli and Jonathan Bennett (who's usually really good) with his obscenely white teeth are not those leads. Woman takes a job dog-walking when she needs money for Christmas, meets a guy, falls in love, and must help him SAVE THE DOG PARK from her evil boss. Or something like that. To tell you the truth, I was bored and falling asleep most of the time.

✓ BAD Merry Kissmas (Karissa Lee Staples and Brant Daugherty • December 5, 2015
Why? WHYYYYYYYY?!?!???? This would be bad by Hallmark standards. It's crushingly bad by Netflix standards. After a half hour of this dreck, I just fast-forwarded to the end to see if there was anything remotely interesting to make me want to see the whole thing. Nope. Don't even bother.

✓ Favorite The Spirit of Christmas (Kati Salowsky and Thomas Boiduin • December 19, 2015)
Welp, here it is. The movie that changed everything. I was bored and Netflixing and saw what I thought was a ghost story... which is was... but it was more like a romance movie that happened to have a ghost in it. It didn't suck horribly, and I was pleasantly surprised. When I mentioned Spirit of Christmas, everybody thought I was talking about a Hallmark movie, which I didn't even know about. And so I made it my business to find out. And here we are. Anyway... Kate is a no-nonsense lawyer who is charged with selling a haunted estate. The ghost is the smoking hot, ovary-melting Thomas Boiduin, who is cursed to haunt the house after his murder, appearing only during the twelve days of Christmas. Not only does he materialize, but he is tangible so he can actually touch stuff. Including Kate. Together Kate and the ghost work together to uncover what happened to him before he disappears for another year. To the shock of nobody, they fall in love. The result is a pretty good flick for any genre.
Other Originals 2015

✓ Adventures in Love and Babysitting (AKA Bound & Babysitting — Tammin Sursok and Travis Van Winkle) • January 1, 2015
Good thing I wasn't expecting much because this one fell below even my bottom-basement expectations. Couple with two kids loses their babysitter just before they're leaving for Hawaii. SHE asks her best friend Maggie. HE asks his best friend Alex. Between the two of them they have babysitting duties covered! Too bad Maggie and Alex hate each other. Which means that they'll totally be falling in love, right? Of course they will. As forced and ridiculous a relationship as it may be. And as forced and ridiculous as the plot, story, and acting may be.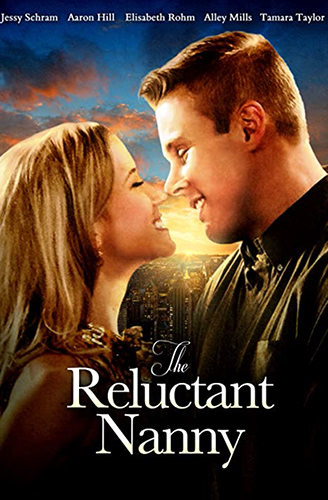 ✓ The Reluctant Nanny (Jessy Schram and Aaron Hill) • February 14, 2015
When a woman moves for a job only to have the job evaporate on her first day, she ends up taking a temporary nanny job for a police officer who has taken in two foster kids. What starts out as a disaster quickly becomes something entirely different as she becomes attached to the kids... and the officer. The movie itself is pretty basic with some absurd gaps of logic, saved only by Jessy Schram being her normal charming self. I mean, the guy lives in a large, two-story, double-garage home that only has two bedrooms and Jessy Schram has to sleep in his office/man-cave? Who comes up with this stuff?

✓ Romantically Speaking (Heather Morris, Jonathan Bennett • April 9, 2015
Radio talk show host spends her days dishing out romance advice while living under the shadow of her famous sports talk show host father. Then, much to her horror, she gets dumped by her perfect boyfriend just when a competition is heating up for some kind of promotion deal between her and some truly awful woman. But then her best friend is mistaken for her perfect boyfriend, and he has to pretend to be the guy so she doesn't lose her chance at promotion. I'll give you ONE guess as to what happens. Ultimately this was a tired concept made good thanks to the leads (and a surprise appearance by Teri Polo!).

✓ You Cast a Spell on Me (Nikki Deloach and Ryan McPartlin) • October 6, 2015
Weird! A council of witches demands that a guy with witch powers over women get married by Halloween (a week away)... or he has to marry his best friend (and fellow witch), even though they only love each other as friends. If he doesn't, he loses his witch powers forever! But then he meets a psychologist at a Halloween party... and she's dressed as a witch... and his powers don't work on her! Mistaking her for a real witch like him, he falls head over heels and kisses her. And apparently this transfers his powers to her. Or something like that. I really wanted to like this one because the concept was a nice change from your usual Hallmark fare, but it just didn't work very well. Things happen just because the story needed them to, so nothing made much sense.

✓ The Right Girl (Anna Hutchison and Jonathan Patrick Moore) • November 15, 2015
There's been a number of these "rich guy/gal loses all their money and has to learn how normal people live" movies. After seeing more than my fair share, I've found that whether or not their good or bad depends on two things... 1) How awful they make the character when they're rich... and 2) How stupid the character is when they adjust to being poor. This one is about average for both. She's not so terrible as to be irredeemable when she's wealthy and she's not so clueless as to be an idiot. Despite it all, this one has a twist at the end that was handled so badly that it kinda sinks the film. And it's not even the pathetic YOU LIED TO ME! trope, but something even worse... believe it or not. Kinda a shame because if it had been handled better, this could have worked.