Here's a checklist of all the Hallmark original romance movies from 2013 along with my comments on those I've seen.
Special movies of note are marked Favorite, Good, Okay, and BAD.
Hallmark Channel Originals 2013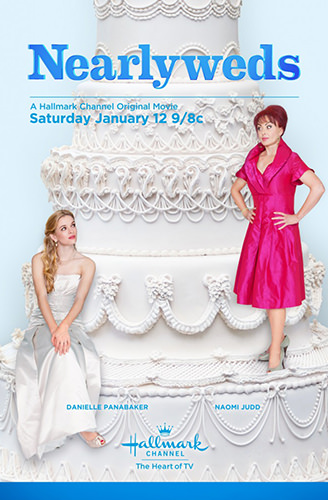 ✓ Good Nearlyweds (Danielle Panabaker, Jessica Parker Kennedy, and Britt Irvin • January 12, 2013)
Hey! Is that Wayne from Letterkenny? Sadly, his tiny bit part was probably the most memorable thing about this movie for me. Three friends get married by the same pastor... only to find that he never filed the paperwork to make their marriages legal before dying. Since each one of them is having newlywed drama that is making them reconsider whether they even want to be married... maybe it's a blessing in disguise? I thought this was a pretty good movie. It was just twisty enough to be worth watching... and I liked how it all ended. But best of all? It was different from the standard Hallmark fare we keep seeing over and over.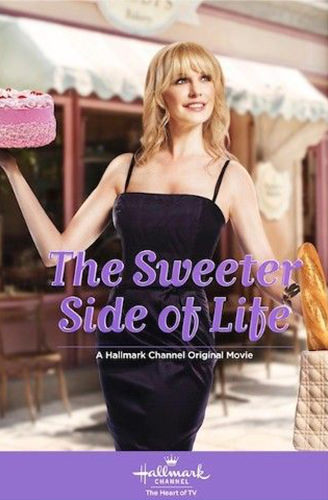 ✓ The Sweeter Side of Life (Kathryn Morris and James Best • January 19, 2013)
When a wealthy Manhattan socialite wife is dumped by her doctor husband for his 20-year-old acupuncturist, she's left with nothing thanks to an iron-clad prenup. Forced to move in with her dad in New Jersey and help out at the family bakery (which, of course, IS STRUGGLING TO STAY OPEN), she takes advantage of her business degree to turn her life (and the bakery) around. Of course romance is just around the corner too. This would have been a nice story if not for the idiotic slapstick comedy dumbassery. I mean, haven't we seen a disaster in the kitchen by somebody trying to bake... like... A BILLION TIMES ALREADY? HA HA HA HA HA! FLOUR DUMPED ON HER HEAD! HA HA HA HA HA! HE SPRAYED MILK IN HIS FACE FROM THE CAPPUCCINO MACHINE! SO HILARIOUS! No thanks.

✓ Okay The Makeover (Hallmark Hall of Fame • Julia Styles and David Walton • January 27, 2013)
It's a gender-reversed Pygmalion! Instead of Eliza Doolittle, it's Elliot Doolittle. When a woman loses a Congressional election because she's not at all relatable to the public at large, she decides to run an uneducated but highly likable guy when the seat becomes available again shortly after election. This is a tired idea for a movie, having been done dozens of times before. Out of all the "transformation" films I've seen, this is somewhere in the middle of the pack. They tried to add a little comedy to things, which was nice, but Julia Styles' character is viciously mean and unlikable. It makes absolutely no sense that Elliot Doolittle would ever fall for her. One can only assume that he ended up liking her because nobody else was available. The movie was okay. It could have been so much better.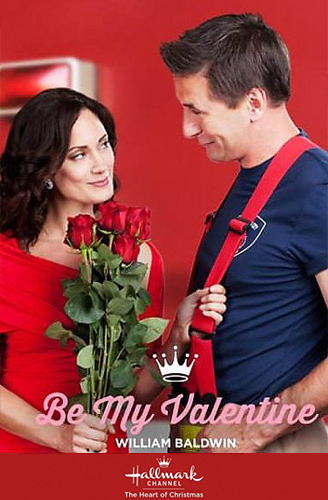 ✓ Be My Valentine (William Baldwin and Natalie Brown • February 9, 2013)
I don't know why I always expect that Billy Baldwin will be tragically bad in these things, because he never is. Certainly no worse than most of the other Hallmark guys. Sadly, no actor could save this snooze-fest of a movie. It just meandered until the only conclusion that a movie with a bachelor auction at the end can have. And I truly didn't get the whole ex-boyfriend angle. He wasn't a threat until he was, then suddenly he wasn't again. And the way they tried to mirror romantic problems between the guy and his kid felt like a kludge for not having anything more interesting for the lead character. I kept waiting for a clever moment to pop up. It never did.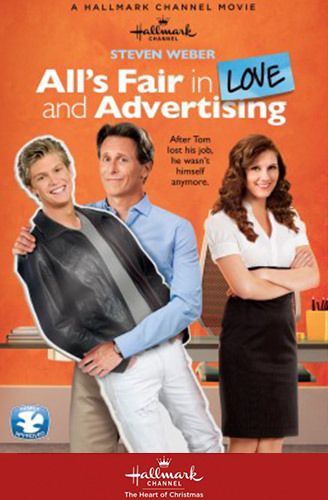 ✓ All's Fair In Love and Advertising (Steven Weber and Andrew Francis • March 16, 2013)
I'M OLD! HOW DO YOU WORK THIS DARN PHONE! A 50-year-old advertising executive is put on shaky career ground when the company he works for is bought out. Considered over the hill and unemployable in his field, he enlists a young con artist to stand in for him at the company that bought out his old one... while he does all the work behind the scenes. It's all going great until he and the con artist fall for the same woman. What will happen when the truth comes out? Nothing entirely unexpected, that's for sure. I thought the idea of the story was fine... but you don't fight ageist attitudes by propagating ageist tropes, and that's where things kind of fell apart for me.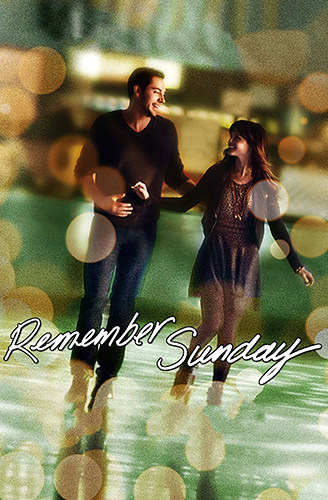 ✓ Good Remember Sunday (Alexis Bledel and Zachary Levi • April 21, 2013)
Rory Gilmore is a waitress struggling to make ends meet. Chuck Bartowski works in a jewelry store and has a faulty short-term memory. A 50 First Dates-like story unfolds between these flower-and-star-crossed lovers. This movie takes place in New Orleans and, since they had Hallmark Hall of Fame money to spend, it was actually shot there. The story is charming and sweet and also profoundly sad. Not necessarily because of the memory condition... though it is tragic and I should know because I went through it with my mom... but because the guy's "best friend" is a raging jerk at times because he can't remember. I understand it can be frustrating... better than most people... but it's really inexcusable and more than a little scary that people can treat someone this poorly. Still, a good film that was a nice diversion from reality.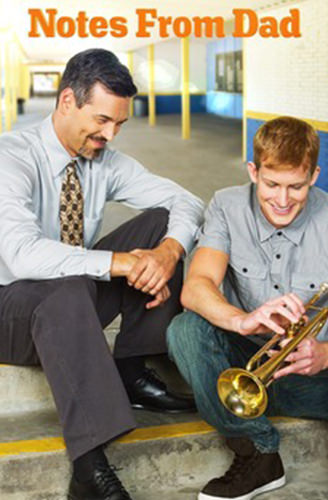 ✓ Good Notes From Dad (Eddie Cibrian and Chris Sheffield • June 15, 2013)
I'm just going to get this out of the way... I think Eddie Cibrian is a gifted actor who manages to bring a "naturalness and effortlessness" to his characters that seems under-appreciated. This is on full display in his role as a music teacher who is trying to save his department and the school from closing. To do this he wants to bring back school band so he can gain support from the public. But his star pupil has problems at home which makes band a problematic endeavor. This movie could have fallen apart really fast if the kid wasn't able to hold his own, but Chris Sheffield manages just fine. Toss in Michael Beach and Alan Thicke and all you have to do is have a story that's worth watching. This one is pretty good all the way around despite some serious lapses into Lameville and a silly idea that getting the prodigy kid to join the band will all of a sudden make them not suck. Still, a pretty good flick.

Banner 4th of July (Brooke White and Mercedes Ruehl • June 29, 2013)
Not seen yet.

✓ Favorite Second Chances (Alison Sweeney and Greg Vaughan • July 27, 2013)
This movie escaped me for so long because every time Hallmark would advertise it, they would run something else. Then... finally... in 2020 I managed to catch it. So good. A 9-1-1 operator whose husband ran off and left her alone with their two kids has her hours cut and needs a way to make extra money. She decides to rent out a room in her house. Meanwhile, one of the firefighters she knows but has never met gets hurt on the job and had to stay off his leg. Since he lives in a third-floor walk-up, he has to find a new place to live while he recovers. I think you know where this is headed. But the predictable story is not what keeps you interested... it's the performances. Alison Sweeney and Greg Vaughan are fantastic, and even the two kids do a terrific job, not coming across as horribly annoying at all. In fact, the secondary story with the kids reading to people at a nursing home so they can earn money, is part of the movie's charm. As is a guest-appearance by Ed Asner. Really disappointed that Hallmark hasn't released this on home video.

Reading, Writing, and Romance (Eric Mabius, Virginia Williams and Stefanie Powers • August 10, 2013)
Not seen yet.

✓ This Magic Moment (Diane Neal and Travis Schuldt • August 17, 2013)
Movie production rolls into a small town along with its major movie star. When a local man and shop owner (named Clark Gable, HA HA HA HA!) gets cast as an extra on the movie, a boring friendship forms between him and the star. Then, all of a sudden it's the end of the movie and they're in love... BUT NOT WITH EACH OTHER?!? =gasp= I didn't really buy the lead story, but the secondary romance between Clark Gable's sister and his friend really, really should have gotten more screen time because it's far more fun... "Just remember, she's my sister and I know where you live." — "Don't worry. I will treat her exactly like she's my own sister." — "Huh?" — "Uh... not exactly."

✓ Chance at Romance (Erin Krakow and Ryan McPartin • October 5, 2013)
This movie has a male lead character named "Heath Mansen," so you just know what's in store before you even start. The plot at least tries to be unique. Woman is a huge fan of a photographer and just happens to meet said photographer on the street outside his gallery show. Taking a chance that the spark she felt was mutual, she emails to him on his website. Unfortunately for her, the website is run by the guy's surprisingly not-so-terribly-annoying son, who pretends to be his dad online. After some back-and-forth, she gets invited to their home... only to find out, surprise, Heath Madsen doesn't even know she exists! Everything that follows is not terrible by Hallmark standards, but the end it so laughably bad that I was actually groaning. NOBODY CARES ABOUT YOUR PHOTO SHOW FEATURING NOTHING BUT WEIRD PHOTOS OF THIS WOMAN YOU LIKE. Ugh.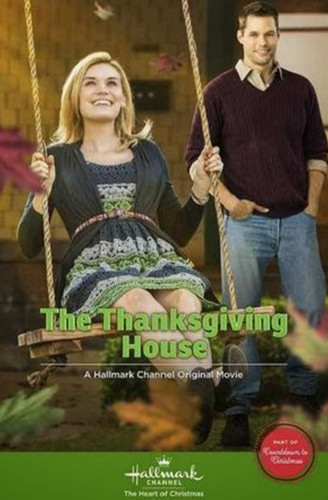 ✓ The Thanksgiving House (Countdown to Christmas • Emily Rose and Justin Bruening • November 2, 2013)
When a woman's aunt dies, she inherits a house. Her boyfriend wants her to sell it to make a quick buck, but she's not sure she wants to let it go because of all the happy childhood memories she has there. But there's a bit of a setback when a historian claims that the house may be sitting on the site of the very first Thanksgiving! This is an interesting premise to shoehorn Thanksgiving into a Hallmark romance, but I'm not sure how successful it was. The idea is pretty absurd and the woman is over-the-top mean at the start. But still... different is good!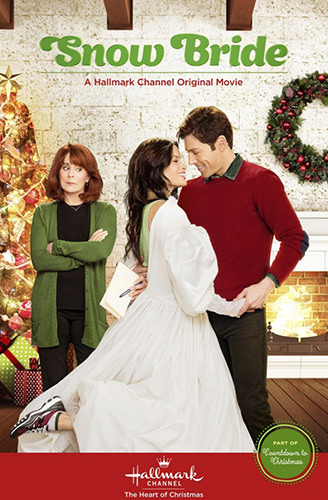 ✓ Good Snow Bride (Countdown to Christmas • Katrina Law and Jordan Belfi • November 9, 2013)
Ruthless tabloid reporter is vying for some juicy gossip on a wealthy political family so she can beat her rival to the scoop and win a coveted job. But when she gets a bit too reckless and ends up stranded in Big Bear in blinding snow with nothing but somebody else's wedding dress to keep her warm. She arrives at a cabin on private property a dirty, freezing, mess. Luckily she finds herself rescued by the son of the political family and now has a prime position to get all the dirt she needs. Except... the family is nothing like she expected, and she quickly starts to feel guilty about infiltrating them on a lie. Especially the guy who saved her, who she finds to be quite the snack. This is a nice movie with good characters and a story that's not half-bad! Still predictable, of course, but not in a bad way.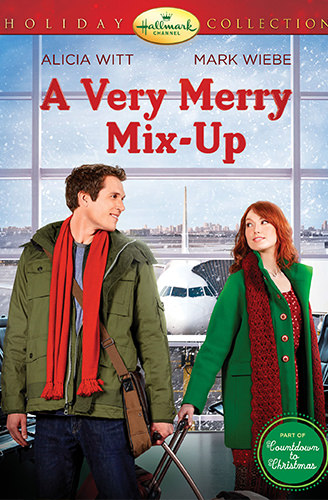 ✓ Good A Very Merry Mix-Up (Countdown to Christmas • Alicia Witt and Mark Wiebe • November 10, 2013)
"This is weird." Alia of the Knife Atreides is traveling ahead to meet her future parents-in-law. But when her luggage is lost and her phone with the address is ruined by a random guy spilling her coffee on her, she has no idea where she's going. Except... GET THIS... the random guy JUST HAPPENS TO BE HER FIANCÉ'S BROTHER! IMAGINE THE ODDS! At least he SAYS he's her fiancé's brother... he might be a guy trying to get her in his car so he can murder her. And she totally trusts him with absolutely no credentials to prove he is who he says he is, so I was fully expecting her to get murdered. But anyway... as she hangs out with the family... and hangs out with her future brother-in-law... she falls in love with them. And him. So of course they have to make her fiancé be an egotistical jerk who doesn't care about her as much as he cares about making deals. That way it's okay that she cheats on him with the brother! While not terrible (I actually liked the story twist that I didn't see coming... and her not getting murdered), I have a hard time getting past stories where the only way to make it work is to inexplicably make somebody be evil who wasn't evil until the story called for them to be evil. But that's Hallmark for you.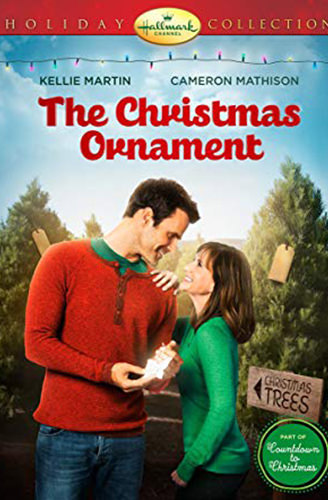 ✓ Good The Christmas Ornament (Countdown to Christmas • Kellie Martin and Cameron Mathison • November 16, 2013)
I reeeeeally like Kellie Martin. Fortunately, finding her is never a problem because she's working constantly and has a number of series and movie series in rotation on Hallmark (Mystery Woman and Hailey Dean Mysteries to name a couple)... she's just so genuine and sweet. Which is why she was perfect in this. A widow is having a hard time keeping her late husband's cycle shop open and wants no part of the Christmas holidays because it brings back memories of him. But when Cameron Mathison comes along and delivers a Christmas tree from her best friend... along with an ornament to put on it from him... she finds herself falling into the Christmas spirit again. And falling in love with Cameron Mathison! A nice holiday diversion held together from two really good performances made this one of my favorites from this year (despite being a shameless and painfully obvious plug for Hallmark ornaments).

✓ Okay Catch a Christmas Star (Countdown to Christmas • Shannon Elizabeth and Steve Byers • November 17, 2013)
Shannon Elizabeth is obviously the draw here, but the real star of this movie is Steve Byers. He plays a widowed dad with two kids who just happened to have dated one of the biggest singing stars on earth back in high school. When his daughter, who is a huge fan, finds out about her dad's past, she naturally thinks she's found a new boyfriend for him. One unescorted trip to Manhattan with her little brother later, and Shannon Elizabeth is in their lives. The entire story hinges on the dad being convincing as the guy who got left behind and has done his best to live through tragedy, and that's where Steve Byers nails it. This story has been told many times before... some of those many times by Hallmark... but this one escapes the middle of the pack. Sadly it kinda self-sabotages at the end, but you can't have everything.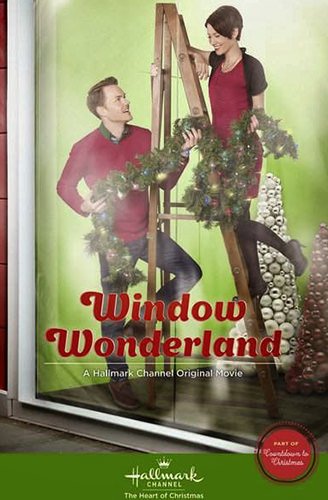 ✓ Good Window Wonderland (Countdown to Christmas • Chyler Leigh and Paul Campbell • November 23, 2013)
Because I have a total crush on Chyler Leigh... and Paul Campbell is one of my favorite Hallmark actors, I had high hopes for this one. Two employees of a department store want the same job dressing windows: uptight and professional Chyler Leigh... and laid-back Paul Campbell. Their boss's solution? Have a competition and see who's window displays are a bigger hit with the public. But as the battle wages on, they may just end up being a hit with each other! Or will they? Because Chyler Leigh's boyfriend is... Cameron Mathison?!? Both lead actors do an admirable job in their roles (Campbell owns charming and aloof) and their chemistry makes the entire movie what it is. Except, like I said, not perfect. The idea that somebody could live in a department store without being caught is such a massive plot hole as to be laughable, plus there are other holes as well (cell phones don't work in the store and... what... none of the office phones work either?). And yet... the ending was wonderful and I could watch Paul Campbell in even the worst movie and still walk away thinking it was okay.

✓ Fir Crazy (Countdown to Christmas • Sarah Lancaster and Eric Johnson • November 24, 2013)
Wait... the bad guy in this one is Colin Mochrie?!? Well that was a surprise. Which is good, because not much else is. Woman loses her job and her boyfriend just in time for the holidays, then ends up selling Christmas trees from her family's farm in Manhattan to help pay the bills. As if selling Christmas trees in the freezing cold wasn't bad enough, Colin Mochrie is trying to shut her down because he doesn't want their trees in front of his store. But in time she rediscovers the Christmas spirit and turns her life around... and meets a big strong man! But before you get there, you have to suffer through some true idiocy... like her trying to unload trees in heels. There was enough that bugged me in this film that I had a tough time liking it very much.

✓ Favorite Let It Snow (Countdown to Christmas • Candace Cameron Bure and Jesse Hutch • November 30, 2013)
So... Candace Cameron's dad is... ALAN THICKE?!? Alrighty then! Chronic workaholic Candace Cameron does resort acquisitions for her dad's company. Despite "not doing snow" she heads to a family ski resort to evaluate it for improvements. Alas, she has a less-than-great start to her trip when she has a run-in with the resort-owner's son (who is flawlessly played with every-man sensibility and charming ease by Jesse Hutch). Intent on making changes which will drag the resort into the 21st century, Candace Cameron is instantly at odds with the resort owner who was promised by her dad that he wouldn't change anything. But then everything changes when Candace Cameron follows the steps to an old wive's tale which promises to make her dream of her future husband. And she dreams of Jesse Hutch?!? Oh noes! Needless to say, the many Christmas traditions and rustic beauty of the resort start working its charms on Candace Cameron... as does Jesse Hutch! This is a sweet and charming story which has everything you want in a Hallmark Christmas movie. It was one of the first of their films I saw, and remains a favorite.

The Christmas Spirit (Countdown to Christmas • Nicollette Sheridan, Bart Johnson and Sammi Hanratty • December 1, 2013)
Not seen yet.

✓ Favorite Christmas in Conway (Hallmark Hall of Fame • Andy Garcia and Mandy Moore • December 1, 2013)
Mandy Moore is a hospice nurse charged with taking care of Mary-Louise Parker who has come home to die. Andy Garcia is the husband of the house who is widely regarded as a jerk by the entire neighborhood. Resentful that there's a stranger living in their house and insisting that he can take care of his wife by himself, Andy Garcia is actually a doting husband who loves his wife very much. Wanting to give Mary Louise Parker one last ride on a Ferris Wheel before she dies, but unable to get her to one because of how sick she is, her husband decides to buy an old one he can restore in their back yard. A Ferris wheel is where he proposed to her, means the world to her, and it seems the perfect present for her last Christmas. There's a lot to be found here... from romance and an ex-student turned landscaper to a nosy neighbor holding a long-time grudge... and it all just... works. This is a beautiful, funny, heartbreaking, and entertaining movie that will rip through you with the happy and hurt of it all. Wonderfully cast and acted... with a story and production values befitting a Hallmark Hall of Fame presentation... this is the definition of a can't miss Hallmark movie.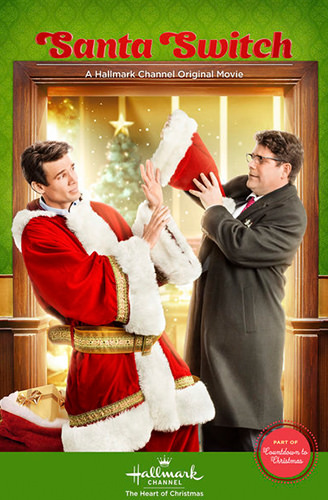 ✓ Santa Switch (Countdown to Christmas • Ethan Erickson and Sean Astin • December 7, 2013)
Desperate to earn some money for the holidays to impress his kids, an unemployed and desperate dad takes a job as Santa. With his wife wanting a divorce after a year's separation and everything going wrong in his life, he suddenly gets a job... from the actual Santa Claus? Yup. Santa wants a vacation and this dad gets the job! And head-elf Sean Astin is there to help. This kind of movie is not really my cup of tea, and this one is even more forgettable seeing as how it's a low-budget version of The Santa Claus. But if you're craving wholesome Hallmark entertainment, this gets the job done.

✓ BAD Hats Off to Christmas! (Countdown to Christmas • Haylie Duff and Antonio Cupo • December 14, 2013)
I tried... I really tried to not let the grotesque absurdity of the laughable concept of a store selling every possible version of Santa hats cause me to dismiss this movie outright. BUT I JUST CAN'T! I mean, it's just one store... not a chain, right? And they are not in a mall or location with a lot of foot-traffic, right? And they are in a small, rural town, right? And they don't even have a website, right? And they don't sell anything that's not Christmas-related for year 'round sales, right? AND YET HAYLIE DUFF IS SHOCKED THAT THE STORE IS HAVING FINANCIAL TROUBLE?!? I was like... holy crap! I'm all for suspension of disbelief in these films... BUT REALLY?!?. And don't get me started on how a store selling 90% Santa hats YEAR 'ROUND can look so generic and dumpy. And REALLY don't get me started as to why a little mom-and-pop shop in rural America needs a massive warehouse operation OR corporate offices. IT'S ONE LITTLE STORE AND A SMALL MAIL ORDER OPERATION! It's just all so beyond absurd. Even the dramatic moments couldn't get me past the laugh-out-loud insanity of it all. But what really bothered me is the way that they didn't seem to consult any disabled persons in a movie which features a disabled person in a major role. The first time "Nick" visits their house, the next thing you know he's pushing the kid's wheelchair into the house. I'd hope that everybody knows by now that you DON'T ASSIST THE DISABLED WITHOUT THEM ASKING YOU TO! Or at least ASK them if you can lend them a hand before commandeering their wheelchair! This was a perfect opportunity to educate people, and Hallmark utterly failed. And the Tiny Tim walking moment at the end? Wow. I dunno. This movie rubbed me the wrong way at very opportunity. It was just too stupid to take seriously in any capacity. LIKE WHY THE @% DO YOU NEED TO FILL A BOX OF SANTA HATS WITH PACKING PEANUTS FOR SHIPMENT? ARE THE SANTA HATS BREAKABLE?!? GAAAAAHHH!!!!!!

✓ Favorite Finding Christmas (Countdown to Christmas • Tricia Helfer and JT Hodges • December 15, 2013)
After his plans for proposing to his girlfriend go terribly wrong, a wealthy New York City advertising executive swaps residences with a small-town North Carolina handyman (and wannabe musician)... J.T. Hodges! This results in new romantic possibilities for both of them... just in time for Christmas! Plus ZOMG! TRICIA HELFER! I really like this one. Sweet, cute, and holiday wonderful in all the right places. And the ending is note-perfect too.. no matter how unrealistic. I had no idea that J.T. Hodges acts, and he's darn good (plus sings beautifully)... but it's Tricia Helfer, whom I love with all my heart, that steals the show.
Hallmark Movies & Mysteries Originals 2013

✓ After All These Years (Wendie Malick and Andrea Martin • April 20, 2013)
I'd watch Wendie Malick in just about anything... even a murder mystery on Hallmark. I have no idea how successful this film was, but the next year Hallmark announced that "Hallmark Movie Channel" would be rebranded "Hallmark Movies & Mysteries Channel," and I'm guessing this was part of the reason why. Infused with humor as only Wendie Malick can deliver it, the mystery itself wasn't too bad. After being tossed aside on the evening of her 30th wedding anniversary for a younger model, Wendie Malick finds her ex-husband dead on her kitchen floor with a knife in her chest. She's the primary suspect because she foolishly attempted to pull the knife out of his dead chest... and is told that she will be taken into custody after the funeral. So instead of going to the funeral, she goes on the run to find the real killer and prove her innocence. After following leads and interviewing an assortment of people, she (naturally) finds an answer. And it's not exactly an expected one. Nothing groundbreaking, but Wendie Malick makes it worth a watch.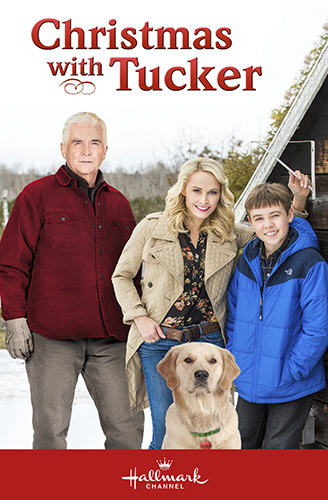 ✓ Good Christmas with Tucker (James Brolin and Barbara Gordon • November 25, 2013)
This is essentially a new Lassie movie with a different dog. And while it's a really sweet movie with many great things about it... it's also one of the most schmaltzy productions you'll ever lay eyes on. Even for Hallmark! It's so grotesquely overly-sweet that I felt the need to call Liberty Medical half-way through. A young boy is blindsided by the death of his father and is left to spend winter with his grandparents when his mother needs time to heal away from the place which reminds her so much of her husband. He has to grow up really fast, helping to fill the hole left by his father... namely helping on the dairy farm and plowing roads for the county. The hard days are made easy when he gets charged with taking care of Tucker, a neighbor's dog, while the neighbor is in jail. But once the neighbor is released and Tucker has to go back... some poor decisions ensue, and consequences are to be had. But a good-ol' wholesome down-home Christmas is always around the corner.