Here's a checklist of all the Hallmark original romance movies from 2012 along with my comments on those I've seen.
Special movies of note are marked Favorite, Good, Okay, and BAD.
Hallmark Channel Originals 2012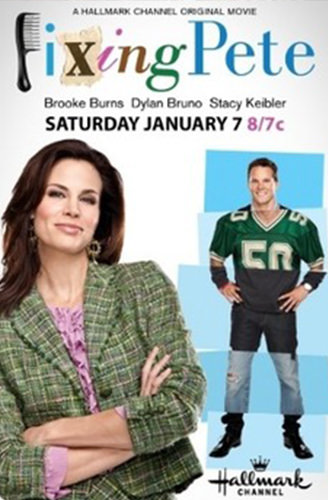 ✓ Fixing Pete (Brooke Burns and Dylan Bruno • January 7, 2012)
Makeover artist is promised editorialship of a new magazine if she can give a slobby sports writer a makeover for his book tour. Of course they fall in love. Nothing to see here despite a few funny moments. And, oh yeah... WHY DOES HALLMARK DO SUCH A BAD JOB OF CREATING PROPS? Pete's book should be titled The Perfect Pastime not The Perfect Past Time. I mean, holy crap, does ANYBODY making these movies proof the props and ask questions? Things like this drive me insane.

✓ A Taste of Romance (Teri Polo and James Patrick Stuart • January 14, 2012)
When a widower firefighter opens a burger restaurant next door to a chef's fine dining French restaurant... she is not happy. But bickering and practical jokes soon turns to something more serious thanks to the chef bonding with the widower's daughter. It's a pretty basic recipe for romance, but done fairly well so you won't hate it.

✓ Undercover Bridesmaid (Brooke Burns and Justin Baldoni • April 15, 2012)
Brooke Burns works for a private security firm and her latest assignment is to play bridesmaid for a bride getting death threats. Unfortunately, Brook Burns was left at the altar at her own wedding, so this is not an assignment she's excited about. Mildly entertaining fare with a few funny moments, this movie has a Miss Congeniality kinda vibe but isn't anywhere near that league. Not unexpected given that it had a fraction of the budget, but you don't need money to drop the nuttier moments from your movie that only serve to undermine the story. To their credit, they did take the who-done-it aspect seriously, having it actually make sense instead of being some sloppy add-on. Not bad. Not bad at all.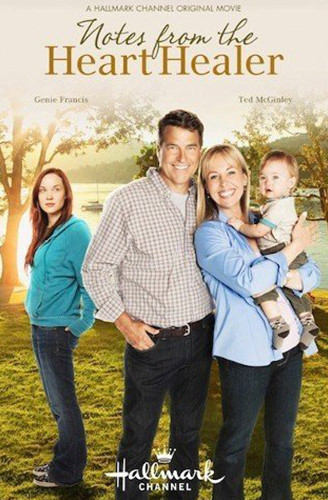 ✓ Notes from the Heart Healer (Genie Francis and Ted McGinley • May 12, 2012)
This is a sequel to Taking a Chance on Love which is a sequel to The Note. Genie Francis and Ted McGinley are married now, and she's written a book called Notes From the Heart Healer (while still writing a column for the newspaper). One rainy night a baby is left on their doorstep by a desperate, sick mother who is out of luck and and out money. As Genie Francis tries to find the mother while remembering back to when she had to give up her baby for adoption, we also get to see the young mother try to get back on her feet so she can reclaim her baby. While this is a touching story with a happy ending, it's not a very interesting one. I was bored from start to finish.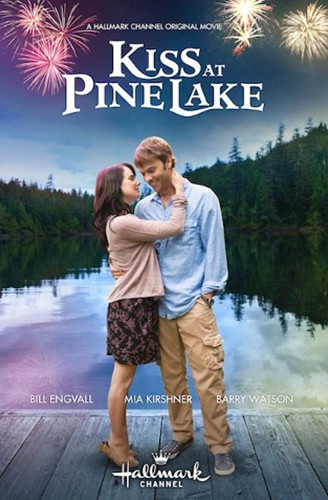 ✓ Kiss at Pine Lake (Barry Watson and Mia Kirshner • May 19, 2012)
Girl meets boy at summer camp. Girl and boy almost share their first kiss. Girl and boy lose touch. Boy grows up and buys the camp. Girl grows up and gets an assignment from her boss to buy the camp. Boy is having a hard time keeping up with repairs to keep the camp open. Girl shows up and is shocked to find that her first love owns camp. Boy is heartbroken to discover that girl is exploiting their past relationship to get the camp. Girl falls in love with boy. Boy falls in love with girl. Everything with the camp works out. Nothing terribly new here. Nothing terribly great here. Except maybe Barry Watson, who cut his teeth on all those Seventh Heaven episodes.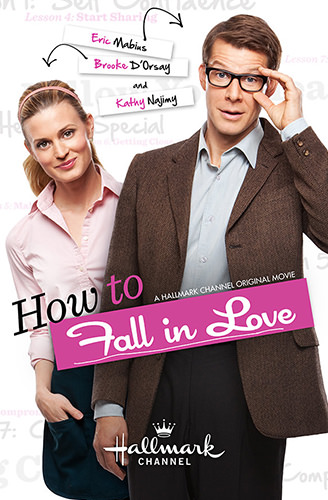 ✓ Okay How to Fall in Love (Eric Mabius and Brooke D'Orsay • July 21, 2012)
A geeky dweeb scores a freshman homecoming date with his dream girl. Years later he's a geeky dweeb accountant who's unsuccessful in love. His best friend convinces him to hire a dating coach so he can attract the perfect mate. When that doesn't end up being something he's comfortable with, he hires his high school homecoming date (who's back in town) to help build up his confidence instead. With her help he ends up meeting someone... but finds that he's falling in love with his new coach all over again. To absolutely nobody's surprise, they end up together. This is a charming movie with funny moments but not much else. Except brief appearances by Kathy Najimy.

The Music Teacher (Annie Potts, Kerry James and Emilie Ullerup • August 11, 2012)
Not seen yet.

Smart Cookies (Jessalyn Gilsig and Patricia Richardson • August 18, 2012)
Not seen yet.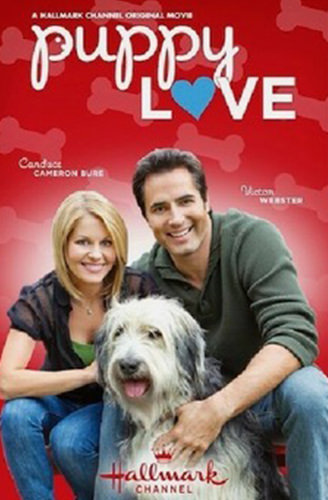 Puppy Love (Candace Cameron Bure and Victor Webster • September 8, 2012)
Not seen yet.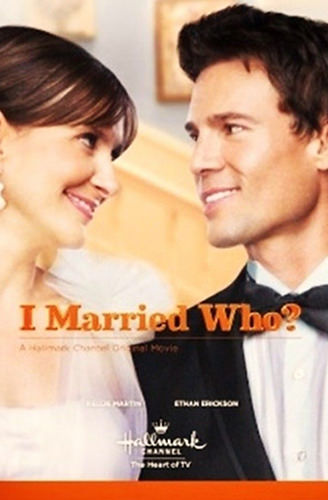 I Married Who? (Kellie Martin and Ethan Erickson • October 20, 2012)
Not seen yet.

✓ Christmas Song (Countdown to Christmas • Natasha Henstridge and Gabriel Hogan • November 3, 2012)
Oh joy. A movie with high school kids singing. Apparently somebody at Hallmark saw High School Musical from six years ago... or saw an episode of Glee*... then decided "HEY! WE SHOULD COMBINE THIS WITH A HALLMARK ROMANCE MOVIE!". Naturally, it's a complete failure, despite the two leads being pretty great (NATASHA HENSTRIDGE!). But anyway... when an all-boys-school and an all-girls-school have to merge, they need to cut the redundant staff. So when the music teachers from each school compete their students in a Christmas concert to determine who gets fired, animosity ensues. But when each teacher uses computer dating to find the perfect match... only to get paired up with each other, Hallmark ensues and the ending is so embarrassingly telegraphed and predictable as to be funny. What's so sad is that if you were to cut out all the moronic nonsense with the kids, they could have built a pretty good movie around the romance story. Oh well. At least we didn't have to suffer through Christmas Song 2 next to High School Musical 17. — *As an aside, they copied Glee right down to the kid in a wheelchair, but had several moments where people were pushing his chair without being asked. You just don't do this! Most persons in wheelchairs are perfectly capable of living their lives without assistance, and Hallmark implying they are not is a disservice.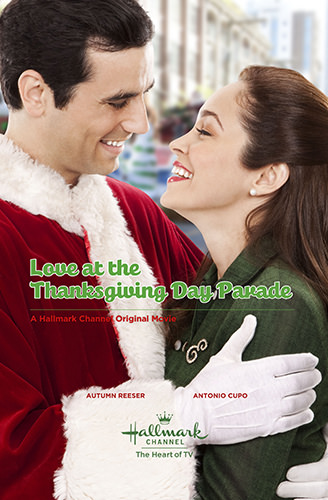 ✓ Love at the Thanksgiving Day Parade (Countdown to Christmas • Autumn Reeser and Antonio Cupo • November 4, 2012)
Autumn Reeser is hands-down my favorite Hallmark regular. This is my least-favorite movie she's been in. She excels in strong characters that you like and respect. In this one she is weak, irritating, selfish, abrasive, and just plain mean. I don't know if it's the material... or her attempting to do something different... or what... but it doesn't work. Add to that the weird way that they are supposed to be in Chicago... but really aren't (except in establishing shots) and the entire movie felt "off" to me. Culminating with "Santa" taking off his beard in the middle of the parade, ruining everything for kids... including the orphans in his penthouse. What's weird is that I like the concept of a woman having to show a financial consultant that parades are about more than just the dollars and cents of it all. So what happened? Heck if I know.

✓ The Wishing Tree (Countdown to Christmas • Jason Gedrick • November 10, 2012)
A widower has nothing left for Christmas except the students he teaches at a boarding school. So when the kids who have nowhere to go for the holidays are left alone, he volunteers to show up for them. One student whose antics get him into perpetual trouble could get more than himself into hot water... and his anger at being abandoned by his parents over Christmas has dire consequences for the town's "Wishing Tree." Can the Christmas Spirit repair a holiday gone very wrong? This may be Hallmark Drama, but it's still Hallmark! This is a nice enough story, but was pretty tame in execution.

✓ Matchmaker Santa (Countdown to Christmas • Lacey Chabert and Adam Mayfield • November 17, 2012)
A little girl writes a wish to Santa that she'll find her own Prince Charming, just like her mother did. Now all grown up, Lacey Chabert is still looking, despite dating a guy for nearly a year. Alas, he's a busy CEO with no time for her, and as Christmas arrives she ends up spending more time with his best friend than him. COULD HE BE THE ONE? WILL SANTA FINALLY GRANT HER WISH? Even though neither of them put money in his collection bucket for helping the needy? YOU CAN BET YOUR LIFE ON IT! The story wasn't exactly special, but the casting sure was. Lacey Chabert and Adam Mayfield were a sweet pairing... and they got Florence Henderson and John Ratzenberger to come along for the ride. Where the movie fails is having Santa actually be Santa and use his magic to make things happen instead of just letting it be hinted at. This just goes too far and takes away agency for the characters to forge their own destiny. But... it's entertaining enough despite it all, I suppose.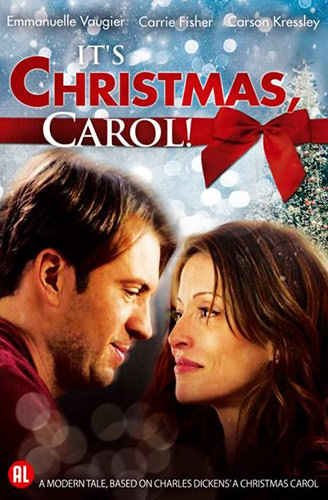 It's Christmas, Carol! (Countdown to Christmas • Emmanuelle Vaugier and Carrie Fisher • November 18, 2012)
Not seen yet.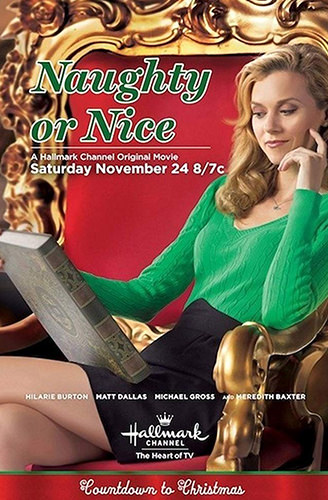 ✓ Favorite Naughty or Nice (Countdown to Christmas • Hilarie Burton and Matt Dallas • November 24, 2012)
After getting fired during the holidays, Krissy Kringle who lives on Candy Cane Lane wants nothing to do with all of the "letters to Santa" that show up at her house. Until she has a package with Santa's "Naughty or Nice" book in it! With the power to tell her all the horrible things that the people around her has done, Krissy sets out to punish evildoers by exposing their naughtiest secrets! But then, thanks to her Family Ties parents, she learns that the book can also tell her about all the nice things people do as well. The power of the book ends up changing her life, energizing her Christmas spirit, and revealing truths about herself. While mildly entertaining and very, very different from your typical Hallmark fare, which is probably why I ended up liking it so much.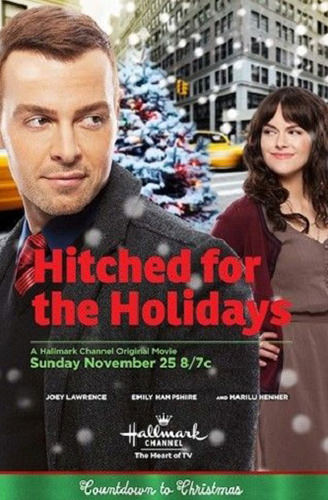 Hitched for the Holidays (Countdown to Christmas • Joey Lawrence and Emily Hampshire • November 25, 2012)
Not seen yet.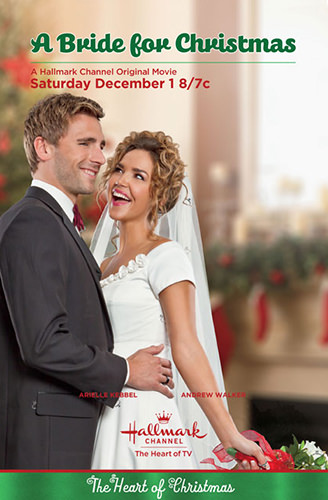 ✓ Favorite A Bride for Christmas (Countdown to Christmas • Arielle Kebbel and Andrew Walker • December 1, 2012)
Third time was not a charm for a runaway bride who ditched three poor guys at the altar. Marriage is also not in the cards for a guy who is having too much fun to settle down. But all that may change when he takes a bet to get a woman to marry him by Christmas, which is just four weeks away! And guess who the woman is he's going to try and get to marry him? And he's not the only one! Her previously-dumped fiancé also wants another shot at marriage. This flick was unexpectedly funny, but it was the cast... from the leads on down to the bit parts... were why I think I enjoyed it so much.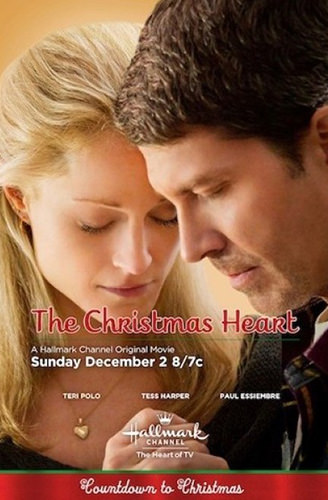 ✓ The Christmas Heart (Countdown to Christmas • Teri Polo and Paul Essiembre • December 2, 2012)
Wow. This one tested my ability to suspend disbelief AND my gag reflex. A rural Cleveland street known for its display of Christmas candle lights decides to go dark when a teen paperboy ends up in the hospital in need a heart transplant. Lucky for the dying teen, a guy in Detroit dies just just before the birth of his child, and he's a perfect donor match. Alas, there's no transport available and a blizzard is coming! Lucky for the dying teen a small plane with a Santa pilot(!) is found to carry the heart and a surgeon. But the blizzard! They can't see to land! If only a street known for their Christmas candle lights had a way of showing the plane where to land! What's awful here is that they did their best to make the heart donor seem like a down-on-his-luck loser with a heart of gold... and to make the drama surrounding the teen in the hospital absolutely unbearable. Seriously, I couldn't take it and had to fast-forward through endless scenes of weepy, overly-dramatic nonsense. Barf. Not Hallmark's best by a longshot.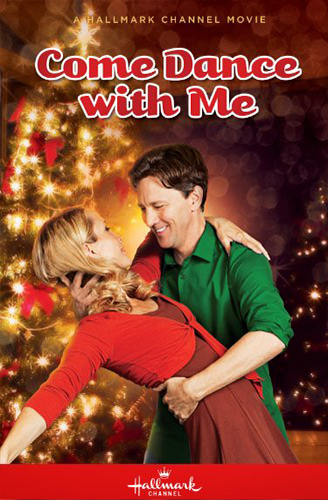 ✓ Christmas Dance (Countdown to Christmas • Andrew McCarthy and Michelle Nolden • December 8, 2012)
Guy is trying to impress his incredibly wealthy girlfriend's dad... who also happens to be his boss. And what better way to do that than to take dance lessons so he can dazzle everybody at daddy's annual Christmas Dance and propose to her? But... uh oh... now he's falling in love with his dance instructor! And... uh oh... she's about to lose her dance studio to a big, evil corporation! And... uh oh... that big, evil corporation is the one he works for! What to do? What to do? I'm not a big dancing fan, so I found this one mostly boring and the "What would you choose... love or money?" angle to be pretty lame and predictable given this is a Hallmark romance flick.

✓ Good Help for the Holidays (Countdown to Christmas • Summer Glau and John Brotherton • December 9, 2012)
Summer Glau found a new career in Hallmark movies after Firefly was stupidly canceled, and I can't seem to figure out if that's a good thing. They have her playing an elf for crying out loud. Christine the Elf gets called to Santa's chambers with an emergency mission... seems a family has lost their Christmas spirit, and she is charged with helping them get it back! For what it is, this movie is fairly well thought out (the magic purse is funny and the magic book is clever). Christine has to go to The Real World where everything is new and strange but, thankfully, they don't make her too obnoxiously naive and moronic about it all. There she becomes a nanny for the kids while the parents run a Christmas shop without any conviction for the holiday. Slowly but surely Christmas magic starts to return to the family... but it's the kids' hunky and handsome Uncle David who has a magical surprise for Christine! Fun, cute, an clever, this is one of those movies I loathe that is actually pretty good. Also? The guy they got to play Santa in this one is probably the best I've seen.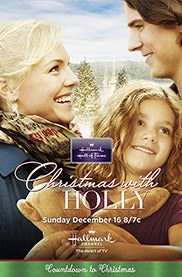 ✓ Favorite Christmas with Holly (Hallmark Hall of Fame • Sean Faris and Eloise Mumford • December 9, 2012)
My home state of Washington is the setting for many, many Hallmark films so they can shoot in Canada and nobody will know the difference. This one, set in Friday Harbor on San Juan Island was actually filmed in Nova Scotia. After getting left at the altar, a woman decides to leave Seattle and move to an island in the San Juans so she can open a toy store. Meanwhile, a man raising his little niece (who hasn't spoken since her mother died) moves back to the island when Holly's school refuses to advance her into the first grade. Alas, he's moving in with his two brothers, which makes for an interesting dynamic for poor Holly. When the man and woman meet, could there be romance in the air? This is a heartwarming movie which takes its time to get to the romance, but it's time well-spent. Beautiful scenery, good acting, and a sweet story make it worth watching.

✓ Baby's First Christmas (Countdown to Christmas • Casper Van Dien and Rachel Wilson • December 15, 2012)
Johnny Rico from Starship Troopers is a wealthy conservative lawyer and a bit of a selfish jerk. "Female Motel Guest" from Schitt's Creek is a liberal environmental lawyer who really cares about people. They are total opposites and hate each other... but their siblings are married with one kid and a baby on the way, so they are forced to team up when disaster strikes. Their siblings are broke, and about to lose their house to foreclosure, so Johnny Rico and "Female Motel Guest" have to run around New York trying to save their home all while complications with the new baby at the hospital are looming. Will a wealthy billionaire with a head wound, a lost dog named Lammy, and a precocious niece get in the way of them falling in love? Don't be silly! This is Hallmark! This movie just got more preposterous as it went on. All the crazy coincidences and wild circumstances are chalked up to a Christmas miracle, but it all felt so lazy. By the time we get to the little niece calling a radio show so all of New York can help them out, I was completely checked out.