Late last night while I was waiting for an email response, I thought that I'd go through the 37 abandoned blog posts in my "drafts" folder. The majority of them were unfinished, but a few were completed entries that I decided not to post for one reason or another (usually because they were angry rants that I thought I had better sit on for a few days). Surprisingly, a full half of the abandoned posts were either geeky or technical in nature, and I ended up ditching them because nobody except me would ever care to read them.
Then, just as I was ready to do a DELETE->ALL on my drafts folder, I had a change of heart. That was a lot of work I was about to trash, and I just couldn't bring myself to do it. This is what always happens, and I justify it by saying "well, I'll finish them up and post them someday"... secretly knowing that it will never happen. That's how I ended up with 37 drafts in the first place.
But just because I didn't want to post them here doesn't mean that I can't find another home for them. It was then that I got the bright idea to dust off my Tumblr account and re-brand it as a repository for all the crap that's left over from my blog. Blogography Bits was born...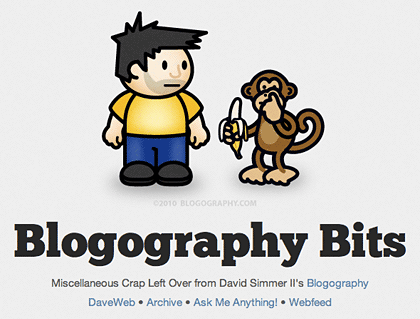 I've temporarily slapped a DaveToon on a Tumblr template, but I'll eventually integrate it into my site when I find some free time.
So far I've posted...
With more to come.
Maybe nobody will bother reading my leftover crap, but that's okay. It's still a happier alternative to deleting stuff that doesn't work out for my blog!