It seems that the one thing which hasn't been hurt by the economic recession is lawsuits. If anything, they've been escalating as lawyer-happy assholes try to exploit frivolous lawsuits as source of new revenue. At first I found it funny, but lately I've been increasingly outraged by the bullshit that is clogging up our courts.
Case in point: Hollywood's favorite drunken drug-addicted publicity whore, Lindsay Lohan, is suing E*Trade because she feels that people associate the name "Lindsay" with her the same way that people associate Oprah and Madonna's first names with them, and this commercial reflects badly on her...
Except I have news for Ms. Lohan: YOU ARE NOT OPRAH OR MADONNA!
This is fucking bullshit because I have never seen or heard of any show or publication ever referring to Ms. Lohan as simply "Lindsay." If anything, she should be filing lawsuits against people using "Blowhan" or "Firecrotch" or "HoHan" in a derogatory manner, because those those single-word names people do associate with her.
Currently, there are two things that Lindsay Lohan is most famous for, neither of which is her "music" or her "acting" or her "fashion."
#1 Flashing her cootchie everywhere...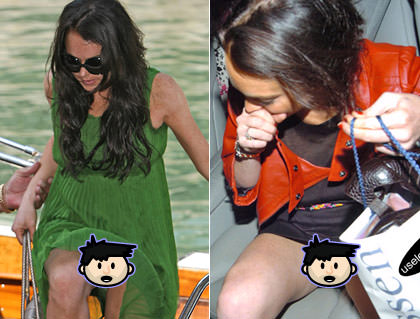 #2 Partying like a drunken drug addict in-between trips to rehab...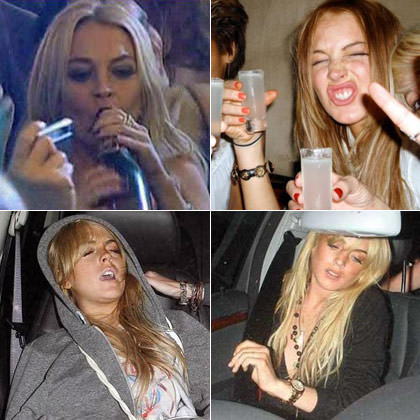 That's it. That's what everybody knows her for. That's what she's good at. For her to imply otherwise is just the epitome of denial and self-delusion.
Whether or not E*Trade intended to mock Ms. Lohan in their commercial by using the generic name "Lindsay" is subjective.
But the fact that everybody on earth automatically links the name "Lindsay Lohan" to a drunken drug-addicted cootchie-flasher is nobody's fault but Lindsay Lohan's. By extension, people making the connection between a milkoholic baby named "Lindsay" and Lindsay Lohan is also nobody's fault but Lindsay Lohan's. You can sue people all you want, but it's not going to change the image you've worked so hard to cultivate.
So now the legal wranglings begin as our courts will decide whether Lindsay Lohan should profit ONE HUNDRED MILLION DOLLARS for being a drunken drug-addicted cootchie-flasher.
It's times like this I am so very proud to be an American. U-S-A! U-S-A! U-S-A! GOOOOO AMERICA!!