I do not envy those whose job it is to come up with the ad campaigns for new mobile smart phones. No matter how cool a phone you have to work with, you're fighting a battle with a huge disadvantage... it's not an iPhone. Apple came out of nowhere to totally own the market, and everybody is desperately trying to catch up. The simple truth is that unless a phone is developed that gives the user an orgasm every time it rings, Apple isn't going anywhere (talk about the ultimate ringtone!). But still the contenders try.
The latest iPhone wannabe is the T-Mobile MyTouch. It offers a few new nifty features but there's nothing terribly compelling to put it in a class above the iPhone. So what do the marketers do? Push the personalization features... like the life-changing ability to customize the wallpaper behind the app icons and placing widgets (like a clock!) on the desktop. They also tout being able to skin your MyTouch with whatever you want, which is kind of pathetic considering you can skin just about anything you can think of at the SkinIt site, including the iPhone...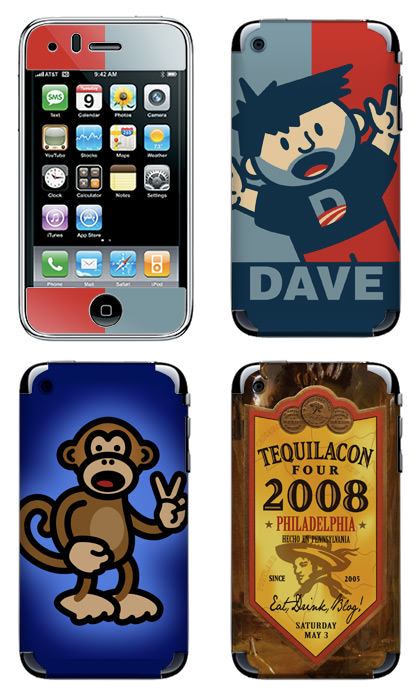 But even worse than touting unique "features" that aren't really unique is their ad campaign. They have famous and quasi-famous people tell stories about how they made their MyTouch "100% mine." What's so laughable is that it's just a retread of Apple's old "What's on my PowerBook" ads...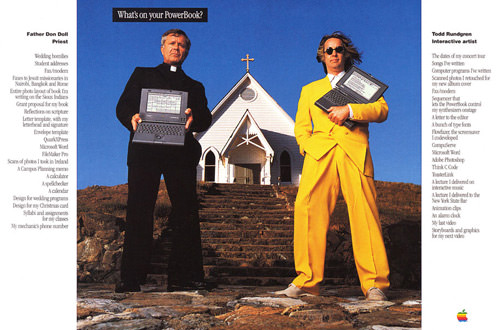 Except the Apple ads side-stepped the famous people coming across as pompous assholes by setting them on the same level as "ordinary people" (like the priest with Todd Rundgren above). This made the ads rather charming, because everybody could relate. MyTouch decided not to bother with "charming" and goes flat-out pretentious. My favorite print ad has "international explorer" Josh Bernstein say "I love that I can customize my MyTouch skin with my own photos. I'm thinking I'll start with one from Egypt... or maybe Papua, New Guinea. Tough call." Wow... that is a tough call. But when compared to the "ordinary" person having to make the really tough call as to whether they pay their medical bills or buy food... errrr... not so much.
But it gets better! The ads on the official MyTouch site goes BEYOND pretentious to downright scary...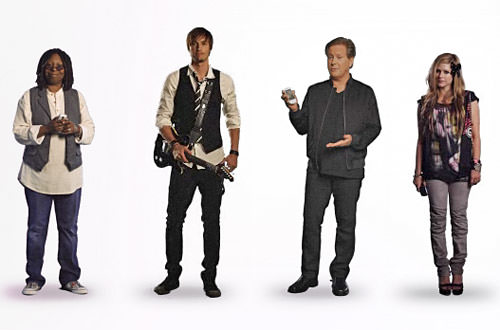 Whoopi Goldberg likes to use her MyTouch to stalk "cute men" and take their pictures so she can look at them periodically.
Dana Carvey likes use his MyTouch to take photos of children who look like his children when he's missing his children so he can look at children... and caress his phone before blowing it.
Darrell Hammond likes to use his MyTouch to prank-call people with the threat of extortion.
Jesse James likes to use his MyTouch to collect money from people who don't owe him any money because he thinks they might owe him money in the future (and is SUPER-COOL because he has custom pin-striping on his MyTouch!).
Avril Lavigne likes to use her MyTouch to send emails to herself.
Brad Paisley likes to use his MyTouch to sing songs to himself.
Don't ask me how anybody watches these celebrities talk about the crazy-ass shit they do with their MyTouch and says "Wow! I've got to get me one of those!" But apparently such relational logic didn't enter into the equation when T-Mobile was planning out their ads, so there you have it.
Not that it makes any difference.
No mobile phone could ever hope to compete with iPhone for one reason and one reason only... the free Ask Dave! app is currently only available for iPhone...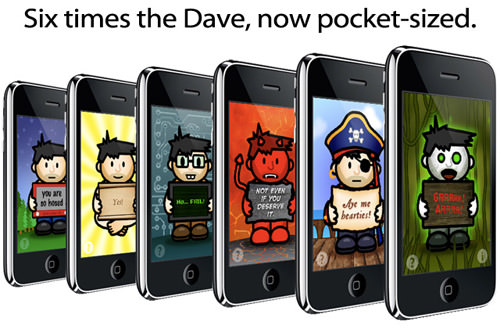 Maybe one day somebody will port the app over to other mobile phones but, until then, we'll just have to wait for the ringtone orgasm.
What I find amusing is that Verizon finally gave up on trying to market iPhone alternatives and has turned to attacking AT&T's shitty service and bad 3G coverage. It's all well and good, but until Verizon can sell an iPhone to run on their superior network, AT&T still ends up with the advantage because they've got what people want...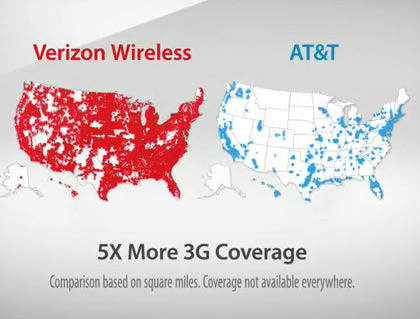 "Want better coverage? There's a map for that!"
And right now what I want is some sleep!