Last night was a tragic turn of events when I couldn't get any sleep. At all.
It seemed as though every fifteen minutes there was an ice emergency going on at the ice machine outside my hotel room. I can only guess that somebody is making the world's largest frozen margarita... or they're trying to keep a dead body from decomposing while they made plans to flee the country (don't you just hate it when the crack-whore you hire for the evening's entertainment goes and dies of an overdose while you're in the shower?).
Oh well. Who really needs sleep anyway?
I did have an absolutely beautiful morning view of the marina from my balcony though. I went to grab my Canon pocket camera so I could capture the moment, and was pretty upset when I discovered that I forgot to slip it into my backpack for the trip. I then decided to see just how bad a job the crappy camera on my iPhone would do, and somehow managed this...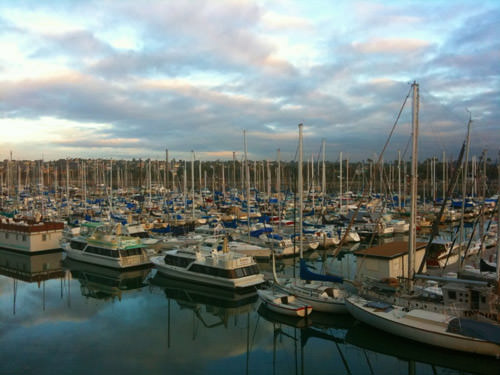 Not bad. Every once in a while iPhone takes pictures like a real camera, and it always takes me by surprise.
From there it was work in San Diego followed by a ride to more work up in Orange County. The weather forecast was dire, but other than a few rain sprinkles, it wasn't the armageddon-level event the television meteorologist warned about.
After work I was lucky enough to hook up with Ninja & Bombshell for dinner and kråpflaarg in Irvine, and got to meet the latest addition to their family. It seems like only yesterday they got married, and here they are with an 8-week-old baby!
As expected, a fun time was had by all, and dinner at The Veggie Grill was fantastic. There were quite a few birds entertaining us by goofing off and scavenging around our table. One bird in particular caught our attention because he appeared to only have one leg. But every once in a while he would drop his other leg and go hopping around. Eventually we figured out he had a foot that was deformed, and figured it must have been easier for him to just tuck it up rather than try to stand on it. Tonight as I was looking through my iPhone photos, I zoomed in and noticed his "good foot" was also looking a bit deformed...
What a trooper! He didn't seem to be malnourished or anything. He just had a little tougher time getting around than other birds, but had found a way to adapt to the situation just fine. Yet another example of nature inspiring us to cope with adversity in our lives.
And thus ends my adventure in SoCal. A big thanks to Ninja and Bombshell for the 150 miles they drove in order to hang out with me today. I am totally not worth that kind of trouble, but was happy to meet up again after two years!
Really, really hoping that my journey home tomorrow is incident-free...