When you think of modern Western medicine, you envision all this high-tech gadgetry and miraculous resources like they have in ER or Grey's Anatomy. And, in many ways, it's true... the toys and technology that doctor's have available to them are state-of-the-art and almost magical with the cool stuff they can do. But in so many ways doctors are fumbling around in the dark ages, and I am beyond confused as to why that should be.
When I went to the Emergency Room during my layover at Sea-Tac last Thursday, they took a CAT scan so they could see what was going on inside of me. On Friday when I made my Monday appointment, my Wenatchee doctor asked if I would have the CAT scan sent to them. Can you guess what happens when I ask?
"No problem, we can transfer the scan via MediNet, a standardized network that medical institutions use to share data."
"No problem, if you get me your doctor's email address I'll send it right over."
"You mean like send a CD in the mail? I guess we can do that..."
The answer, of course, is "C"... and I ended up begging them to FedEx it for Saturday Delivery (using my FedEx account number) so that it would be there when I arrived today at 8:30am. Turns out they DID FedEx it, but DIDN'T send it Saturday Delivery, so the CAT scan was never there for my doctor to look at. All this effort was just a waste of time and money, because I ended up having to get X-rays anyway.
The Percocet I was given to manage my extreme pain stopped working last night around 9:30pm. By the time this morning's appointment arrived, I was in total agony. For women, I hear that having kidney stones is as painful as childbirth. For guys, you have to envision somebody kicking you in the balls as hard as they can over and over and over again...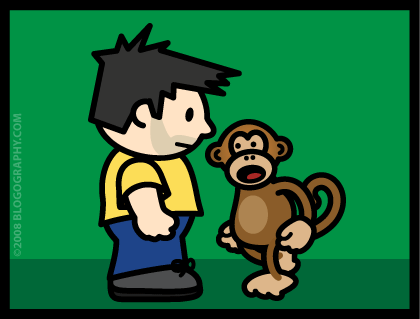 Now, keeping in mind that I am doubled over in horrendous pain and barely able to keep from screaming, what do you think the nurse says to me as I am waiting for my doctor to show up...
"You're obviously in a lot of pain... I'll have somebody get you some medication."
"Hold on just a little while longer... the doctor will be here ASAP."
"I need you to fill out this four-page booklet of stupid-ass questions such as 'Does your medical condition make you sad?' and 'If nothing can be done to improve your condition, would you be upset?'"
And, yes, the answer is "C" again. Never mind that I could barely hold a pen, she wanted me to fill out a booklet of stupid-ass questions. The thing that really kills me is that it never even occurred to her that she could read the questions out loud and write down my answers for me. When I say "I don't think I can fill it out right now," her solution is to set it in my lap and bail. Lovely.
Anyway, eventually my doctor comes in and presents me with two choices...
"I can prescribe some better pain medication and get you some pills to help the stone pass naturally."
"I can put you to sleep, insert a laser up your penis, make my way up to the stone, zap it into three or four pieces, then put a stint in your bladder until everything is back to normal."
Given the pain I was in, I actually considered the old "laser up your penis" trick... until I realized that it involved SHOVING A LASER UP MY PENIS... at which time I went for the pills. And that was that. The doctor's assistant came in and shot me full of drugs. The pain subsided in about 15 minutes. I got my prescriptions filled. I went back to work.
Life goes on.