It's a very special edition of Bullet Sunday here at Blogography... focusing on the many wonders of the Emerald City itself, Seattle! Vahid came up to see Watchmen and, surprisingly, hasn't ever really played tourist here despite the fact he lives only 3 hours away. We didn't have much time, but managed to squeeze in quite a lot (fortunately he managed to get a late train back home on Sunday!).
• Pike Place Market. Probably my favorite touristy place in Seattle, it's tough to beat a trip to the Pike Place Market. There's shops and eateries for just about any taste or interest, and a good chunk of the day can be spent trying to explore it all. Since there are pictures of the famous Market Sign and flying fish everywhere, I thought I'd skip that and remind everybody that you can see delicious cheese being made at Beecher's Cheese, just across the street from the marketplace. It's a massive task that involves a lot of manual labor, but a lot of fun to watch...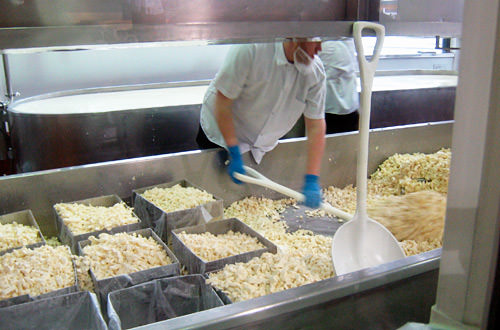 You can not only buy their famous award winning cheeses, but also eat a delicious grilled cheese sandwich or some decadent "World's Best Macaroni and Cheese" from their cafe. (Beecher's Cheese Link)
&bull Post Alley. Just south of Pike Place Market, Post Alley is home to the famous Seattle Gum Wall...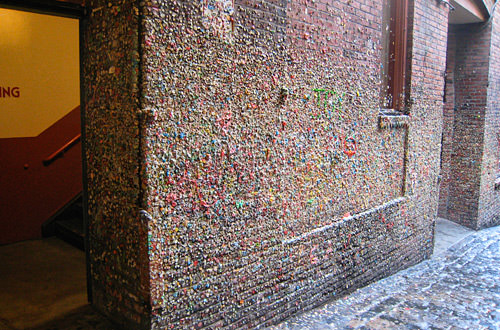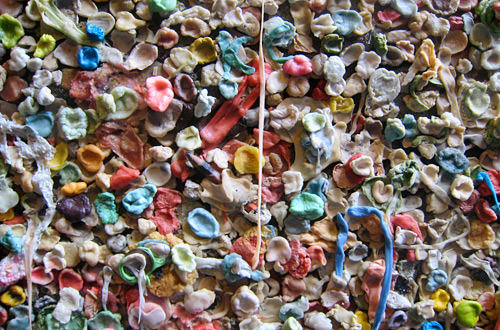 • Space Needle. Yeah, it's a Seattle landmark that everybody goes to when they visit, but it's still a pretty remarkable place. Since it was due to snow Saturday, we were sure to get there Friday while the skies were clear and blue...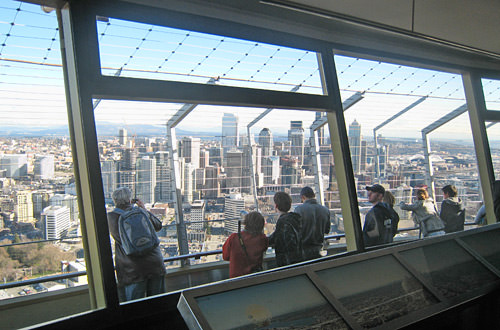 With my fear of heights, a trip to the top is not the most pleasant of experiences, but you can't argue with the view! (Space Needle Link)
• EMP & Science Fiction Museum. The "Experience Music Project" is one of those "activity-type" museums that either succeeds or fails for the visitor depending on how dense the crowds are. If it's crowded, you may not get to "experience" much at all. But on a Friday afternoon in Winter, crowds were light, so it's good fun. The Music Lab is my favorite part, set up with stations which teach you how to play various instruments...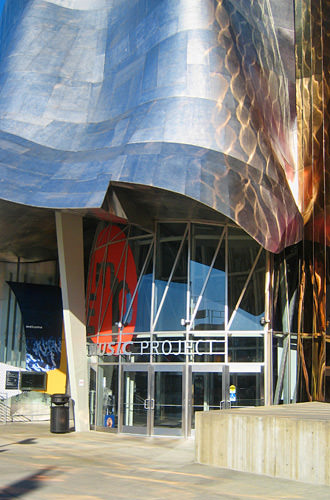 Because there's not really a lot of "museum" at the EMP, they've added on a Science Fiction Museum to make the $15 admission price a better value. It's fairly comprehensive, covering many aspects of the genre... from books to film. Speaking as a sci-fi whore, I love the place. Not only do they have one of the original Enterprise models from Stark Trek, but they've also got a number of props, including Captain Kirk's chair and some of the devices used by the characters...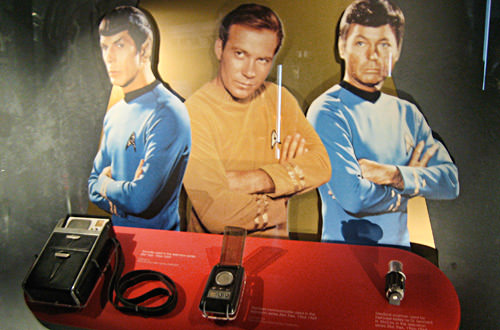 If crowds are light, I'd definitely recommend a visit to the EMP/Science Fiction Museum and Hall of Fame. (EMP-SFM Link)
• Underground Tour. Old Seattle was a mess of floods and pestilence, which is why city founders were happy to let it burn to the ground when it caught fire in 1889. They then just built a new city on top of the old, hoping the height would stop the tides from flooding the streets and causing toilets to overflow. Since the Seattle was completely destroyed, there's not a lot to see once you go underground... but it's the tour guides that make the trip interesting (above ground is beautiful, however). Seattle has a very interesting and colorful history, and the tour guides make it all very entertaining...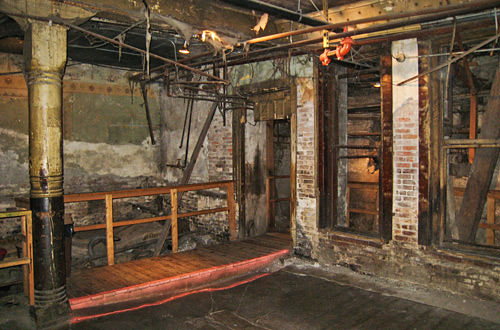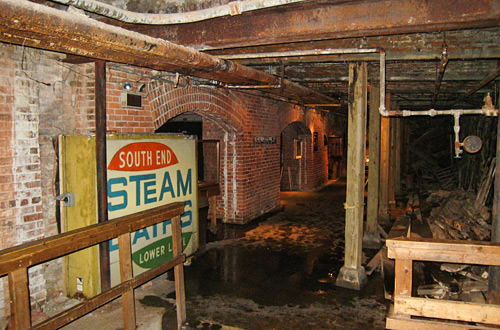 After the tour, you can visit a small museum which houses a collection of stuff from Seattle's history... including an original Crapper Toilet, beautifully preserved...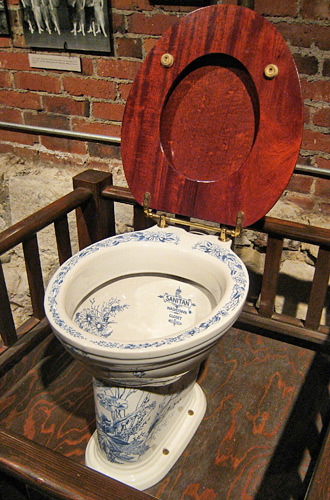 • Seattle Public Library. Much like the EMP, I think the Seattle Public Library is a hideous mess from the outside. Only when seen from above does it look even remotely beautiful. From the inside, however, it's quite nice...
Idolatry. "Everything I've ever done. Everything I ever do. Every place I've ever been. Everywhere I'm going to... It's a sin."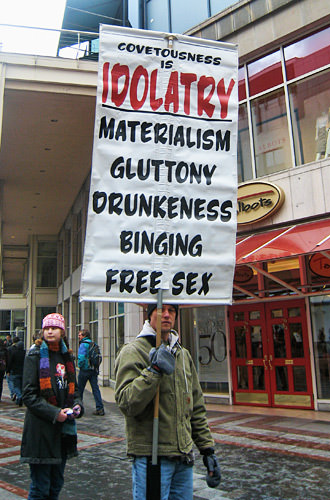 • Alki. Sure enough, rain, snow, and everything in-between ("wintery mix") descended upon Seattle on Saturday morning. This made a trip to West Seattle's Alki Point a bit uncomfortable and made for a less exciting view, but it's still worth the short drive over to look back at the city center...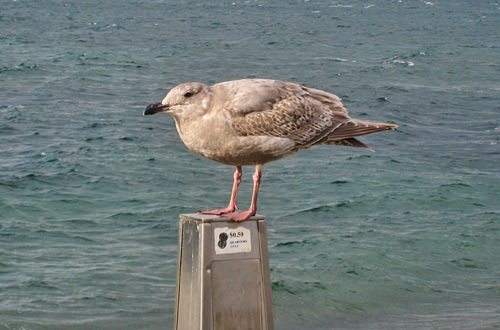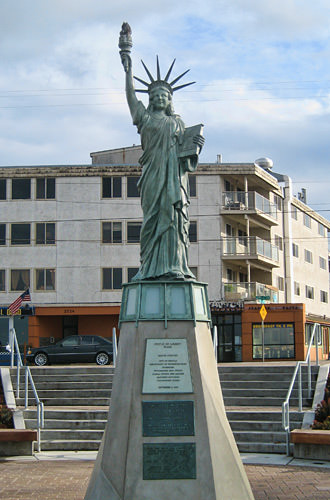 Even better? Dustin joined us for lunch!
• Seattle Waterfront. While not as interesting as the waterfront at other cities (like San Francisco), Seattle's is still worth a visit. A few legendary businesses are located there, like Ivars Famous Clam Chowder restaurant...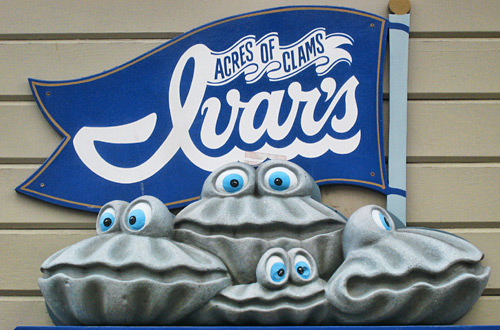 And Ye Olde Curiosity Shop (home of Sylvester and Sylvia, the mummies)...
There's also some nice classic neon signage to enjoy...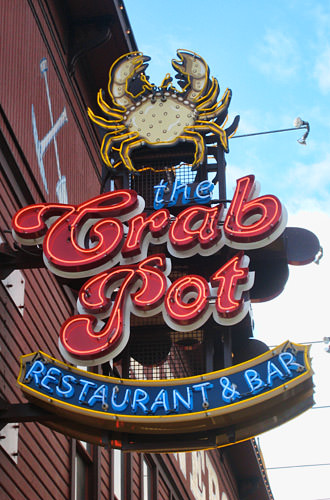 I also love the view looking back towards downtown...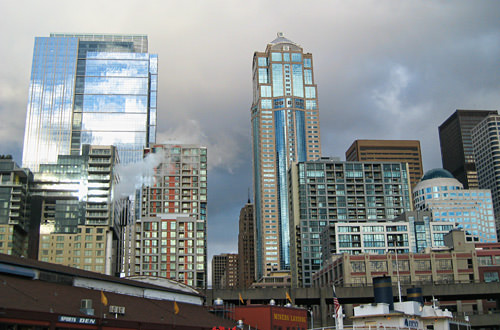 And that was all she wrote from beautiful Seattle...