Where to begin with Lisa.
Lisa and I got off to a rocky start. She had been dropping by Blogography with witty comments for a while, so I added her blog to my feed reader and started following her writings at Clusterfook. After a while of back-and-forth we had arrived at one of those "blogger friendships" that seems to develop with people you know online but don't really know at all. We'd email from time to time, but it was all superficial niceties that precluded any real personal connection.
All that changed after I had been traveling for a couple days and finally had a chance to catch up with blogs. Lisa had written a frustrated rant about how she gets tons of comments when she blogs about stupid crap, but when she writes asking for help raising money for cancer research, there was nothing. She then went on to say some harsh words to her readers about "not caring about cancer" and pondering why she even bothered to try and make a difference. At first I was confused, until I read her previous entry asking for sponsorship in a cancer-walk. Then I was angry, because not only was I not given a chance to offer support before she lashed out, but because I have a sister who had just had cancer surgery for a second time. I left a comment basically saying "GIVE PEOPLE A CHANCE, IT'S ONLY BEEN ONE DAY!" and "HOW DARE YOU TELL ME I DON'T CARE ABOUT CANCER!"
I expected that would be the last I heard from Lisa.
But I was wrong.
She wrote to me and apologized. And she insisted on sending my sister one of the bracelets she sells to raise money for cancer research. It was all very surreal and unexpected, because that's just not the way that superficial online relationships usually work.
But this was Lisa.
She had survived cancer three times and knew that life was just too short for this kind of crap.
And then, just as we were getting to be much better friends, the bomb was dropped. Lisa had cancer again. Lisa was fighting for her life again.
We finally met in person a month later at TequilaCon 2008 in Philadelphia. Lisa arrived way early with her husband, "Dude," to help claim space at the bowling alley for the event, but I had already slammed two shots and was working on a beer by then (social functions are much easier for me once I've got some alcohol in me). After introducing herself and Dude then saying "hi" to everybody, Lisa cried "DAVE!!" and ran up to give me a big hug.
At last.
She then announced that she "has to get a picture of this important moment" and handed her camera to Dude. "It can't be too important if I'm drunk" I tell her...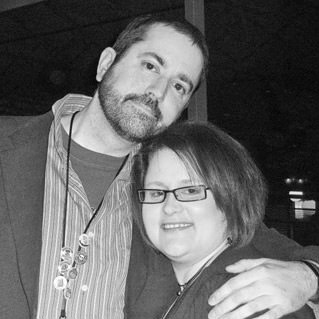 "Oh they're all important" she replied.
I don't know what I could possibly add to that. Except that I will miss her.
My thoughts are with Lisa's husband, daughters, friends, and family today. Your every moment with Lisa was important to her.