According to Google maps, I walked almost five miles today.
I don't get nearly enough exercise, so this is probably a good thing. Or would have been if I weren't breaking in a new pair of shoes. As it is now, I've got some nice blisters on my feet that should make travel ever so fun tomorrow!
Anyway... the bad news is that there's not really anything worth blogging about today. The worse news is that I'm waiting for a movie rental to download from iTunes, so I'm going to blog anyway!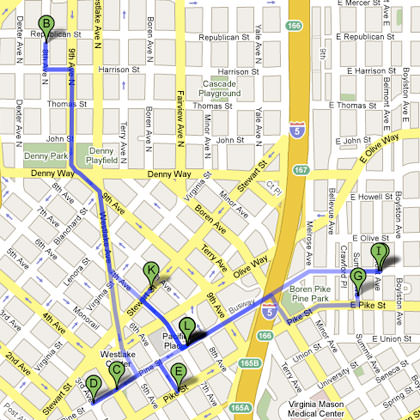 WARNING: This is an extremely uninteresting entry. Unless following a boring person through their boring day appeals to you, it might be best to just skip it...
• Glazer's Camera Supply. When I get to Germany I'll be needing to take some photographs for work, so I brought along my camera. Problem is, my battery charger stopped working for some reason. Calling around yesterday, I was unable to find an authentic Nikon replacement, but was told at Glazer's they had a cheap-o generic version for $8.95. After I got caught up on work this morning I walked the 1.2 miles to their store only to find their cheap-o version was actually $24.95. This sucked, because it was too late to do anything but pay $24.95 for a hunk of crap. It works though, so I guess that's something.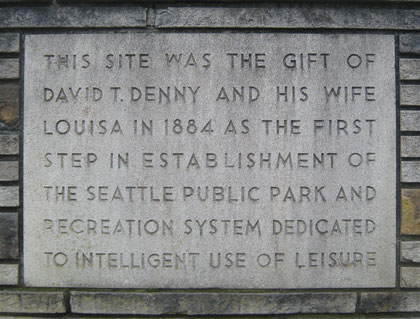 • Johnny Rockets. They actually had veggies burgers in stock. I nearly died of shock.
• Macy's. When I was gathering my clothes for this trip, I noticed my favorite Cashmere sport jacket had a small tear in the sleeve's seam. Not wanting to make it worse, I decided to buy a new jacket when I got to Seattle. I hate clothes shopping with every fiber of my being, but managed to find a jacket I liked at Macy's. Alas, it was $350, which was more than I wanted to spend. The guy helping me then said "oh, there's a sale" and wandered off to find out what the cost was. Hoping that it would be under $200, I was dumbfounded when he said the price was $54. Apparently it was half-off since it was an older model, and then there was a massive discount on top of that. SCORE!
• Eddie Bauer. Encouraged by my fantastic luck, I went to Eddie Bauer to see if the shirts I like there might be on sale too. Turns out they were, which means nothing. Usually they don't have any styles I like in my custom "Tall" size, so I'm out of luck when it comes to getting anything on sale. But, miracles of miracles, they actually had five styles I liked... all in my size!! And because Eddie Bauer was having a similar "sale on sale priced merchandise" deal, I ended up getting five shirts for the price I usually pay for just one of them. SCORE!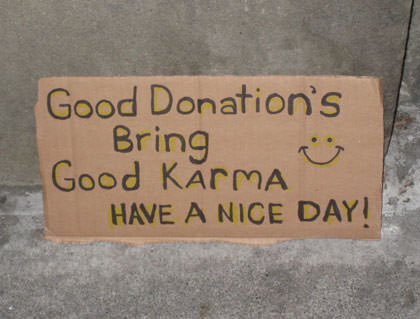 • NikeTown. In a state of total euphoria that I managed to get $650 worth of quality clothes for a mind-boggling $114, I was freaking out at the thought of finding similar deals on other stuff I'd like to get. Such as a new pair of Nike hiking boots! But not only did NikeTown not have anything on sale, they also DON'T CARRY HIKING BOOTS ANYMORE! This completely killed my shopping high, so I decided to abandon my pursuit and haul my new clothes back to the hotel.
• The UPS Store. Last night I transferred as much data off my dying MacBook Pro as I could over to my new MacBook Pro. Since I'd eventually like to goof around with the busted-ass laptop to see if I can revive it as a spare, I decided to ship it back home. There's a UPS shop a couple blocks away, so I popped my old MacBook Pro into the new box, carefully wrapped it with a couple of my new shirts I didn't have room to pack, then added all the software I brought to install on my new machine. This bundle got packed into a duffled bag, which I then dropped off to be shipped. Where when they charged me TWELVE DOLLARS for a shipping box. TWELVE DOLLARS! These pack-and-ship places are a fracking RIP-OFF!! I mean, seriously... TWELVE DOLLARS for a cardboard box and some tape?!?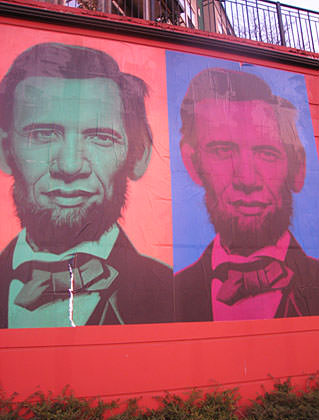 • Zero Zero. Knowing that I wanted to go back to the crêpe place that Sizzle and I ate at last night, I remembered that the best place to get a haircut in Seattle, Zero Zero, was nearby. As usual, the guy who cut my hair did a fantastic job. And at a fraction of the cost it would have been to stop at Gene Juarez where I used to go to get a decent haircut. SCORE!
• 611 Supreme. The Gruyere crêpe I had yesterday at 611 Supreme was so frickin' amazing that I wanted another for dinner tonight. It didn't disappoint. I only wish I would have had room for the Banana-Nutella dessert crêpe that Sizzle recommended. Next time.
• Bartell Drug. Back down to Westlake Center for some last-minute stuff to re-stock my travel needs: toiletries, allergy pills, headphones, snacks, batteries, Botan Ame Rice Candy... Bartell is one of those stores I love, because they always have exactly what I need.
And now here I am after a long day and a lot of walking.
But not nearly as long as tomorrow is going to be...
I apologize in advance.