(insert heinous profanity here)
I am stuck at work waiting for the Xerox repairman to tear apart the printer yet again to see if he can get it operational. This would be swell, because I've got presentation materials that have to be printed out and FedExed on Monday.
Given that it's 6:15pm now, and the last time he took the pile of crap apart it took two hours to put it back together again... well, I think the odds of me getting out of here at a decent hour are about the same as monkeys flying out of my butt...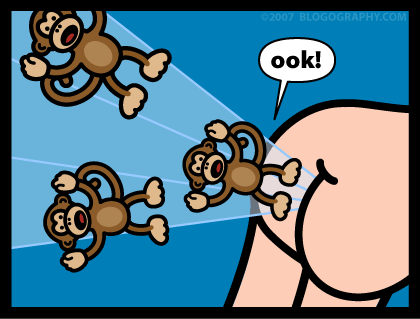 The good news is that I had time to open up FaceBook for the first time in months.
It's still the same time-sucking vortex of distraction I remember it to be, which is why I stopped logging in. Avoiding Facebook is essential because blogging, Twitter, Flickr, and my feed-reader are all the distraction I can handle right now.
Especially when I've got a trip to Arkansas coming up next week.
Yeah, that one kind of took me by surprise too.
UPDATE: Meh. The Xerox guy finally gave up at 8:00. Printer still doesn't work.
But that's not the worst part.
I WAS HIT BY A CAR!!
I had just finished scraping ice and snow off my car and was walking back to the office to grab my backpack... when a car came screaming around the corner and fish-tailed... into me. I managed to jump out of the way a bit, which is nice, because I probably would have ended up with several broken bones if I hadn't. As it is, I'm going to end up with a nice bruise on my hip and a sore wrist where I landed.
Fucker.
The roads are so slick you can barely keep your car on the road, yet this asshole is speeding along like he's on a racetrack. Of course he didn't stop after hitting me. And since I was blinded by headlights when he was heading towards me... and could only see a mound of snow as he was heading away... he (or she) gets away with it.
Karma dictates that this dumbass is going to die.
I just hope they don't take somebody else with them when they go.