Today is the release of the new "Blackberry Storm" phone which, like we've all heard before, is supposed to be an "iPhone killer." I admit the click-screen sounds very cool, but there's nothing else about it that really appeals to me. iPhone is its own iPhone killer, because they keep updating it. Late last night Apple released version 2.2 software which adds some more cool stuff.
Podcasting. You can now download podcasts from the iTunes Store App directly from your iPhone. This is not a really big deal for me, because I don't listen to very many podcasts. About the only one I grab consistently is "Cereal Wednesday" because I love breakfast cereal, and it's got NYC Watchdog and (sometimes) Poppy in it.
It works pretty much as expected. You do a search for what interests you, then pick from the results. Simple...
Once your podcast has been downloaded, you can view it from the "Podcasts" tab in iPhone. Horizontal orientation video is supported, so you can flip the screen and make it bigger if you want...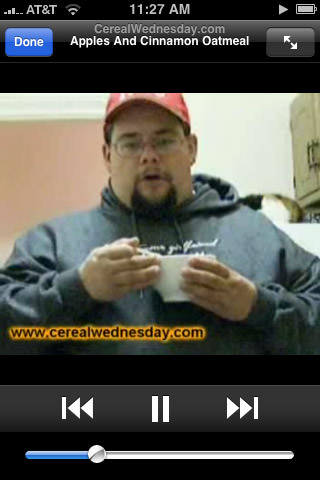 I will probably end up listening to a lot more podcasts when stuck in airports that don't have free wireless, so this is pretty cool.
Google Maps Street View. This is one of those features which sounds like a novelty, but is actually very useful. Because I regularly travel to places I'm not familiar with, I like to pop up Street View so I can visualize my route before I head out. It's much, much easier to navigate your way when you've been there before... even if it was virtually.
The feature works as expected. Type in a destination and a new icon pops up if Street View is available. Then just navigate around by touching the arrows which appear when you drag around the 360-degree panorama. You can go back to the map by touching the little "angle of view map" in the lower right-hand corner (which also tells you which direction you're facing, so it's a compass too!). Very cool. The first thing I did was check out a few monuments in Washington, DC, and it worked great...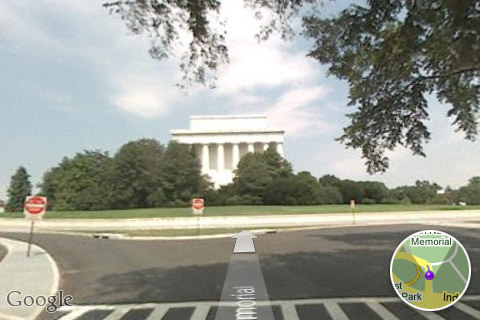 It's like visiting somewhere without leaving your house!
Interesting to note that if your maps don't load right away, it's like being on the holodeck in Star Trek: The Next Generation...
And now, since I'm already talking about iPhone, here's a few apps I'm in love with right now...
MyWeather Mobile (iTunes Store Link). Sure iPhone comes with its own weather forecast app, but it's pretty limiting. Fortunately, there's a terrific app that adds all kinds of useful information. By far my favorite is the "weather trend" tab and animated weather radar maps... both of which can be put into full-screen view by rotating iPhone horizontally. A very handy travel companion, and well worth the $9.99 price tag...
USA Today Crosswords (iTunes Store Link). There are a few crosswords apps out there, but my favorite focuses on the USA Today Crossword PLUS the USA Today Quick Cross, which I love. Both new puzzles are downloadable daily, or you can switch to calendar view and grab older puzzles too. The only negative I have is the the top buttons should be moved so you don't accidentally press them while filling out a puzzle, but otherwise it's a great app. When stuck in an airport, the $4.99 price tag seems trivial given the hours of entertainment it provides...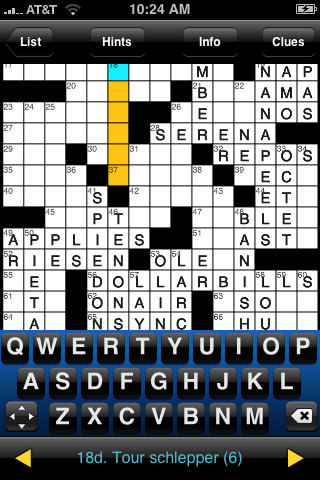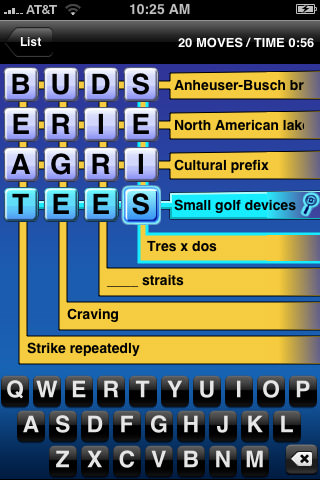 Adventure (iTunes Store Link). Way back in 1979, Atari released the brilliant game "Adventure" for the Atari 2600 gaming console. It may not look like much now, but back in 1979 it was an instant classic. Nothing else like it had ever been released, and it was a fantastic beginning for all the action-adventure games that would come after. I fondly remember playing the game for hours... not so much to solve it, because that happened rather quickly, but to see what tricks and secrets I could uncover. Then there was "Speed Adventure" where you'd compete with friends to see how fast you could complete the quest. Not bad for a game that's only 4K large! The iPhone translation is perfect, looks and plays the same, and even has the secret "easter egg" surprise to be uncovered! Genius, and it's FREE...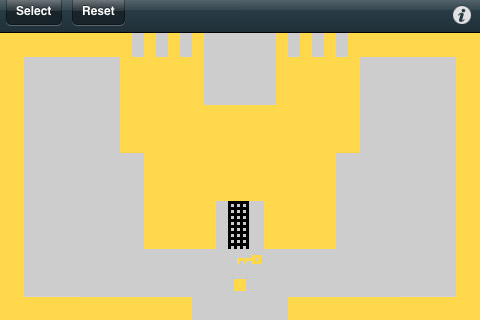 The only thing I don't care for is the wacky tilt control (finger gestures would have been much nicer, but too complicated?!?) but it's a minor quibble.
And now lunch is over, so it's back to work...