It's Bullet Sunday from kinda-sunny Orlando the day after The Greatest Show On Earth... The Avitable's Halloween Party!
It was an amazing event and good times were had by all (some more than others, however). I'm already looking forward to next year!
• Neverwas! The theme for this year was "The Neverwas Fair" which was billed as a "Sideshow of The Forgotten." Hopefully Adam will post photos of all the amazing decorations that saturated his house, because it was too dark for me to get any. I did manage to find my "Missing!" poster, however...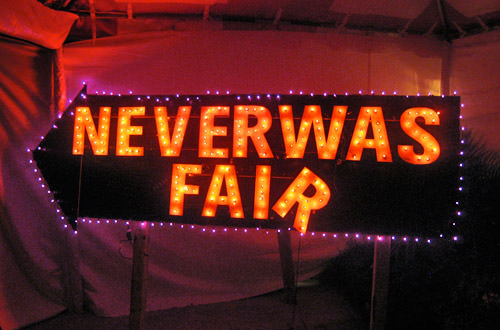 This sign is the first thing you see as you approach the house.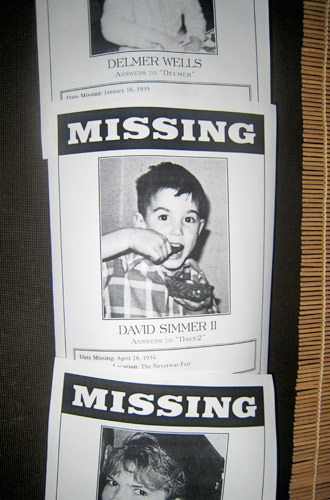 I love chocolate pudding!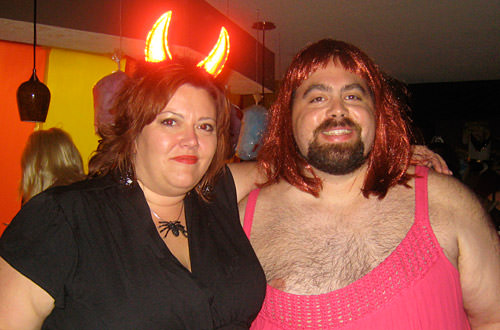 Hilly-Sue and Master of Ceremonies Adam (who appears to be having a wardrobe malfunction).
• Costume! When my original costume idea fell through because the stuff I ordered never came, I didn't have much time to come up with something new. Fortunately, as I was washing clothes one day, I took the Neverwas shirt that Avitable designed out of the dryer and had my costume idea...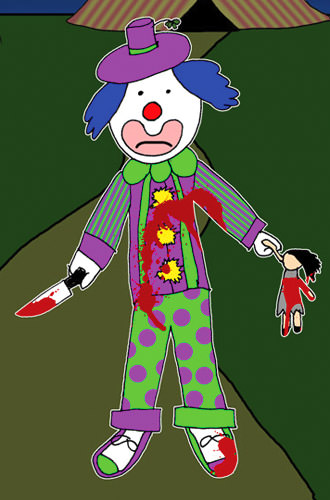 "Murder Clown" by Adam Avitable
I think Adam himself said it best when he said "You've made the impossible, possible" — because creating the outfit was impossibly difficult. No fabric existed like what he had drawn, so everything had to be sewn. I also had the impossible task of trying to find all the right accessories like the blue hair, bloody white knife, and bloody dolly. It was a tremendous amount of last-minute work, but I was quite happy with the final result... even if I did scare myself silly every time I saw myself in the mirror...

Here I am with Shash... just before I murder her!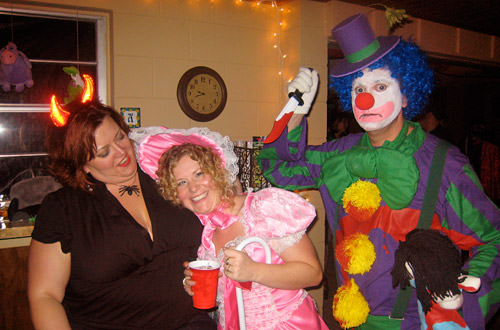 Here I am about to murder Miss Britt!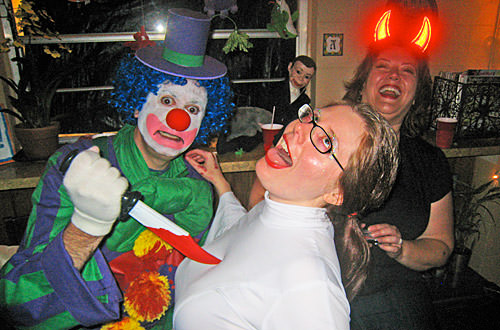 And here I am murdering Poppy!
Note to self: Do not have somebody attempt to murder you with Hilly around... she's no help at all.
• Tequila! There were so many great moments last night... too many to count (or remember, for that matter)... but one of my favorite that I got recorded was Sarah trying a tequila shot for the first time. Here's the "Before & After"...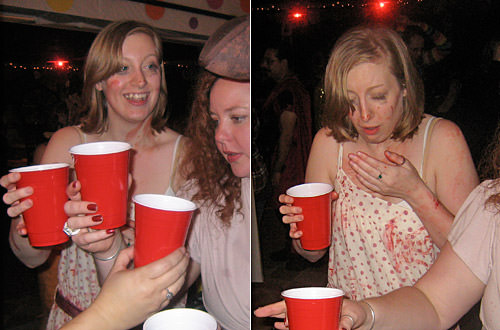 Yep, that's about right! Tequila innocence lost!
The picture tells the story, but the best part was when she turned to Hilly afterwards and said "GAH! IS IT SUPPOSED TO TASTE LIKE THAT?!?" Adorable. So cute I wanted to take her home in my pocket. Thanks, Sarah!
• The End! Since I had to get up at 6:00 and return my rental car to the airport, I stopped drinking at around 10:00pm and finally left The Avitable's house at 2:00am so I could rush back the the hotel and catch 3-1/2 hours sleep. I had already changed out of my costume earlier in the evening when I drove Hilly-Sue to the store on a beer run, but the makeup was still there. Frightening...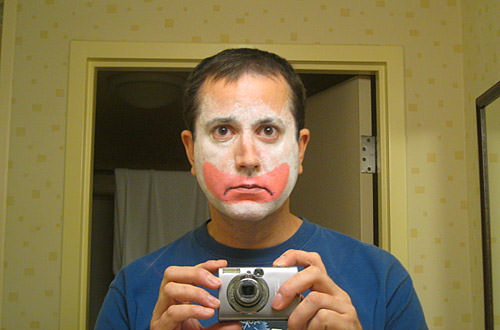 I'm a full 1/3 less scary without the wig on.
A huge thank you to Adam and Amy for such an amazing party again this year. Can't wait to see everybody again next Halloween!
I've posted some more pictures of the party in an extended entry, if anybody would care to take a look there...
• Photos! I was so engrossed in the party, I kept forgetting to take pictures! Here are a few of the ones I remembered to take. A few more iPhone pictures are on my Flickr Stream...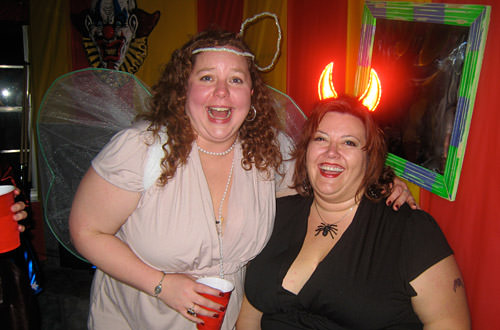 Becky & Hilly-Sue are Good & Evil.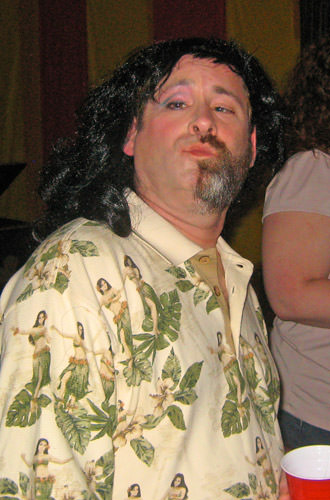 Karl exposes his feminine side... Karlene!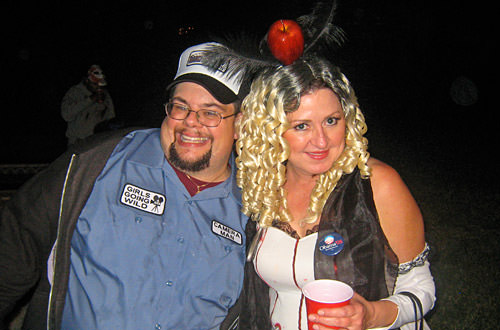 NYC Watchdog and Geeky Tai-Tai strike a pose.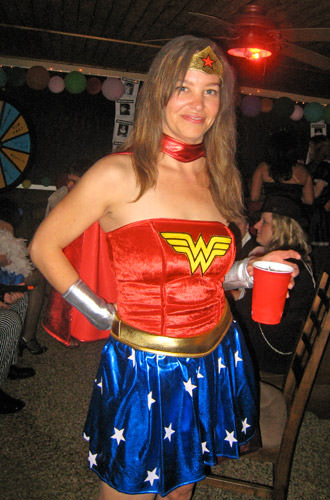 She's a wonder, Sibyl Law!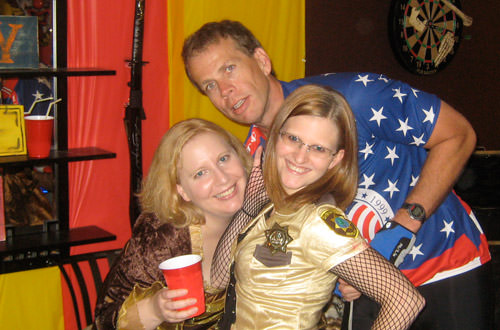 It's a Delmer Sandwich!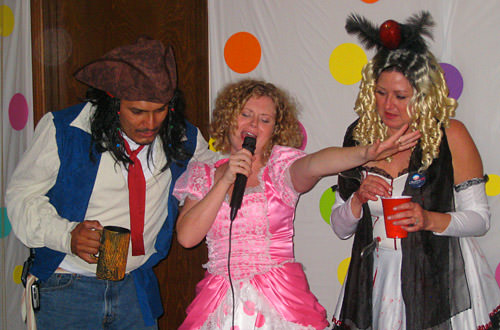 Miss Britt getting funky with her fine self!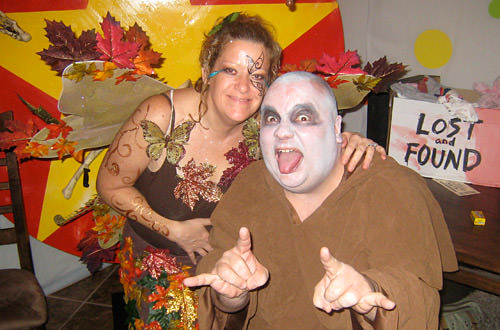 When Britt gave a shout-out to "Canadia," I think she meant these Canadians: LeSombre & Deanna.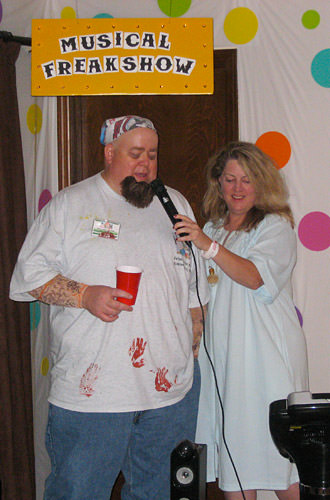 Mr. Fabulous and Turnbaby rock that mike.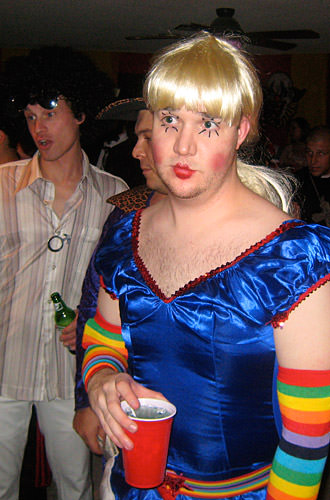 James IS Joel McHale AS Rainbow Brite FROM The Soup.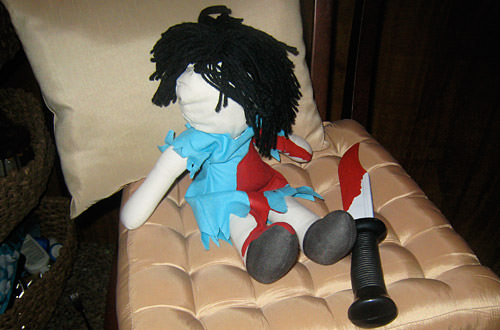 My Bloody Dolly taking a break.