Wow. What an amazing day.
And to think I almost missed it.
Originally, I was flying into San Antonio for some plans there, then driving up to Austin (because that's where Wayne and Karla were at). When my plans in San Antonio fell through, I had to cancel my entire trip to Texas. But then at the last minute I decided to go to Austin anyway. I had only been to the city a few times before, had never met Wayne in person, and it's a lot cheaper than going to Norway to say hi to Karla.
The day started with me ironing all my clothes.
Usually when the TSA pulls my suitcase for extra screening (which is ALWAYS) they are pretty good at putting everything back together nice and neat. This time, not so much. Every piece of clothing I packed had become a massive ball of wrinkles. Since I suck at ironing, they were only slightly less wrinkled after I had finished, but at least I had the satisfaction of knowing I tried to make myself look presentable.
Then it was time for lunch with Wayne from The Blog of Whall. I won a contest over at his blog a while back, and was given a choice of prizes. I picked "lunch on me the next time you're in Austin," and was here to collect. I was expected the 99¢ menu at Taco Bell, but Wayne went all-out and took me to The Shady Grove, a very cool restaurant which is the epitome of Austin's hippie culture. It's places like this that seem to typify the city, but not Texas as a whole. Indeed, if you were to visit only Austin, you might assume that Texas is a liberal, left-leaning, Obama-loving, Blue State. The reality is quite different, as shown by this electoral map from the last presidential election...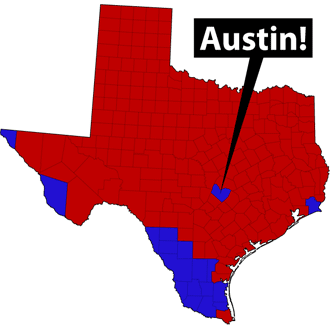 It's kind of interesting, because Austin is almost defiantly proud of being different. The wait staff at Shady Grove were wearing T-shirts saying "KEEP AUSTIN WEIRD!" which just about sums it up. After some darn fine chips & queso, we managed to get a table for delicious burgers out in the inviting Austin sunshine. Despite some political differences on some issues, Wayne and I are more alike than different, which made for great conversation and a terrific lunch. But no worries, I'm pretty sure I've convinced Wayne that Obama for president is the way to go, so Austin's Travis County going Blue in November is all but assured.
Then tonight it was time for Austin's premiere blogging event: Davestin!
Here's Karla modeling the Official Davestin Lanyard after we arrived at Opal Divine's Freehouse...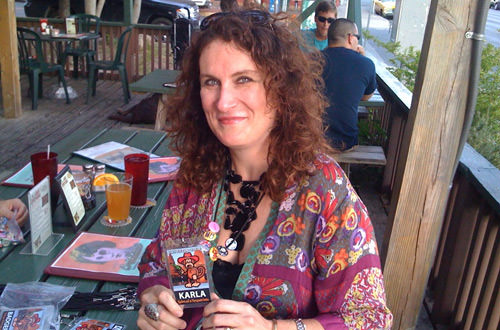 Here's Wayne, much happier now that he's supporting Obama...
Here's Ren from "Renagerie" with Wayne's lovely wife Christy (no, I have no idea how Wayne managed to get her to marry him either, the lucky bastard!)...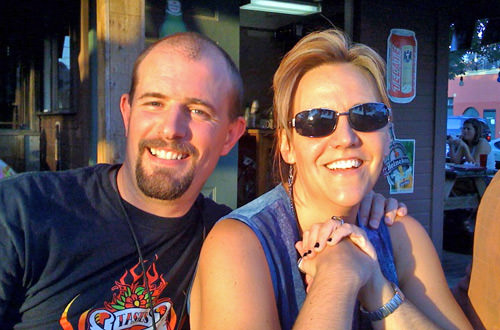 Going clock-wise from the lower left to lower right, that's Mags from "The Corrosion" and Karla May from Pine Curtain Refugee" and Lindsay from "Malcontent Mama" and Oliver and Lee from "I Love Beer" and Jaye from "Putting the 'Fun' in Disfunctional" and Karla from Tales of a Texpatriate and Badger from "Badger Meets World" (our resident palm-reading expert). Bookhart from "Up From Sloth" appears to have escaped...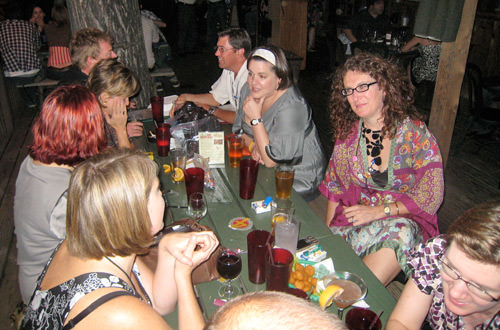 No, wait a second... there's Bookhart down at the end there! And me, eating awesome pepper-fries with delicious chipotle mayo...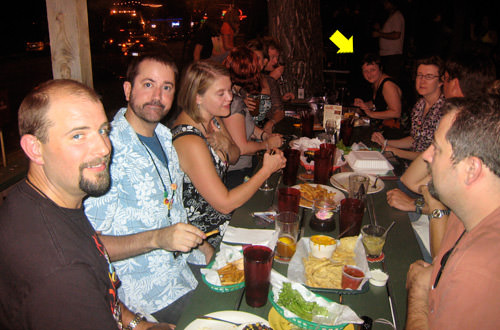 After dinner some of us headed off to The Jackelope for much drinking and merriment! Unfortunately Wayne had to run home and do some campaign work for Obama so he, Christy, and Ren couldn't join us. But he did give me a super-sweet Pearls Before Swine book to read on the plane-ride home tomorrow before he left, so it's all good.
After drinking entirely too much, I stumbled back to my hotel for some sleep. As I was looking across the street at a neon sign which said "Hospitality On Call" and wondering if it meant what I thought it meant, I heard somebody calling my name...
...only to discover that a friend I haven't seen in almost a decade was staying at the same hotel! This awesome coincidence called for even more drinking and merriment, at which point I think I must have passed out, because I honestly cannot remember how I got here to my hotel room.
Oh well. I still have my iPhone, camera, wallet, and all my clothes, so I guess everything worked out in the end.
Or not, depending on how you gauge a successful evening out on the town in Austin.