I'm not one for discussing politics on my blog very often, because I just don't want the drama. Too many people are so hopelessly entrenched in their opinions that there is no room to attempt any understanding of people who have opinions different from theirs. It's sad, but that's the state of our polarizing politics today.
This is not to say that I don't have strong opinions of my own... of course I do. However, since I have no political party affiliation and will vote for both Democrats and Republicans depending on the candidate, I'm not quite so entrenched. I'll happily entertain opinions different than mine because that's the fun of it all. I love the diversity of the human condition, and welcome debate and discussion of ideas.
But there's a difference between "ideas" and "total bullshit."
And during tonight's debate, John McCain dropped such a huge load of bullshit that I am compelled to respond.
Now, I would never belittle John McCain's military service to this country. Nor would I diminish his surviving captivity and coming back home after five-and-a-half years as a Prisoner of War (though I don't believe being a POW immediately qualifies anybody for office of the President of The United States). I respect his service and sacrifice for the USA completely.
I also respect his service as a United States Senator and his being chosen by the Republicans as their candidate for President.
And I think it goes without saying that I respect those who are of the opinion that he's the best man for the job when it comes to running this country. I may not agree with them, but I do respect them.
There is not one piece of me that doesn't feel that John McCain believes everything he has done (and will continue to do) in public service is for the protection and betterment of The United States of America. Again, I may not agree with his actions, but I respect them because he believes them to be righteous and just.
Yet there is one area where I will not extend John McCain any quarter.
None.
And he brought it up as his final statement in the debate (underlined emphasis mine)...
Jim, when I came home from prison, I saw our veterans being very badly treated, and it made me sad. And I embarked on an effort to resolve the POW-MIA issue, which we did in a bipartisan fashion, and then I worked on normalization of relations between our two countries so that our veterans could come all the way home.

I guarantee you, as president of the United States, I know how to heal the wounds of war, I know how to deal with our adversaries, and I know how to deal with our friends.
So you resolved the POW-MIA issue?
I'm sure family and friends of our military persons still missing will be happy to hear that.
But it's complete and total bullshit, and McCain needs to be called on it.
Mostly because he is considered by veterans groups and family/friends of POW/MIAs to be the NUMBER ONE ROADBLOCK to discovering what happened to those still missing.
I could rant endlessly about what a hypocrite John McCain is and how much I have grown to loathe him over the years because of his complete and total disregard for POW/MIAs when he should be their greatest champion. But I just can't go down that road of hatred and anger again, as I've already traveled it so many times before.
Instead I refer to a blog entry over at Their Voice which details the whole ugly story about McCain and POW/MIA issues that are brushed aside and ignored by everybody. And I'm not talking just about the Republicans... I'm talking everybody. The so-called "liberal media"... NOTHING. Political advocates for our military men and women...NOTHING. Even the Democrats... NOTHING. Nobody gives a shit except those fighting to learn the truth, and there's far too few of us. I encourage you to read the entire article, but here is a summary I'm quoting of what makes McCain a total douchebag, and why I will never EVER vote for him to hold any office or position where he is representing the people of The United States of America:
Since his return from Hanoi, McCain has...
Ignored pleas of POW/MIA Family Members for his political influence in the overall POW/MIA Issue as well as with their individual cases.
Verbally abused POW/MIA Family Members in public and private.
Attempted to negatively influence those who testified before the 1992 Senate Select Committee on POW/MIA Affairs.
Diminished legislation that gave oversight and protection to the families.
Dismantled protection to any future servicemen that go missing.
For ten years I've been involved in working to find the truth about our missing heroes (which I've documented over at DaveWeb.org since 1998). I have written letters. I have bought POW/MIA flags for organizations. I have donated my time and money to helping groups promote the plight of our POW/MIAs. And I have adopted a MIA soldier who is remembered by me every single day for over a decade when I've put on his bracelet each morning. I can ignore most of the stupid shit I hear in politics, but POW/MIA issues are very personal to me, and I cannot ignore this.
John McCain can take his "guarantee" and shove it straight up his ass.
Because people like me WILL NEVER FORGET those still missing, no matter how often McCain tries to sweep them under the rug.
Because people like me care about those who risk their lives in service of this nation and, unlike McCain, believe that a war isn't over until all those who made the ultimate sacrifice for their country are FULLY ACCOUNTED FOR.
Because people like me can't fathom a "maverick" like McCain with his legendary bad temper and historic disregard for those in military service as our COMMANDER IN CHIEF.
Let the drama begin.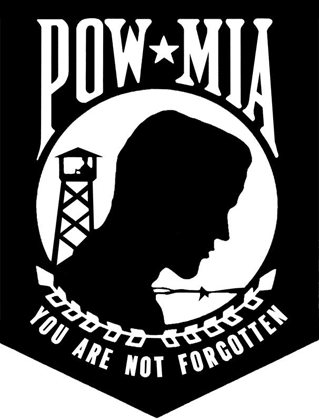 UPDATE: And so it has. For the learning impaired who have already started leaving hateful comments which have nothing to do with the issues I'm addressing (and are immediately deleted), this is not me "attacking a war hero." Read my fucking entry. I have nothing but respect for McCain's service in the military. It is John McCain who has no respect for our war heroes still missing! He got to come home from his captivity, but doesn't think other POW/MIAs deserve the same? Dead or alive, no soldier brave enough to put their life on the line for this country deserves to be forgotten.
And for those who just can't believe it, and find it impossible to believe that McCain could do such a thing, don't take my word for it. Here's a video excerpt of the award-winning documentary Missing Presumed Dead: The Search for America's POWs...
Nobody knows why McCain, a former POW himself, has consistently blocked all attempts by friends, families, and POW/MIA advocacy groups to learn what happened to those who are still missing. It is impossible to believe or understand, but there it is. And this is not a new issue. I'm not suddenly bringing this up just because McCain is running for president. I have been joining the fight for awareness of POW/MIA issues for over a decade, and McCain has always been a douchebag asshole working overtime against us. Is he hiding something? Covering something up? Who can say?
Why would anybody choose to serve in this country's military knowing that their Commander in Chief doesn't give a shit about them, and will forget about them like McCain has with our POW/MIAs? He is not a friend of our armed forces, he just exploits them in an effort to get elected. Brave men and women laying their lives on the line for their country are nothing more than a photo op to him. They deserve so much more. We all do.
But, again, don't take my word for it... research for yourself.