Yeah, everybody who had bets against me restraining myself from buying crap so totally won.
I could have lied and said I didn't buy anything, but Vahid photo-documented everything.
First I stopped at Chris Sanders' booth to pick up his sketchbook and Kiskaloo collection. If I could be anybody at ComicCon... it would be this guy. I first caught notice of his work when I was studying Disney animation (where he was an animator for films like Beauty and The Beast and co-creator of my all-time favorite Disney character, Stitch, from Lilo and Stitch). His last project, American Dog (which he was slated to direct at Disney), was stupidly taken away from him after the Pixar merger and is now called Bolt. This is a tragedy of epic proportions, because now we'll never know what brilliance he could have unleashed with that film. Now he's at Dreamworks, and I can't wait to see what they let him do. In the meanwhile, we get his sheer genius in comic book form...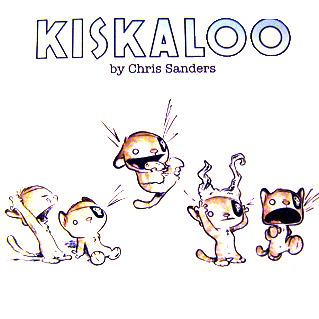 Next I went to get Brandon Peterson to get his latest sketchbook. As I said yesterday, he's one of my favorite artists in comics, and I was thrilled to finally meet him as he autographed my copy...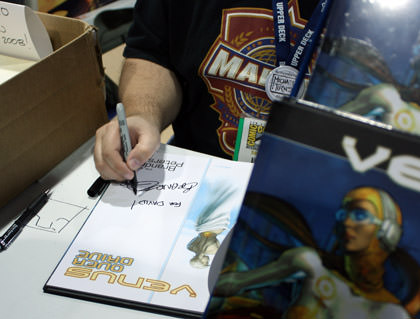 From there, I went to meet my long-time idol, Sergio Aragones (of MAD Magazine and Groo fame). What a tremendous honor that was...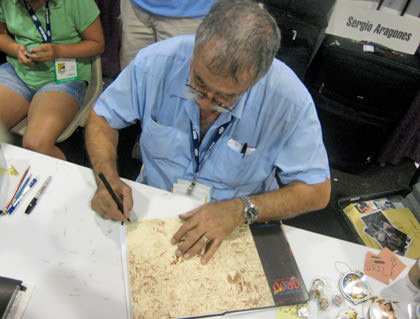 I start to walk away with my autographed copy of "Life of Groo / Death of Groo" hardcover, and =BAM!= There's Scott Shaw! Yet another legend in the comics and animation business!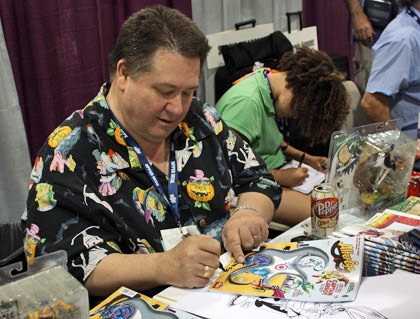 Then it was time to find Eric Shanower, who I've long idolized for his artistic style. I've collected most everything he's ever done, and his influence on my personal art is incalculable. I've met quite a few important and famous people over the course of my travels, but I can honestly say this was the first time I have ever been "star-struck." In talking with Eric, I think he was a little taken back about how much I knew of him and his career, but it made for a great conversation...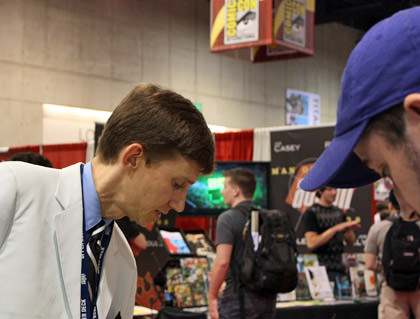 Lastly was another comic book great, Stan Sakai, who is the creator of another amazing book: Usagi Yojimbo. Though I have long been a fan of Japanese art and culture, Stan's fantastic historical references opened up a whole new world of interest in Japanese history, which I've long been grateful for. Cool bonus... he did a sketch in my book of Usagi himself...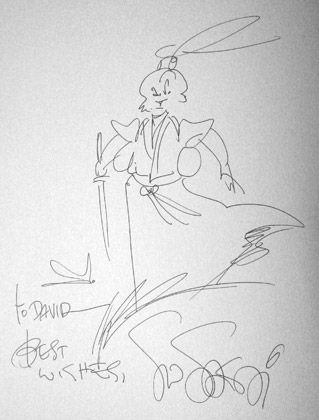 All in all, a pretty amazing day for me. And I didn't even mention how I got to sit in on a panel with Joss Whedon, Neil Patrick Harris, and Nathan Fillion...