One of the great things about Jägermeister is that it doesn't seem to give me much of a hangover. One of the bad things about dropping a shot-glass-full of it into Red Bull to create a Jäger Bomb is that Red Bull keeps you awake. And when you have too many Jäger Bombs (as I most certainly did) getting any kind of sleep is not easy. This is a good thing when you want to keep the party going... but not so good when you are trying to get some rest.
Which meant that I spent most of the day in a zombie-like state from total lack of sleep.
Which meant that playing Wii all morning was probably not a good idea.
This was confirmed when I threw my shoulder out while playing Wii Sports Tennis.
Stupid video game...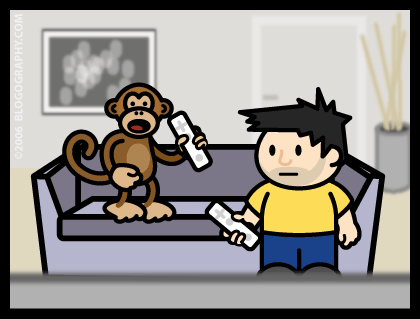 Fortunately I had some pain pills to fix that right up.
Which was nice, because I was invited to dinner by Spirit of St. Lewis. This allowed me to add another "blogger I've met" to my sidebar, because My 2 Cents was there as well. Later on we were lucky enough to run into fellow blogger Kristin Wood Knits (though we may have to strip her of her blogger cred since she hasn't written there since September!).
Big fun was had by all, so many thanks to Lewis, Blair, Chris, Bryan, and Kristin for letting me tag along!
Now it must be time to catch up on some of that sleep, because I am having a hard time keeping my eyes open here...