Tomorrow is "Super Tuesday," which is a bloated orgy of political debauchery that paints much of the candidacy landscape in our presidential election years. Nearly half the nation's states will be deciding who they will support at the national convention on this single day. Personally, I loathe the way that Super Tuesday works, because it pretty much ensures that only candidates with massive financial backing can compete... you simply cannot campaign in so many simultaneous states effectively unless you've got money. Lots of money. This basically means that wealthy individuals and cash-heavy companies are deciding what's best for this country, which hasn't been working out that great for us. Wealth and power only seem to ever be interested in obtaining more wealth and power... regardless of what that means for everybody else.
When it comes to the presidency, I've long since given up electing some dream candidate who is going to solve all our problems and fix all the things that have gone terribly wrong with the country.
At this point, I'm just looking for the candidate that's going to do the least amount of damage.
While I'm sure this speaks volumes for my political mindset, I don't think it's an irrational approach given where we're at right now. Just give me a president who isn't going to fuck up our shit worse than it's already been fucked up, and I'll be happy. If they can fix some things along the way, that'd be great.
Ultimately, I'm non-partisan and don't care about a candidates political affiliation (other than realizing that they are tied to their party, and much of their political career will be spent sucking at that life-giving teat). I also don't care about a candidate's race, religion, sex, or preference for pizza toppings. We need somebody willing and able to put their personal issues aside, realize that The United States of America is comprised mostly of people who are different than they are, and govern accordingly. I do care about finding a president who isn't a xenophobic asshole, and realizes that the US is not the entire world. This kind of antiquated thinking is fatal in a time where our standing in the global community is critical to our well-being. Our planet is a much smaller place than it used to be and is shrinking further every day. As a species, humanity needs to come together to ensure our survival... not just in America, but across the globe.
With all that in mind, I figured it's high-time I decide on a presidential candidate. Since the things that are important to me are so diverse, this is a difficult task. Candidates whom I agree with on one issue might be somebody I disagree with vehemently on another. No one person or party is perfectly aligned with my concerns, so it becomes a game of weighing the candidates against what I'm looking for and then positioning them against each other as a whole. To make this easier, I ended up creating a "Don't Fuck It Up!" matrix to help me decide who is the least likely to doom us all...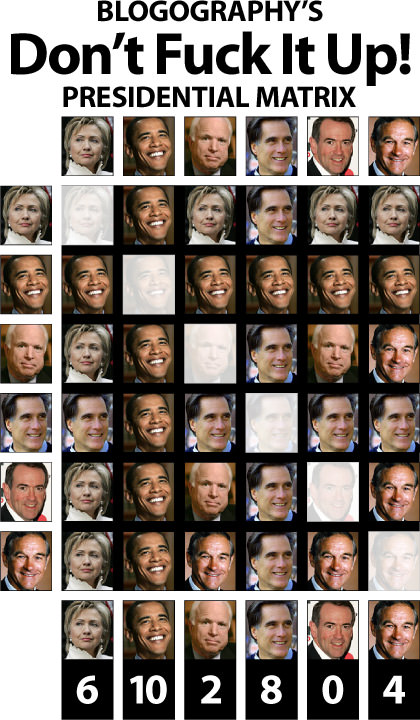 Hmmm... I guess the three times I've read Barack Obama's book The Audacity of Hope had quite an effect on me. While I don't agree with his stance on everything (there are a few areas I think he's a bit deluded and oddly misguided), I do think he has the best chance of not fucking up our shit worse than it's already been fucked up. As I said, this is what I'm looking for most in a candidate, so there you have it.
As for the other candidates, I'm like... whatever. I think Huckabee would be paramount to armageddon, and would rather have four more years of disaster with President Bush than to let him be in the White House for even 15 minutes. I've said repeatedly that I would never vote for MIA-POW betrayer McCain, but he'd get my vote over Huckabee (and only Huckabee) if that were a contest. Clinton has some good ideas (and some inexplicably bad ones), but I find her entirely too polarizing to believe she'd make an effective president. I'm not Hillary's biggest fan, but I would be able to put that aside and work with her for the betterment of the country. The same cannot be said for others, because people who hate her really, really hate her. Mitt Romney's high "Dont' Fuck It Up" score is surprising, because some of the things he supports are borderline reprehensible to me. But the more I look into how Mitt has handled past problems, the more convinced I am that he wouldn't make a half-bad president and would try his best to represent all of its citizens fairly. Ron Paul has some interesting ideas on foreign policy, but so much of what he advocates domestically is just so bat-ass-crazy-radical that he'd never get the support to do even half of what he's promising. Heaven only knows we need radical change, but I honestly don't think Paul realizes what it takes to do the things he wants to do, and that is what scares me.
But that's just me. Everybody should go make their own matrix and find which candidate is least likely to fuck up our shit for them. If what you come up with is different than what I've got, then you've found who should get your vote. That's what makes this place America.