Why am I such a magnet for wrong numbers? I get them all the time on both my mobile and home phones. This morning I'm interrupted eating breakfast at 6:20am by a ringing phone. I rush into the living room so I can answer it, and am immediately greeted with a stream of unintelligible Spanish the minute I say hello. "YOU'VE GOT THE WRONG NUMBER," I yell, but that only gets me more high-volume rapid-fire Spanish I can't understand. Totally irate now, I scream "Wrong number! Número equivocado! Número equivocado! NÚMERO EQUIVOCADOOOOOOO!!!" and slam down the phone.
I fully believe that if you get a wrong number from somebody, you should have the option of punching a code into your phone and it will charge the stupid fucker $25 for the interruption. Sometimes, if the person is nice and apologetic, it doesn't bother me too much. But most of the time wrong numbers just piss me off because the callers are idiots and I wants to get paid.
Being able to shoot a gun through the phone at wrong-number-dialing ass-clowns would be okay too...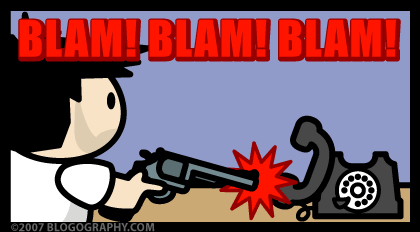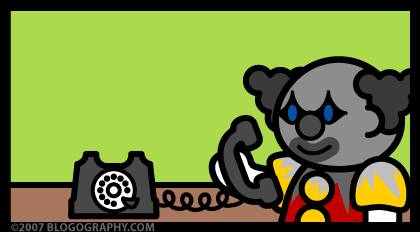 Blargh.
And now I have to pack my suitcase... well, two suitcases, actually... for my trip tomorrow.
Hopefully packing will tire me out and I'll be exhausted enough to finally get some sleep.
At which point I'm sure I'll be woken up by some moron who can't dial a phone number correctly.