The scary news out of Southern California is really messing with my head... inserting horrifying flashbacks into my brain from the two times I had to face a fire.
The first was around 15 years ago while I was living in Wenatchee. Fire was charging down the mountain towards my apartment complex, and I was running around with a garden hose putting out small fires on my roof and nearby shrubs. Eventually, I was forced to evacuate by the fire department, not knowing whether or not my home would be there when I got back. Turns out it was still there (though everything around it was burned up). I woke up in the middle of the night smelling smoke for years after.
The last time was just three years ago. Since I was blogging then, the experience was documented...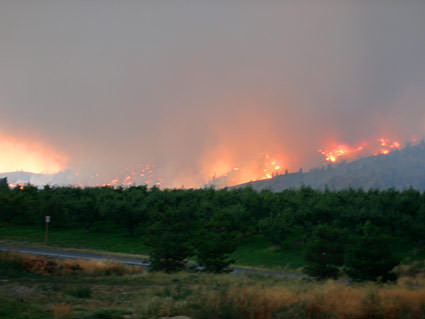 Though I once again escaped unscathed, it only added to my fire trauma. To this day, I still wake up smelling smoke and thinking that I'm in the middle of a fire every once in a while.
So when I see what Southern Californians are going through, I can totally sympathize. Been there. Done that. Twice.
Hmmm... guess I'll have to save that entry on spoons I was writing for another time... because right now I am desperately hoping I can get some sleep. Even if I have to self-medicate to get it.
Hopefully my dreams will be smoke-free.