It's Bullet Sunday from mid-air as I cruise home on Northwest #807! And, since you're not allowed to be shooting bullets on planes anymore, I'm sure an Air Marshall will be along directly to escort me off the flight.
• Security! I continue to be amazed (but not surprised) when people show up late to the airport and decide that they should get to cut in line at the security checkpoint because their flight is taking off in ten minutes. Tough shit! Maybe if you miss your flight, you'll remember to haul your lazy ass out of bed and get to the airport early like everybody else standing in line. I would have loved to sleep-in for an extra hour this morning, show up late, and then cut in front of the line... but I'm not a complete douche.
• Erasure! Having never seen them in concert before, I leapt at the chance when I found out that Erasure would be playing in Milwaukee, and met up with blogging buddies Diane and Heather for the concert, which was held at the Pabst Theater...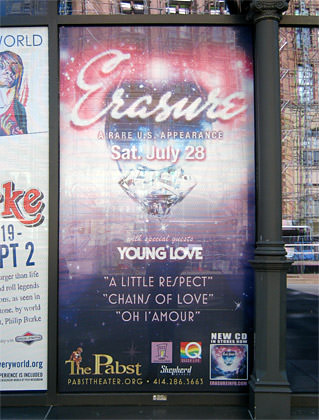 Erasure was formed when Vince Clark quit my favorite band ever, Depeche Mode, and split from his follow-up band, Yaz. The story goes that he had intended on doing some new music projects with a rotating roster of singers but, once he started working with Andy Bell, the partnership stuck and they've been making music for over two decades now.
The show, as you would expect from a group with an ecstatic gay fan-base, was FAAAAABULOUS! All the music was beautifully keyed by Vince from his MacBook and a small sequencer, the three ladies backing up the group on vocals were suitably talented, and Andy... well, Andy was Andy... pouring his flamboyant little heart into a remarkable performance that elevated this concert to one of the best I've seen. Given the intimate nature of the rather small Pabst Theater, the glitzy stage for the show had to be condensed a bit, but was still nice. Our first balcony seats offered up a terrific view (thanks Diane!), and the sound was great. The set list had a large amount of new material, but it was the old favorites (like Chains of Love and A Little Respect) that brought the crowd to their feet. All-in-all, it was a great show and I would gladly see them again.
Except next time I'll dress appropriately...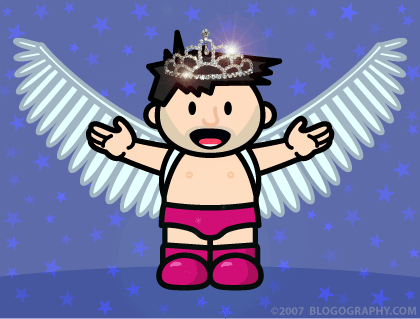 • Young Love! Surprisingly, the opening act for Erasure was really pretty good. This came as a pleasant surprise, because usually concert openers suck ass. The band was called "Young Love" and had an eclectic rock-pop style that made them a good fit for the tour. I'm hoping that their stuff is available on iTunes so I can buy some of it.
UPDATE: Yep, turns out they're on iTunes! Sweet!
• iPhoneable! There are so many things I love about my new iPhone that it's tough to narrow down what's best about it. But right now it would have to be the fact that it has an unlimited data plan. Because nothing makes me happier than being able to tell overpriced airport internet providers to kiss my ass. Having to pay $9.95 for an entire day of access always pissed me off, because a layover doesn't usually go over 3 hours (and $10 for 3 hours is a big rip-off). AT&T's EDGE network may be slow, but iPhone allows me to use it for everything I need... checking email, approving comments, reading my feeds (thanks to NetNewsWire's brilliant new iPhone-optimized site), and kill time surfing the internet. One of my best purchases ever.
• iDead! At least it was one of my best purchases ever until it died just now. With plenty of battery power, I was listening to music on the flight when iPhone just went black and would not turn back on. Taking a wild guess, I held down all the buttons at the same time and eventually iPhone rebooted and everything was fine again. Odd. Hope this doesn't become a regular thing.
And that's it for Bullet Sunday because we'll be landing in 20 minutes. All I have to do now is change planes in Seattle, make one final hop over the mountains, and I'm home!