This is a pre-recorded episode of Blogography from Thursday, May 31.
I'm pretending it's Sunday so I can whip out some bullets that will post when the most magical day of the week appears!
• Health Food... Why is it every time I find a new food I like that I have to go looking at the Nutrition Facts, only to find out that eating it will kill me? The Schwan's Man had a brand new item called "Grilled Cheese Toastwiches," which have all the deliciousness of a grilled cheese sandwich, but without the back-breaking labor of having to put cheese between slices of bread and heating it up. Nope, with Grilled Cheese Toastwiches, you just pop them in the toaster! Sweet! At least they were, until I found out each piece has 25% of the daily amount of saturated fat you should eat in a day. This sucks ass! Especially since I've already had three pieces today. I guess that means I am 75% closer to death.
• Kaleidoscope Toons... Posting yet another couple of frames showing progress with my DaveToon video. This is another scene I worked on while I was on vacation. Much of the video has lots of animated elements, so I was trying to come up with some simpler scenes to break things up a bit. Believe it or not, these always end up taking far more time to animate than the ones with far more going on. I have no idea why...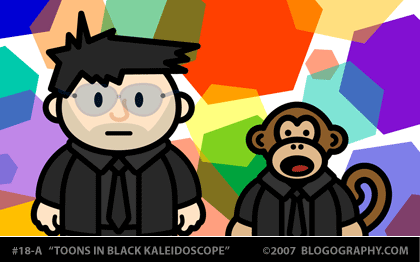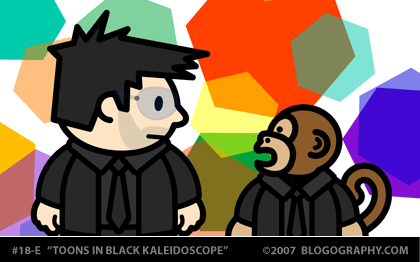 In the final video, I had planned for the kaleidoscope background to have some kind of filter applied to it... possibly one that makes it look more "dreamy." But the more I look at the scene in motion, the more I question a need for a filter, because the bright colors are a nice contrast to the black suits. =Sigh= I can see that completing the animation for this project is going to be just the beginning...
• World Round... As I was updating my travel map to reflect my recent vacation, I noticed that my trip to Egypt means I can check another continent off my list. Granted, it's not a lot of Africa to have seen, but it still counts! That leaves just three continents left to see: South America, Australia, and... ANTARCTICA?!? South America and Australia will almost certainly happen one day, but Antarctica? Doing a little research, I find that it's not as difficult as I had first thought to visit, because there are tour ships that go there. All it takes is money. Lots of money. The good news is that it would be an automatic two-for-one trip, because all the tours leave from South America. The bad news is that the cost is also two-for-one... first you've got to spend the money to get to Cape Horn, then you've got the cost of the ship tour on top of it. Does anybody have around $15,000 burning a hole in their pocket to finance my Antarctic adventure?
• Members Project... American Express has unveiled "The Members Project," which is a program whereas cardholders can submit ideas for a prize up to five million dollars so they can make a positive impact on the world. It's actually a pretty cool idea, and they lined up some all-star talent to advertise it in a commercial. You get Martin Scorsese directing, who also appear in the spot along with Andre Agassi, Sheryl Crow, Ellen DeGeneres, Alicia Keys, and skateboarder Shaun White. The odd part is that the commercial is interrupted by a guy from "the office next door" who is named "Tim." This is the same guy that does the video introduction at the Members Project website...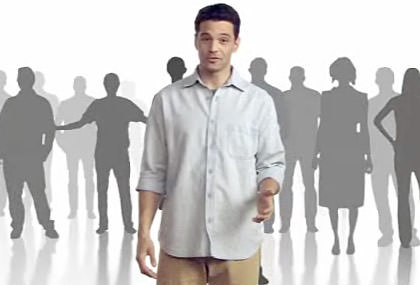 "People fought wars just so we could eat pizza on the wrong night!" —Norris Michelsky
But here's the thing... "Tim" isn't just some random guy. I'm pretty sure it's actor David Alan Basche, who has been in a number of television and movie projects, including one of my favorite shows ever, Oh Grow Up! In many ways, this makes him a bigger star to me than any of the "big-name" stars in the commercial, which is why it cracked me up when I saw it. I also get mad that Oh Grow Up! hasn't been released on DVD, but that's beside the point.
• Cattlecar Galaxica... I was very disappointed to learn that, in addition to Veronica Mars being canceled, Battlestar Galactica is ending after the upcoming fourth season. If there's one piece of good news about it, the decision to end the show came directly from the producers. They saw that the story was heading to an ending, and decided to take it there rather than draw things out until nobody cared anymore. I sure hope that some decent shows arrive for the new Fall TV season... because if this keeps up, there won't be anything on for me to watch.
Well that wasn't as difficult as I thought it would be... I should pretend it's Sunday every day!