Today was "International Crap on Dave Day" and nobody bothered to tell me in advance.
Instead, everybody just started piling the crap on me until my lovely day was all covered in poo.
Ordinarily, this wouldn't bother me. It seems that "International Crap on Dave Day" comes along at least once a month, so I'm used to it. But today's figurative crap was supplemented with actual crap, which is why I was not okay with it. And I still have no idea what I did or ate that gave me such a bowel-draining case of diarrhea in the first place. All I do know is that it took two hours and a half a box of Imodium before I was able to leave the toilet for more than two minutes at a time. Sure it wasn't the best way to spend my morning, but the up-side is that I beat my high score on Mario Cart DS.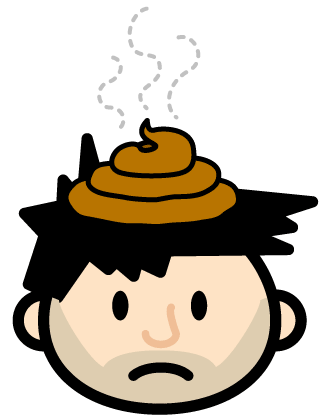 Anyway...
The smoke filled skies that plagued my trip back home yesterday seem to have followed me. This morning things were looking a bit hazy and, by the time I left work tonight, things had gotten much worse. I suspect that when I wake up tomorrow, I'll look out my window and see flames.
Though as long as it's a poo-free day, I'm strangely okay with that...