The Dave dropped his rugged frame into the uncomfortable chair with a grunt. His manly hands banged away at the computer's keyboard, tracking the shipment through the byways of cyberspace. After weeks of delays, today was the day his new PowerBook was due to arrive. Finally, all those bastards would pay.
As he waited for the requested information to appear, The Dave's testosterone-laden body heaved a sigh of indifference. The world may be going to hell around him, but the PowerBook was all that mattered now. He was blind to everything else.
Until the tracking data starting running across his display...
WHY! OH LAWDY WHY! WHY ME? WHAT HAVE I DONE TO DESERVE THIS?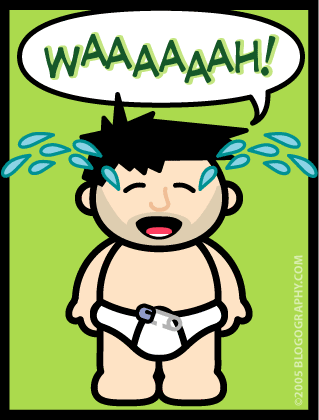 Trapped in Indianapolis for "International Shipment Release" by FedEx, there would be no new PowerBook delivered today.
The Dave pounds his massive hammer-like fist on the desk in a fit of unbridled rage. How dare they?
How. Dare. They.
Time passes, but the shock doesn't. Drunk on disappointment, The Dave staggers into the uncaring arms of a cruel night. Throwing caution to the wind, he drives home without his seat-belt on, laughing in the face of danger. The fine for driving un-belted is $101, but The Dave cares not.
Bring it on Johnny Law. Bring it on.