Would it surprise you to learn that I have been hiding secret information in my blog entries since the very first one? Do you find this shocking? Disturbing even?
My very own Da Vinci Code... a DAVEinci Code, if you will.
That's right. Just when you think you have experienced everything that Blogography has to offer, you find out there is a whole new level to my genius. Like an onion, this blog has many layers.
And it occasionally it smells so bad that it makes you cry...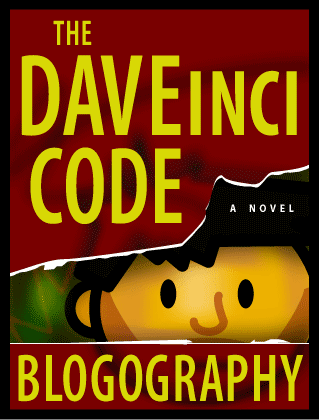 But anyway, like I said, each of the 1156 entries here has hidden information imbedded in them... and each bit of information combines with other bits to create a grand tapestry of forbidden knowledge, ancient secrets, profound revelations, and shocking prophecies. It's a remarkable achievement, I know!
So feel free to spend your life trying to decode the fabulous mysteries contained within my blog. I just can't imagine a more noble devotion of one's time. And in order to inspire you, I've included some sample scenarios to get you started...
DAVEinci Code Sample #1: Have you ever wondered what happens if you take the fourth word of every fourth Blogography entry, convert the letters into hexadecimal, then multiply the result by four and feed the end product into Photoshop as a raw file? Well wonder no more! Here is the fabulous result...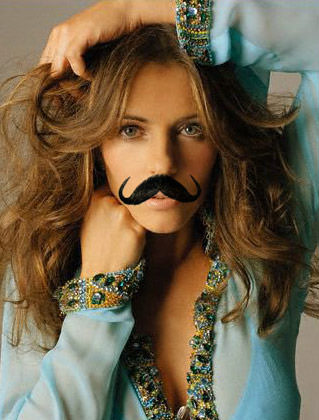 Okay, the incredibly sexy Elizabeth Hurley doesn't actually have a mustache... I think I must have miscounted some words along the way... but that's pretty amazing isn't it?
DAVEinci Code Sample #2: Can you guess what happens when you take all the entries from my trip to China, strip out all of the vowels, convert the remaining letters into their base vector equivalents, feed the result into a cartography plotter as GPS coordinates, then overlay the resulting image over a map of the United States? Why it's a treasure map! And what happens when you link up the cities? I'll show you what...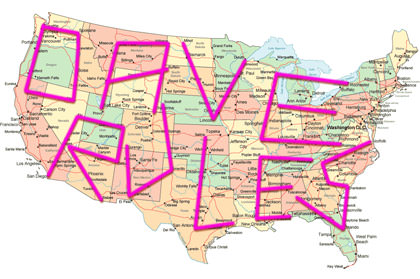 That's right! Anybody living in Seattle, Spokane, Boise, Elko, Redding, Salem, Salt Lake City, Great Falls, Wiliston, Cheyenne, Idaho Falls, Buffalo, Minot, Omaha, Duluth, Marinette, St. Louis, Rochester, Pittsburgh, Roanoke, Chicago, San Diego, Ely, Grand Junction, Gallup, Las Vegas, Bisbee, Durango, Las Cruces, Amarillo, Cheyenne, Salina, San Antonio, Beaumont, Poplar Bluff, Baton Rouge, Pensacola, Greenville, Birmingham, Knoxville, Norfolk, Asheville, Augusta, Charleston, Orlando, and Montgomery... well, you might want to grab a shovel and start digging for buried treasure! And, if you find it, just send it to me and I'll cut you in for half of the value as a finder's fee! How cool is that?
Yes, yes... I know... it's totally incredible isn't it? And there's so much more! Want to know where Jimmy Hoffa is buried? It's in there! Want to know next week's winning lottery numbers? That's in there too! Dying to know the name of the guy who will be chosen as ball-boy at the final tennis match at next year's US Open Tournament? Yep, that's in there too!
Knock yourself out, and don't forget to forward my half of your lottery winnings.
BLOGOGRAPHY FLASHBACK ENTRY: Dave Approved: Crest
BLOGDATE: August 28, 2004

In which Dave stumbles upon the miracle of cinnamon-flavored toothpaste, and discovers a tasty new breakfast cereal topping that can kill you.
Click here to go back in time...