Packed: There's nothing more fun than packing suitcases for a trip! Today I am having maximum fun. At least that's what I am telling myself as I try to get my stuff together. Again.
Booked: One thing I am happy to be packing is some cool new reading material that was sent to me. Sure beats trying to find something at the airport! I rarely have time to read except when I am traveling, so big link love goes out to James for his much appreciated thoughtfulness!
Crypto: A while back Sven had mentioned in an email that I should get a security certificate so I can digitally sign and encrypt my email. It sounded really complicated, so I put it on my "to do" list and forgot about it. Then the other day while I was in the middle of a phone call, I went ahead and tried it because it didn't cost anything and I was bored. Well, my faithful Mac made it fantastically easy, so now all my email is digitally signed (verifying that I was the one who really sent it) and, if you have a security certificate on your machine, anything I send to you will be encrypted as well. It's all very cool, and the Mac is really smart in that it can manage your certificates for you automatically. Here are the easy instructions for Mac users (I'm sure Windows isn't too much more difficult). And speaking of Windows users... I am told that Outlook stupidly marks digitally signed email as having an attachment. So don't be surprised when Windows sufferers get mad at you for sending an attachment they can't find.
iStinc: Apple's .Mac service has the ability to sync your data between multiple computers, which is amazingly handy... in theory. Despite several upgrades over the years, syncing STILL doesn't work as advertised. Sometimes things don't sync properly, and sometimes they don't sync AT ALL. My beautiful new email security certificates refuse to sync, despite the fact that I have specifically marked the new keychain I made for them as syncable. I've tried everything, but it's a no go. Furthermore, manually importing the certificates works until the next sync, at which time they are erased. I wish Apple would fix this crap once and for all, because it's not just keychains that screws up... everything screws up in sync eventually: bookmarks, email accounts, address books, and all the rest.
Phoney: I'm getting quite a few Google search referrals wanting to learn about my new Motorola a840 global mobile phone. Well, there's not much to say. The phone works as advertised. You can use the default CDMA network where available, then switch to GSM service when it's not. You CANNOT, however, switch to a GSM service when Verizon CDMA is available. It is your "home" network and overrides all others. So if you are buying the phone thinking that you can switch between Verizon, T-Mobile, Cingular, or whoever... it won't work, even if you use one of their SIM cards. It's a good phone, but all is not perfect... the phone is MASSIVELY HUGE compared to every other phone I've used. Not bad, just MUCH, MUCH bigger than I would have preferred. Also, as usual for Verizon phones, Bluetooth support is missing (dumbasses). Still, if you travel the globe like I do, it is super sweet to be able to make and receive calls wherever you go over both CDMA and GSM networks (except Japan, natch)... all on one phone number.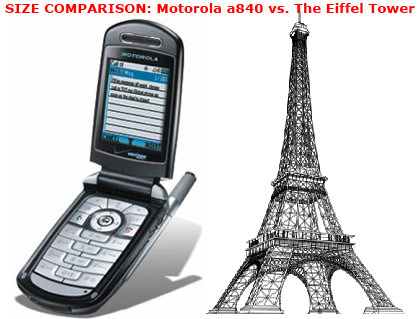 Universe: A while back I answered some of the biggest questions in science. Among them was a "what is the Universe made of" type thing. In my answer, I said that so-called dark matter is actually residue from temporal shifts in the universe... not actual "matter" at all. Now scientists are starting to catch up. All I can say is that when they finally figure out that I was right all along, they had better use the name I had given to the buffer particle that keeps the Universe from collapsing on itself... the "Daveon Particle"... or I shall be very cross indeed.
Gameable: For my upcoming trip, there will be a lot of mucking about on trains, so I thought that I would get a new "PlayStation Portable" PSP to pass the time between books. I gave one a try at a demo booth and discovered something strange... the games suck ass. I mean, there were a couple racing games that were pretty amazing, but everything else was kind of "eh." Since at most I would want just one racing game, I took a pass. Then when I got home I checked the game review sites, and they confirm what I had just found out: PSP games are mediocre. IGN reviews show NO perfect 10 games, just two 9-star games (racers), and a measly ten 8-star games (mostly sports)! That's just sad. I wonder if the much less cool Nintendo DS fares any better?
Back to packing...