After the perfectly clear skies yesterday, awaking to a dreary, cold, and overcast day was quite a shock. The weather took a complete 360 overnight, which kind of sucks ass.
The day started at the Palazzo Ducale (Doge's Palace) while the queue was short. In the early days of Venice, this was the "Palace of Justice" and home to the city government. It was made to show off the wealth and splendor of the Venetian Republic, and does so exceedingly well. You can't take photos inside but, even if you could, it would be difficult to capture the immense size and lush visuals each room presents. All I could manage was a picture of the courtyard...
I should have gone to the top of St. Mark's Campanile yesterday when the sky was blue, but oh well. Even cloudy, it's still a heck of a view over the city...
The weather wasn't improving, so I took a "vaparetto" (water bus) to the small island of Murano off the northern coast of Venice. Murano is famous for glassworks, and there are a number of working factories and showrooms you can tour. As a huge fan of glass maestro Dale Chihuly, I could not resist.
Sadly, much of the stuff I would actually buy is way, way out of my price range. Even if I could afford it, getting it back home in one piece would be tricky. Still, it's fun to watch (I especially like this guy's "inspiration" he's got hanging on the wall there)...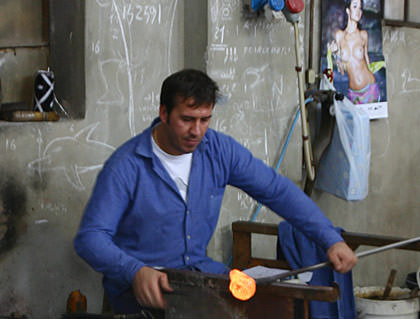 Murano itself is kind of like a miniature version of Venice, with its own system of canals and bridges. Had the sun been out, it might even be considered "charming"...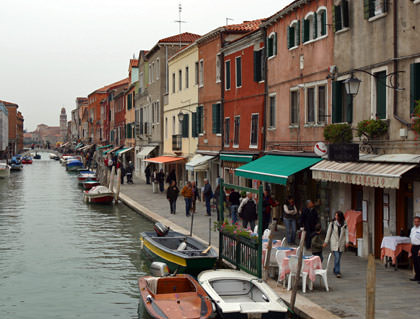 With the weather holding firm, I decided to look for some indoor activities in the Dorsoduro area. There are two notable galleries here, the first of which is the Peggy Guggenheim Museum of Modern Art. It's quite a nice collection, and includes many famous artists like Picasso, Pollock (whom she discovered), Miro, Kandinsky, and some terrific Mondrians. Just across the next canal is the Accademia Museum, which houses the largest collection of Venetian art in the world. It's pretty sweet, but most of these religious-themed paintings are starting to all look alike to me. After seeing your hundredth version of St. Sebastian being martyred and your millionth version of Mary holding baby Jesus... well, even the different artistic interpretations aren't enough to keep things interesting.
As the day was ending, the weather was actually starting to clear up a bit. I can only hope that this means Venice is in for a better day tomorrow.