My intent today was to do as little as possible so I could relax on my last day in Beijing, and I think I succeeded.
After rolling out of bed at 9:00am, I had breakfast at the hotel next to a couple of annoying bitches who were shameless about being critical of their time here in China. This just baffles me. I mean, why travel outside the US if you are going to complain about things not being like the US when you leave the country? You are a GUEST here... if you are going to be dumbasses, at least have the courtesy not to do it in a public venue.
Missing my driver already, I ended up taking a taxi to Lama Temple. This is a terrific oasis of calm in the northeastern corner of the city...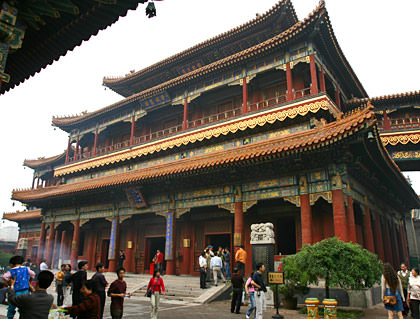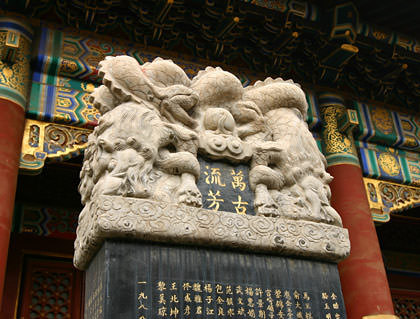 I then walked the short distance to Confucius Temple, but it was under heavy construction, so I gave up on that idea pretty quickly. Since a subway station was nearby, I decided to just take the metro to the southeastern corner of the city so I could visit the "Beijing Friendship Store" and have lunch. I ended up eating at the Pizza Hut here, thinking it would be a nice change of pace from all the tofu I've been consuming over the past week. Turns out I should have just eaten a traditional Chinese vegetarian meal at the Buddhist temple, because I ended up feeling pretty sick after eating my cheese pizza.
Not feeling well at all, I decided to just walk to Tienanmen Square to see what festivities might be going on for National Day. This was a mistake, because walking 2-1/2 miles with a sick stomach does nothing to make you feel any better. By the time I got there, I was ready to puke or die or both. Turns out it was a wasted trip anyway, because I was either too early or too late to see whatever display was going on. It was just an endless mass of people waiting for something to happen...
And that was it. I flagged down a taxi to take me back to the hotel so I could chew on a few Pepto Bismol tablets and watch television. Since I had already been to The Great Wall (twice), there wasn't much else I wanted to do. All that's left is to pack my suitcase, get some sleep, and head off to the airport in the morning.
Goodbye to the Middle Kingdom. Thanks for having me. 谢谢