I like getting thoughtful (or even not-so-thoughtful) comments on entries I post. And because I realize that sometimes people wish to comment anonymously for one reason or another, you don't ever have to leave your name or email address to speak your mind. So long as you have something to contribute (even if it's in disagreement with something I've said), I don't care if I know who you are or not. Sometimes this backfires, because people will just call you a name or leave a string of profanity or wish you dead but, for the most part, it's worth the effort.
But, in the end, Blogography is like a magazine with myself as sole editor-in-chief, and I occasionally choose to delete comments as I see fit. It's rare, but it does happen if I feel the comment does nothing to contribute to the conversation (negative or positive) and is just trolling for attention or shock value.
Comments are easy to monitor, because Movable Type has an approval system which allows me to review each and every one.
It's the anonymous emails that drive me insane.
Since my email address appears on every single page of this site, many people choose to write to me. Most of the time I'm happy to receive mail, because it gives me the opportunity to get to know my readers a bit better. Odds are, even if you are vehemently opposed to something I've said, I will gladly reply as a courtesy for having spent your valuable time writing to me. That's why I put my email address out there in the first place.
But now, as people are discovering anonymous re-mailers, I am getting a considerable amount of anonymous emails with the sole purpose of attacking me for one reason or another. Sometimes it's just bizarre comments fueled by ignorance. Other times, they are the most hateful, horrible things you can imagine. Other times they are just plain stupid. Like this one for instance...
"I searched Google to find a recipe and your site came up. I clicked on the link, but the recipe was not there. Why do you advertise recipes on Google if you are not going to provide them? This is very unfair and misleading and wastes my time. You need to post the recipe you promised!!!"
Of course, they sent the email through an anonymous re-mailer, so I don't even know who it is or why they are so stupid. Furthermore, my incentive to reply is nil. If I had replied, here is what I would say...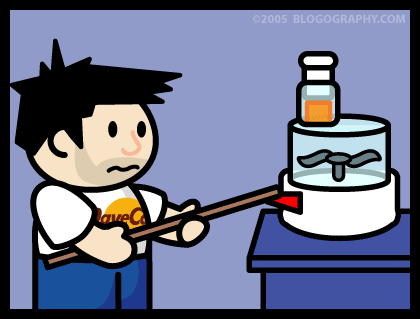 Terror
Dear Ignorant Bitch,
Since you didn't tell me your name, is "Ignorant Bitch" okay? Great, thanks! Google is a search engine that indexes all pages of a web site, and I have no control over the results they provide you. I certainly do not advertise anything on Google as you imply, and don't promise shit. Odds are, you don't know how to perform a proper search anyway, and ended up with a monthly archive page with thousands of words that somehow contained the random words you were searching for. Perhaps if you bothered to send me your actual name and a valid email address, I would give you some tips on using quotes and wildcard characters to find what you are looking for but, since my mother told me not to talk to strangers, I guess you're on your own. Thanks for visiting Blogography!
But emails like that are just harmless entertainment. It's the deranged psychos that baffle me...
"I have written to you five times for help with my MT templates and you have not responded!! I was trying to be nice! Would you be happier if I hunt you down and beat the answers out of you? Hahaha!"
Here's the interesting bit... not only were the five emails sent anonymously, but they were sent over the course of two days! My reply, had I felt like responding to an anonymous re-mailer, would go something like this...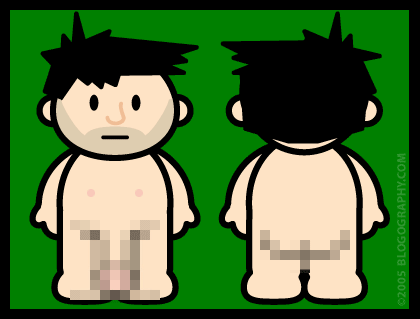 Nude
Dear Psycho Hand-jobber,
Beating the answer out of me is probably the best approach, assuming that you are well-manicured and have experience in porn films or prostitution (and are not easily frightened by large objects). As for your enthusiastic need for assistance, please realize that I travel... a lot... and do not always have access to my email. Furthermore, while I am happy to help when I am able, demanding an immediate response is rather rude if the person in question is not being paid to assist you. I suggest that you either: A) get some manners, patience, and common sense; B) pay me my hourly rate; or C) be really good at that hand-job you're promising. Thanks so much for taking time to write with the promise sexual favors! That doesn't happen nearly enough around here!
And then there's the scary ones (heavily edited for profanity and massively corrected for spelling)...
"LIKE _______ SO MUCH?? THEN ____ ___ YOU ___________ ______!!! ITS ____ _____ LIKE YOU WHO _______ HATE AMERICA THAT NEED TO BE _______ SHOT!!!!! ______ _______ ______ LOVING ______!!!! ____ ___ AND DIE ______!! OR MOVE TO CANADA WITH THE REST OF YOU ______ LOVING ____!
Charming. And completely anonymous from a bogus Yahoo! address. I suppose I'm taking my life into my own hands here...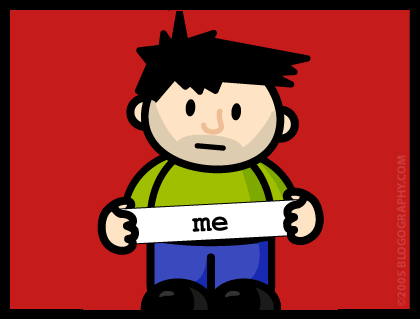 Labeled
Dear Anonymous Pussy,
Whenever I put my opinion out there, I sign my name to it. By using a fake address and not signing your name, do you really expect I give a crap over anything you have to say? Perhaps your ignorant, racist remarks are so embarrassing to you that you just can't bring yourself to sign your name... I have no idea. But, for future reference, if you wish to be taken seriously regarding your thoroughly offensive comments, I'd suggest the following: A) spell check; B) tact; C) a thesaurus; and D) some balls. Thanks for reading. I hope I can anger you even further in the future!
Anyway, if you want to send me an anonymous email or comment, that's fine if you have something to say. But if you are doing it just to be a sack-licking, monkey-spanking, dumbass... don't bother. I don't care. And if you don't have to balls to sign your name when you flame me, then you probably don't care either.