I really needed a good night's sleep so I could be fully functional this morning. So last night I did something I rarely do: take a couple of sleeping pills. Unfortunately, a pack of barking dogs decided to set up shop under my window at 2am, so my slumber was rudely interrupted. I did manage to get back to sleep, but now I feel like a zombie... sluggish and unable to concentrate.
I don't usually start into the Coke with Lime until much later, but I am hopeful that drinking a couple of caffeine-laden cans at 7am will sufficiently drive the sleeping drugs from my system. Until then, I thought that I would wander around the internet for a while and see what's new.
Still in a narcoleptic state, I read the news that Apple has FINALLY released a two-button mouse. Needless to say, I thought I must be delusional. Especially when I see that they have named it "Mighty Mouse." But, alas, it's real...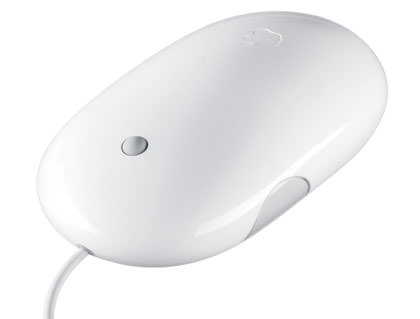 Sure it still looks like a one-button mouse but, you know Apple, they can't ever do things the easy way... they had to go and use touch-sensors instead of unsightly buttons. On top of that, they decided to one-up the scroll wheel with a "360° scroll ball" and add couple of squeezable sensors on the sides as well. Sounds nifty-keen.
Of course, I simply had to have one, so there goes $50 I probably didn't need to be spending. Such is the price for being an Apple whore.
Movie Quotable of the Day:
"She's safe, just like I promised. She's all set to marry Norrington, just like she promised. And you get to die for her, just like you promised. So we're all men of our word really. Except for Elizabeth who is, in fact, a woman."
Yesterday's Answer:
Akira
(1988) by Katsuhiro Otomo.