It seems that every day is turning out to be "one of those days." I was planning on a trip to Korea in two weeks, but found out this morning that I have to leave this weekend. Bummer.
So there I was trying to find last-minute airfare to Asia at a price that doesn't cost more than the buying my own plane. Eventually I find a rather decent fare from Northwest, but then decided that I don't want to "get a full-body skin rash that itches like hell and doesn't respond to any medical treatment." So instead I booked a cheaper fare with United, where I have no frequent flier status and cannot get upgraded from coach. Thanks a lot Peggy!
I have mixed feelings about the whole Northwest Airlines mechanics strike. On one hand, yeah, I think it sucks to put in 20 years and then have to lose money and benefits that you've worked so hard to get. But, on the other hand, I think it's really, really lame that the mechanics union thinks that they should be immune to financial hard times. Workers EVERYWHERE are having to take pay cuts and face layoffs so that companies can survive. What makes $70,000 mechanics so special that they shouldn't have to take a hit like the rest of us?
And then I read where the union spokesman is saying "the mechanics would rather see the airline go into bankruptcy than agree to Northwest's terms," and have to wonder exactly who this moron is representing. If Northwest goes bankrupt, and the airline goes under, then nobody has jobs. Isn't it better to save what jobs you can, even with a pay cut, than losing everything? I mean, it's not like Northwest is thrilled with the prospect of cutting jobs and salaries... they're just doing what they have to do to stay afloat in this horrendous financial climate where they're losing millions. It's sad, but that's reality in today's business world.
Of course, when it comes to saying outrageously stupid things, the union spokesman has a long, long way to go before he can top the senile ramblings of dumbass televangelist Pat Robertson, who wants us to assassinate the duly elected president of Venezuela. This kind of crazy pseudo-religious rambling sounded really familiar, and that's when everything suddenly became clear to me...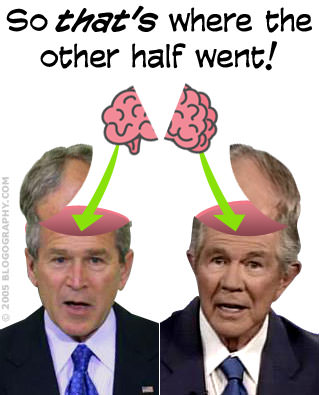 Strange. We've got kind of a "separated at birth" thing going on here.
Anyway, I could be wrong, but assassinating foreign leaders seems like it must be against the United Nations charter... doesn't it? We are still a member of the United Nations aren't we?
I just don't get it. People actually give money to this idiot. Has the "religious right" truly become so powerful that they don't feel the need to follow rational thought? Is this kind of outrageous, uninformed, and flat-out stupid commentary actually being taken seriously?
This is just what we need... whack-job televangelists influencing our foreign policy. As if the USA didn't have enough problems already.
Movie Quotable of the Day:
"Well, technically speaking, the operation is brain damage... but on a par with a night of heavy drinking. Nothing you'll miss."
Day-Before-Yesterday's Answer:
101 Dalmatians
(1961) with Rod Taylor and Betty Lou Gerson.