The earliest flight I could get to Hong Kong is at 7:40pm. That leaves a big chunk of a day where I have nothing to do. Rather than sit in my hotel until they kick me out, I decide to hit a few places I wanted to see in Seoul. Thanks to the convenient and efficient subway system here, it's pretty easy to get to wherever you want for $1 cheap.
Here is my day in Seoul...
Wake up way too early, then work for four hours. I look up the subway stop for the local cafe at HardRock.com, but they don't list it. I then look up the hours, only to remember they don't open until 5:00pm on weekdays. I've already been twice, so it's not a big deal... but how crazy is that?
Wait for the morning commuter rush to subside, and head out around 10:00am, begging the front desk for an extended check-out time of 2:00pm.
Hike to Seolleung Station and take a series of wacky connections that eventually deposit me across the river at City Hall Station, 30 minutes later.
Stop at Dunkin' Donuts (again) for a couple of "Chocolate Cookie Donuts" and then proceed to fall in love with the seriously cute girl who takes my money.
Walk to Deoksugung Museum of Contemporary Art to take in an exhibit of Korean and Chinese brush painting, which I really like. Then find out that it must be "children's day" at the museum, because the courtyard is overrun with adorable kids in their equally adorable school uniforms...
Become totally captivated with amazing pieces of brush art, and buy one of the cheapest exhibit guides for a showing I have ever seen... just $5!!
Walk to Seodaemun Station for yet another bizarre series of transfers until I arrive at Anguk Station, which is at the head of the very cool "arts & crafts district" of Seoul called "Insa-Dong"...
I Kill an hour wandering through the galleries and craft shops, resisting the urge to purchase everything in sight. Run across a woman (British accent) who is impatiently trying to get a shop keeper to understand her. She eventually raises her voice to the poor woman and says "I THOUGHT YOU SAID YOU SPOKE ENGLISH! ENGLISH!!" she then throws down some handmade papers in disgust and starts to stomp out. I cannot resist saying "she probably does understand English... it's your being a bitch she doesn't understand." She ignores me (big surprise) and I head down the street to a souvenir shop I like...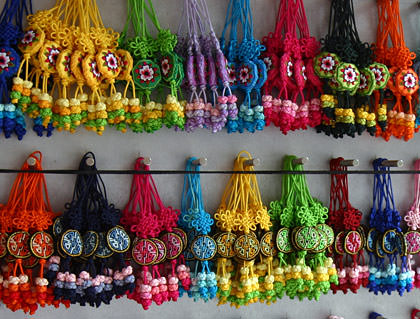 I have no idea what these little string ornaments are called, but they make perfect $1 souvenirs that people back home totally love, so I buy a dozen for those few people I haven't already given one from a previous trip. I think they are based on the ornamental button-ties that Koreans wear on traditional formal dress. But these are much smaller and come in funky designs like fish, purses, fans, flags, and such.
Am shocked to discover that it's now 1:00pm, and I have only an hour to make it back to the hotel.
On the way back to Anguk Station, my leg all of a sudden develops a stabbing pain. I limp all the way to the subway, and find a seat for the next half hour's ride back across the river. Eventually I transfer back to the #2 Green Line and get back to Seolleung Station for the 7 minute hike back to the hotel with my leg feeling like somebody put a bullet in it.
Get back to my room at 1:56pm. Even though I have to be out in just 4 minutes, I decide to take another shower to sooth my aching, hot, sweaty body. This delays my departure by 10 minutes, but the front desk says nothing (bless them).
Since I have 5 hours and 30 minutes until my flight, I sit in the lounge writing postcards for the next thirty minutes, then buy an airport transfer ticket for the "Limousine Bus." It's a fantastic bargain at $13... a taxi ride would cost at least $70 because of Seoul's horrendous traffic.
The airport run is a whopping 1 hour, 35 minutes through agonizing traffic. I notice for the hundredth time how every tenth building is a Samsung building... yet each is selling something different... computers, cars, appliances, apartments, telephone service... whatever. I have to wonder if there is anything Samsung doesn't make in Korea.
Arrive at the ticketing desk for Asiana Airlines nearly four hours early. The first thing they do when I get up to the counter is hand me a bottle of mouthwash. I wonder if I should be offended, but then notice everybody is getting mouthwash. Since Koreans eat their weight in garlic every week, I suppose this is a practical gift.
I try to get through outbound immigration to leave the country and find out that the inbound agent mis-stamped my passport with an entry date of September 28th, 2005. This causes the guy to freak out, and I frantically search for my itinerary to show him I am not a wacky time traveller. Unfortunately, the photocopies my travel agent made have cut off the date! This causes even more of a freak-out, because now it looks like I have intentionally obstructed my date of entry! Ten minutes of computer key-punching later, he eventually locates my entry record with the correct date and releases me. The people in line behind me are not very happy at all.
Eat a Subway Sandwich at the same food court I always do because they have Welches Grape Soda. Make my way to the passenger lounge at Gate 33, and find out I can't get internet. Decide to write about my day in Seoul anyway... I'll just post it when I get to Hong Kong.
Read back through this entry and realize that it is not very exciting at all, and anybody reading the entirety of it has probably fallen asleep by now. Unless there's an explosion or an alien invasion in the next hour, I'm afraid that's all you're going to get!
These seats are horribly under-padded, and my boney ass is aching tired. Decide to stop blogging now before I start getting into embarrassing territory...