And here I am back in Seoul, Korea. I am most fortunate that I don't really have a problem with jet-lag... my body just mysteriously seems to adjust to whatever time zone I am in. Though I cannot deny being totally exhausted, because 22 hours of travel will do that to you. Now the challenge is to stay awake for another three hours so that I don't wake up at 2am tomorrow morning. It's a weird, wild life I lead.
The weather here has entered into some kind of funky perpetual haze as sunset falls...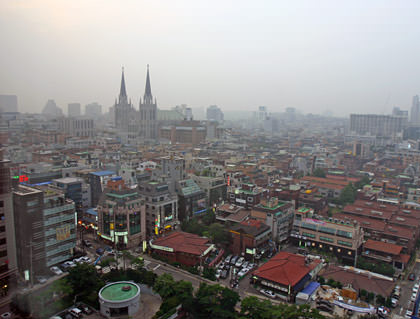 All big cities are starting to look the same to me. If I didn't know where I was, it might take me a minute to figure it out from just a quick glance out my window. The cathedral there just confuses things.
And now I'm off to Dunkin' Donuts for a quick bite before retiring for the evening.
Yet, for New Orleans, the day is just beginning. Assuming I can get to sleep knowing what is going to happen there, the storm is projected to hit the city as I wake up. All my hopes now hinge on seeing the city again some day...