Storms on the East Coast were causing delays for most every flight into Baltimore International Airport except mine. My flight actually landed five minutes early. But this minor victory was short-lived considering that it took FORTY FRICKIN' MINUTES for BWI to get me my suitcase. I'm not positive, but I am fairly certain that this has to be a personal record. We were walking off the plane at 6:55, and luggage hit the baggage claim carousel at 7:35.
FORTY FRICKIN' MINUTES!!!
I can only guess that all of the baggage handlers were reading the new Harry Potter book, and didn't want to be interrupted until they finished the chapter they were reading.
Speaking of Harry Potter... do book stores carry any other books now? Everywhere you go, they've got Harry Potter and the Half-Blood Prince stacked to the rafters. Sometimes it looks as if they've got nothing else for sale, which gave me a great idea for being a smart-ass while waiting for my plane connection in Minneapolis...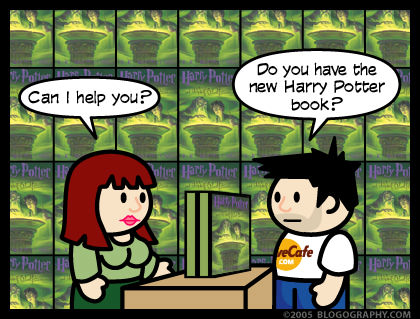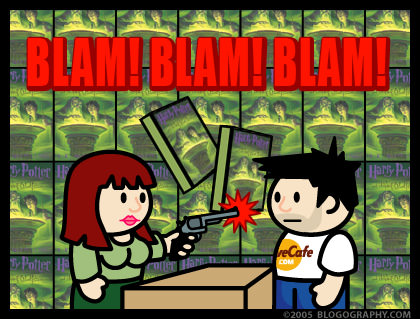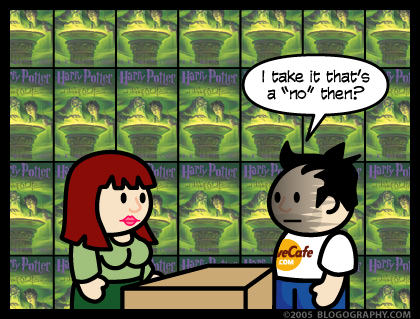 WARNING: Workers at the book shop do NOT find this funny for some reason. It's a pity, because I thought it was darn clever!
Anyway, I am finally in Lancaster, Pennsylvania now. This city is famous for being at the heart of Amish country. The Amish lead a very admirable life, free from all our modern conveniences like electricity and the internet. I must admit that I don't know much about the Pennsylvania Dutch except what I've seen in movies and on that television reality show called "Amish in the City." On one hand, it must be nice to live a simpler life, free from the stress and hassles that modern civilization has thrust upon us. On the other hand, I'd probably kill myself out of sheer boredom. I mean, I've never churned butter before, but something tells me it's not as much fun as playing Lego Star Wars on my Xbox.
Ooog. I need some sleep. My day started at 3:30am, and it's just now midnight. Even subtracting three hours for the time zone change, that's a long day.
Movie Quotable of the Day:
"I just don't like my son spending all his time with a man who carries a gun and goes around whacking people!"
Two-Days-Before-Yesterday's Answer:
South Park: Bigger, Longer, and Uncut
(1999) with Trey Parker and Matt Stone.