My trip to Boston started out as one of my worst travel days in recent memory, but ended up being really amazing. It all started when I couldn't get into the city because of an accident on I-93 & the Freemont exit. Suddenly, my ETA of 2:30 became 3:30, then 4:00. Not fun.
Things then go from bad to worse when I finally get to Boston's Museum of Fine Arts so I can take a look at their Monet collection, only to find out that they close down half of the museum each evening. This meant that the hour I spent battling Red Sox traffic in the Fenway Park area, and the $3.50 I spent on parking was completely wasted. Now I have to go back tomorrow at 10am, which means I'll be getting a very late start to my day. Fortunately, my $13 ticket is good for another visit or else I'd really be pissed.
Things go from worse to tragic when I finally make it to The Lenox Hotel. I have been wanting to visit this classic property for ages, but it's always been booked solid when I'm in town. This time I got lucky... or did I? I'm told to use the parking garage up the street to store my rental car for the night. But it's full. So are the three others I find in the area. I end up circling the block several times without success. I finally pull up and ask what I should do since there doesn't seem to be a single parking spot in a 2-mile radius. That's when I hear "oh... you're a GUEST here? If you're a GUEST, then I'll park it for you." Great. Another half-hour WASTED. Why the f#@% would I want to park at a hotel that I wasn't going to stay at? Why wouldn't you assume somebody wanting to park at the hotel WASN'T a guest? After check-in, things are looking up, because my room is pretty classy...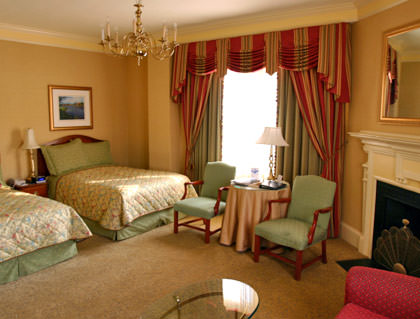 But happiness is fleeting when I find out that the wireless Internet sucks ass, and is only marginally improved when I get a network bridge from the front desk. That's when things go from tragic to near-suicidal when I find out that my toilet is plugged up... and I'm blameless, because I didn't put anything down there. I'm beginning to regret ever having wanted to come to Boston.
Then, as if by magic, things turn around. I meet a very good friend I haven't seen in two years for a fantastic early dinner. Then we walk over to Copley Square for a FREE concert that completely blows my mind. Playing in the park is "The Shore" and "Ari Hest" - both of which I had never heard of before. Amazing, amazing stuff. I go buy CDs from both groups, because the possibility of not finding them on the iTunes Music Store is too much to bear (yup, they're both there... which means I paid $8 more than I had to for CDs I'll end up tossing in the garbage after I've ripped them). I cannot recommend these astounding musicians highly enough. "The Shore" is kind of an inspired blend of Oasis and The Verve. "Ari Hest" has lush vocals that pierce your very soul...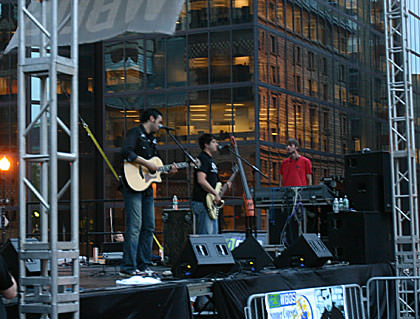 After the best concert I've seen in quite a while, it's off to the Hard Rock for a frosty chocolate milkshake and some fries, which turns a bad day gone good into sweet perfection...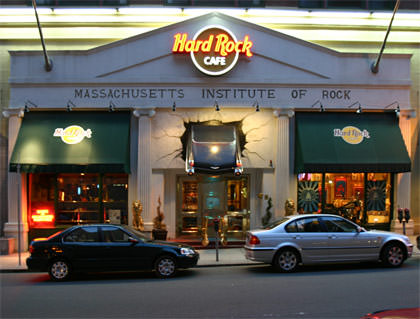 Tomorrow it's sleeping in late, a visit to the museum (again), and a lot of driving so I can scratch New England off my "Map of Visited States" page. Sounds like a plan.