My internet is down. I wonder why you don't get to deduct outages from your DSL bill? Seems like you should be able to.
So in lieu of spending a few hours surfing blogs and the latest entertainment news, I decided to take a break from work and play around with making widgets for MacOS X's Dashboard. For those of you not OS X savvy, Dashboard is a tool that holds useful little "widgets" that can be summoned instantly to your desktop. There are widgets for everything, and new ones are being released all the time. I've got widgets for converting measurement and currencies, viewing my Netflix queue, weather forecasts, Wikipedia lookups... even one to show the lyrics for the song I've got playing in iTunes. It's pretty slick.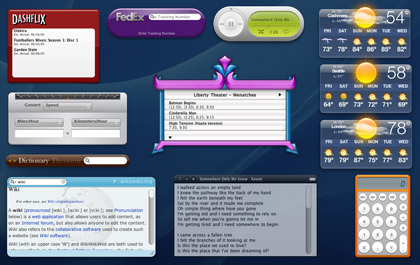 Making your own widgets is not too difficult, because they're just mini web apps written in HTML, CSS, and JavaScript. The tricky bit is getting it all to look cool and function as intended. I've got two widgets I am currently working on:
Ask Dave. The "Ask Dave" widget is like a Magic 8-Ball. You ask a question, then click on the Dave Widget and he'll give you an answer. Sage advice at your fingertips! I'll probably release it over the weekend...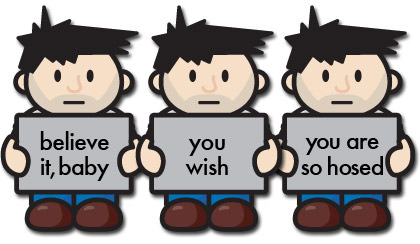 BloggerPeeps. The next project is quite a bit more complicated, because it's not just a Widget, it's an entire web site project that I've been working on called "BloggerPeeps" which is a visual blog directory based solely on photographs. When you visit the site, there will be a set of photo tiles with pictures of bloggers in them. When you click on a face, you are taken to their blog... it's as simple as that. New photos will be rotated in the set, and there will be a second set of "peeps" that will randomly pull from previous tiles. The widget for BloggerPeeps will show the current blogger, the previous blogger, plus a random "blogger of the day" - and will be updated Monday through Friday. The web site and the widget should both be going live by the end of the month...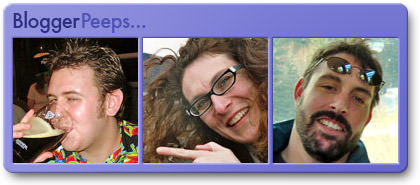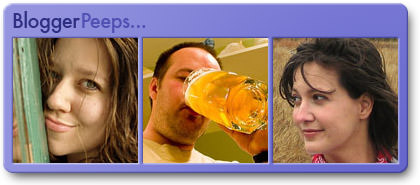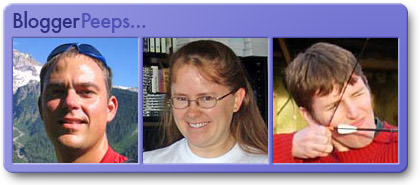 The intent is to create a place where my favorite blogger peeps (people) are displayed in a way that's more interesting than a blogroll or links list. I've managed to dig up 100 photos, so I've got at least that many peeps to play around with. I'm sure others will pop up as I work on the site. I have no idea whether it will be of interest to anybody, but it will be a fun experiment.
Movie Quotable of the Day:
"Give my regards to King Tut, asshole!"
Two Days Ago Answer:
Stripes
(1981) with Bill Murray and Harold Ramis.