Who is your favorite artist? What is it about their work that you find so appealing? This is an impossible question for me to answer, because there are literally hundreds of artists I admire equally. Michelangelo is probably furthest up my list, and that's the best I can do. He has such a magnificent and inspiring body of diverse works, that it's hard not to count him as a "favorite among favorites."
What is your favorite work of art? What makes you like it so much? There are two paintings I am infatuated with... The Flower Bearer by Diego Rivera, and Starry Night by Vincent van Gogh. I can't tell you why I like them so much except to say that I seem to connect with them on an emotional level.
Where is your favorite place for art? What does this location have that makes it so great? Hmmm... in choosing among my top three picks of New York City, London, and Paris... I'm going to have to give the edge to New York. That's probably because The Metropolitan Museum of Art, The Guggenheim, and Museum of Modern Art (three of my most favorite) are all there.
FQ ARTISTIC: Create a quick piece of art for us... Ready. Set. GO!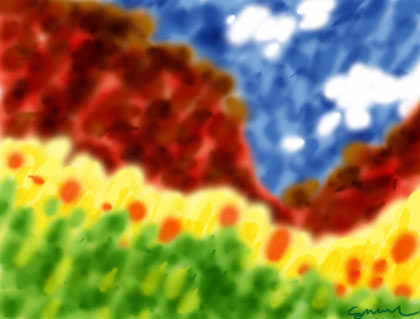 I shall call it... Sunflowers in Utah!
That's two-and-a-half minutes quick! For anybody interested, here is my initial quick sketch superimposed over my impressionistic completed picture...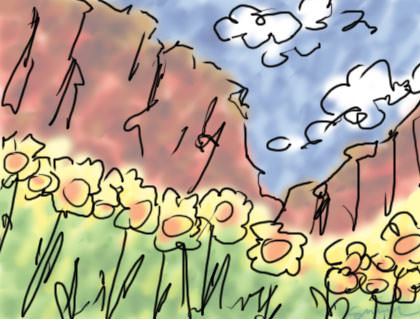 Get artistic with the FridayQ.