Last night I stayed up way too late working on my "Ask Dave" widget, and I think it's finally done. One thing I wanted very much to do was add some kind of animation to give the "Toon Dave" a bit of life. Eventually I thought of using one of those Etch-A-Sketch type toys so he could shake it up and down to erase the old message, then a new message would appear. But I had no idea how to simulate motion using only JavaScript, so I went widget hunting to see if somebody else had managed it. That's when I found Alwin Troost's Magic 8-Ball widget, and used his image array technique to build the shake animation. Every time you click on Toon Dave, he shakes the "dave-a-sketch" and the answer to all of life's questions magically appear!
And, just like Apple's widgets, you can flip him over to get a quick link to everybody's favorite blog...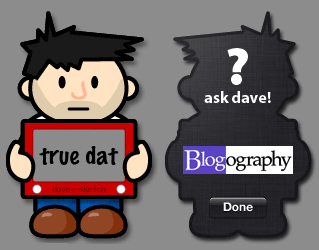 Overall I'm quite pleased with my first widget. If you own a Mac running OS X 10.4 Tiger, and want to try it, CLICK HERE TO DOWNLOAD. If you don't own a Mac, then you need to run right out and buy one so you can have Dave's wisdom readily available to you. Or I suppose you could just become an Apple developer so you can get your hands on OS X for Intel, then install it over your Windows or Linux OS (and no, I don't know where to download it). Hmmm... probably easier to buy that Mac (you'll be glad you did!).
In any event, here is the discaimer I include with the ReadMe file:
DISCLAIMER: The Ask Dave widget is just for fun. Any resemblance to actual advice is purely coincidental, and should not be taken seriously (much like Dave himself).
Have fun with your own personal Dave. Try not to abuse him too badly.
Movie Quotable of the Day:
"They say that right before you die your life flashes before your eyes... that's true, even for a blind man."
Day-Before-Yesterday's Answer:
Stargate
(1994) with Kurt Russell and James Spader.