GAAAH! I am completely without the world today. NO internet. NO mobile phone reception. NO newspaper. And only a tiny 13-inch television with four channels to let me know that there is life outside of my small corner of Utah. I guess I should have posted yesterday's blog entry when I had the chance?
I am currently in lovely Bullfrog Bay on the shores of Lake Powell. Except it really isn't a lake... it's just a big canyon full of water that flooded in when they built a huge dam down-river. Some friends asked me to meet them here so we could go boating around the inlets and see some cool stuff. Apparently, the water level is the lowest it has been in a very, very long time, so you can see things that are normally buried under water.
Like this tree, for instance...
If you look at the cliffs, you can see where the water-line usually is, because the rocks have been bleached. Only the red rocks are supposed to be showing above the water, or so I am told. That would mean that this tree is usually under about 80 feet of water, and hasn't seen daylight in 40 years. I wonder how come it hasn't completely rotted through? You can't help but feel sorry for the poor guy. He was just minding his own business, when some asshole comes along and builds a dam, then suddenly he's underwater thinking WTF?
And here is a boat that sunk years ago...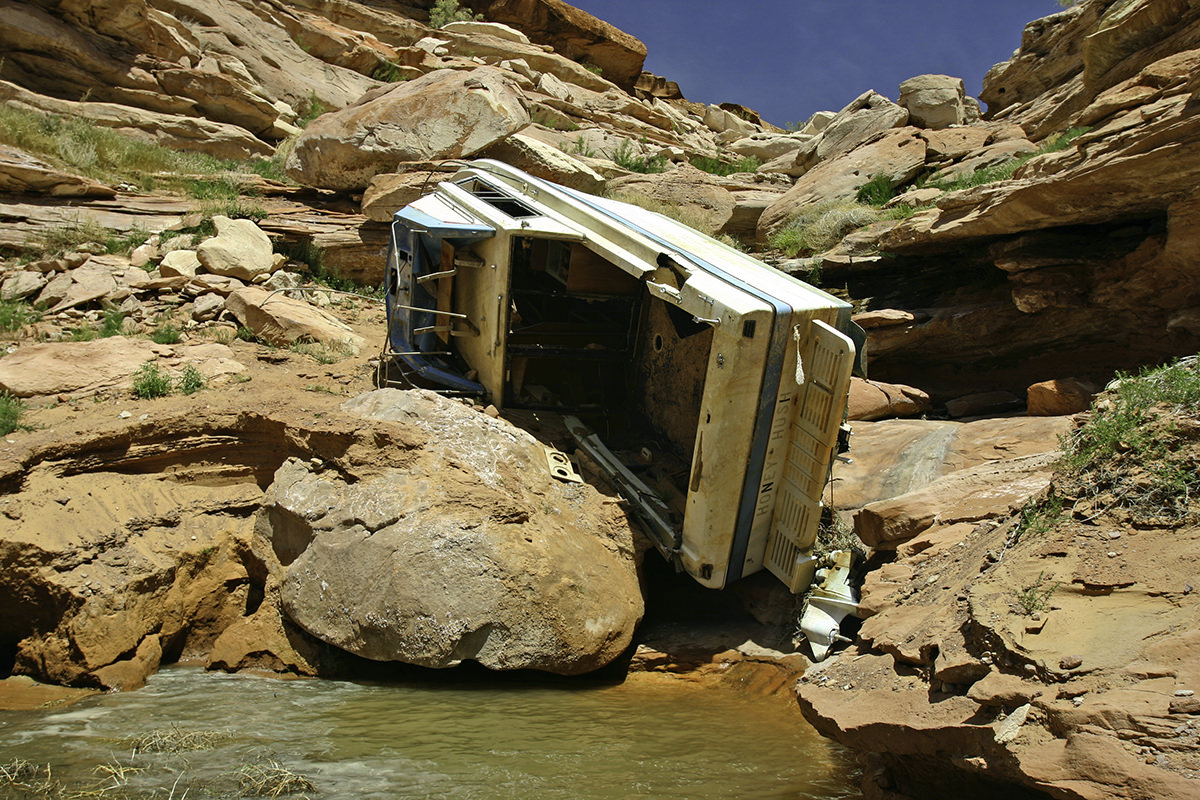 Yeah, I know that it seems to have ran aground and crashed into the shore, but it didn't. That's because the shore usually isn't anywhere near here. It just so happens that the water level is so low that it looks that way. If you examine the rocks carefully, you will see that the water-line is usually way, way back there. No sign of Gilligan or The Skipper.
But the best part is cruising into these little grottos that usually don't even exist because they're buried underwater. Some really funky shadow-and-light stuff can be found that takes your breath away...
Not a bad way to spend an afternoon. Except now I'm sunburned and tired and have a five-hour drive ahead of me later today. Bleh.
Movie Quotable of the Day:
"I'm a killer. A murdering bastard... you know that. And there are consequences to breaking the heart of a murdering bastard."
Day-Before-Yesterday's Answer:
Memoirs of an Invisible Man
(1999) with Chevy Chase and Daryl Hannah.