Funny... I'm on the "grid" now.
One of my regular reads, Gawker Media's excellent Gridskipper.com, has taken one of the little collages I made for my entry praising Shynola's work on the Junior Senior video for Move Your Feet. I guess I shouldn't be surprised... all of my images are thoroughly indexed by Google, after all. It's just strange to run across stuff like this. Oh well, it's not like it's my work... all the credit goes to the demi-gods at Shynola (who are also responsible for The Guide graphics from the current movie Hitchhiker's Guide to the Galaxy).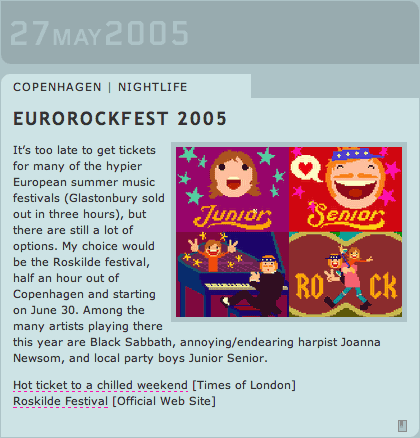 At least Gridskipper was nice enough to copy the image to their server rather than steal my bandwidth (good thing too, because I will probably run out AGAIN before the end of the month).
Movie Quotable of the Day:
"Mickey and Mallory know the difference between right and wrong... they just don't give a damn."
Yesterday's Answer:
The Ref
(1994) with Dennis Leary and Kevin Spacey.