Just to prove my love for you, dear reader, I woke up early so I could drag my sorry ass over the dreary mountain passes to the Microsoft-owned city of Redmond, Washington. And why is that? Why would I drive 2-1/2 hours on a Thursday morning? Because it's T-shirt day! Yes, today is the day that all those Blogography T's are being printed.
And they turned out friggin' sweet...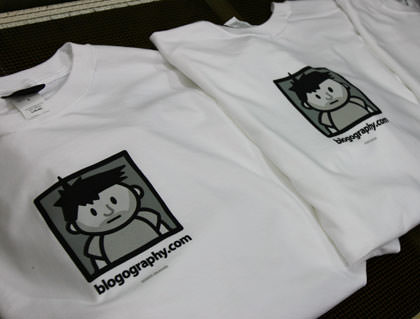 And now that the shirts are out of the way, I realize that it's Cinco de Mayo, so I'm off to drink Margaritas with my friends until I pass out. Tequila es mi amigo!
Movie Quotable of the Day:
"Once again your ratted hair is preventing another student's geometry education!"
Yesterday's Answer:
Fatal Attraction
(1987) with Michael Douglas and Glenn Close.