Just got back from seeing Crash, a film about nothing... and everything. I guess I'd describe it as a character study that's a commentary on racism and race relations in a way that's both enlightening and frightening at the same time. Every character has their flaws, and nobody is what they seem or what you'd expect. What's interesting is the way the lives of the people inhabiting this film keep intersecting in so many ways... sometimes lame, but most-times fascinating.
I loved it.
And it doesn't hurt that every single performance was flawless... Sandra Bullock's brief part is the best I've seen from her in years. Don Cheadle's here in yet another jaw-dropping performace. Thandie Newton looking beautiful as always. Matt Dillon proving again that he's moved far past his teen-idol status. Michael Pena in an Oscar-worthy role. And even rapper Ludacris shatters expectations. And that's just a fraction of this amazing ensemble that's almost too good to be true.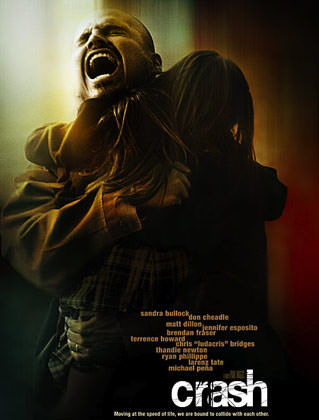 It's refreshing to find that Hollywood is still occasionally giving us thought-provoking films to challenge us, rather than the spoon-fed cliches that are so predominant now. Life doesn't always turn out all wrapped up in a pretty bow... and movies shouldn't either.
Movie Quotable of the Day: "Why are hurricanes named after women? Because when they arrive, they're wet and wild... and when they leave, they take your house and your car."
Yesterday's Answer: Airplane! (1980) with Robert Hays and Leslie Nielsen.