This morning I awoke to find a hefty stack of comment confirmation emails in my "in-box." Apparently the scumbags over at Stonebridge Life Insurance are once again up to their dirty telemarketing tricks, and my blog is getting Googled by angry people looking for answers. I don't have answers, but it's nice to know that people can come here and vent their frustrations over an activity that should most certainly be illegal and punishable by death.
Along with people who were violated by the Stonebridge asshats, there were other great comments on various entries (seriously, I often think that the comments on this blog are far more entertaining than the blog itself!), and a very nice email from somebody in Germany who wrote to tell me that he had stumbled across my blog and spent the past week reading it from start to finish (even I am not that brave!). So thanks everybody!
Of course it wasn't all sunshine and roses, there was a hate-mail buried in there as well. It wouldn't be a week at Blogography if I didn't receive at least one nasty comment. This time it was in response to my previous entry lamenting the ever-dwindling value of the once mighty US Dollar. It started out with "You liberals..." and then went on to say "blah blah blah. blah blah. BLAH! BUSH! BLAAAAHHH! BLAAHH!!!" Well, not really. But I never did get over the shock of being labeled a "liberal" in the first two words, and pretty much ignored everything after that.
It would seem that ever since I started this blog, everybody is just dying to label me...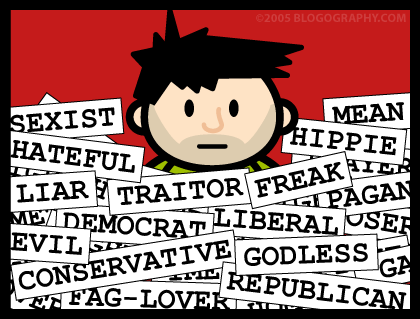 And while it is (on some really low level) flattering that people take the time to label me based on things they have read here, there is really only one label I will ever ascribe to...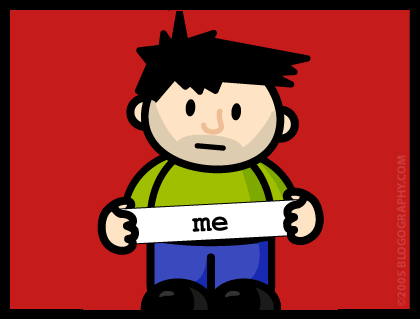 And why is that? Because I don't need some group, organization, or other person doing my thinking for me, and certainly do NOT want to be tossed in with a group of people who do. That's fine for some, but absolutely not me. I make up my own mind, and speak my own mind. Some of my thoughts could be said to embrace popular liberal leanings, but others are very much in line with what is generally considered to be traditional conservative thinking.
It all comes down to the fact that my opinion is my opinion, and I don't really care on what side of the political fence it lands. I refuse to blindly subscribe to any political party, and choose to vote for the person I consider to be best for the job instead of randomly checking off the labels presented me. It is not the most popular way to handle your politics, but it's the only way for me. Ironically, such thinking has me regularly labeled as both "liberal" and "conservative" ... "Democrat" and "Republican" when, in fact, I am none of them.
And that brings me to the crux of this entry. Somebody assumes I was Bush-bashing, labeled me a liberal, and then decided to lay me to whale shit for being something I am not. This is so ridiculous as to be laughable. All I did was present the facts for my argument: since Bush has been in office, the value of the US Dollar has been in free-fall, and that is making it difficult for me to make vacation plans. That's it! If you are going to attack me for Bush-bashing, then at least wait until I am actually bashing the idiot our President before slapping yet another label on me. And if you can't do that much, then that's your problem, and attacking me via email is a big waste of time because I won't bother to read it. So blah blah blah BLAH!
Movie Quotable of the Day: "Ten oughta do it don't you think? You think we need one more? You think we need one more. Alright, we'll get one more!"
Yesterday's Answer: Child's Play (1988) with Katherine Hicks and Brad Dourif.