Today is a good day after all. I was just sent an email from a friend telling me that there will finally be a "Complete Calvin and Hobbes" published so I can put it next to my "Complete Far Side" on the bookshelf! Calvin and Hobbes is easily my favorite comic strip of all time. As if that weren't enough, creator Bill Watterson is somebody I admire and respect enormously. Despite unrelenting pressure to whore out his comic for merchandising, Watterson held fast. Despite the newspaper publisher's stranglehold on formatting and sizing, Watterson battled to have his strip presented as he envisioned it. Despite a daily deadline that forces most cartoonists to take the easy route from time to time, Watterson never wavered in the quality of his strip (and never farmed it out to a team of collaborators either).
But even when you ignore all of that, reading Calvin and Hobbes is just good clean fun (see for yourself!)...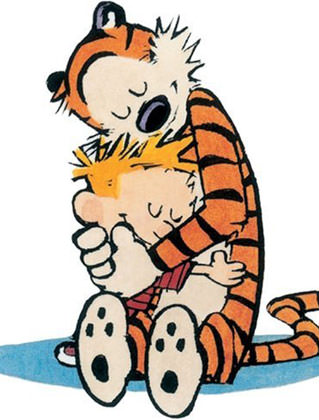 Witty, smart, funny, and highly entertaining, this three-volume hardcover collection is available for pre-order at Amazon for 37% off (a bargain at $94.50!). It looks like the trim size of the books is 12" by 10.5" - so hopefully this means that the strips will be printed at a good size so Watterson's brilliant use of detail will be able to shine. To get a look at the set and all the details, you can visit the publisher's web site.