After a very long and annoying day, I wanted nothing more than to make a batch of chocolate-almond ice cream and veg-out in front of the television. But then the Cuisinart started leaking all over the place, so what I got instead was a chocolate-coated kitchen. Seriously, it was like Chocolate Armageddon over here. There was chocolate all over the countertops. There was chocolate running down the drawers. There was chocolate splattered on the floors. Everywhere you looked was chocolate...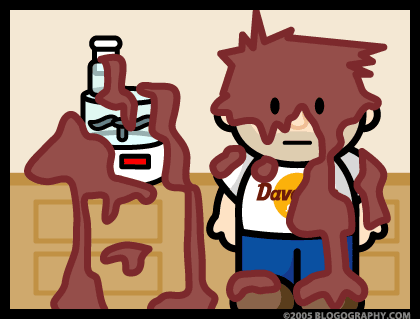 Apparently, there are limits as to how much liquid you can put in a WHIRLING BLADES OF CERTAIN DEATH Cuisinart machine. I really do need to read that manual one day. Undeterred, I forged ahead whilst ankle-deep in chocolate, and made a new batch.
So now I sit here waiting for my ice-cream maker timer to beep, letting me know that frozen chocolatey goodness is waiting for me.
Checking my email, I see that Apple has shipped my copy of MacOS X 10.4 via FedEx today. The courier gods willing, I'll have it tomorrow. I'm pretty excited about that, but not all is coming up roses for Apple... the loser ass-clowns at "Tiger Direct" are suing Apple because MacOS X 10.4 is code-named "Tiger" and they claim that it will "cause confusion, mistake and deception among the general purchasing public." This is laughable on so many levels, I don't even know what to say. First of all, the Apple "Tiger" code-name has been in existence for YEARS... but they wait until the day before Apple ships the product before firing off a lawsuit and injunction? Dumbasses. Like anybody is really going to confuse the Mac OS with a lame reseller. Like anybody even cares.
I was able to make an appointment at the screen printers today... it's set for next Tuesday. That means I can start sending out all the fabulous prizes from the Blogiversary 2 contest next Wednesday. Watch your mailbox!
Ooooh! Time to add the almonds - ice cream is almost ready. ICE CREAM! IIIIICE CREEEEEEEAAMMMM!!
Movie Quotable of the Day:
"You were born with an asshole, Doris... you don't need Chuck."
Day-Before-Yesterday's Answer:
Blade: Trinity
(2004) with Wesley Snipes and Ryan Reynolds.